Showa Kinen Park
Showa Kinen Park in Tachikawa is the Tokyo area's biggest park, and a treasure trove of recreational and sightseeing opportunities.
Showa Memorial Park 昭和記念公園
Showa Memorial Park (Showa Kinen Koen) is a massive national park in Tachikawa, just over an hour west of Tokyo, that offers spectacular scenery, myriad attractions, and ample recreation and relaxation opportunities.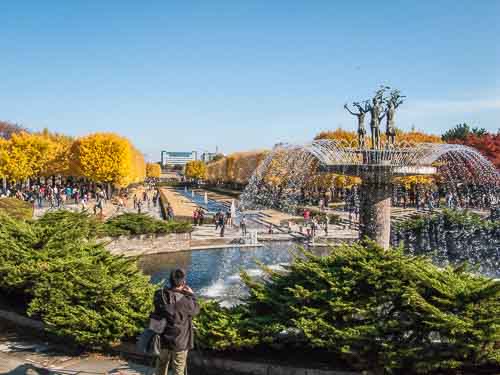 Fountain and canal, Showa Memorial Park
Showa Memorial Park was established in 1983, planned as part of the 50th anniversary celebrations of the reign of Emperor Hirohito (posthumously, Emperor Showa) that happened eight years before, in 1975.
Showa Memorial Park is very popular in spring and autumn in particular for its verdant spring greenery, poppies, tulips and cherry blossom and, towards year end, rich fall colors.
Grandly laid out, and with seemingly endless places to explore, Showa Memorial Park requires a full day to enjoy. Getting around on foot is possible but involves walking kilometers, so taking advantage of the park's bicycle hire and extensive cycling trails is one option, and using the regular in-park "road-train" service is another.
Showa Kinen Park has a variety of themed gardens and woods and a plethora of recreational opportunities. There are also culturally-based attractions such as a traditional Japanese folk village re-creation. The park caters well to visitors with restaurants, cafes, food stalls, tea rooms, toilets, and drink machines. Park facilities are wheelchair friendly.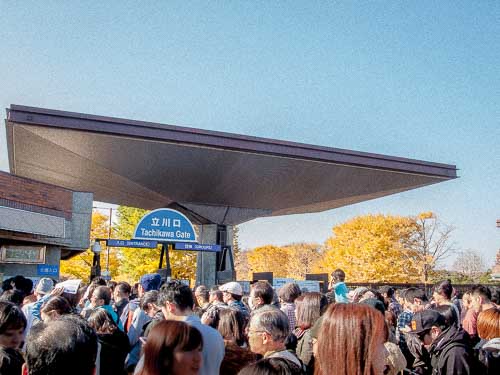 Queuing at the Tachikawa Gate, Showa Memorial Park
Park guide staff are somewhat lacking, but can eventually be found with some looking around. Entrance at crowded times is poorly supervised, so on busy days look for the second queue, for entrance by ticket holders, after having first queued to buy your ticket.
Showa Memorial Park is easy to get to - only 10 minutes' walk from Tachikawa Station - and so big that even on busy days there is plenty of room to move.
Facilities and Attractions
Green Cultural Zone
The Green Cultural Zone is the free-entry area of the park. On the corner of the park nearest Tachikawa Station is the Akebono Entrance and the large Information Center where you can pick up pamphlets and maps.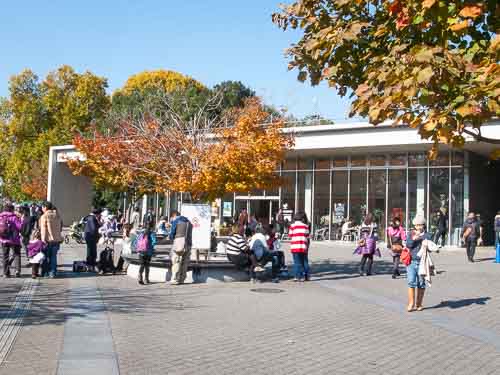 Information Center, Akebono Gate, Show Memorial Park
The Green Cultural Zone includes the Emperor Showa Memorial Museum a little further on, facing a road that runs through the park (and leads to the main, Tachikawa Gate, car park, with space for over 2,000 vehicles). Crossing over this bisecting road by footbridge takes you to the Tachikawa Gate ticket office for the main pay-for section of the park. The entry process is straightforward enough at off-peak times, but can be disorganized at peak spring and fall times. On arrival at the Tachikawa Gate, queue first for a ticket, then try and locate and join the next queue for entry.
Bicycle hire can also be arranged when buying a ticket.
Canal and Fountain
Once you are in, you are greeted by a grand tree-lined canal with fountains playing, stretching 200 meters up to a huge statue-crowned, birdbath-style fountain no doubt meant to evoke the glories of the reign of Hirohito (Emperor Showa) during which Japan went from obscurity to empire, and from defeat to becoming the world's second largest economy.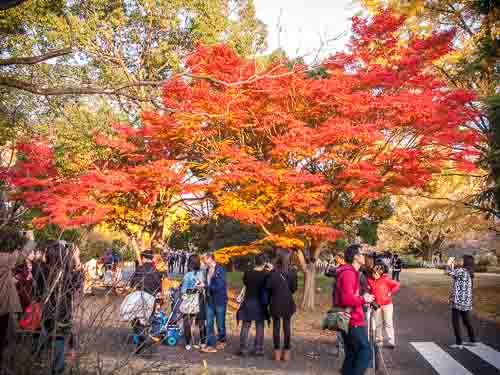 Admiring the fall colors, Showa Kinen Park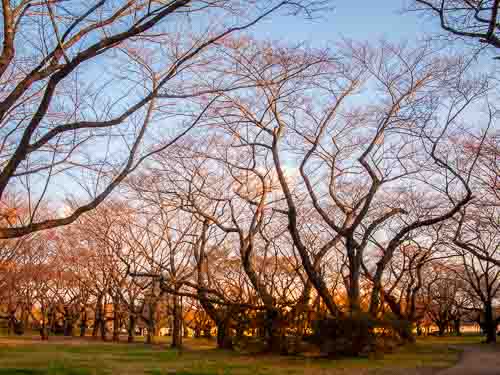 A dramatic wood in Showa Kinen Park
Bicycle Hire and Dog Run
Immediately to your right on entering, and about a 5-minute walk away, are the Dog Run for your canine to let off steam (being the only place in the park where dogs may be unleashed), and the Tachikawa Gate Bicycle Rental.
Fureai Field
A little on from the fountain is Fureai ("Meeting Place") Field, with a large restaurant, outdoor statues, traditional folk entertainment acts, and provides a good view of helicopters taking off and landing at the adjacent Tachikawa Airfield (on land sequestered after World War II by the American Occupation forces and of which the Park used to be a part), making it a popular spot for helicopter enthusiasts.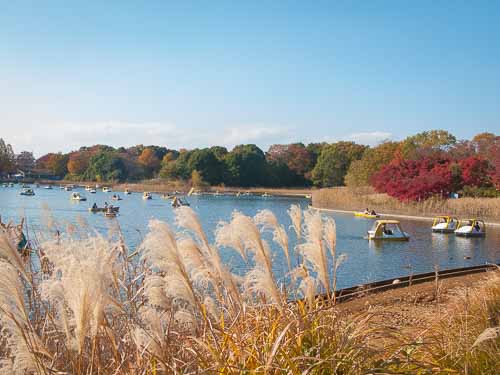 Waterfowl Lake, Showa Kinen Park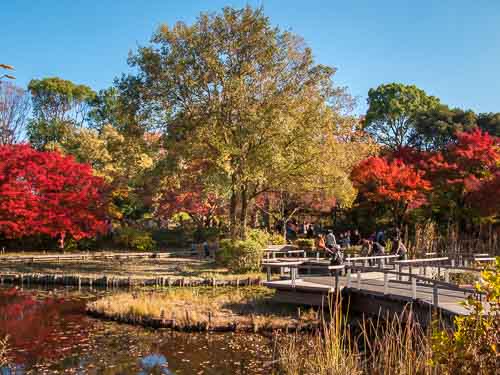 Walkway on Waterfowl Lake, Showa Kinen Park
Waterfowl Lake
The Waterfowl Lake is a five minute walk from Fureai Field. Between these two areas is an outdoor exhibition area. At the time of this review there was an array of beautifully restored, Japan-made cars from the 1960s through to the 1980s on display.
The 5 hectare (12 acre) Waterfowl Lake is full of people pedaling and rowing their hired boats and enjoying the sight of the tree- and flower-lined banks.
Flowering Tree Garden
A short walk to the right of the Waterfowl Lake brings you to the Flowering Tree Garden with its hundreds of cherry blossom trees, plum trees, peonies and more - a real treat in spring. The Flowering Tree Garden Administrative Center doubles as a very small museum, mainly of interest for its interactive display of wildlife that inhabits the park. You can also hire binoculars here for use in the Bird Sanctuary alongside.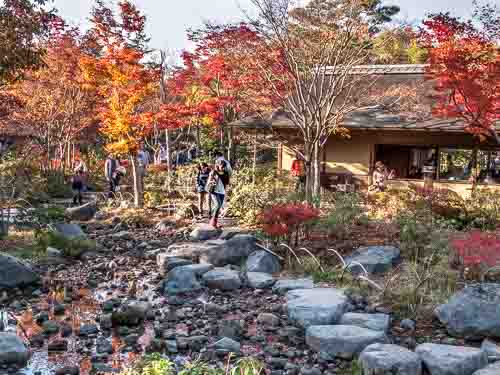 Japanese Garden, Showa Kinen Park
Bird Sanctuary Enjoy the cries and plumage of numerous species of bird in the 3.5 hectare (8.5 acre) Bird Sanctuary, especially planted with trees and other plants suited to the birds that inhabit the section.
Minna no Harappa ("Everyone's Plain")
The vast, grassy 11 hectare (27 acre) Minna no Harappa ("Everyone's Plain") is the recreational centerpiece of the Park, filled mainly with young families playing.
On its far side are two springtime attractions: the Sakura Grove and, behind it, the Dragonfly Marsh, a large, shallow, board walked pond alive with dragonflies in season.
Forest ZoneThe attraction-rich "Forest Zone," near the Sunagawa Gate, is maybe the part of Showa Memorial Park most worth spending your time in. The Forest Zone contains the delightful Japanese Garden, the Komorebi Model Village and Pond, and other attractions that evoke traditional Japan.
Japanese GardenThe Japanese Garden is arguably the star of Showa Memorial Park. Fenced off and centered around a pond, it encapsulates everything best and most beautiful about traditional Japanese landscaping, and is even overlooked by an artificial 30 m (100 foot) high forested hill. There are two traditional structures in the garden, one of them, the Kanfu-tei, being a sukiya-style house where you can enjoy a cup of tea Japanese style. The Japanese Garden is a must-see in all seasons.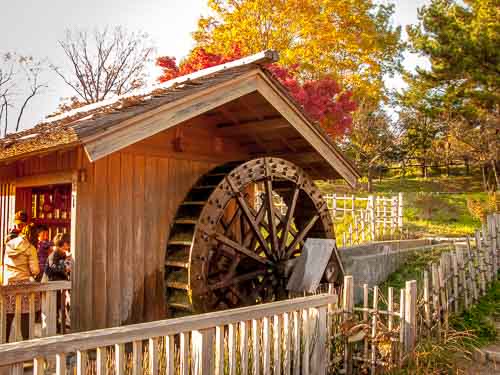 Water-powered mill at Komorebi Village, Showa Kinen Park
id="13">Komorebi Model Village and PondStep back in time to Komorebi Model Village, a short walk east of the Japanese Garden. Komorebi Village faithfully recreates a Japanese agricultural village from the early reign of Emperor Showa (which began in 1926) and its pursuits, including silk-making and rice milling, the latter waterwheel-powered.
Children's Forest
The Children's Forest is a short walk west of the Japanese Garden. A nature fun park for youngsters, the Children's Forest includes an array of attractions, including numerous variously themed woods, the Pyramid of the Sun, the Rainbow Hammock attraction of netting for kids to clamber over, a fortress, Moon Hill, "bouncy clouds" for very young children, and from March to November the Misty Forest where a grove is artificially filled with thick mist for 15 minutes on the hour and at half past the hour, 10 a.m. to 4 p.m.
Bicycle HireThere are 14 km of bicycle trails at Showa Kinen Park and bicycles are available for hire. Bicycle hire is available at the Tachikawa Gate, the Nishi Tachikawa Gate, and the Sunagawa Gate Bicycle Centers. Tandems are also available, as well as unicycles at the Tachikawa Gate Bicycle Center. Bicycle hire is 410 yen for adults, 260 yen for children, for 3 hours. Availability is from 9.30 a.m. until one hour before park closing time. Arrive as close to opening time as possible, as bicycles numbers are limited and can get booked out.
Rainbow Pool
Rainbow Pool (summertime only)
The Rainbow Pool complex is charged for separately from entry to the Park. Paying for entry to the Pool gives you free access to the Park. The Rainbow Pool complex has nine swimming pools throughout its 6 hectares (15 acres), including fun pools like the Wave Pool, Waterslide Pool, Adventure Pool, Monument Pool and Running Water Pool. The Rainbow Pool is open in mid-summer (July to September) only. The adjacent Water Playland for younger children has more toddler-friendly pools, and requires its own admission fee.
Showers and lockers available, but bring your own soap/shampoo. Get there as close to opening time of 9:30 a.m. as possible to get a cool spot, and bring flip-flops to protect feet from hot concrete.
Rainbow Pool admission: 2,500 yen for adults (15 years old and over); 1,400 yen for children (6 - 14 y.o.); 500 yen for preschoolers (4-5 y.o.)
Barbecue GardenThe Barbecue Garden is alongside the Rainbow Pool. The Barbecue Garden offers a variety of barbecue styles and plans, including choosing between bringing your own foodstuffs or having them supplied. Bookings must be made at least two months in advance. The time slot is from 10 a.m. to 4 p.m. The Barbecue Garden is where you can book games of futsal, petanque, croquet, lawn bowls, disk golf and horseshoes.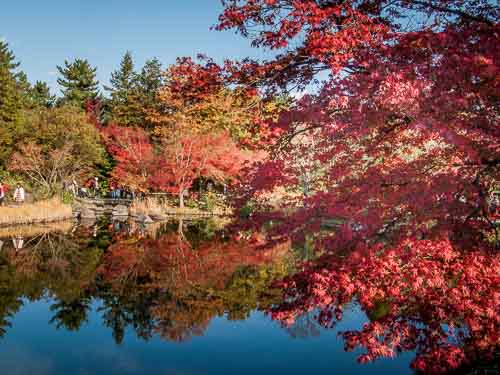 Fall colors in Showa Kinen Park

Access To Showa Kinen Koen
The Akebono Gate of Showa Memorial Park is the closest gate to Tachikawa Station. Take the north exit of Tachikawa Station, walk down the street that runs alongside the left of Isetan Department Store, and after about a 7 minute walk (550 meters) you will get to the Akebono Gate, on the south-east corner of the park. Following the path will take you to the Tachikawa Gate where you pay for entry to the park proper.
The Nishi-Tachikawa Gate is right across from Nishi-Tachikawa Station on the JR Ome Line, one stop from Tachikawa Station. This gate offers direct access to the Waterfowl Lake and Rainbow Pool complex. It may be less congested than the Tachikawa Gate, but you miss out on the information center and on the grand entrance afforded by the canal and its fountains.
The Sunagawacho Gate is of little use unless you live or are staying in that neighborhood. The nearest station is Musashisunagawa on the Seibu Haijima line, about 20 minutes' walk away.
Midoricho 3173, Tachikawa-shi 190-8558
Tel. 042 524 1516
Hours and Admission
March 1 - October 31: 9:30 a.m. - 5:00 p.m. (but open until 6 p.m. on weekends and public holidays between April 1 and September 30)November 1 - end of February: 9:30 a.m. - 4:30 p.m.
Adults (15 - 64 years): 450 yenSeniors (65 years and over): 210 yen14 years old and below: Free
Book Hotel Accommodation in Tokyo Here
All the themes of the city