Kyoto Public Bath Houses Sento
Kyoto public bath houses sento: the city is still home to many traditional and often historic sento to relax after a hard day of sightseeing.
Kyoto Public Bathhouses (Sento) 銭湯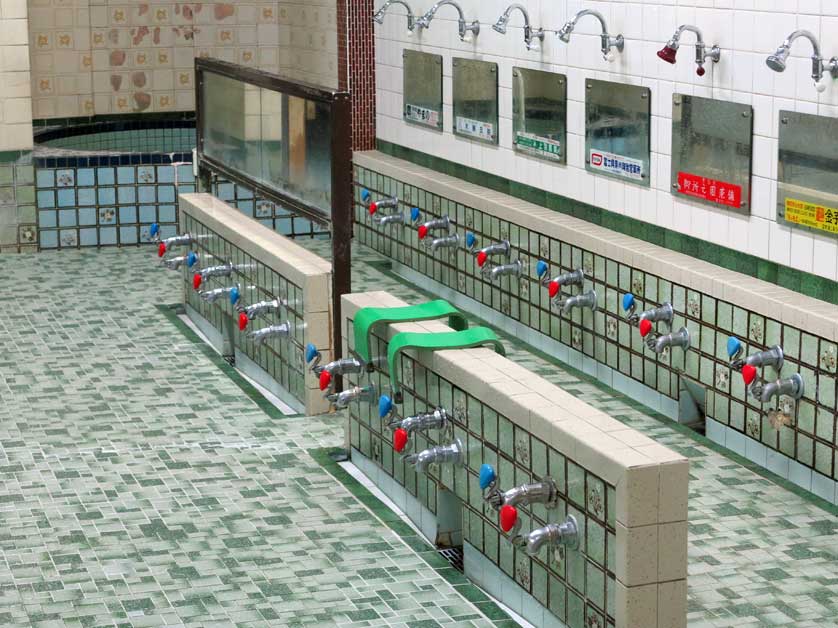 Kyoto Public Bathhouse - sento
Kyoto is still home to many sento or public bath houses.
The city's large student population, often living in cramped lodgings with shared shower rooms, provide a market for many of Kyoto's sento to survive, and in some cases, prosper.
The cold winters in Kyoto are another reason many people head to the city's public baths to keep warm during the freezing nights. Even in the city's stifling summers, a hot bath and sauna can paradoxically feel cooling and refreshing, especially if followed by ample time in the cold plunge.
The warrens of small, densely packed alleys full of wooden machiya houses have also created a sense of community that has continued over generations. Public bath houses are very much a part of Kyoto's sense of tight-knit community.
At present the members of the local sento association charge 450 yen for entrance. Razors, soap, towels, shampoo etc are extra.
Find a listing of some of Kyoto's best sento below.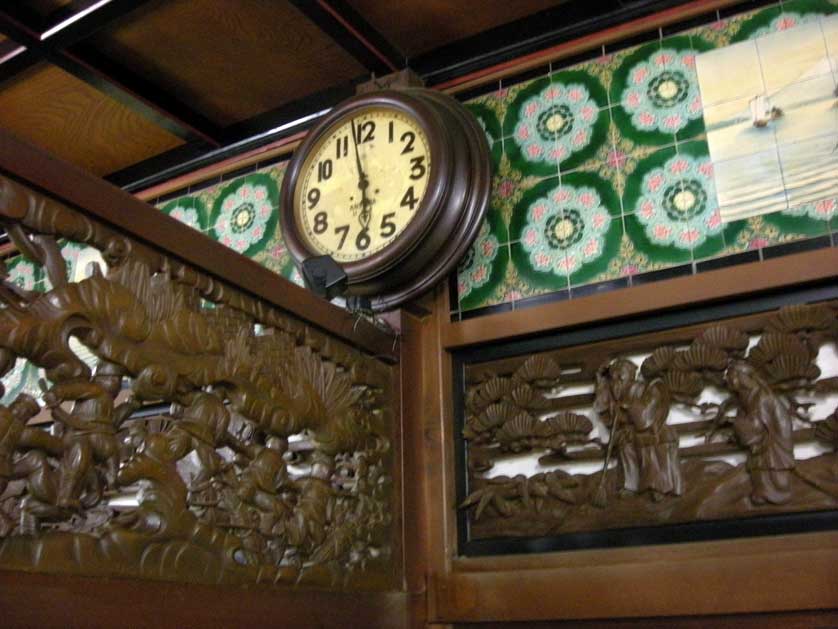 Funaoka Onsen, Kyoto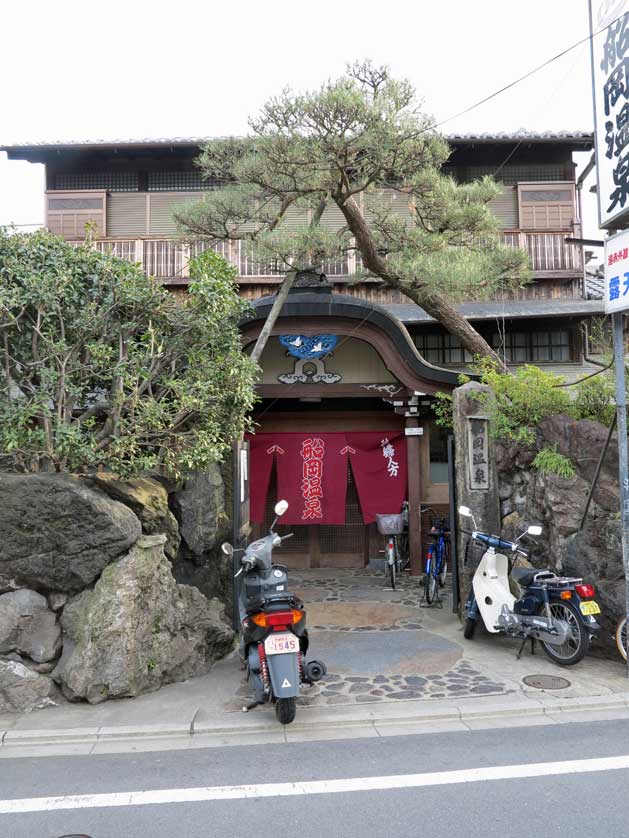 Funaoka Onsen, Kyoto

Funaoka Onsen
Built in 1923, Kyoto's Funaoka Onsen has not changed in a significant way since.
The main attraction are the amazing carvings and tile work on the ceiling and walls of the changing rooms. Some of them may not not now be considered particularly politically correct as they reference the rising militarism of the age and Japan's expansionism in China. Several of the carvings depict scenes from Japanese military campaigns in the 1930's including the Shanghai Incident of 1932. They are a testament in wood to the turbulent history of that period. The building is now designated as a registered tangible cultural property. Funaoka Onsen also was the first sento in Japan to introduce a denki-buro or electric bath.
Facilities include a sauna, several types of bath, and a small outdoor bath with a garden (rotenburo).
Funaoka Onsen82-1 Minami-Funaoka-cho, Murosaki no Minami26, Kyoto, 603-8225 JapanTel: 075 441 3735
Hours: 3 pm-1 am; from 8 pm SundaysFee: 450 yen
Access - Getting To Funaoka Onsen
Bus: From Kyoto Station, take bus 206 to Kuramaguchi Station. From there the bath is a 5 minute walk.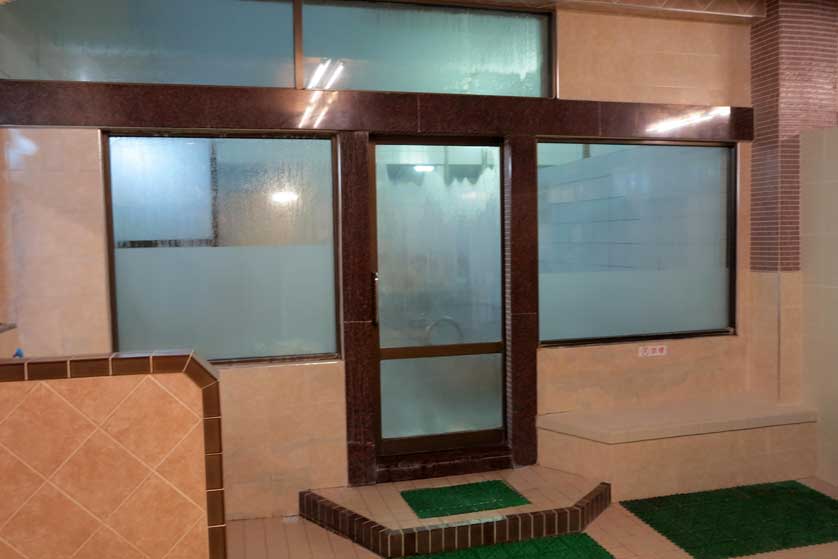 Daikokuyu sento near Shugakuin Station

Daikoku-yu
Daikoku-yu public bath is a long-running sento close to the Eizan Railway Line tracks at Shugakuin Station.
Daikoku-yu has hardly changed over the years and is a welcoming place to relax and get clean. Located very near a dormitory for foreign students of Kyoto University, the sento is also very used to foreign guests.
The changing rooms have a cold drinks vending machine and hair dryers. Towels can be rented or purchased on the door where customers can also buy razors, soap, shampoo etc.
Daikoku-yu16-3 Yamabanayanagatsubo-cho, Sakyo-ku
Kyoto 606-8001
From Shugakuin Station on the Eizan Electric Railway Main Line walk south on Higashi Oji Dori and take the first major left turning towards a level crossing. Daikoku-yu is on your left.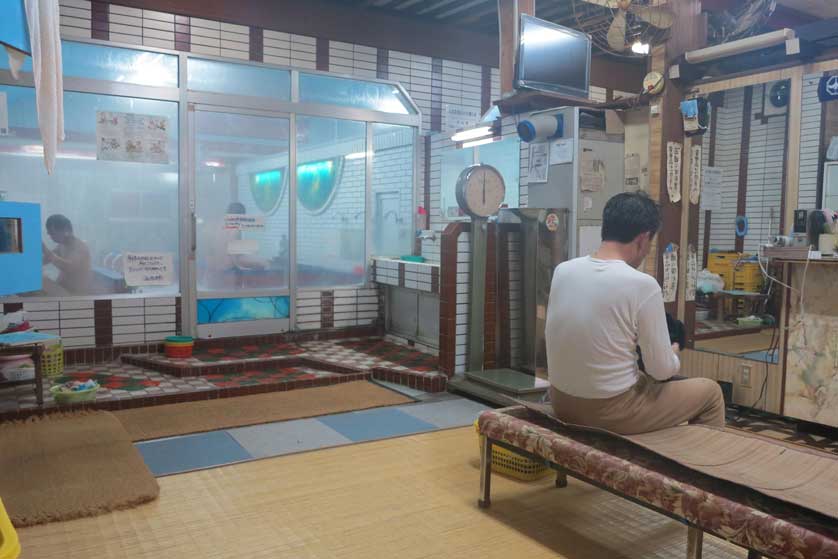 Higashiyama-yu, Hyakumanben, Kyoto
Higashiyama-yu
Higashiyama-yu Onsen on the north west corner of Hyakumanben in Kyoto is an old school sento dating back years.
Posters of Marilyn Monroe and The Beatles peel from the walls of the changing room, smoking seems de rigeur, as is a post bath beer or two in the male enclave. Time slows as you travel back to an earlier, lost, never to be seen again Japan.
The eclectic clientele includes spunky neighborhood ojisan as well as younger students from nearby Kyoto University. Foreigners are in abundance and welcome.
Higashiyama-yu Onsen27 Tanaka MonzenchoSakyo-ku, Kyoto, 606-8225Hours: 3.20 pm-1 am; Saturday & Sunday 3 pm-1 am; closed FridayTel: 075 781 4472
Higashiyama Yu Onsen is across Higashi Oji street from Chionji Temple.
Idutsu-yu bath house in Kyoto
Idutsu-yu
Idutsu-yu is a traditional Kyoto public bath (sento) south west of the Imperial Palace (Gosho).
It has nice tile work of a church in the European Alps which marks it out among other sento in Kyoto. Another nice touch is the original Showa Period advertising on the washing space mirrors, which date back to when the public bath opened back in 1950.
There is also another well-known Daikoku-yu in the Gion district.
Idutsu-yuShimachi Takeyacho-kudaruBenzaiten-cho 288Nakagyo-kuKyoto 604-0093Tel: 075 231 6273; 3 pm-12 am; closed Thursday
The sento is a short walk west from Marutamachi Station on the Karasuma Line of the Kyoto subway.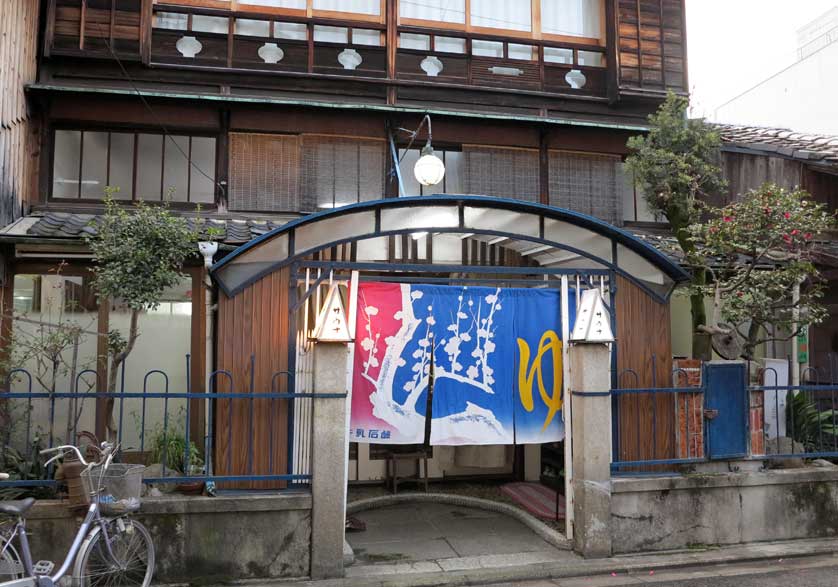 Entrance to Sakura-yu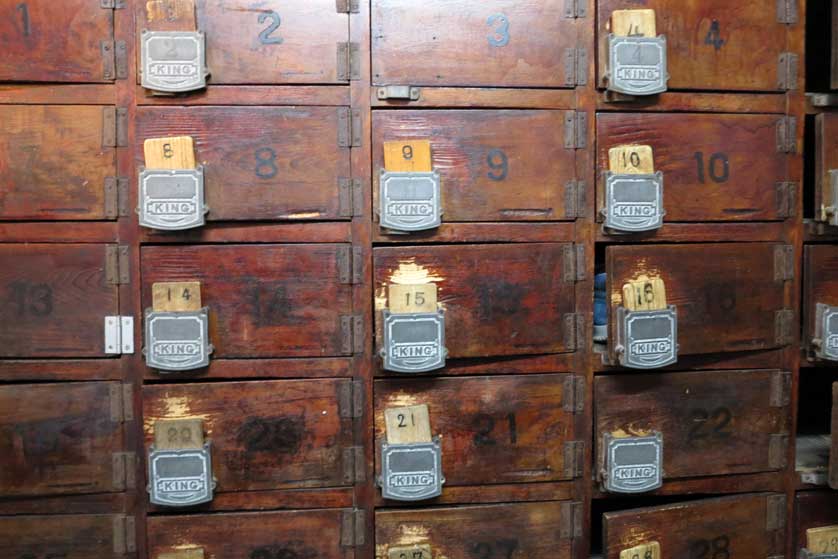 Old school wooden shoe boxes at Sakura-yu

Sakura-yu
Now 100 years old and counting, Sakura-yu public bath in downtown Kyoto, is a trip back in time. Though situated close to Kyoto's busiest shopping street, Kawaramachi, Sakura-yu is set on a peaceful side street, populated by a few trendy cafes and eateries.
Established in 1919 way back in the Taisho Period, Sakura-yu is a preserved period piece of a sento with some lovely touches, from the weathered wooden shoe lockers at the entrance to the tiled baths themselves inside.
Sakura-yuTawaraya-cho 454Nakamachidori Marutamachi-agaruKamigyo-ku
Kyoto 602-0871Tel: 075 231 0391
Hours: 4.30 pm-midnight; closed Monday
There is room for one car in the car park.
The nearest station to Sakura-yu is Jingu-Marutamachi on the Keihan Line or take one of numerous city buses to the corner of Marutamachi and Kawaramachi. These include: #3, #4, #10, #17, #37, #59, #65, #93, #202, #204, #205.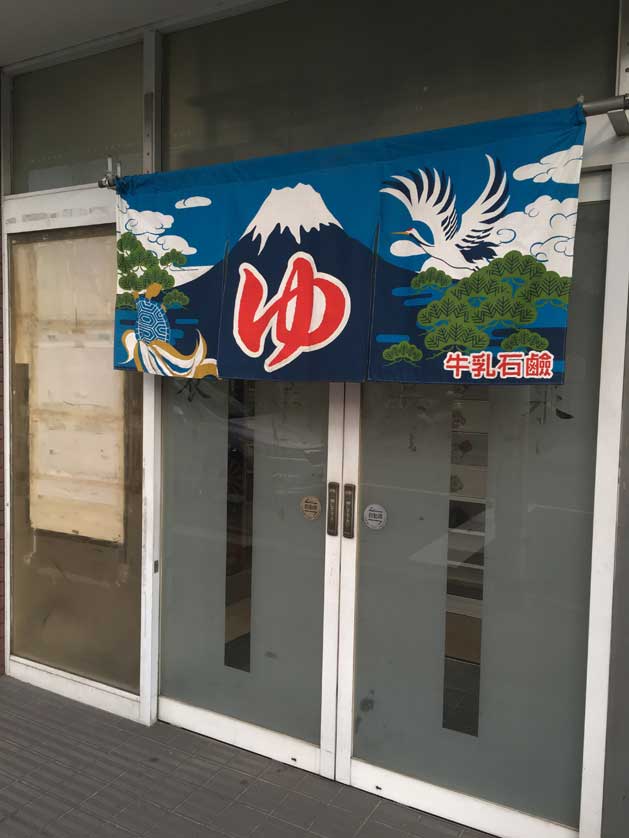 Entrance to Kinugasa Onsen with characteristic noren curtain showing Mt. Fuji

Kinugasa Onsen
Kinugasa Onsen near Myoshinji Temple in west Kyoto is a modern, multi-story, neighborhood public bath with a sauna, an interesting cold room and an outside roof-top bath.
Kinugasa Onsen50 Taishogun IchijochoKita-ku, Kyoto, 603-8336Tel: 075 462 1225
Hours 4 pm - 1 am; closed Friday.
The www.kyo1010.com website in Japanese has a listing of all the city's public baths. It is a great resource for finding a hot bath near you in Kyoto.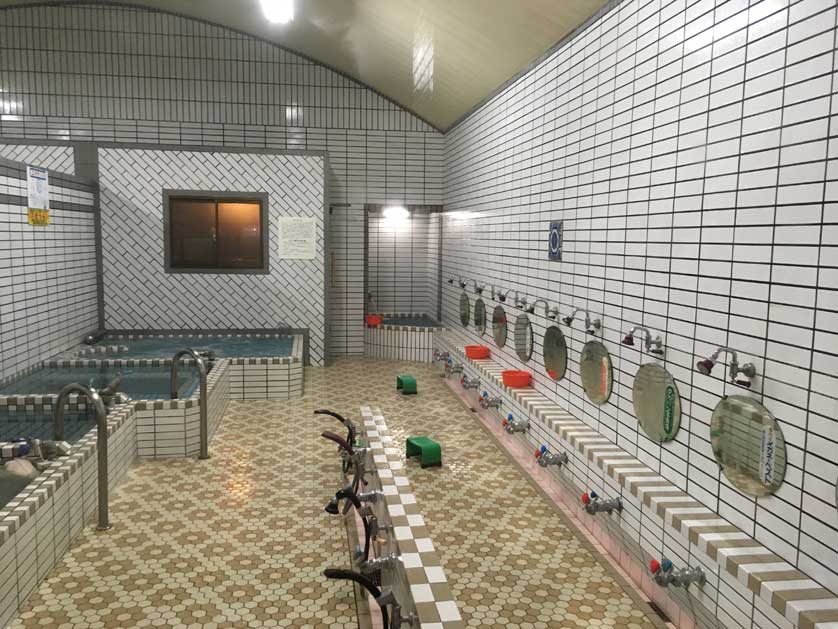 Sento interior in Kyoto

All the themes of the city