5 accommodations in Kyoto and its surroundings with private baths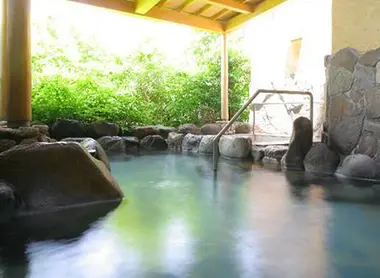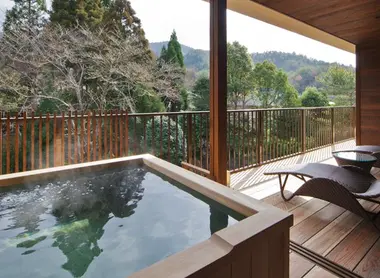 Private onsen
The dilemma often arises during a trip to Japan: how to enjoy the Onsen without exposing yourself naked in front of strangers and enjoying these moments of relaxation with your party in private? Today, more and more accommodations offer their customers private Onsen or bath supplied with spring water for more privacy.
Here is a selection of accommodation with private baths in Kyoto and its surroundings. All of them also offer delicious traditional regional cuisine. Spas and gastronomy will satisfy you.
Sakanoue
In Kyoto, in the heart of the historic district of Gion, at the top of a cobbled alley, hides the ryokan Sakanoue. Its traditional architecture, its garden, and its tastefully decorated tatami rooms make it a privileged experience, in a deliciously Japanese atmosphere. The rooms have baths supplied with spring water and it is even possible to reserve large pools free of charge for private use.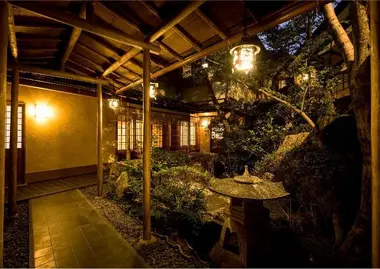 Kashoen Hanare Fuka
Kashoen Hanare Fuka Hotel is located in Yuuhigaura Hot Spring Resort. The latter has been declared one of the best places in Japan to admire the sunset, "yuuhi " in Japanese. It should be noted that the establishment is reserved for adults and children over 12 years old.
All the rooms have a splendid view of the sea and the bathtubs in the bathrooms (also with a view) are supplied with spring water. This allows you to enjoy the benefits of the thermal baths in complete privacy. Depending on the floors and the rooms, the bathtubs are made of porcelain, stone, or even cypress wood, to add to the pleasure of the senses.
Those who want to experience the public bath will also have the pleasure of soaking in large pools of spring water or the open-air bath (rotenburo) which can be rented for private use (1,200 yen 45 min or $10.50/€9.50).
Arashiyama Benkei
Arashiyama: this name evokes Japan as one dreams of it, between exuberant nature and refined culture. The Arashiyama Benkei ryokan, located amidst the greenery near the Oi River, brings this dream to life.
Its 10 rooms each have a different charm and some of them offer an outdoor bath with spring water, from which you can admire Arashiyama and the river. Arashiyama's waters are famous for their therapeutic properties, and those without an outdoor bath can reserve the ryokan's rotenburo for private use.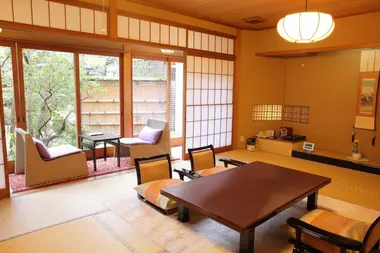 Address : Ukyo-ku Saga Tenryuji Susukinobaba-cho 34, Ukyo Ward, 616-8385 Kyoto
Site in English : http://benkei.biz/en/
Kyoto Yunohana Resort Switzerland
Kyoto Yunohana Resort Suisen is located about thirty minutes from Kyoto station, in an idyllic setting where nature reigns supreme. Its thermal waters have a thousand virtues and for more privacy, hotel guests have the choice between rooms with spring water baths on a private terrace, or the rental of the stone rotenburo in the garden (2,000 yen for 50 min without taxes, i.e. $17.50/16€). Vast public pools for men and women are of course self-service.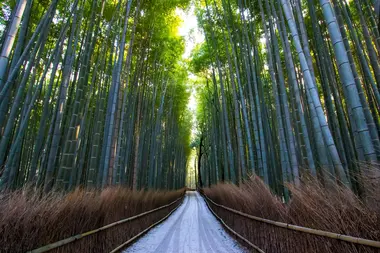 Nanairo no Kaze - Hamanoji Rinko An
Nanairo no Kaze - Hamanoji Rinko An is a small ryokan with only seven rooms, located on the coast of Kumihama, in the north of Kyoto prefecture. The rooms are with tatami mats and some include a bathtub fed by natural spring water. It is possible to rent the open-air pool with a view of the Mitoguchi Canal, which flows from Kumihama Bay to the Sea of Japan, for 500 yen for 45 min i.e. $4.50/4€).
All the themes of the city