Maruyama Koen Park Kyoto
Maruyama Park 円山公園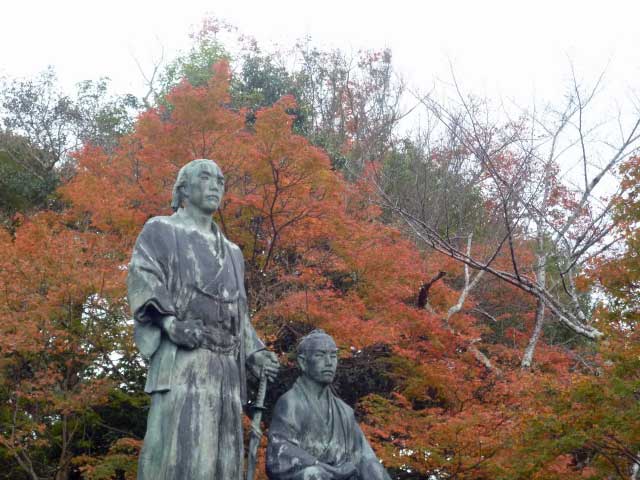 Sakamoto Ryoma and Nakaoka Shintaro
Maruyama Koen lies behind Yasaka Jinja in the Gion area of south eastern Kyoto, that is about 2 km north east of Kyoto Station if you are coming by subway or bus.
Maruyama Park is Kyoto's most famous cherry-blossom viewing (hanami) spot and can get particularly boisterous at night, when revelers enjoy themselves drinking beer and sake under the hundreds of cherry trees in the park in an event known as Gion-no-Yozakura.
A large shidarezakura (weeping cherry tree) stands at the center of the park and is illuminated at night. The tree is over 70 years old and is said to have been grown from a tree that was over 300 years old!
The area which is now Maruyama Koen, was once occupied by several temples that were destroyed by fire. Maruyama Koen was turned into a public park in 1871 in the early Meiji Period and formerly opened to the public in 1886.
Maruyama Park Cherry Tree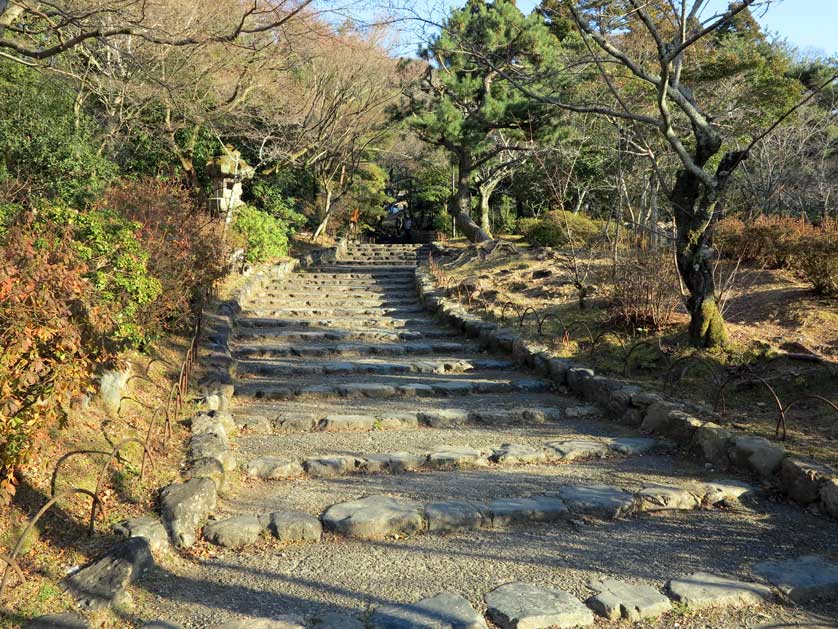 Maruyama Park, Kyoto
Maruyama Park Layout
Maruyama Park is similar to a Chinese-style park with walkways, several ponds and ornate bridges. There are prominent statues of Sakamoto Ryoma and Nakaoka Shintaro, two samurai activists from Kochi, who were both assassinated in Kyoto during efforts to overthrow the Tokugawa shogunate in 1867.
The park has a number of informal refreshment shops where visitors can buy snacks and drinks and a small concert hall as well as the Michelin starred Mizai restaurant. The northern entrance to the park leads directly to Chionin Temple.
There is also a Maruyama Park in Sapporo, Hokkaido.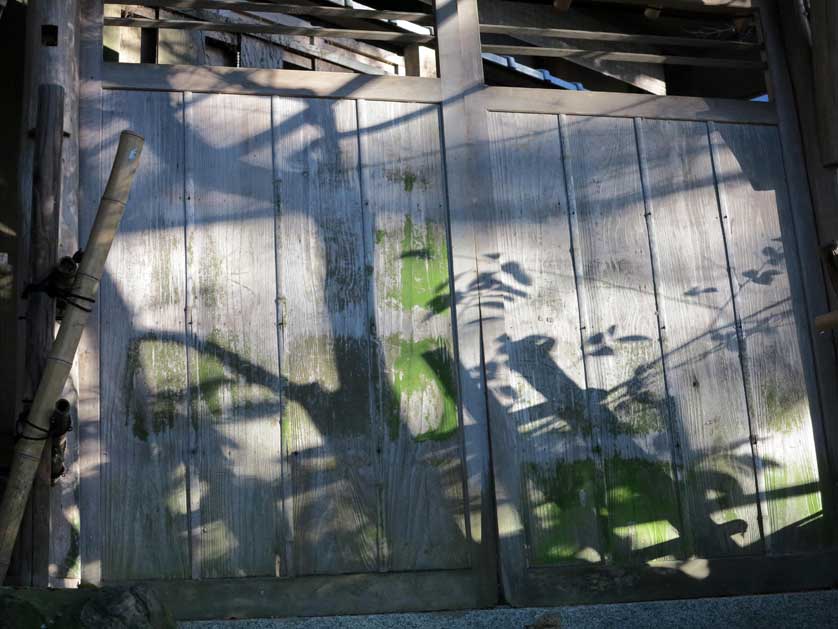 Access - Getting To Maruyama Park
Maruyama Park
Higashiyama-ku
Kyoto 605-0071
Open 24 hours
Maruyama Koen is a 5-10-minute walk from Shijo Keihan Station. From Kyoto Station, take the #206 or #207 bus to the Gion bus stop.
A visit to Maruyama Park can be combined with trips to Kodaiji Temple, Anyoji Temple, Gion, and Kiyomizudera. The Okazaki museum area and Heian Shrine are to the north of the park. Within Maruyama Park is the famed Kyoto haute cuisine restaurant Mizai.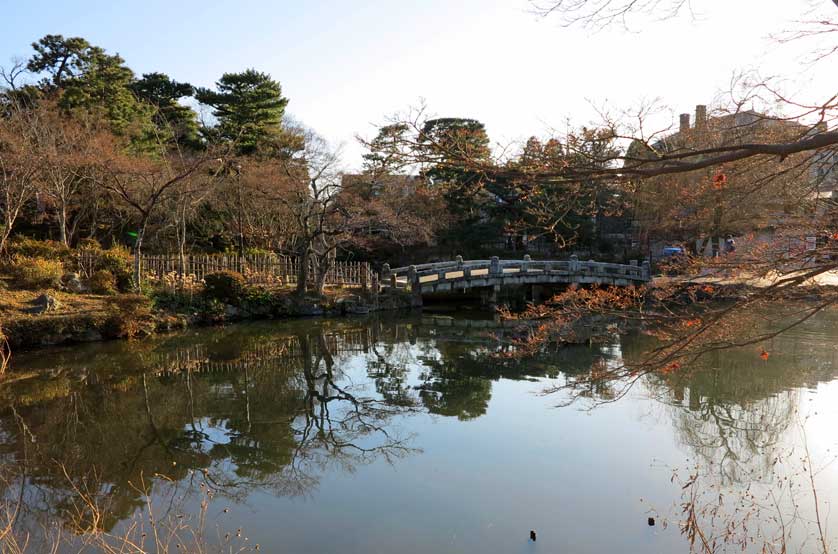 Maruyama Park Pond & Bridge, Kyoto
Hotels Near Maruyama Koen
Walking south from Maruyama Park are a number of Kyoto's most exclusive traditional ryokan in the Nene-no-michi area of town. Visitors who can afford to stay here can avoid the neon lights, noise and bustle of the hotels in the Kawaramachi and Kyoto Station areas. Recommended places to stay are many and grouped closely together.
Kyoto ryokans here include Gion Hatanaka, Ryokan Karaku, Komatsu, Yamashita, Mitake, Sakanoue, Gion Sano, Kodaiji Yoshinoya, Motonago, Samyotei, Fukuya, Rikiya, Nakagawa, Watanabe, Tamahan, Maifukan, Inakatei and Sakiyoshi. Most have Japanese-style tatami rooms with futon bedding and include a Japanese breakfast and full course evening meal.
Within Maruyama Park itself are Iyuki, Yoshimizu, Chorakukan, Yuzuya and Kichuan.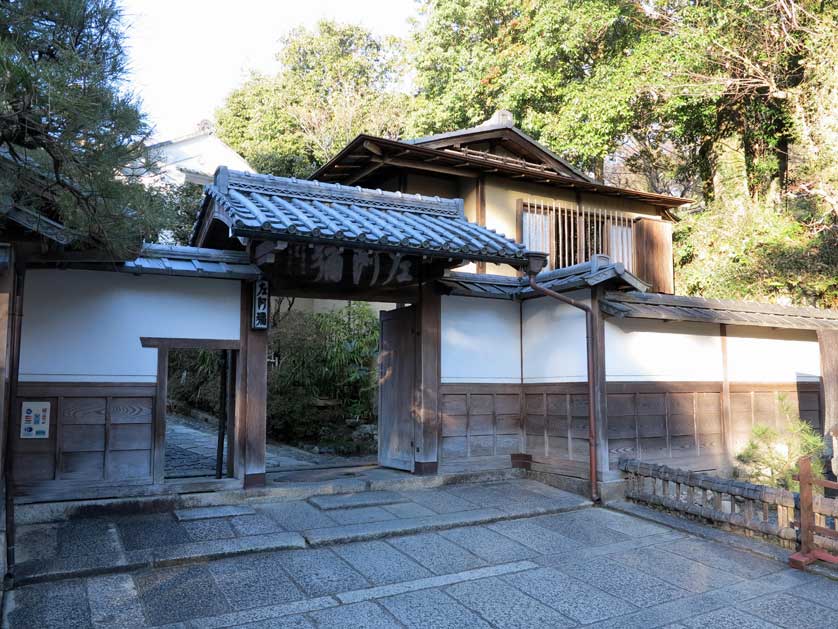 Japanese restaurant Saami (左阿彌), Maruyama Park, Kyoto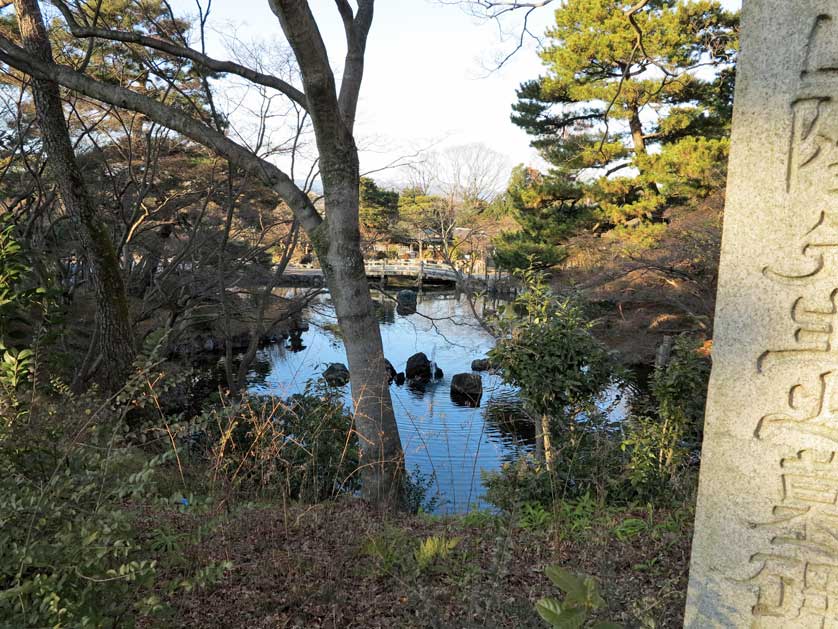 Maruyama Park Pond, Kyoto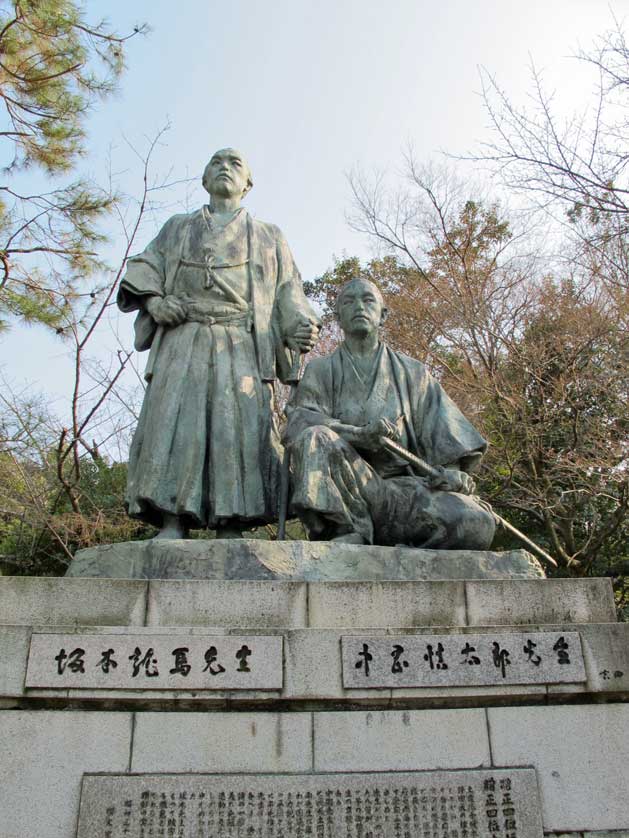 Sakamoto Ryoma and Nakaoka Shintaro statues in Maruyama Koen, Kyoto
Book Hotel Accommodation in Kyoto Near Maruyama Park
Maruyama Koen: read a guide to Maruyama Park in Kyoto famous for its cherry blossom (hanami) in spring.
All the themes of the city