Shoseien Garden
Shoseien Garden 渉成園
Shoseien Garden, close to Kyoto Station in south Kyoto, is a traditional, Japanese, formal, strolling garden affiliated with its much larger neighbor to the west, Higashi Honganji Temple; both are part of the Shinshu Otani-ha sect of Jodo Shinshu Buddhism.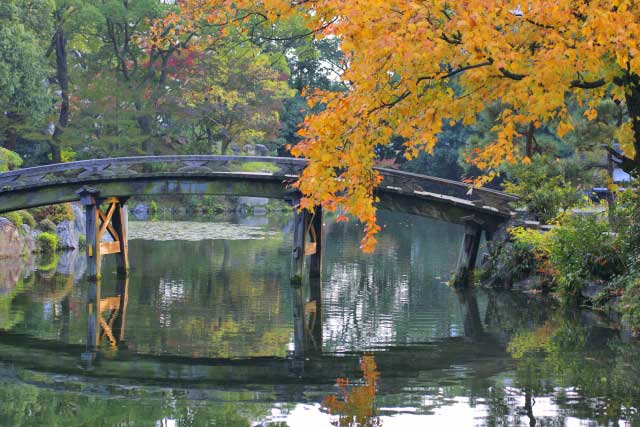 Snow-Capped Bridge, Shoseien Garden, Kyoto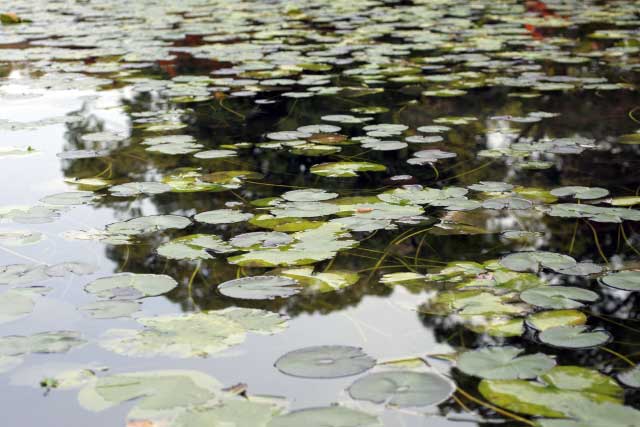 Water lilies, reminiscent of a painting by Monet, Shoseien Garden, Kyoto
Shoseien Garden History
Shoseien Garden's origins are not completely clear. It is possible the garden was first built in the ninth century, on the Heian Period site of Prince Minamoto Notoru's mansion. Minamoto was the son of the Emperor Saga and a model for Prince Hikaru Genji in the classic Heian era Tale of Genji by Murasaki Shikibu.
We do know that in 1641 the Tokugawa shogunate under Tokugawa Iemitsu granted the land to nearby Higashi Honganji Temple.
Two years later, the 13th abbot of Higashi Honganji, Sennyo (1604-1658) commissioned Ishikawa Jozan (1583-1672), the ex-samurai, Confucian scholar and poet to design and construct a garden. Enshu Kobori, another famous garden designer is also thought to have had a hand in the work. This is what became Shosei-en.
Ishikawa is famous as the architect of another famous garden at his retreat at Shisendo in Higashiyama, north eastern Kyoto.
The Shoseien Garden is also known as Kikokutei ("the estate of the trifolate orange") as the garden was surrounded at one time by a hedge of the Japanese bitter orange (kikoku).
Fires in 1858 and 1864 during the turbulence of the late Edo Bakumatsu Period, when anti-Tokugawa samurai were active in Kyoto, burnt the walls and interior structures to the ground.
They were thereafter restored, and in 1938 Shoseien was designated a National Historic Site and accorded protection.
Shoseien Garden Buildings & Layout
Within the grounds of Shoseien, there are several tea houses, a large pond (Ingetsu-chi) , a small waterfall, many stone lanterns, and trees and plants that are in bloom throughout the year.
After entering the main gate, the first building on your left is Rinchi-tei. It fronts a small pond and the falls, and features classic austere Japanese design elements: sloped roof with tiles, an engawa porch overlooking the pond, and open rooms with tatami flooring.
Next to it is the Roan Tea House, with its sign warning to watch out for the "bee." Directly in front of the tea house is Anrido Hall, famed for its painted fusuma screens.
Other elements of the garden are the Takaishigaki - a large stone wall - constructed from stones from various sources and the Minamoto no Toru Memorial Tower, a nine-level, miniature stone tower, built in the Kamakura Period and dedicated to Prince Minamoto, who we have seen has associations with this garden.
Last is the pond itself with its islands constructed from remnants of the Odoi, a defensive wall built by Hideyoshi Toyotomi, that once circled Kyoto. The pond is full of koi carp, some of them very large and of great age. The pond also attracts varieties of ducks including mallards, pintails, spotbills and teals.
The Snow-Capped Bridge clearly brings to mind Monet and the Japonisme boom of the late-19th-century. The Chinese-corridor style Bridge (Kaito-ro), with its roof of cypress bark roof, is also a marvel of subtlety.
In February, Shoseien has red and white plum trees in blossom in the plum orchard. They will be followed by snow willows, in March, and then cherry trees in April. Azaleas come out in May, water lilies in the summer, bush clover in September and October, and the fall maples in November.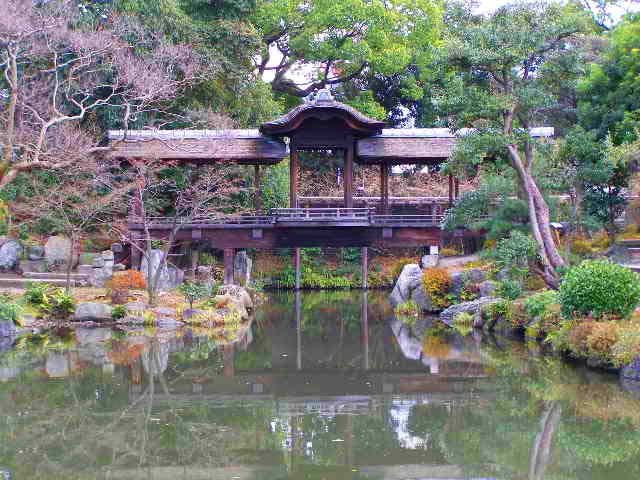 Chinese-corridor style Bridge (Kaito-ro), Shoseien Garden, Kyoto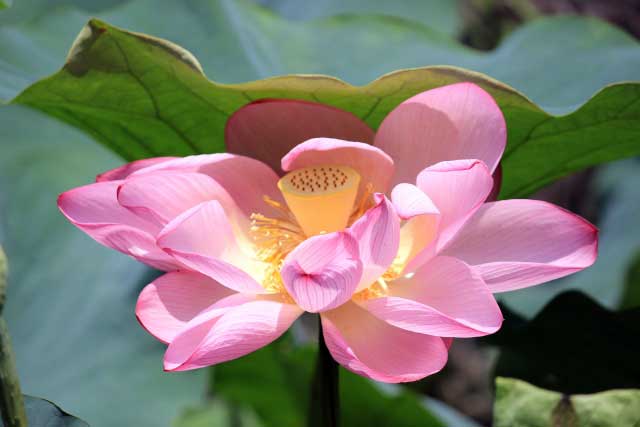 Shoseien Garden, Kyoto
Shoseien Garden Temple Access
Shoseien Garden (www.higashihonganji.or.jp in Japanese)
Higashitamamizu-cho 300
Shimojuzuyamachi-dori, Aidanocho-higashiiru
Shimogyo-ku, Kyoto 600-8505
Tel: 075 371 9181
Admission: 500 yen
Hours: 9 am to 5pm (March-October); 9 am to 4 pm (November-February).
From Kyoto Station walk north along Karasuma to the junction with Shichijo. Turn right and then take the third left, Ainomachi.
If you wish to stay in this relatively quiet area of Kyoto, just a few blocks north of Kyoto Station but away from its congestion and crowds, try the Hotel Station Kyoto or Urbain Kyoto Kawaramachi-dori, both moderately priced.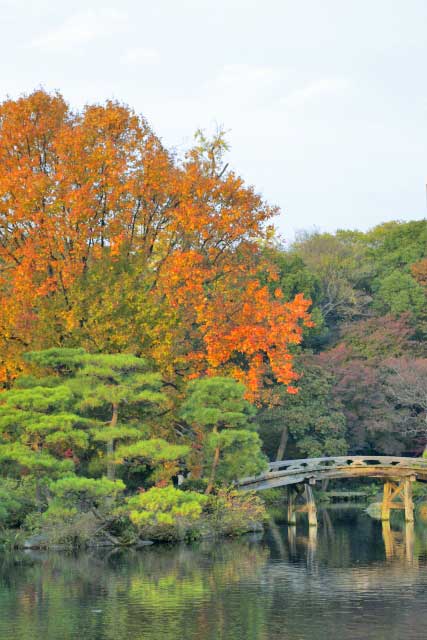 Shoseien Garden, Kyoto
Shoseien Garden Map
Book Hotel Accommodation in Kyoto Here
Shoseien Garden (渉成園) is an Edo Period strolling garden built for the abbots of Higashi Honganji Temple. Shoseien contains ponds, pavilions and ornate bridges and is known for its flowering plants in all seasons.
All the themes of the city