Nagoya Parks & Gardens
Nagoya Parks & Gardens: read guides to the many parks and gardens in and around Nagoya including Tokugawa Garden and Higashiyama Koen.
Nagoya, contrary to popular perception, has a number of interesting parks and Japanese gardens.
The Tokugawa Garden (Tokugawa-en) surrounding the splendid Tokugawa Art Museum is probably Nagoya's most famous garden but there are many others in the city where visitors and residents can relax, play and enjoy the various plants and trees in season.
Nagoya Parks & Gardens 名古屋の公園
Ai Chikyuhaku Kinen Koen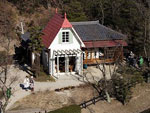 Ai Chikyuhaku Kinen Koen (愛・地球博記念公園) is the former site of the Aichi 2005 Expo and its main draw is now Satsuki & Mei's House reconstructed from the popular anime movie, My Neighbor Totoro by Hayao Miyazaki. The magical and spiritual nature of their new home is full of exciting adventures for the two girls, Satsuki and Mei, may be haunted, and stands in counterpoint to the sterility of the city they have just left.
Aioiyama Ryokuchi Park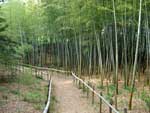 Aioiyama Ryokuchi Park (相生山緑地) is a small, forested oasis in the south east of the city's urban sprawl. Set around a small hill, the park consists of woods and large areas of bamboo interspersed with small orchards. Aioyama Ryokuchi Park is one of the few remaining forests in the city that were once used for timber and charcoal.
Atsuta Shrine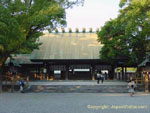 Atsuta Jinja (熱田神宮) is Nagoya's most important Shinto Shrine and is set in large grounds containing a restaurant, a Noh theater, a 1,300 year old giant camphor tree planted by the renowned Buddhist priest Kobou Daishi and an interesting museum of the shrine's treasures. The Bunka-den treasure storehouse museum is full of over 4,000 important cultural assets, especially swords.
Chayagasaka Park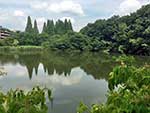 Chayagasaka Park (茶屋が坂公園) in Chikusa-ku in Nagoya is a large, quiet, green space with ponds and woods between Chayagasaka and Jiyugaoka stations on the Meijo Line of the Nagoya subway. Chayagasaka Park is known for its hydrangeas in June and the flowers line some of the paths through the park.
Chikusa Park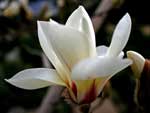 Chikusa Park (千種公園) is famous for its 10,000 lilies that bloom in June. There are tennis courts, a baseball diamond, a kids' playground and jogging courses. There is also a stage where various events can be held. The park is east of Tokugawa-en and north of Imaike subway station on the Sakura-dori and Higashiyama lines of Nagoya subway. A munitions factory in this location was destroyed in US air raids in March 1945 with considerable loss of life. Part of its original walls are still visible.
Denpark Anjo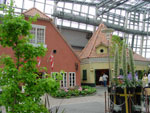 Denpark Anjo (デンパーク, 安城) is a short journey east of Nagoya towards Toyohashi on the Meitetsu Line. Denpark is a compact theme park based on the architectural, agricultural and floral charms of Denmark.
Heiwa Koen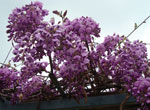 Heiwa Park (Peace Park; 平和公園) close to Hoshigaoka Station (Higashiyama subway line) and Jiyugaoka Station (Meijo Subway line) has the most cherry blossom trees in Nagoya along with woodland trails, ponds and a large cemetery with many historical graves and tombs.
Higashiyama Park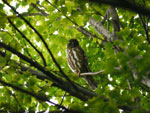 Higashiyama Park (Higashiyama Koen; 東山公園) is a large green space containing Nagoya Zoo, Nagoya Botanical Gardens (complete with an extensive greenhouse and Insect Hall), an amusement park and the Higashiyama Sky Tower and observation deck.
Hisaya Odori Teien Furaie (Orchid Gardens)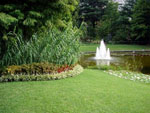 Hisaya Odori Teien Furaie (久屋大通庭園フラリエ) previously the Orchid Gardens aka Ran-no-kan is an inner-city English-style park dedicated to the orchid with pleasant lawns. The cool main atrium displays over 250 species of orchid as well as other flowers. Outside are some fine lawns in a British-style garden, a small lake with lotus flowers and an Asian garden built around a Balinese-style arbor. The Orchid Gardens include a flower shop on the first floor. The second floor has a noted restaurant. The air-conditioning system for the building is ecologically run using an innovative, in-house sewage treatment center.
Kaisho Forest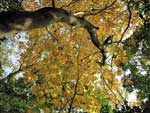 Kaisho Forest (kaisho-no-mori; 海上の森) is a large demi-wilderness area in Seto city, north east of Nagoya with a unique habitat for various flora and fauna including the rare Japanese Giant Flying Squirrel. Kaisho Forest offers a number of pleasant walks ranging from around 1-3 hours. Kaisho Forest ranges in elevation from 100-400 meters and includes Mount Sanage near Toyota city to the east. The geology of the area is a mix of sandy gravel and granite, which allows trees to grow up to 25 meters in height. Kaisho Forest has been a protected nature reserve for future generations since 2006.
Little World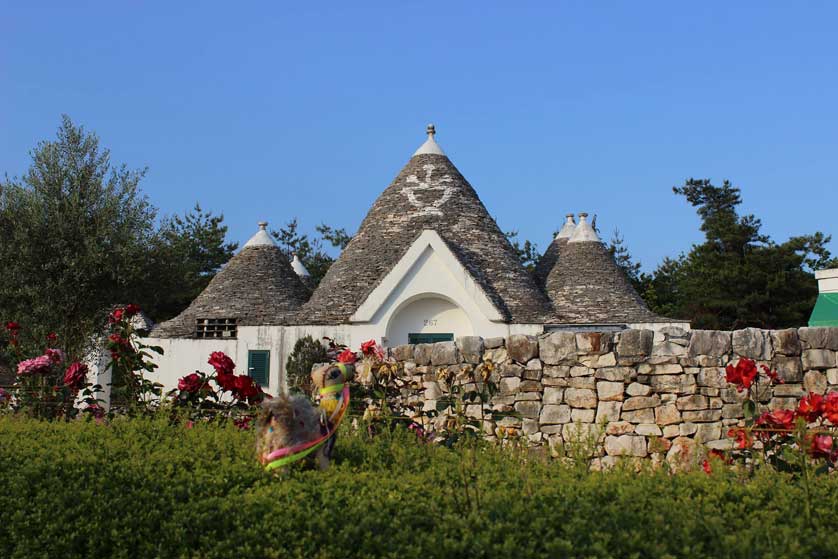 Little World is an open-air anthropological museum and park containing 33 homes from 22 countries in South East Asia, Europe, Africa and other parts of the world transported all the way to Inuyama, just a short train trip north from Nagoya.
Makino-ike Ryokuchi Park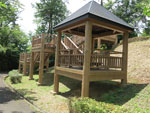 Makino-ike Ryokuchi Koen (牧野ヶ池緑地) is a woodland park focused on Makino Lake. As well as forest trails, the park has a children's playground, a baseball diamond for kids, gate ball and spacious grass lawns.
Meiji Mura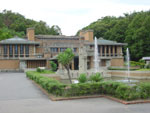 Meiji Mura (明治村) features buildings preserved in their original state from the Meiji Period of Japanese history (1868-1912) when the country fully opened up to the West and began to modernize and industrialize. Recommended.
Nagoya Agricultural Center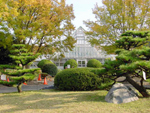 Nagoya Agricultural Center (名古屋農業センター) is particular famous for its plum blossoms which draw large crowds in February/March. There is also a small farm with animals, an organic vegetable shop and glass houses for sub-tropical plants.
Nagoya Castle Park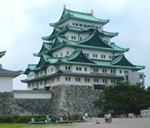 Nagoya Castle Park (Nagoya-jo Koen; 名古屋城公園) is the large park surrounding Nagoya Castle to the north of Nagoya Station. Nagoya-jo Koen is a very popular place at cherry blossom time when Nagoyans flock to the park to enjoy the estimated 2,000 cherry trees of various types.
Nagoya City Wild Bird Observation Center
Nagoya City Wild Bird Observation Center (名古屋市野鳥観察官) is the place to view 1,000's of migratory birds in spring and autumn at the the huge estuary south of Nagoya created by the Shonaigawa, Shinkawa and Nikkogawa rivers as they enter the sea.
Nakamura Park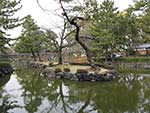 Nakamura Park (Nakamura Koen; 中村公園) is a small park in the west of Nagoya, constructed in 1885 around Toyokuni Shrine. Nakamura Koen contains a small lake and rock garden, the Nakamura Park Memorial Museum, and the interesting Hideyoshi and Kiyomasa Memorial Museum on the second floor of the Nakamura Koen Culture Plaza.
Ninomaru Garden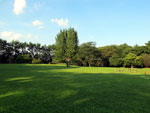 Ninomaru Garden (二之丸庭園) within the grounds of Nagoya Castle was transformed into a strolling garden with grass lawns and dry stone gardens in the early 18th century. Ninomaru Garden is a lovely place to linger after a visit to Nagoya Castle.
Noritake Garden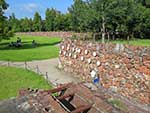 The Noritake Garden (ノリタケの森) area of the Noritake complex is a green expanse containing lawns, a biotope of trees, plants and water as well as six chimneys of old kilns built in the 1930's, the Kiln Wall made of old brick foundations and decorated with plates inscribed with the name of donators to the garden. This natural space to walk, relax or read is close to Nagoya Station.
Obata Ryokuchi Koen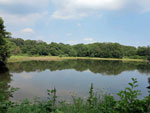 Obata Ryokuchi Koen (小幡緑地公園) in Moriyama-ku features often deserted woodland trails, lovely ponds, lawns and small lakes as well as a popular children's park, tennis courts and a large lawn space.
Odaka Ryokuchi Park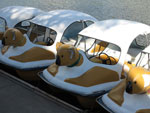 Odaka Ryokuchi Koen (大高緑地公園) is a drive-through park offering a number of fun, family entertainments: crazy golf, go karts, pedal and row boats on the lake, tennis courts, soccer pitches, a driving range, long kiddies' slide and baseball diamonds.
Shirotori Garden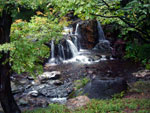 Shirotori Garden (白鳥庭園) opened in 1991 and its 3.7ha represent the countryside of the surrounding areas of Nagoya city, including Mt. Ontake, the second highest volcano in Japan at 3,067 meters in height and the Kiso River in Gifu Prefecture.
Shonai Ryokuchi Park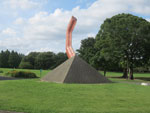 Shonai Ryokuchi Koen (庄内緑地公園) west of Nagoya Station is a large park with a boating lake & pick-up soccer games. Shonai Ryokuchi Koen boasts a children's park, tennis courts, a Rose Garden, the Green Plaza and a water fountain area to keep cool in summer.
Tenpaku Park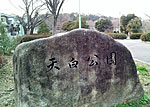 Tenpaku Park (Tenpaku Koen; 天白公園) is a large park in Tenpaku-ku in the west of Nagoya. There is a children's fun park, a lake, BBQ spots and a jogging track. There are buses to the park from Hara Station on the Tsurumai Line or it is a 15 minute walk from the station.
Tokugawa Garden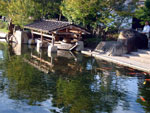 Tokugawa Garden (Tokugawa-en; 徳川園) was laid out in 1695 as a retirement villa for Mitsutomo, Lord of the wealthy Owari Tokugawa family, a powerful scion of the main, ruling Tokugawa clan of the Edo Period (1603-1867).
Tsurumai Koen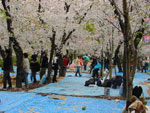 Tsurumai Park Nagoya (鶴舞公園) next to JR Tsurumai Station and the subway station, Tsurumai-koen is a popular cherry-viewing spot in spring and also has a large children's playground.
Yoki-so Villa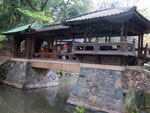 Yoki-so Villa (揚輝荘), very close to Nittaiji Temple in Chikusa-ku, was established as a repository for endangered, historical buildings by Jirozaemon-Suketami Ito, a direct descendant of the Edo Period founder of the Matsuzakaya department store Yudo Ito, in 1918.
Related Japan Articles
Ueno Park TokyoKyoto Parks & Gardens
Book Hotel Accommodation in Japan
All the themes of the city