Kashihara Guide
Kashihara Guide: Imai Town is an area of preserved Edo and Meiji period buildings in Yagi, Nara near Kashihara Shrine.
Kashihara 橿原
Jake Davies
Kashihara in southern Nara Prefecture is the site of much of the early history of Japan.
Kashihara Jingu, though a modern establishment, is the site where Japan's mythical first Emperor, Jimmu, established himself.
The area around Kashihara and the Asuka area to the south were the center of power of the nascent Japanese state before the establishment of the first Chinese-style capital, Heijokyo, to the north in what is now Nara city.
As well as all the sites connected to the vary ancient past in the area, there are some well-preserved areas that reflect the more recent, but probably more well-known, period of Japanese history known as the Edo Period.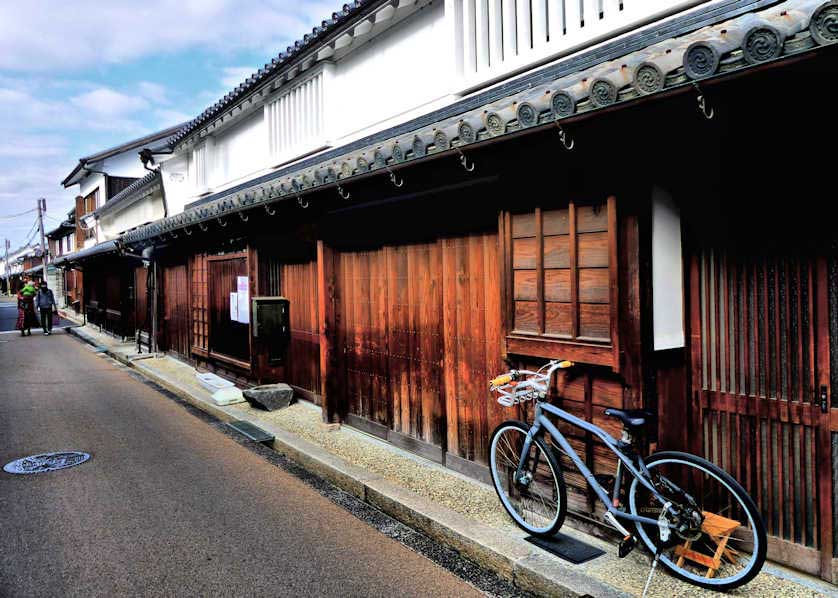 Imai Town in Kashihara, Nara Prefecture, is a whole town that largely remains as it was centuries ago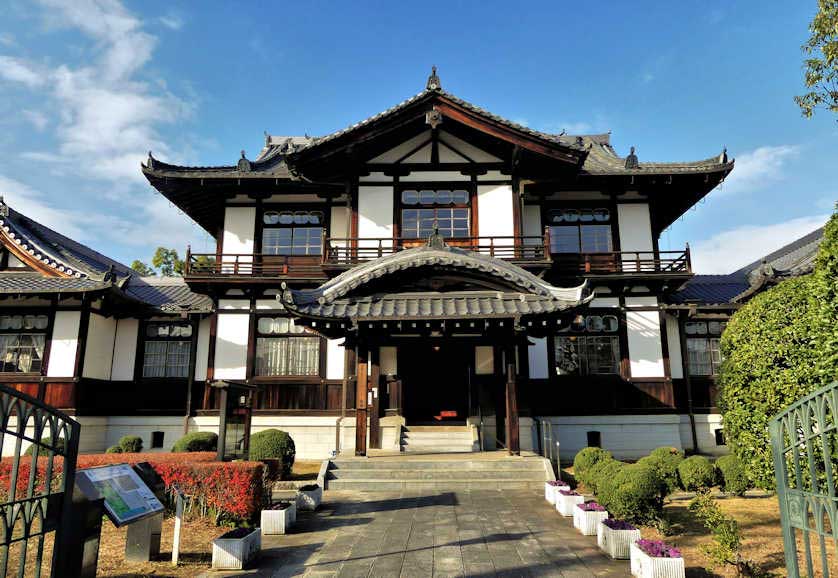 Imai Machinami Center, more commonly called Hanariaka, is a good source of maps, brochures, and other helpful information for your exploration of Imai Town
Unique Historic Streetscapes
With the notable exception of Kyoto, most Japanese cities suffered massive damage during the air raids at the end of World War II.
Add to that the massive redevelopment that took place throughout Japan during the economic boom of the mid- to late 20th century, and there are few neighborhoods that are truly historical.
Certainly there are many examples of ancient architecture: Japan is after all home to what are believed to be the oldest wooden buildings in the world, but these tend to stand somewhat in isolation surrounded by modernity.
Away from the main cities however there are areas that have been relatively untouched, and for some decades now there has been a concerted effort to preserve these last vestiges of an older time.
Many of them these are registered as Historic Preservation Districts for Groups of Historical Buildings, and while some of these do exist in Kyoto and other cities, the vast majority of them are more off the beaten track, which is one of the reasons they have been able to survive.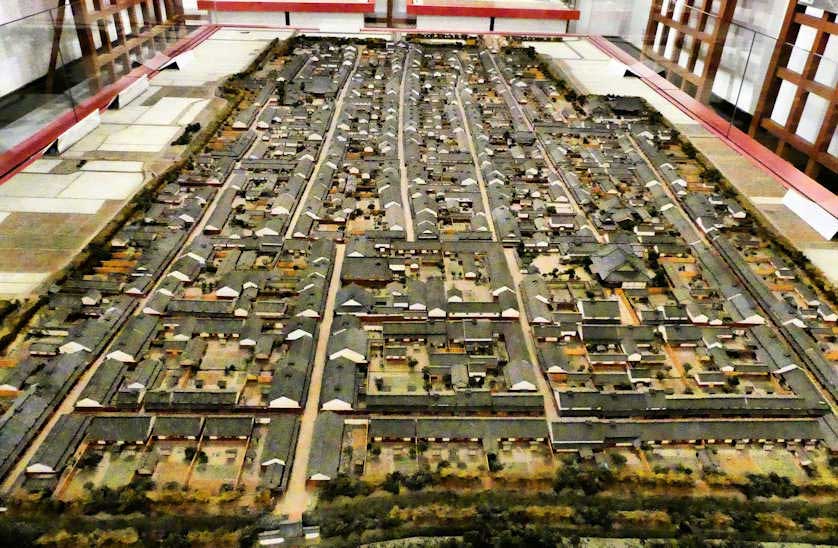 A scale model of Imai Town showing how the layout has changed little in centuries
One of the biggest of these historic districts, near Yagi in Nara, is Imai Town that has more than 500 buildings that date back into the Edo Period.
What you have in Imai Town is literally a whole town that has been preserved. Not just a few buildings, nor just a few streets, and unlike many historic districts in Japan there are not hordes of tourists.
There are visitors of course, but not in huge quantities, and they tend to be people looking for authentic experience rather than the theme-park, selfie-taking, type of tourist.
Those with an interest in traditional architecture are particularly attracted to Imai as there are few places in Japan where so much traditional architecture can be found in one place. For many visitors, just wandering the streets it is not hard to imagine being transported back in time to how it would have looked hundreds of years ago.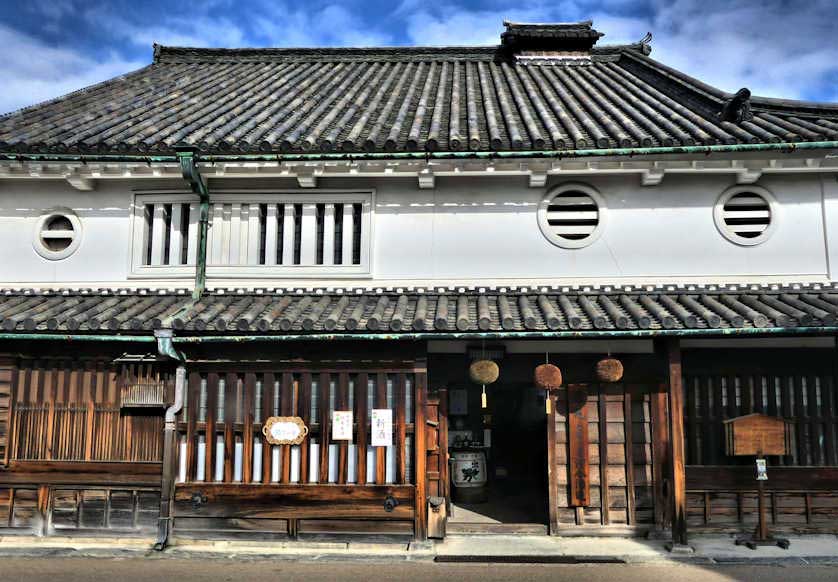 Kawai Residence, a merchant residence attached to a sake brewery
Imaicho History
Imai began life as an estate of the powerful Kofukuji Temple. The major Buddhist monasteries and temples held vast estates all across the country.
Patronized by powerful aristocratic families, and often with abbots drawn from these same families, most of these establishments maintained their own military forces.
Many of the residents of the town however became members of a sect of Jodo Shinshu Buddhism called Ikko, and armed conflict between Kofukuji Temple and the town erupted leading to the defensive measure such as creating moats and embankments.
In essence, the town declared independence from Kofukuji, a similar situation that also occurred in other places around Japan. Following the unification of the country under the Tokugawa Shogunate, Imai Town was given a lot of autonomy, and this was the time that the town really flourished with trade and became one of the richest places in the region.
Since the 1950's the townspeople have been engaged in trying to preserve their heritage and their efforts came to fruition in 1993 when the town was registered as a Preservation District.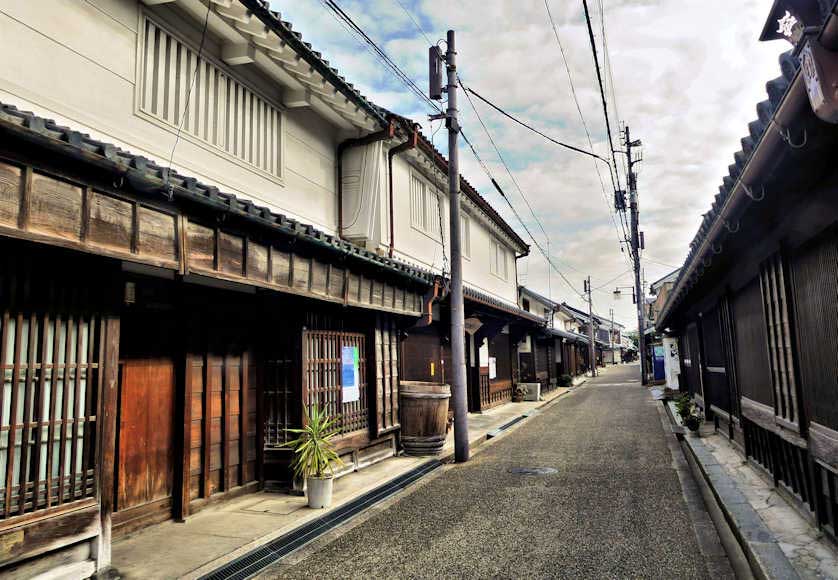 Street after street lined with historic architecture makes it easy to imagine former times in Imai Town
Imaicho Attractions
A good place to begin your exploration of Imai Town is the Hanairaka Information Center located in the southeast corner of the town.
Surprisingly this is a building that only dates back to the early 20th century, being built in 1903 as a kind of school.
Now it is where you can pick up maps and leaflets in English that show all the points of interest as well as places to eat and buy souvenirs, but the most interesting display is the scale model of the town which shows how the town was laid out centuries ago, and of course how it is laid out now. There are also a couple of scale models showing the construction methods for several types of houses found in the town. Entry is free.
2 Chome-3-5 Imaicho, Kashihara, Nara 634-0812Tel: 0744 24 8719Open 9 am to 5 pm. Closed Mondays.
The town is mostly laid out in a grid pattern, so finding your way around is relatively easy. It is easy to wander and head off down narrow alleys exploring, but still be oriented. Among the more than 500 historic buildings are many that are noteworthy and listed as Important Cultural Properties, and also many that are open to the public.
Kawai Residence & Sake Brewery is open to the public with no entry fee, though only the ground floor can be explored.
There are plenty of historical objects on display including things related to sake production. It also includes a small sake shop where tastings are on offer.
Behind the residence the sake brewery is still in operation but is not open to visitors. Right next door is the Takagi Residence. Another wealthy merchant residence, there are plenty of objects from daily life on display, although the opening times are irregular and there is a 300 yen entry fee.
1 Chome-7-8 Imaicho, Kashihara, Nara 634-0812Tel: 0744 29 7815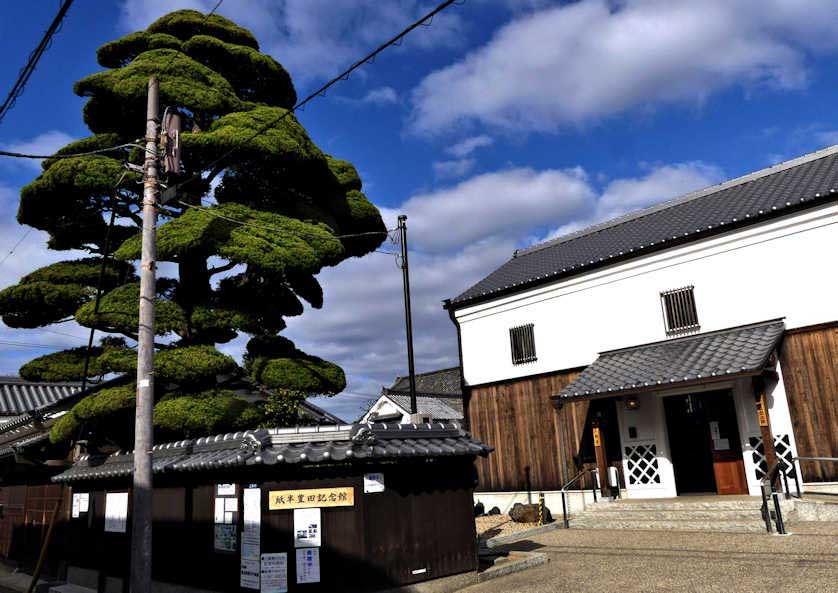 The Toyoda Family Museum has a large number of artworks and other historical items on display
The Toyoda Family Museum is housed in a large storehouse and displays many examples of art including painted screens, fans, ceramics, lacquerware, and a variety of every day objects like palanquins, clothing, furniture and swords.
The Toyoda family were wealthy merchants who made a fortune in lumber. The Toyoda Residence adjacent to the museum is open only to visitors who have pre-booked a volunteer guide.
3 Chome-9-11 Imaicho, Kashihara, Nara 634-0812
Tel: 0744 24 0348Open 10.30 am to 4,30 pm every day.Entry 300 yen for adults.
Part of the remaining section of moat with the Imanishi Residence behind it
Imanishi Family Residence
At the far western entrance to the town where part of the moat still remains is the most impressive of the architecture in the town, the Imanishi Family Residence.
The Imanishi were the most powerful of the families in the town and had long held the post of town administrator.
Their property was heavily fortified and also included a jail and courthouse. The family claimed ancestry all the way back to the founding of the Yamato State. The main building was built in 1650 and has many notable features and a descendant of the Imanishi now guides people around the property. However, tours must be booked in advance by telephone at the number below.
3 Chome-9-25 Imaicho, Kashihara, Nara 634-0812Tel: 0744 25 3388Open 10 am -12 pm, and 1 am -5 pm. Closed Mondays.Entry 500 yen for adults
Imai Machiyakan is open to the public as a prime example of an early 18th century townhouse. The front part of the building operated as a hardware store, and like all the other buildings in the town was roofed with tiles, a sign of wealth. It is free to enter and is worth visiting for its interiors.
3 Chome-1-22 Imaicho, Kashihara, Nara 634-0812Tel: 0744 22 1287Open 9 am to 5 pm. Closed Mondays.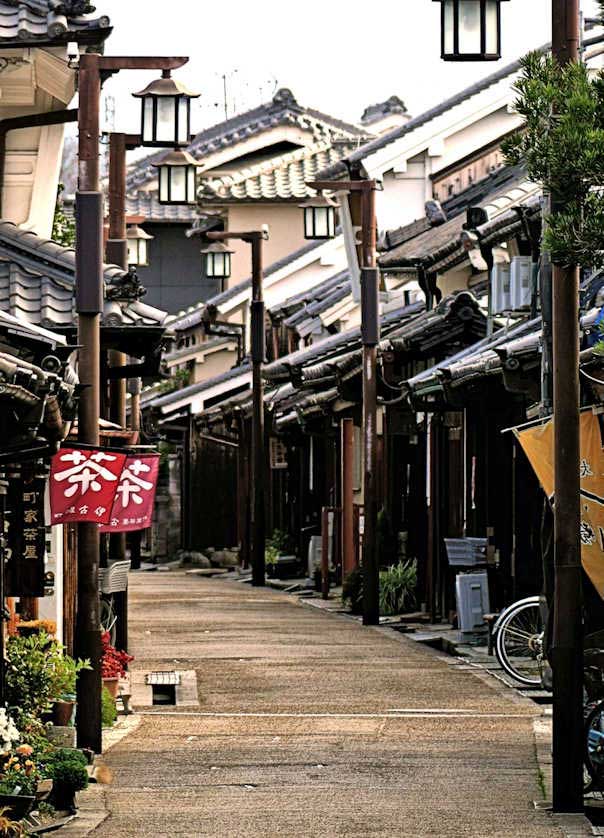 Surprisingly uncrowded historic streetscapes of Imaicho in Kashihara
There are other buildings and residences like the Yoneya Residence, the Kometani Residence, and the Otomura Residence that are closed to public visits except when accompanied by a volunteer guide that has been booked at last 3 days prior to your visit. Tel: 0744 20 1123 or you might be lucky by  inquiring at the Hanairaka Center and being able to join tours already booked.
While the town is not overwhelmed with touristy shops and such, there are enough cafes and small eateries to offer visitors enough places to replenish and take a rest.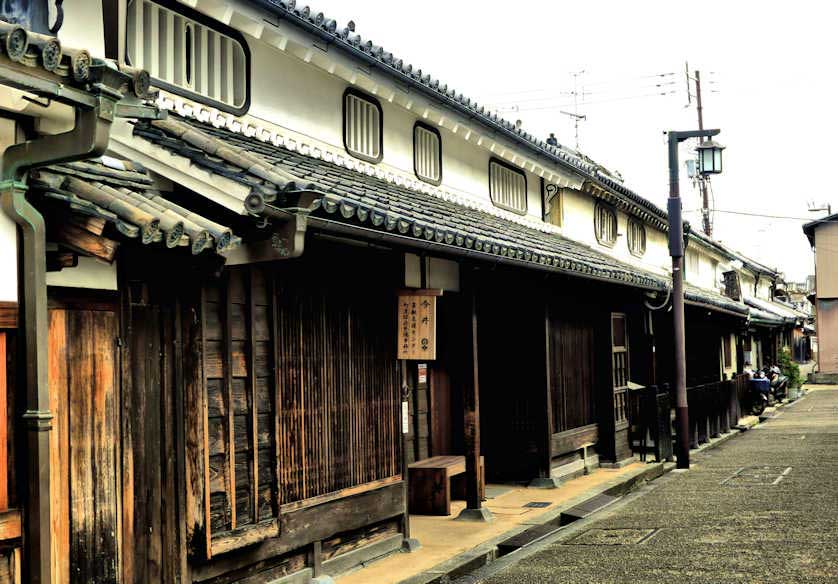 Step back in time in Imaicho in Kashihara
Access - how to get to Kashihara and Imai-cho
The closest station to Imaicho is Kintetsu Yagi-Nishiguchi, a mere 5 minute walk from the old town.
Also very close by is Kintetsu Yamato-Yagi, 10 minutes walking, and JR Unebi Station, 8 minutes walk away.
Rental bicycle is a good way to explore the town, with bikes available at Kintetsu Yamato-Yagi and Kintetsu Kashiharajingu-mae stations.
The Imaicho cluster of historic Edo and Meiji Period buildings is also within easy reach of Kashiharajingu-mae Station about 1 km to the north of Kashihara Jingu at the crossroads of national Highways 165 and 24. Bicycle rental from the station allows access to Okadera Temple to the east.
Kashiharajingu-mae Station is on the Kintetsu Line from Yamato-Saidaiji Station and Kintetsu Nara Station. These stations can also be reached from Abenobashi Station in Osaka.
Okadera Station and Asuka Station are the next two stations south on the Kintetsu Yoshino Line.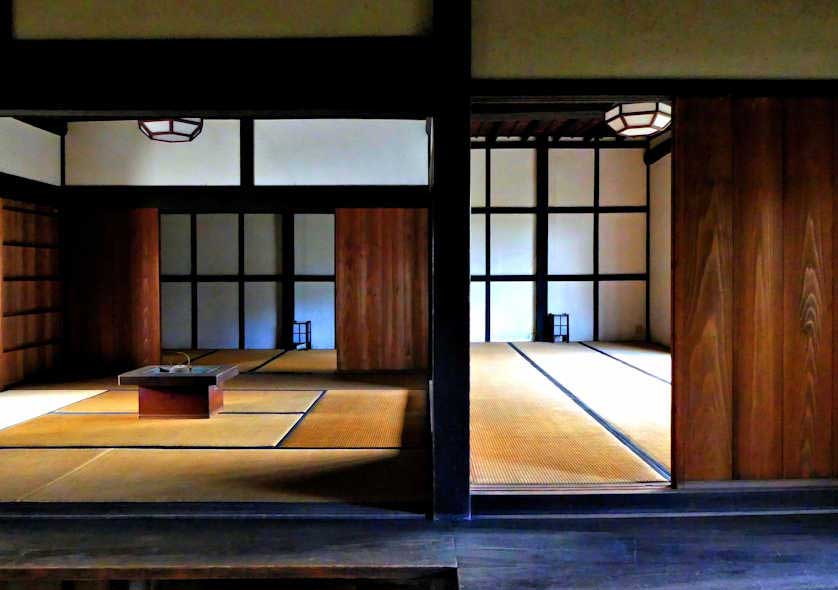 The Former Yonetani Family Residence renamed the Imai Machiyakan
All the themes of the city