Ishigaki Island Guide
Ishigaki , Yaeyama Islands, Okinawa 石垣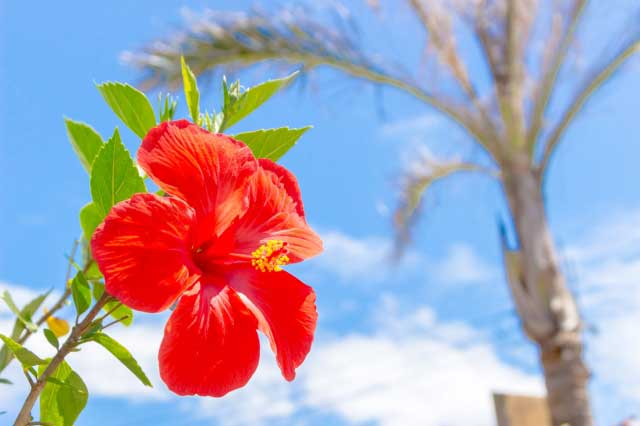 Ishigaki Island is the most inhabited and developed island of the Yaeyama Islands (Yaeyama-shoto) in the deep south western waters of Okinawa Prefecture (Ryukyu Islands). It is the second largest island of the group of 19 sub-tropical islands after Iriomote at almost 223 square km in area.
The Yaeyama Islands are both the mostly southerly and westerly parts of Japan, located approximately 100km south of Miyako Island and 430km south of Okinawa main island - much closer to Taiwan than to mainland Japan.
Ishigaki, with a population of around 49,000 people, is also the major transport hub of the Yaeyama chain with direct flights to Naha on Okinawa Honto and from Naha onward to Tokyo and the rest of Japan. There are also some direct flights with JAL and ANA from Ishigaki Airport to Tokyo, Osaka KIX, Nagoya Centrair and Fukuoka (in summer). Peach flies to Kansai International Airport (KIX) and Naha beginning flights in 2013.
Ishigaki Port is a hive of activity as express ferries come and go to Taketomi Island (10 mins), Iriomote (40 mins), Kuroshima (30 mins), Kohama (30 mins), Hateruma (60 mins) and Yonaguni Island (4 hours). There are now no longer ferry services from Ishigaki to mainland Japan or Naha.
Ishigaki has many fine hotels include a number of large resort hotels on its beautiful, isolated beaches to the north of the island, though Ishigaki Town is also a popular place to stay to give easy access to the outlying islands by ferry, as well as offer visitors the opportunity to soak in the laid-back nightlife, good Okinawan food and relaxed shopping this pleasant, little port has to offer.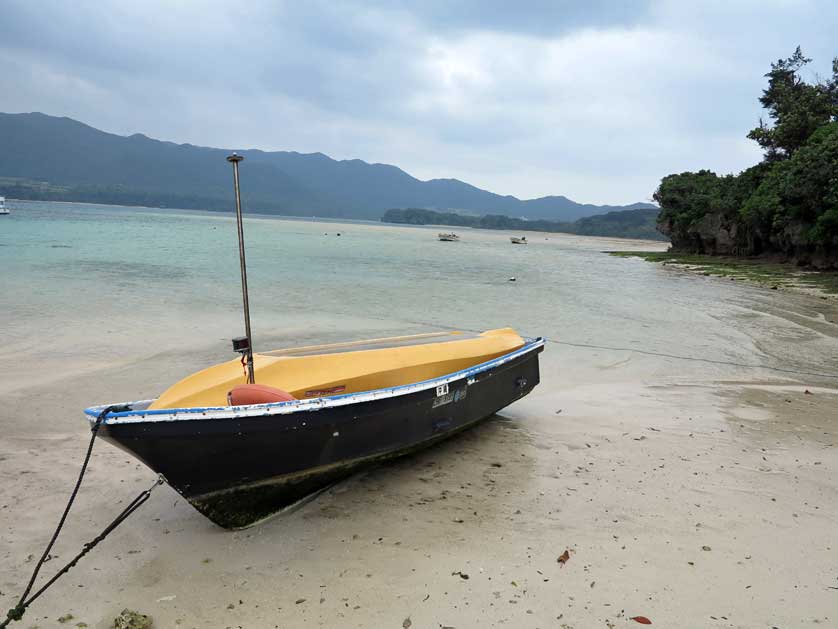 Kabira Bay (Kabira-wan), Ishigaki, Okinawa
Ishigaki Sights
There is quite a bit to see and do in Ishigaki Town before hiring a car or taking an infrequent bus to explore the rest of the island.
Ishigaki's main shopping and entertainment areas are the streets close to Ishigaki Port and the town's bus terminal. National Highway 390 is the main route running into Ishigaki Town and a good local landmark is the 730 Crossing at the intersection of Sanbashi Street and Shiyakusho (City Hall) Street. The crossing is named after the date, July, 30th that Okinawa reverted to driving on the left, six years after the American Occupation ended in 1972.
From here the streets running left and right off Shiyakusho Street up to the City Hall and the Farmer's Market contain Ishigaki Town's main restaurants, shops, cafes and bars. Off Sanbashi Street is the low-key Yaeyama Museum with a collection of the local crafts of Ishigaki and the other islands in the Yaeyama chain including traditional boats and canoes, festival shiisa masks, textiles, scale models of traditional Yaeyama architecture, coffin palanquins, scrolls and other historic documents. A short stroll from here is the Ishigaki Public Market, an excellent place to shop for souvenirs and fruit and vegetables for a picnic. Goodies on offer include Ishigaki sea salt, awamori (Okinawa's local fire water), ceramic shiisa statues, sanshin musical instruments (a mainstay of Okinawan music) and bottles of star sand from Taketomi Island.
Also close by the Public Market is the Nanto Folk Museum and the Miyara Dounchi House & Gardens, a former traditional 19th century house of a high-ranking Okinawan official, charged with the administration and unification of the Yaeyama Islands.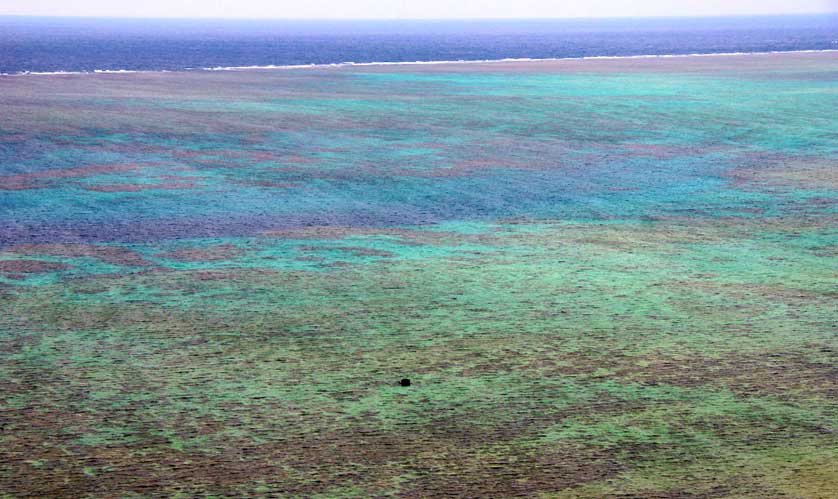 The beautiful emerald sea, Ishigaki, Okinawa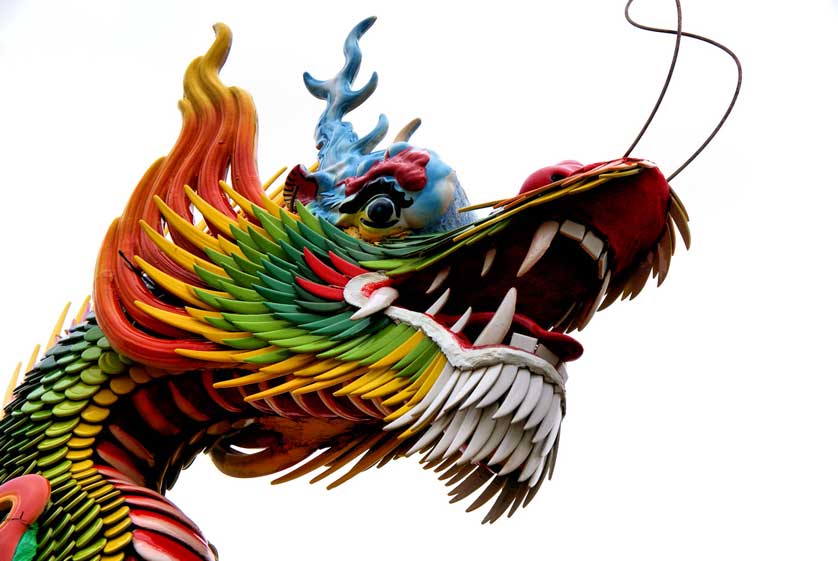 Tojin Baka Monument detail, Ishigaki, Okinawa
Heading west on Yui Road (National Highway 79) are the adjacent Torinji Temple and Gongendo Shrine, both built in the 17th century in traditional Okinawan style. Torinji is a Zen temple and its main attractions are two 18th century wooden statues of Deva kings (nio) which are now considered the guardians of Ishigaki.
Driving or taking a bus a few kilometers west along the coast road from Ishigaki city is the colorful Chinese-style tomb memorial of Tojin Baka just off the highway. The memorial is dedicated to a group of Chinese laborers who were being transported from Xiamen (Amoy) to the USA in 1852 when their ship, the Robert Bowne, ran aground on the coral off the coast of Ishigaki. A violent dispute ensued between the ship's crew and the laborers which led to the deaths of many of the latter. The survivors were offered sanctuary by the locals before returning to their native China, though not before 128 of their number died during their stay on Ishigaki of disease and suicide.
Following the coast road in a clockwise direction brings the visitor first to the Nagura Anparu Wetland, a Ramsar Convention registered site of scenic, natural beauty. The area consists of mangrove forests set near a coral reef at the mouth of the Nagura River and the tidal flats are home to numerous species of birds, crabs and other crustaceans.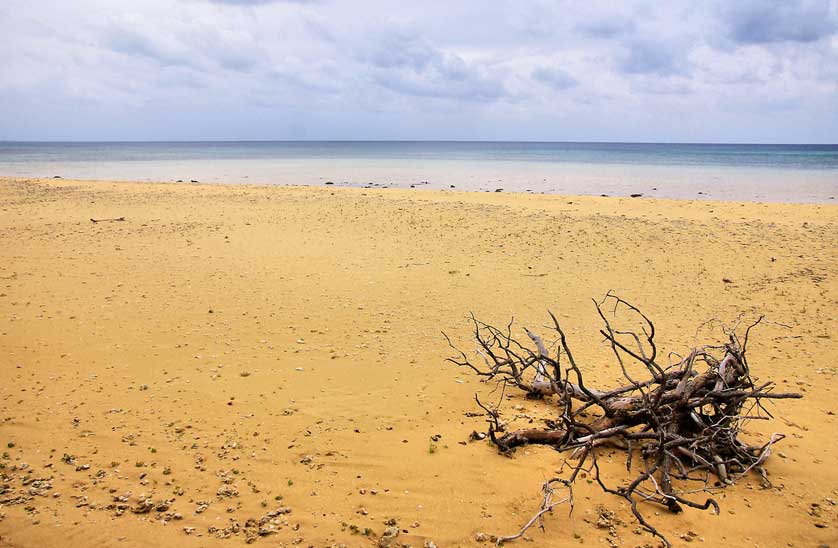 Sunset Beach, Ishigaki Island, Yaeyama Islands, Okinawa
On a small peninsula out to the west is a former Japanese Military Undersea Telegraph Station from World War II days and the picturesque Ungazaki Lighthouse, from where there are great views out to sea on a clear day. The next small peninsula before Kabira Bay contains the delightful Sukuji Beach and some of Ishigaki's top resort hotels: Club Med, the 100+ room Ishigaki Sea Side Hotel and the Sea Men's Club with an on-site diving center.
Next up is Kabira Bay, probably Ishigaki Island's most famous attraction. Kabira Bay is famous for its lovely emerald colored water, cultured black pearl industry and incredibly fine white sand. Swimming is prohibited at Kabira Bay though there are glass-bottomed boat tours to view the marine life, coral and pearls.
There is a small shrine on the headland and a viewing platform to take in the expansive vista. If you do wish to swim head to nearby Sukuji Beach.
Driving clockwise from Kabira Bay is the Yonehara Coast, though swimming here is discouraged due to the fast tides and jellyfish. Close by is the Yonehara Palm Grove, which contains the Yaeyama Palm, a species found only in the Yaeyama Islands. Overlooking the grove is a new museum which opened in 2005, the Toshihiko Satake Palm Memorial, dedicated to research in to the palm tree and its many by-products found all over the world.
From the observation deck at the Toshihiko Satake Palm Memorial, there are fine views of the coral reefs in the East China Sea and inland to Mt. Omoto, the highest peak on the island and in Okinawa at 526m. Hiking the mountain takes about one hour along the path through thick tropical forest.
Following Route 79 northwards, Ishigaki Island begins to narrow as you pass the steep Mt. Nosoko at 282m, which also has an observation point which can be reached by hire car. The road passes the delightful Ishigaki Sunset Beach, which is deserted out of season and on to the northernmost tip of the island at Hirokubozaki Lighthouse, with more wonderful views out to the coral-fringed sea.
Drive back on Route 206 to the Tamatorizaki Observation Point and return to Ishigaki Town on Route 390 past the new Painushima Ishigaki Airport. Close to Miyara Bay is the Miyara River Mangrove Forest, densely populated with a variety of mangrove trees. 10 minutes by car north of Ishigaki Town is Banna Park, a small theme park known for its butterflies. A good place for children, Banna Park has BMX rides, short nature trails, a stone sculpture forest and good views from Mt. Banna at 230m.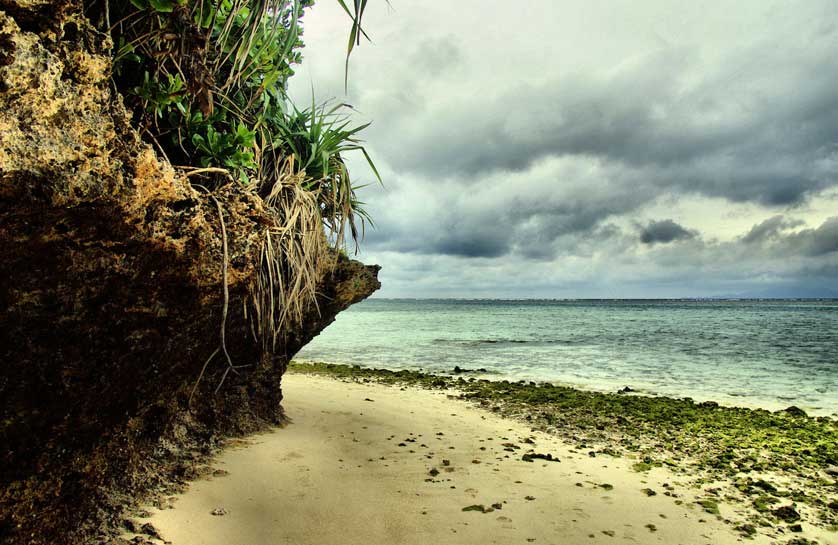 If you walk north along the beach at Kabira Bay and turn the corner there are long stretches of beach and coast with no tourists, Ishigaki Island, Yaeyama, Okinawa
Ishigaki Beaches
Maezato Beach is just east of Ishigaki Town and close to the old airport. The main resort hotel on Maezato Beach is the luxury ANA Intercontinental Ishigaki Resort. Maezato Beach is perfect for a quick swim if you are staying in Ishigaki Town.
Fusaki Beach is close to the Tojin Baka Monument and there are a number of hotel resorts nearby: Fusaki Resort Village, Beach Hotel Sunshine and the four-star Grandvrio Hotel.
Sukuji Beach is possibly Ishigaki's most popular beach with lovely clear and shallow water.
Yonehara is popular with divers and snorkellers but the dead coral and jellyfish make proper equipment and due care essential.
Shiraho-no-umi, just east of Maezato, offshore from the village of Shiraho, is another dive spot with rare Ao and Hama corals. Shiraho also gave its name to a locally-initiated protest movement against the construction of the new Ishigaki airport, which eventually led to the plan being moved 4km to the north, thus saving the Shiraho reef from possible damage and destruction.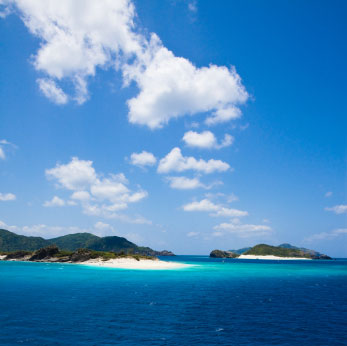 Okinawa beaches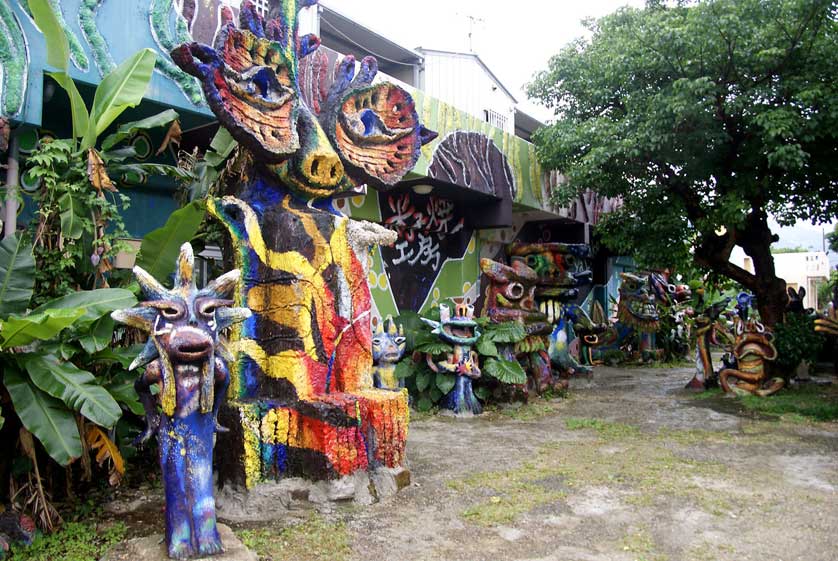 Yonagoyaki SI-SA Studio, located about 6km East of Kabira Bay on Route 79 is an unusual roadside attraction with dozens of weird and colorful sculptures, Ishigaki Island, Okinawa
Access - Getting to Ishigaki
Naha is the transportation hub for the Ryukyu Islands with short-hop flights to the other islands: Amami Oshima, Ishigaki, Miyako, Kumejima, Yoron, Yonaguni, Minamidaito and Kitadaito.
Air
To/From Naha
Frequent direct flights to Naha leave from Tokyo (both Haneda and Narita airports), Osaka, Fukuoka, and Nagoya.
Less frequent direct flights leave from many other Japanese cities including Kobe, Sendai, Niigata, Shizuoka, Takamatsu, Hiroshima, Kagoshima, Kumamoto and Nagasaki.
There are also flights from Taiwan and other mainland Asian cities including Seoul. There are direct flights to Miyako Island from Tokyo and Osaka. Flights to Ishigaki Island from Nagoya and Fukuoka go via Naha.
To/From Ishigaki
There are also some direct flights with JAL and ANA from Ishigaki Airport to Tokyo (Haneda & Narita), Osaka KIX, Nagoya Centrair and Fukuoka (in summer). Peach flies to Kansai International Airport (KIX) and Naha beginning in 2013.
There are short-hop flights from Ishigaki to Miyako Island and Yonaguni.
From Ishigaki Airport
From the New Ishigaki Airport (opened in March 2013) there are local Azuma buses (520 yen; every 15 minutes; 45 minute ride) or taxis (30 minutes; about 2,500 yen) for the journey into Ishigaki Town, though many hotels and resorts will pick you up from the airport. Airport parking is 100 yen an hour or 900 yen for between 9 and 24 hours.
Painushima Ishigaki Airport
Tel: 0980 87 0468
Hours: 7.30am-9pm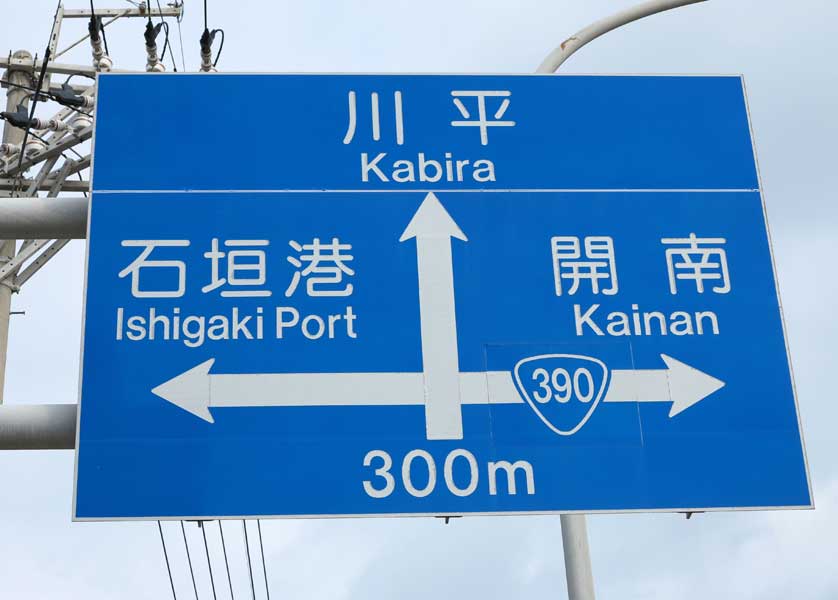 Ishigaki Island Transport, Yaeyama, Okinawa
Ferries
Ferries from Ishigaki Port are operated by a variety of competing companies and go to Taketomi Island (10 mins), Iriomote (40 mins), Kuroshima (30 mins), Kohama (30 mins), Hateruma (60 mins) and Yonaguni Island (4 hours). Some ferry companies offer a "passport" which is valid on all their ferries for a period of usually three days. Some of the companies have English-speaking assistants and Ishigaki Port has a dive center that can arrange diving tours of the coral reefs for you and other adventure trips such as kayaking and paragliding.
There are no ferries from Okinawa main island to Ishigaki.
See our Japan travel section for further details.
Transportation on Ishigaki
Cars can be rented on Ishigaki for about 6-7,000 yen a day including insurance. Many hotels have free bicycles for use or rely on the rather infrequent bus service. The Resort Line bus runs out to Sukuji Beach and Kabira wan.
Ishigaki Island Express Ferry, Yaeyama, Okinawa
Images of Ishigaki Island
Okinawa in general and Ishigaki in particular are great places for photography especially early morning and before sunset, when the light is just so. Here are some images taken on Ishigaki Island on recent visits.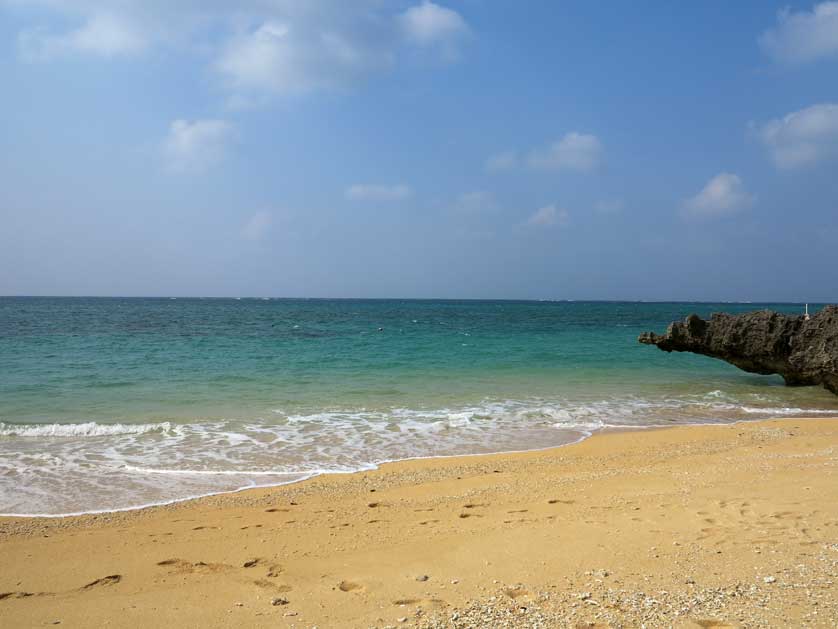 Ishigaki Island Sunset Beach, Yaeyama, Okinawa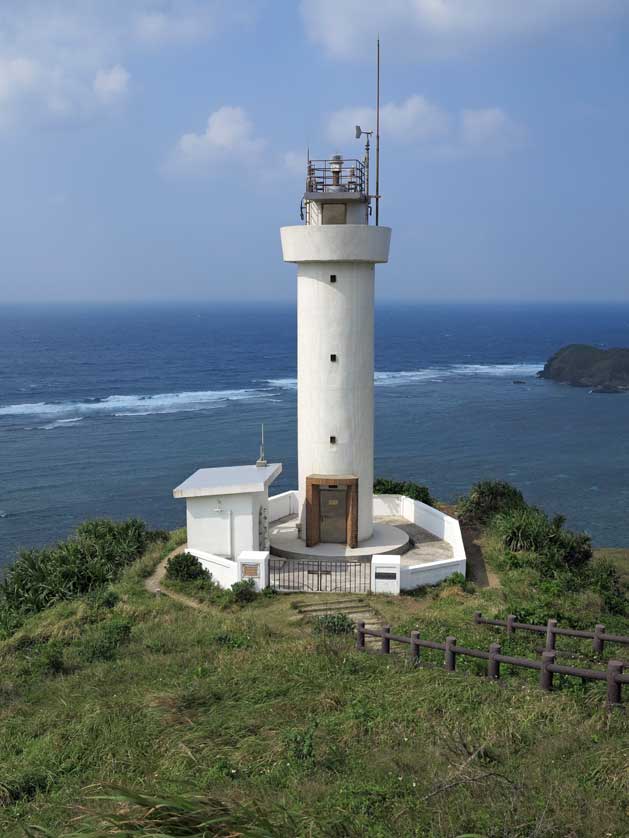 Hirakubozaki Lighthouse, Ishigaki, Okinawa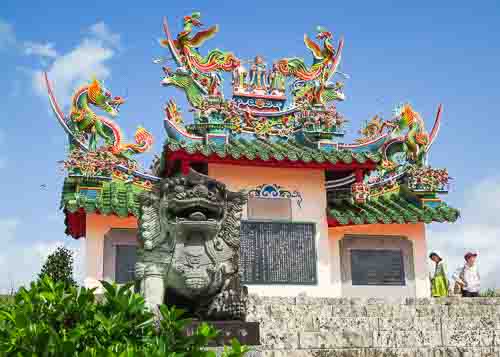 Tojin Baka Monument, Ishigaki Island, Okinawa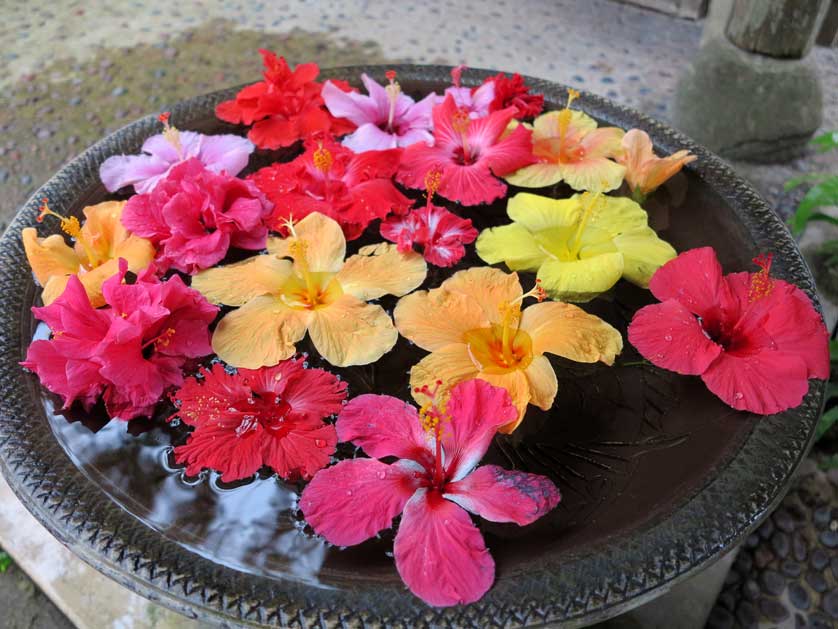 Ishigaki Flowers, Yaeyama Islands, Okinawa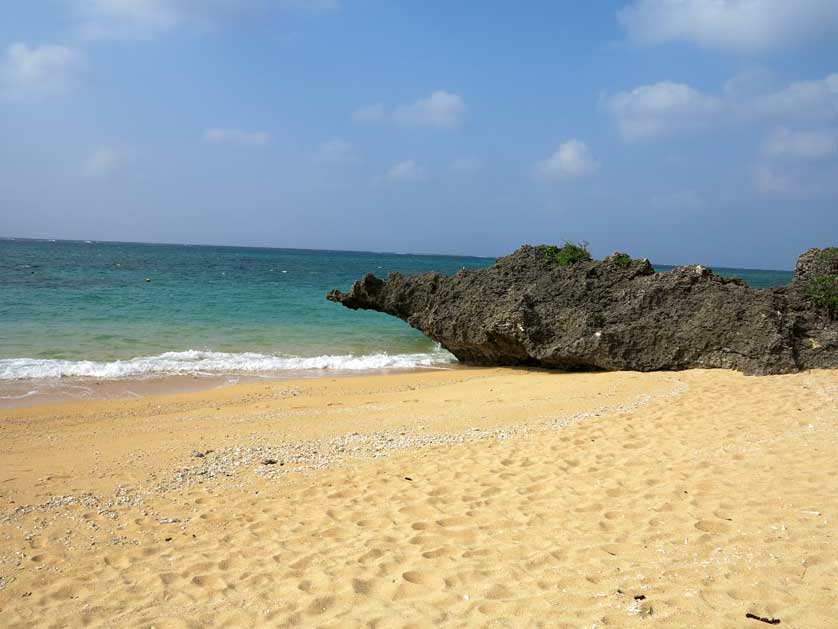 Ishigaki Island Sunset Beach, Yaeyama, Okinawa
Ishigaki Map
View Ishigaki Map in a larger map
Book Hotel Accommodation in Okinawa Japan
Ishigaki Island: read a guide to the sub-tropical resort island of Ishigaki in the Yaeyama chain of islands in Okinawa, Japan.
All the themes of the city