Kii-Katsuura fish market
勝浦漁港魚市場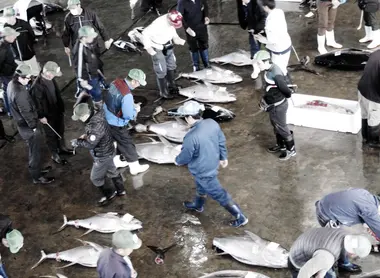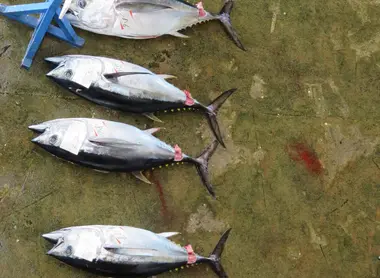 Japan's largest tuna market
Kii-Katsuura, also called Nachi-Katsuura, is a fishing port in Wakayama prefecture which owes its fame to its thermal springs but also to its fish market.
Much less famous than the Tsukiji fish market, of Kii-Katsuura nevertheless attracts a large clientele and more and more visitors come to attend the auction.
Every morning, freshly caught fish are tagged and lined up on the concrete floor of the market and auctioned off at 7 am sharp until all the merchandise is sold. The fish are then inspected by the buyers and sellers and customers call each other out loud. A lively scene that does not fail to attract the curious. The latter can observe it from the floor from where they have a bird's eye view.
A highly supervised fishery
The fish market at Kii-Katsuura Port is the largest tuna market in Japan and restaurateurs and fishmongers come to stock up from Kyoto and Osaka. The finest pieces are over a meter long and some 150 kg and can fetch the price of 300,000 yen (around €2,385).
The tuna sold at the Kii-Katsuura market is strictly controlled: age and weight are fixed. Net fishing is prohibited, only line fishing is authorized and regulated: fishermen must not stay at sea for more than two weeks and must not fish more than 15 tonnes at a time. The tuna is then kept in saltwater at a temperature of 1°C before being brought to market.
Visitors are not forgotten
Visitors can find their happiness in the shops located next to the fish market. It sells raw tuna and other fish packaged in multiple forms. On Sunday morning there is a market from 8 am to 11 am.
In the shopping alley, many restaurants offer sashimi or the local specialty: maguro katsu. Meat taken from the belly of the tuna dipped in breadcrumbs and fried. A tender heart in a crispy coating, all served with ponzu sauce (citrus-based sauce) mixed with grated white radish.
And then, for relaxation, you can soak your feet in an ashiyu (foot bath) while enjoying the view of the market and the port.
---
Address, timetable & access
Address

Timetable

3 min walk from JR Kii-katsuura station (Kii line).
All the themes of the city