Hida Folk Village (Hida no Sato)
Japan Open Air Museums: Hida Folk Village (Hida no Sato), Takayama, Gifu Prefecture 飛騨の里, 高山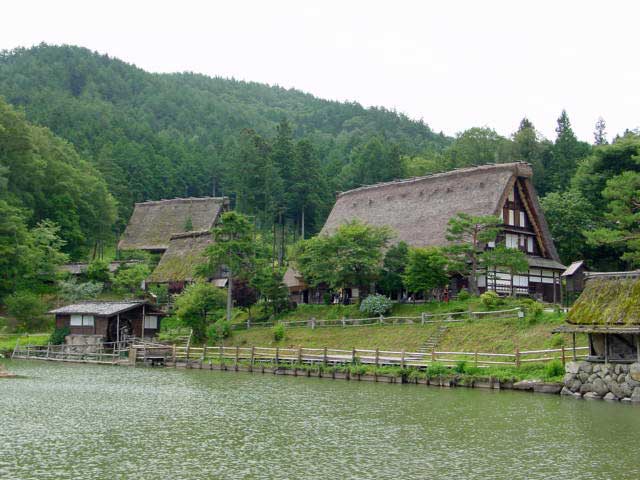 Hida Folk Village, Takayama
Hida Folk Village Takayama
The Hida Folk Village (Hida no Sato) is an open air museum in Takayama, Gifu Prefecture.
Hida no Sato is a collection of traditional wooden farm houses and storehouses from the Hida area that have been reassembled around a central lake (Goami Lake) in pleasant wooded countryside. There are also interesting demonstrations of local art and craft production.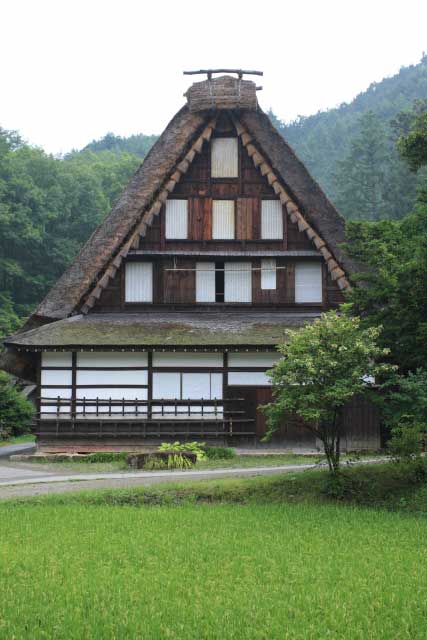 Hida Folk Village, Takayama
Buildings
The over 30 buildings collected at Hida no Sato are mainly from the Edo Period. They include huts, residences, storehouses and other farm buildings.
Inside are often collections of farming implements, tools and local handicrafts. Fires are lit in the irori (sunken hearths) each morning which provides a pleasant aroma as well as helping to keep the houses in good condition.
Crafts people give demonstrations between 10 am and 3 pm of traditional techniques of pottery, weaving, wood carving, and making roof shingles. Visitors can try their hand at making local crafts in the adjacent Hida Takayama Craft Experience Center.
There are four buildings classified as National Important Folk Cultural Properties. These are Tanaka's House, a large farm house from Takayama, the Gassho-style Wakayama's House, Taguchi's House, the house of a village headman from Gero and Yoshizane's House from Hida that was the only structure in the village to survive an earthquake in 1858.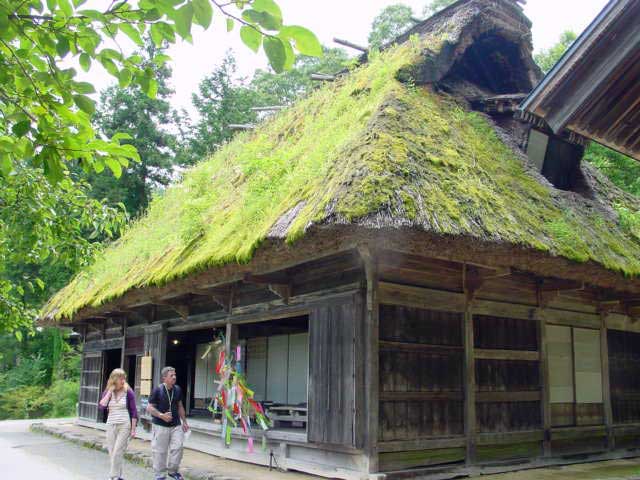 Hida Folk Village, Takayama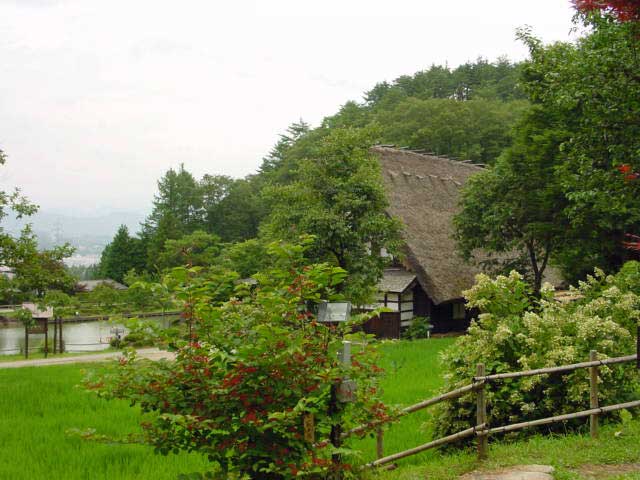 Hida Folk Village, Takayama, Gifu Prefecture
Information
Hida no Sato
1-590 Kamiokamoto-cho
Takayama
Gifu Prefecture 506-0055
Tel: 0577 34 4711
www: hidanosato-tpo.jp (Japanese & English)
Hours: 8.30 am to 5 pm daily.
Admission: 700 yen for adults; Junior high school students 100 yen. Parking is 300 yen.
The nearby Hida Takayama Crafts Experience Center is open 10 am - 4 pm; closed Thursday.
Hida Folk Village is a 30 minute walk south west of Takayama Station or take a Sarabobo bus from the station (210 yen or 620 yen for a day pass).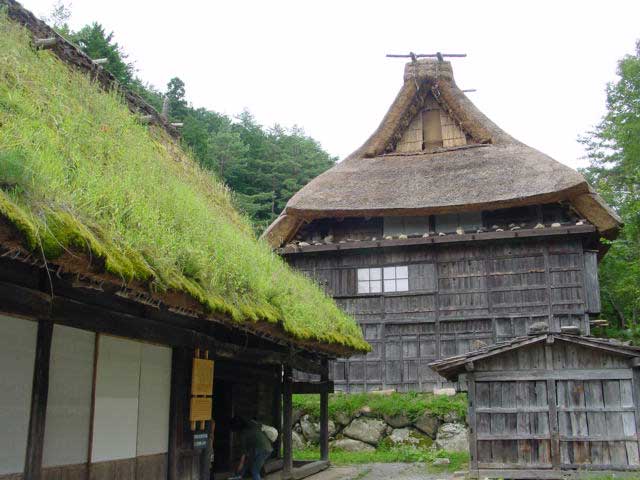 Hida Folk Village, Takayama, Gifu Prefecture
Hotels in Takayama
The following three hotels are recommended as budget, mid-range and luxury places to stay in Takayama.
Sakura Guest House in the middle of Takayama is a clean, convenient, traditional-style budget option. Private and dormitory rooms available, shared bathrooms. Free Wi-Fi and parking. Coin launderette on the premises, a common area with wood-burning stove, and a kitchen with microwave.
Guest House & Cafe SOY has a superb reputation for all-out hospitality and helpfulness. This huge, handsome converted traditional farmhouse has become a very atmospheric, dark-wood guest house with modern amenities and all the comforts for a wonderful stay. Wonderful food and service in a semi-rural-looking setting.
Oyado Koto No Yume is a classy, traditional ryokan inn a short walk from Takayama Station and very near the Miyagawa Morning Market. Fully-fitted out, comfortable, spacious tatami-mat rooms have everything required for a pampered stay, and exquisite local cuisine is served. Optimum accommodation in the best location in Takayama. Attentive service.
Other options include the Takayama Green Hotel, the Hida Plaza Hotel, the Associa Takayama Resort Hotel, the Best Western Hotel and the Washington Plaza Hotel.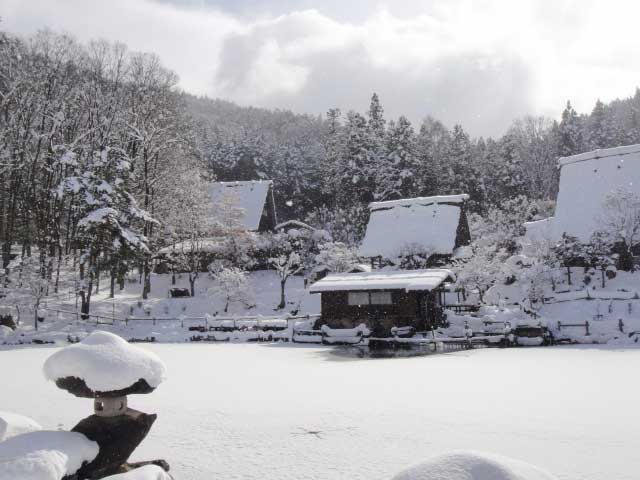 Hida Folk Village in the snow, Takayama, Gifu Prefecture
Access - Getting to Takayama
Takayama deserves at least an overnight stay if not longer if you wish to explore the other sites of interest within easy access of the town including: Shirakawa-go, Hida Furukawa, Gero Onsen, Kamikochi, Gujo Hachiman and Matsumoto.
Air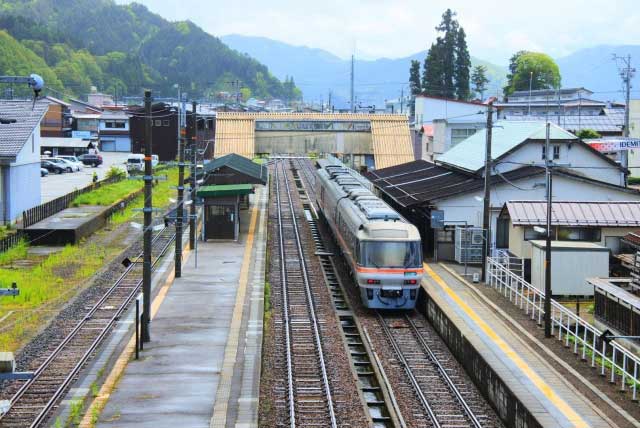 Chubu International Airport is the nearest large international airport to Takayama. There are direct connecting trains on the Meitetsu Centrair service to Nagoya and Gifu.
Rail
Takayama is 110 km north from Nagoya. By Tokaido Shinkansen, Nagoya is 52 minutes from Osaka and 1 hour 40 minutes from Tokyo.
From Nagoya Station, Takayama is 2 hours, 9 minutes by JR Takayama Line on the Hida Express. From Toyama there are also trains taking about 90 minutes. There are also direct trains to Osaka (4 hours, 11 minutes), though it is quicker, though more expensive, to take the Shinkansen to Nagoya and change.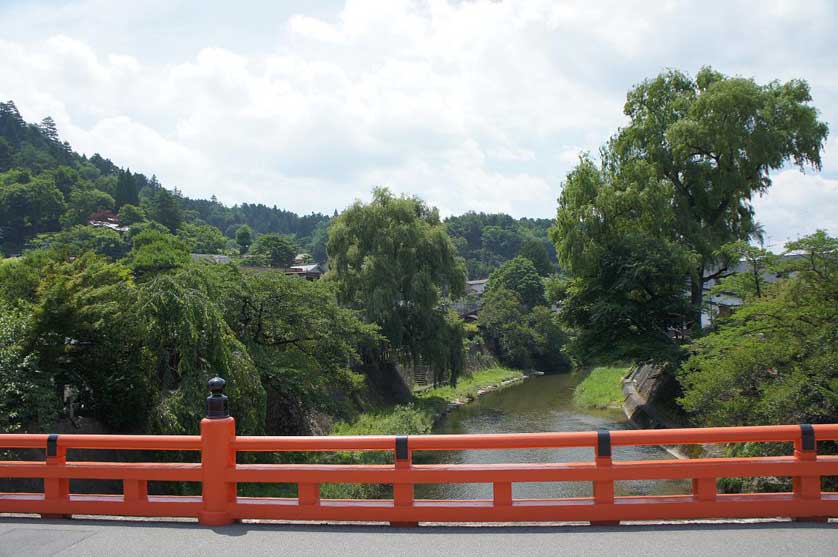 View from a bridge in Takayama, Gifu Prefecture
Bus/Road
There are long distance bus services from outside Takayama Station to Tokyo (Shinjuku; 5 hours, 30 minutes), Kyoto, Osaka (5 hours), Nagoya (2 hours, 45 minutes), Kanazawa (3 hours), Hida Furukawa (30 minutes), Gero Onsen, (90 minutes), Matsumoto (2 hours), Kamikochi, and Gujo Hachiman (1 hour, 15 minutes). In Nagoya get on the bus to Takayama at Meitetsu Bus Center Boarding Point 7.
Driving from downtown Nagoya follow National Highway 41 from Tsurumai all the way north via Minokamo City and Gero. Alternatively take the Chuo Expressway to Nakatsugawa and then exit at the sign to Gero Onsen.
Getting Around Takayama
Cheap bicycle hire is available from the Tourist Office, Takayama Green Hotel and other places around town. There is also a circular sightseeing bus which leaves from the bus station. Most places can be reached easily on foot.
There are also excellent cycle tours of the local countryside organized by Hida Satoyama Cycling.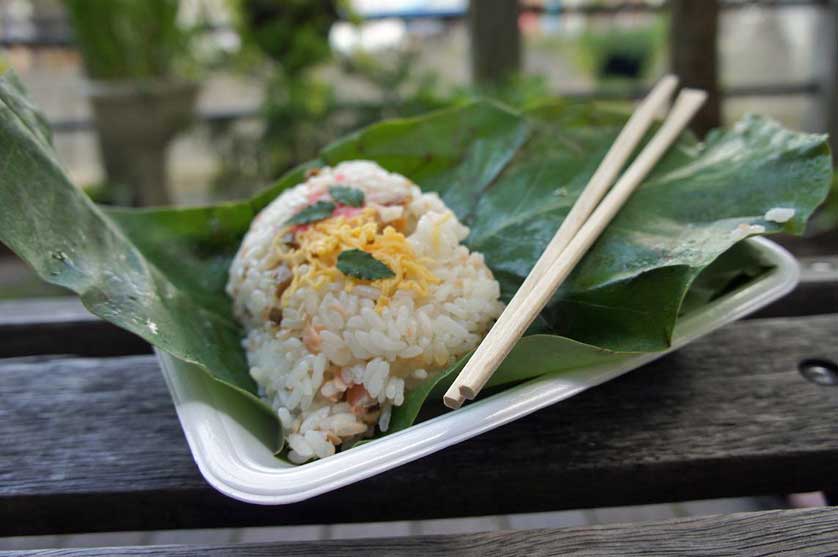 Hobazushi, sushi wrapped in a magnolia leaf
Map
Hida Folk Village (Hida no Sato) is a collection of over 30 Edo Period buildings in an open air museum in Takayama, Gifu Prefecture.
All the themes of the city