Takayama Temples & Shrines
Takayama Temples & Shrines 高山の寺と神社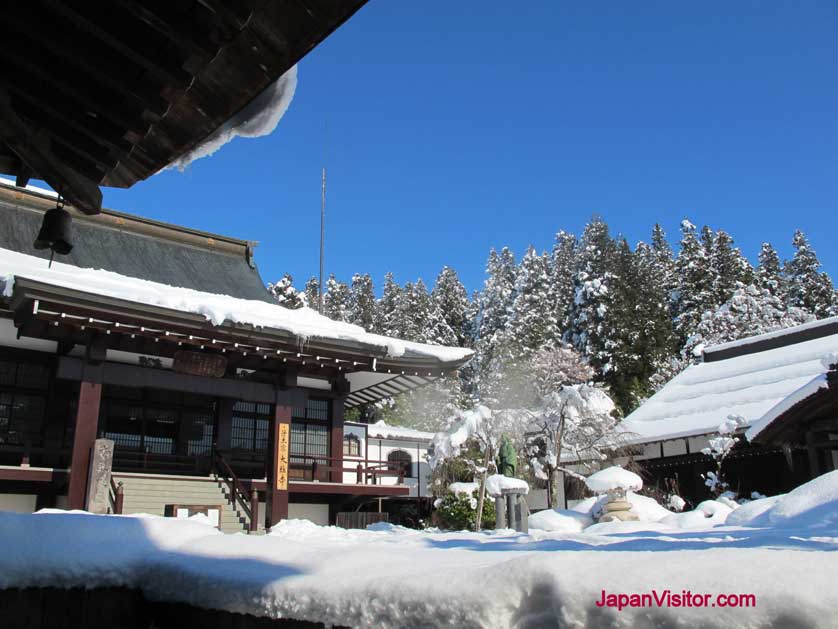 Daioji Temple in December snow
Takayama is often described as "Little Kyoto." This name is due to its historic architecture, plentiful museums, traditional festivals and number of temples and shrines.
Though the city cannot rival Kyoto or Nara for sheer volume of Shinto shrines and Buddhist temples, there are several that should be part of your visit.
See below for a listing of Takayama's best temples and shrines.
Sogenji Temple gate, Takayama, Gifu
Sogenji Temple is a family temple of Nagachika Takamori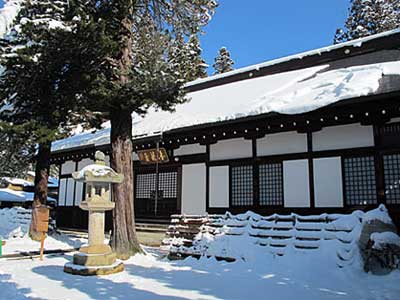 Sogenji Temple in December snow
Sogenji Temple 素玄寺
Sogenji Temple is a pleasant Soto Zen sect temple noted for its large bell. The main hall of Sogenji was originally located in what are now the ruins of Takayama Castle.
It was relocated to become the hondo or main hall of this family temple of Nagachika Kanamori (1524-1608), the man considered the prime mover behind the development of the historic city of Takayama and its tradition of arts and crafts.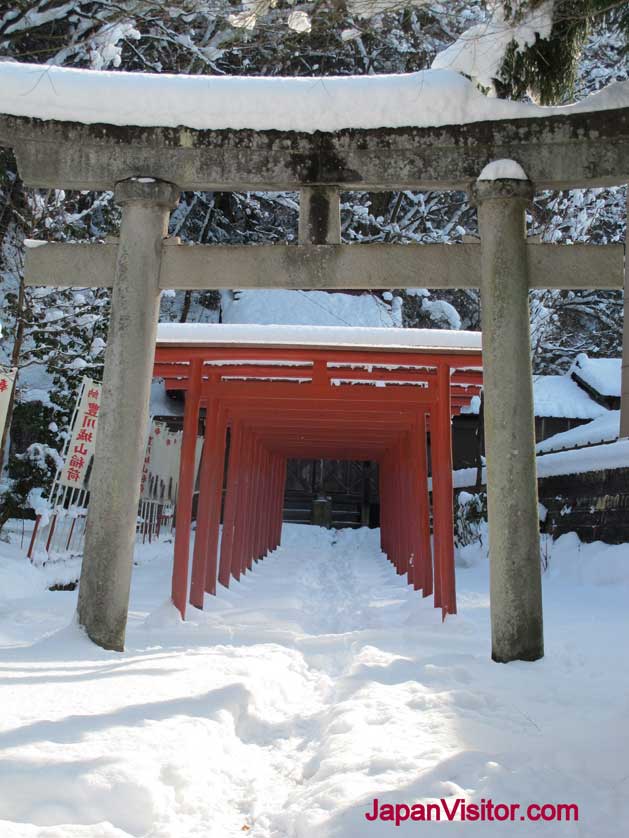 Torii gates at Shorenji Temple in winter snow; located in Shiroyama Park, where Takayama Castle once stood, Shorenji is the oldest Jodo Shinshu Temple in Japan
Shorenji Temple 照蓮寺
Shorenji Temple was first built in nearby Shirakawa-go in 1504. It was moved to Takayama in the 1960's to avoid innundation after the construction of a dam. The main hall is made from a single giant cedar. The temple belongs to the Jodo Shinshu sect of Japanese Buddhism. In fact, Shorenji is the oldest Jodo Shinshu Temple in Japan.
Hida Kokubunji Temple 飛騨国分寺
Hida Kokubunji Temple (Tel: 0577 32 1395) is noted for its huge ginkgo tree and is just a short walk from Takayama Station.
Kokubunji is the oldest temple in Takayama, possibly founded during the Nara Period. A Shingon sect temple, it preserves a seated image of Yakushi (the Buddha of medicine) and a standing image of Kannon - the Goddess of Mercy. There is also a wooden image of Hida-no-Takumi, a sculptor from the Edo Period of Japanese history. The main gate was originally part of Takayama Castle. The fine 7-story pagoda dates from the Muromachi Period.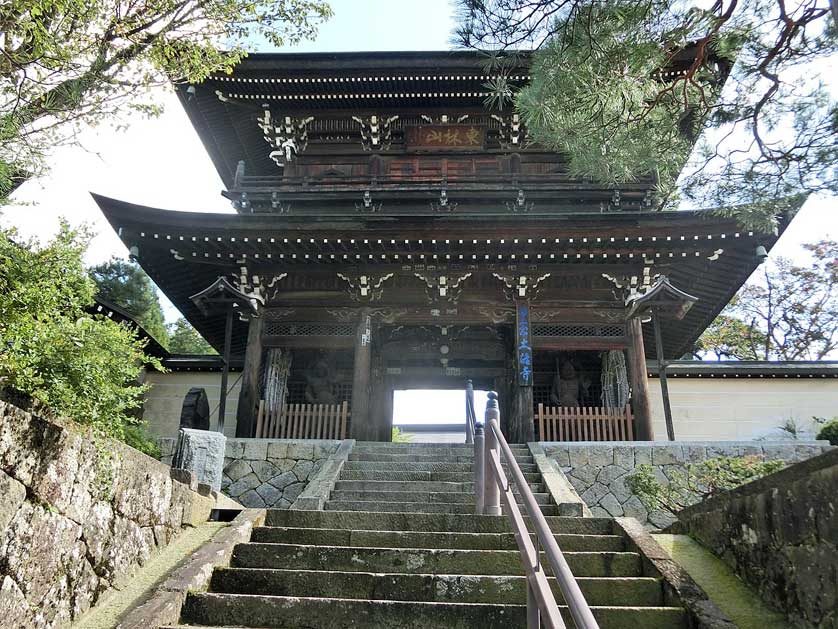 Daioji Temple main gate, Takayama
Daioji Temple 大雄寺
Daioji Temple sits close to Higashiyama Hakusan Shrine. Its bell tower dates from 1689 and is classified as an Important Cultural Property. The main hall is a recent reconstruction from the 1970's after the older original was destroyed in a fire in 1969.
Higashiyama Hakusan Shrine 東山白山神社
Higashiyama Hakusan Shrine is the oldest Shinto shrine in Takayama. The shrine may date from as far back as the 8th century. The shrine is set in extensive, wooded grounds with ancient cedar trees.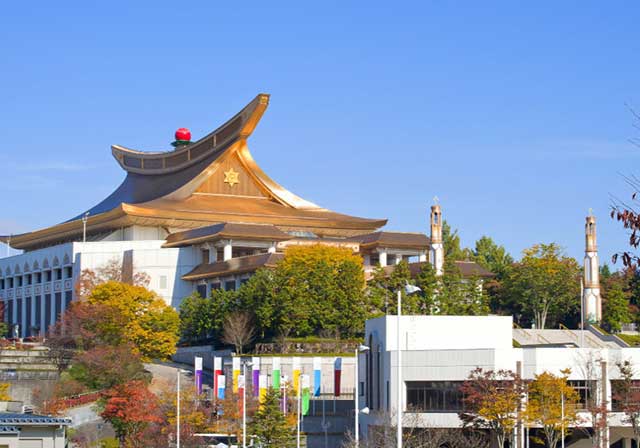 The huge headquarters of the Sukyo Mahikari religious sect, Takayama
Sukyo Mahikari 崇教真光
The huge headquarters of the Sukyo Mahikari religious sect dominates the mountainous skyline to the west of Takayama. The World Shrine (Suza) is believed by followers of Sukyo Mahikari to enshrine the Su God, the creator of the universe.
The building, completed in 1984 at a reported cost of USD 500 million, is monumental in size topped with a large red globe (munadama) and contains many symbols and features that may be familiar to followers of other religions.
The two Towers of Light resembles Islamic minarets, the Star of David and the Wheel of Dhamma is much in evidence and there is a reconstruction of the Quetzalcoatl Fountain from Mexico in the courtyard of the building.
Hotels in Takayama
The following three hotels are recommended as budget, mid-range and luxury places to stay in Takayama.
Sakura Guest House in the middle of Takayama is a clean, convenient, traditional-style budget option. Private and dormitory rooms available, shared bathrooms. Free Wi-Fi and parking. Coin launderette on the premises, a common area with wood-burning stove, and a kitchen with microwave.
Guest House & Cafe SOY has a superb reputation for all-out hospitality and helpfulness. This huge, handsome converted traditional farmhouse has become a very atmospheric, dark-wood guest house with modern amenities and all the comforts for a wonderful stay. Wonderful food and service in a semi-rural-looking setting.
Oyado Koto No Yume is a classy, traditional ryokan inn a short walk from Takayama Station and very near the Miyagawa Morning Market. Fully-fitted out, comfortable, spacious tatami-mat rooms have everything required for a pampered stay, and exquisite local cuisine is served. Optimum accommodation in the best location in Takayama. Attentive service.
Other options include the Takayama Green Hotel, the Hida Plaza Hotel, the Associa Takayama Resort Hotel, the Best Western Hotel and the Washington Plaza Hotel.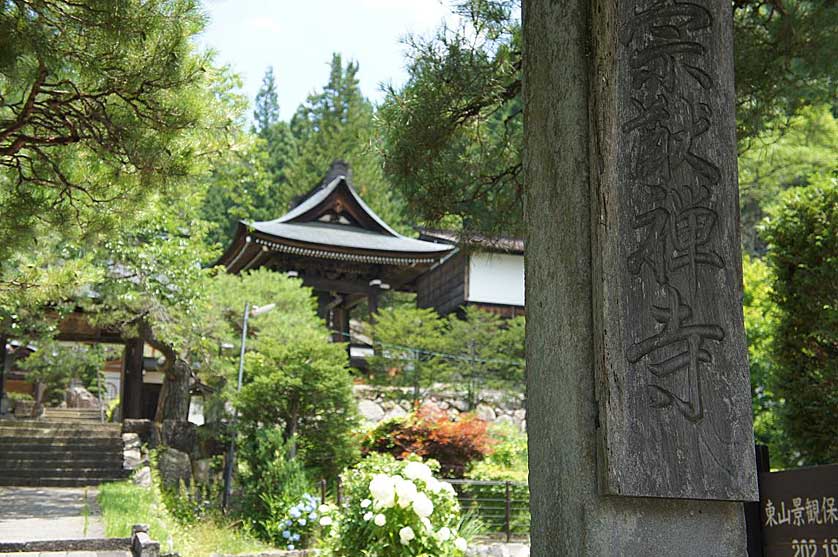 Takayama temple grounds
Access - Getting to Takayama
Takayama deserves at least an overnight stay if not longer if you wish to explore the other sites of interest within easy access of the town including: Shirakawa-go, Hida Furukawa, Gero Onsen, Kamikochi, Gujo Hachiman and Matsumoto.
Air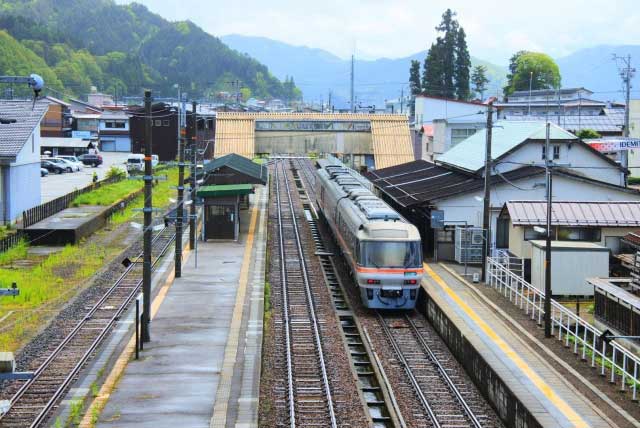 Chubu International Airport is the nearest large international airport to Takayama. There are direct connecting trains on the Meitetsu Centrair service to Nagoya and Gifu.
Rail
Takayama is 110 km north from Nagoya. By Tokaido Shinkansen, Nagoya is 52 minutes from Osaka and 1 hour 40 minutes from Tokyo.
From Nagoya Station, Takayama is 2 hours, 9 minutes by JR Takayama Line on the Hida Express. From Toyama there are also trains taking about 90 minutes. There are also direct trains to Osaka (4 hours, 11 minutes), though it is quicker, though more expensive, to take the Shinkansen to Nagoya and change.
Bus/Road
There are long distance bus services from outside Takayama Station to Tokyo (Shinjuku; 5 hours, 30 minutes), Kyoto, Osaka (5 hours), Nagoya (2 hours, 45 minutes), Kanazawa (3 hours), Hida Furukawa (30 minutes), Gero Onsen, (90 minutes), Matsumoto (2 hours), Kamikochi, and Gujo Hachiman (1 hour, 15 minutes). In Nagoya get on the bus to Takayama at Meitetsu Bus Center Boarding Point 7.
Driving from downtown Nagoya follow National Highway 41 from Tsurumai all the way north via Minokamo City and Gero. Alternatively take the Chuo Expressway to Nakatsugawa and then exit at the sign to Gero Onsen.
Getting Around Takayama
Cheap bicycle hire is available from the Tourist Office, Takayama Green Hotel and other places around town. There is also a circular sightseeing bus which leaves from the bus station. Most places can be reached easily on foot.
There are also excellent cycle tours of the local countryside organized by Hida Satoyama Cycling.
Map
Takayama Temples & Shrines, Gifu Prefecture: see a listing of Takayama's most interesting Buddhist temples and Shinto shrines.
All the themes of the city