Kagurazaka
Kagurazaka is an old neighborhood on a slope in Shinjuku ward, Tokyo, and is notable for its preserved historical atmosphere, its many lanes full of specialty shops and classy restaurants.
Tokyo Area Guide: Kagurazaka 神楽坂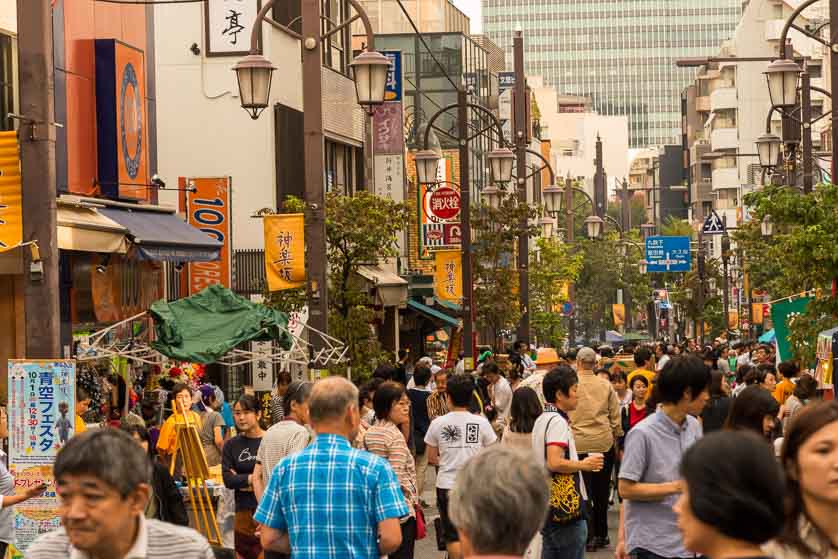 Pedestrianized main street of Kagurazaka, Shinjuku ward, Tokyo.
Kagurazaka is an elegant neighborhood near Iidabashi station in Shinjuku ward well
suited for strolling and sightseeing. Kagurazaka is distinguished by its close associations with Tokyo's literary history and culture.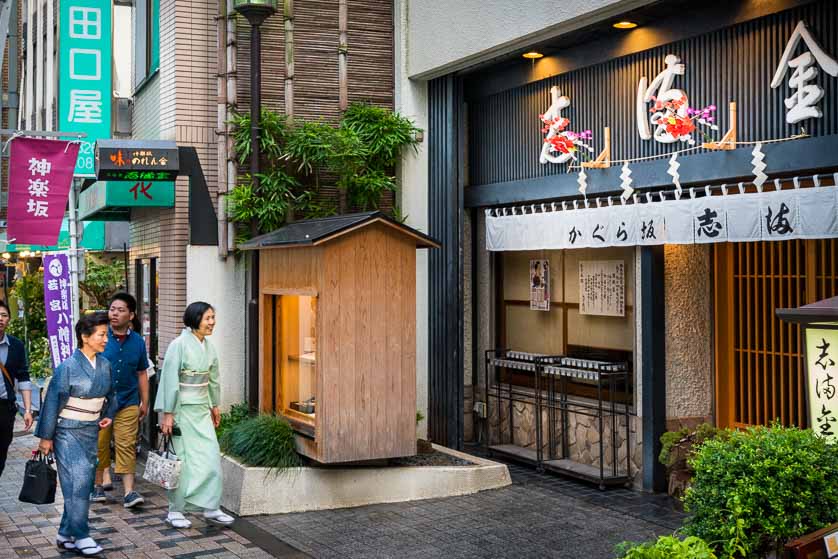 Elegant Japanese dining in Kagurazaka
Kagurazaka's focus is the sloping section of Waseda-dori Avenue between Iidabashi Station and, at the upper end, Kagurazaka subway station on the Metro Tozai Line.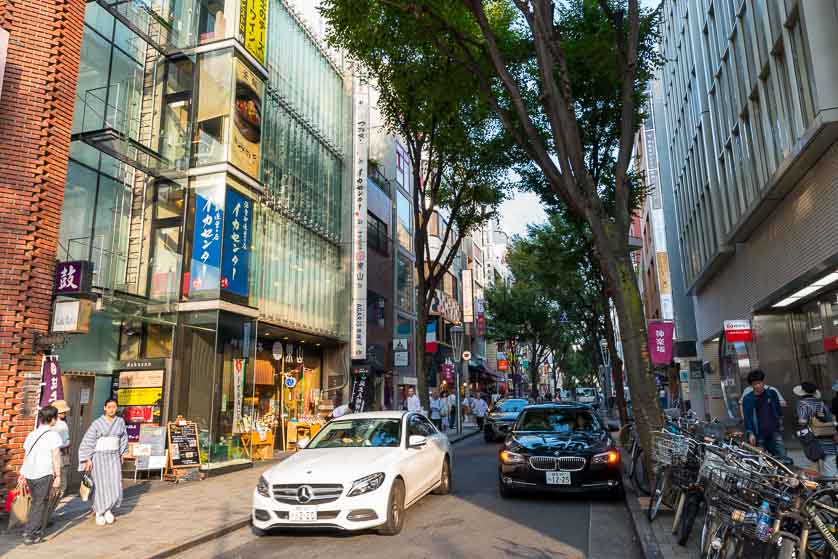 Traffic on main street of Kagurazaka, Tokyo.
Particularly bustling on weekends and public holidays, the main street of Kagurazaka offers all sorts of shopping, dining and even entertainment in an unaffected, community-minded atmosphere.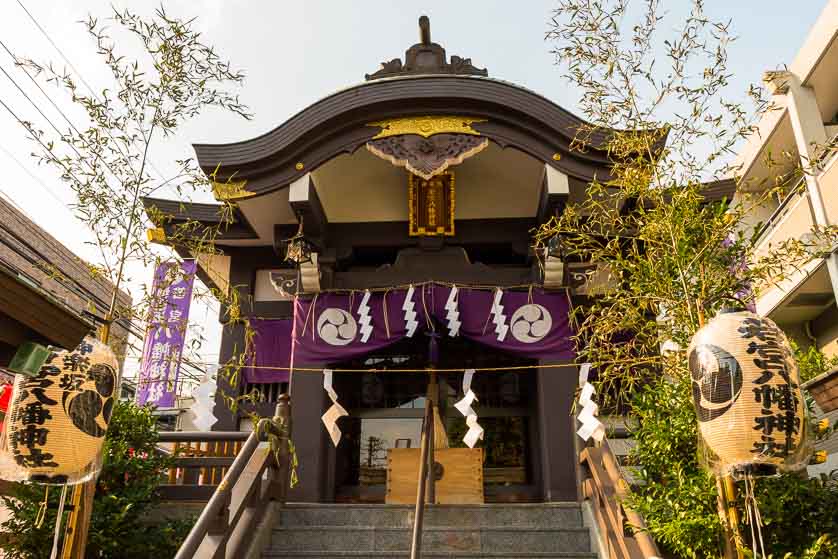 Wakamiya Hachimangu Shrine, Kagurazaka, Tokyo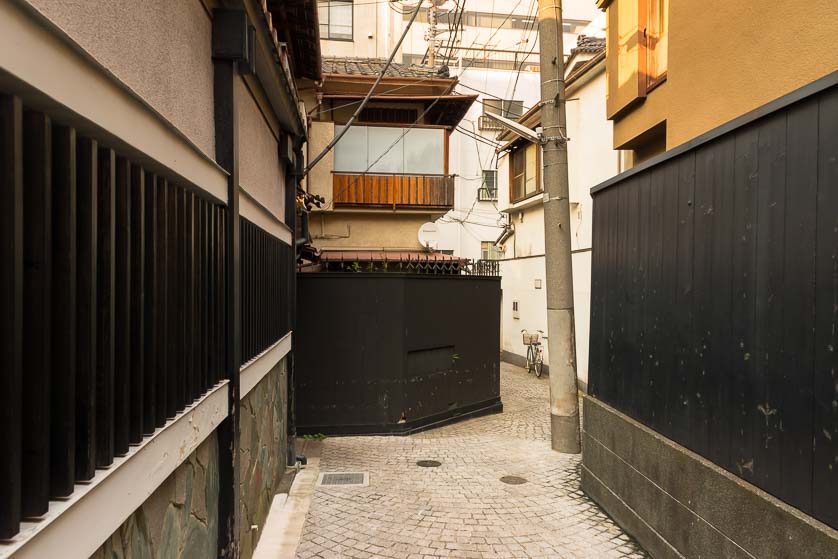 Alley in Kagurazaka, Shinjuku-ku, Tokyo.
Kagurazaka Attractions
Kagurazaka is characterized by specialty stores and boutique restaurants set in a quiet residential neighborhood. One recommended eatery is Chichukai Uomaru, a Mediterranean-style seafood fusion izakaya restaurant with an informal atmosphere. Kagurazaka is also set apart by its numerous ryotei inns-cum-restaurants that serve exquisite kaiseki cuisine renowned throughout the Kanto region.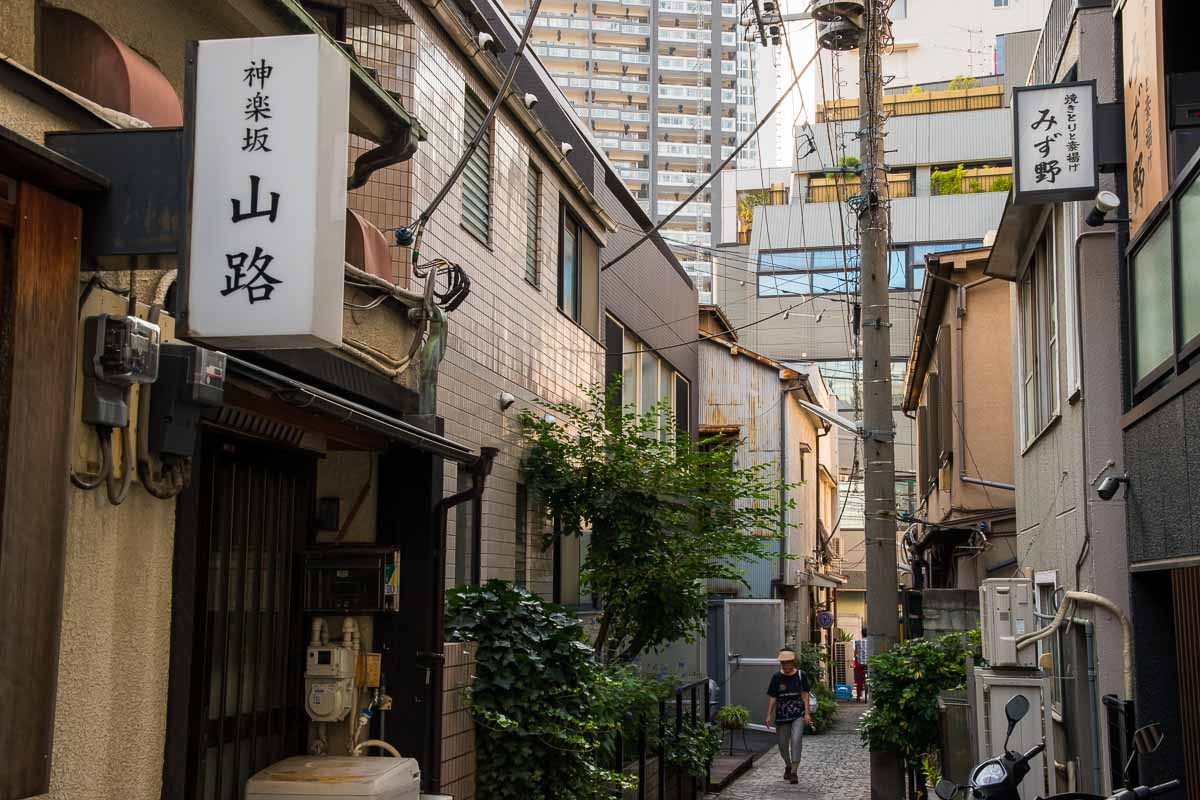 Traditional Japanese restaurants in a Kagurazaka backalley.
These traditional old restaurants are hidden among the quaint little lanes that slope either side off the main Waseda-dori Avenue.
Kagurazaka has a considerable French community, with the nearby L'Institut Franco-Japonais de Tokyo, and partly explaining the large number of French restaurants to be found here.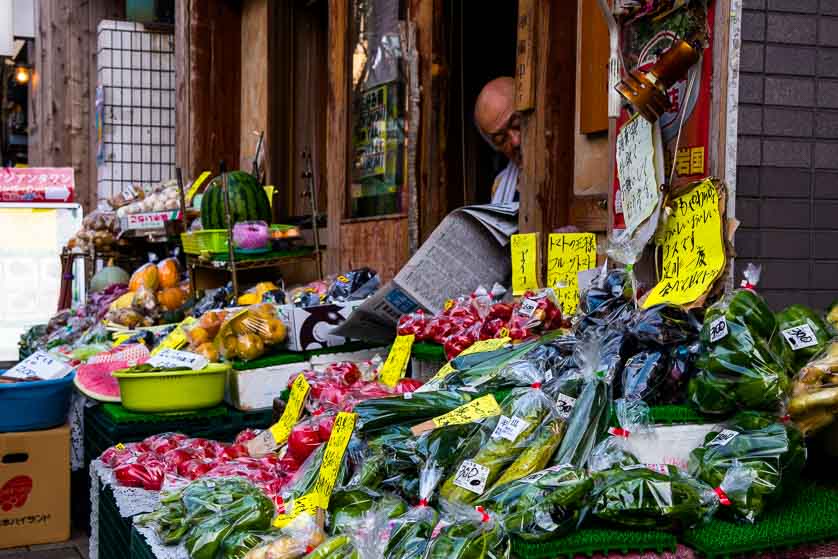 Fruiterer in Kagurazaka, Shinjuku ward, Tokyo
Kagurazaka History
From early days, Kagurazaka was famous as Japan's premier pleasure quarter, or hanamachi (literally "flower town,") with a proliferation of geisha houses. The area's golden age ended with World War II. The remnants of those days remain in the restaurants and kimono and confectionery shops that still have a presence here.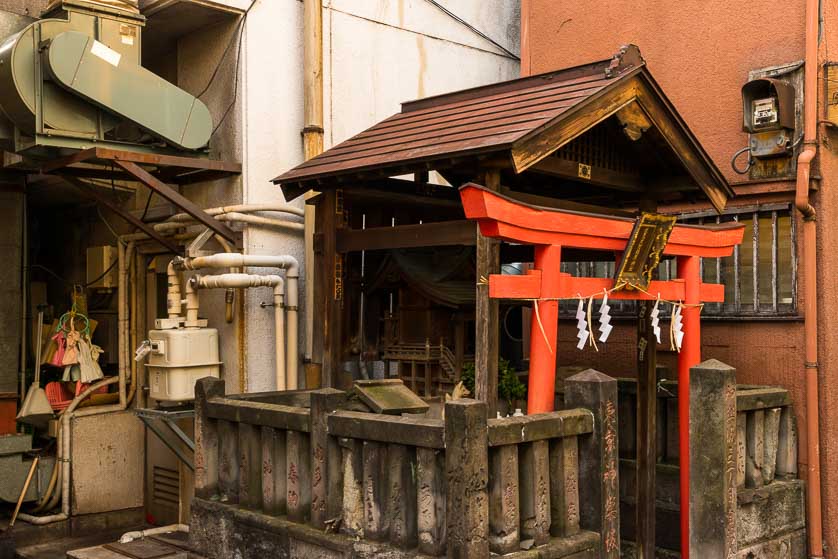 Shinto shrine in a backalley of Kagurazaka, Shinjuku ward, Tokyo
Kagurazaka was popular with artists and writers, including the Japanese author Soseki Natsume (1867-1916), whose face featured on the 1000 yen bill between 1984 and 2004 and whose birthplace is marked by a stone monument in Okubo, about 1.5km west along Waseda-dori.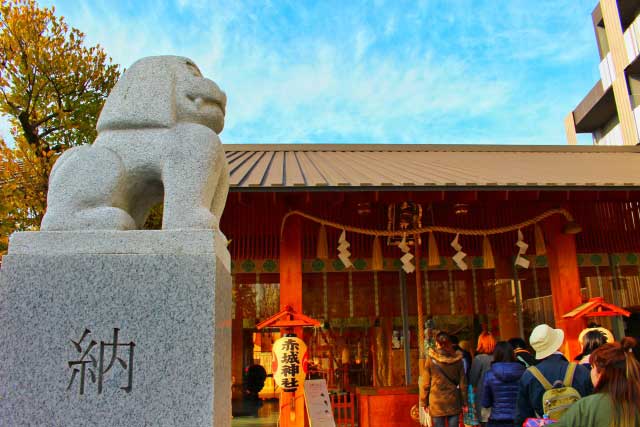 Akagi Shrine, Kagurazaka, Tokyo
TUS Museum of Science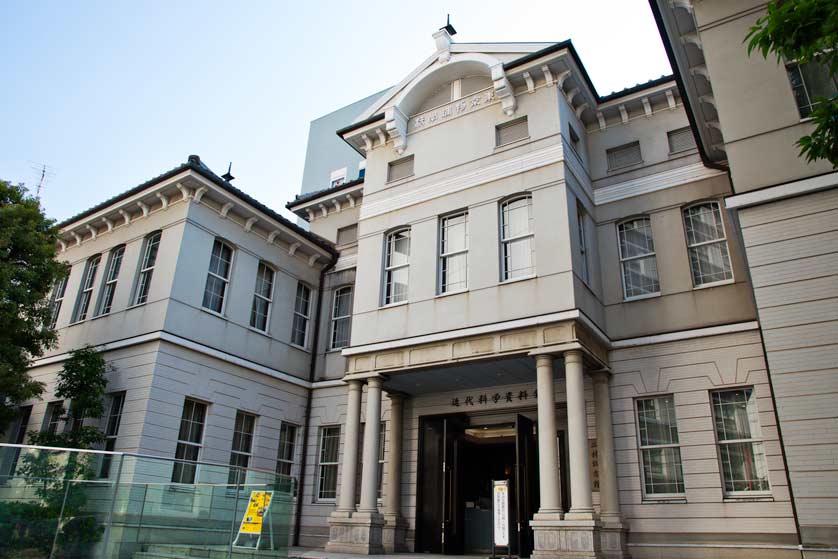 TUS Museum of Science, Kagurazaka, Tokyo
The Tokyo University of Science's TUS Museum of Science is a free-entry museum on the university's Kagurazaka campus. The Museum showcases primarily the history of recording (both typographic and audio) and calculating devices.
Kagurazaka Temples and Shrines
Kagurazaka is scattered with dozens of stately Buddhist temples. One of the most prominent on the slope itself is Zenkokuji Temple, founded by the Nichiren School of Buddhism in 1595 in Bakurocho, about 4 kilometers east, and moved here in 1793. There is also a Shinto presence, with Akagi Shrine at the top end of Kagurazaka.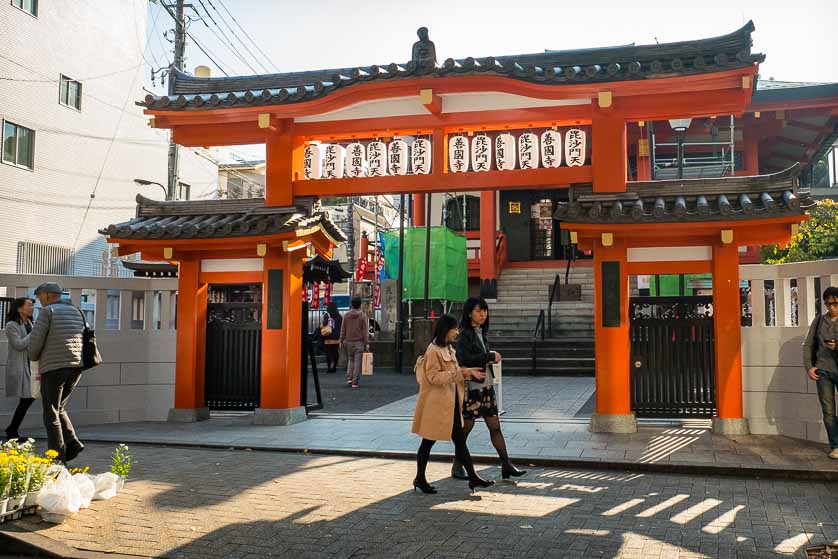 Zenkokuji Temple, Kagurazaka, Shinjuku ward, Tokyo.
Akagi Shrine dates from the 14th century, and is a branch of the Akagi Shrine in Gunma Prefecture, which venerates the mountain of the same name. The shrine was rebuilt in 2010, restoring the various in-house shrines that had been destroyed in World War Two. The rebuilt Akagi Shrine is very 21st century in its design, which is by the the prominent architect, Kengo Kuma (b.1954). Akagi Shrine is the ideal sightseeing spot, powerfully combining aspects of old and modern Japan, and with very visitor-friendly facilities, including a cafe.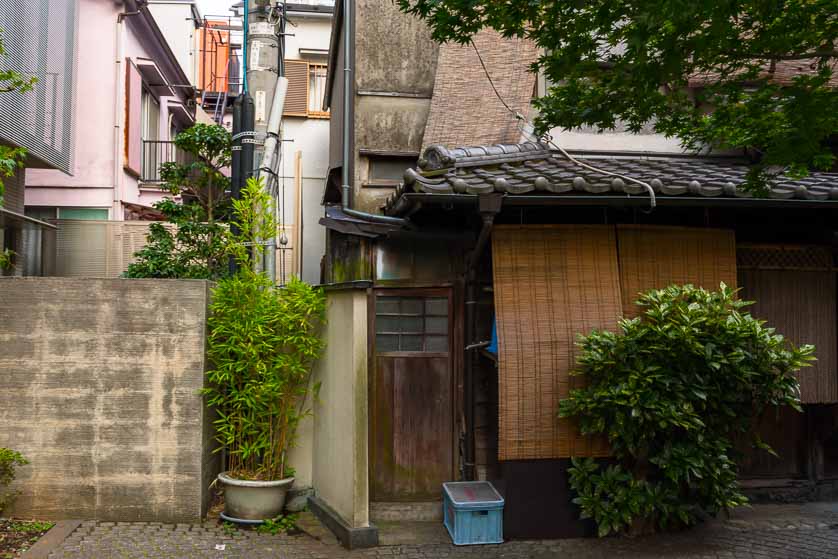 Residential alley, Kagurazaka, Shinjuku ward, Tokyo.
Post-war Kagurazaka
Kagurazaka was rebuilt after World War II on the same lines as before, complete with little alleys, thus retaining its historical air and still attracting the artists and writers that it did in its hanamachi days. Although 21st century developments are changing Kagurazaka, it still retains a special atmosphere. Take a stroll around Kagurazaka for a taste of old Tokyo.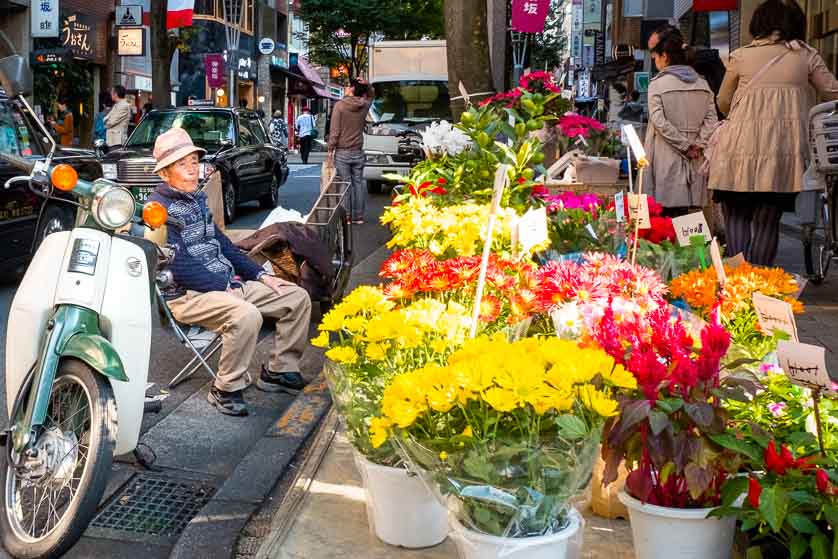 Flower stall, Kagurazaka, Shinjuku ward, Tokyo
The Kagurazaka Awa-dori Festival is a feature of the area on the last Friday and Saturday of July.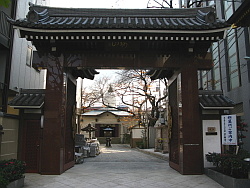 Sohakuji Temple, Kagurazaka, Tokyo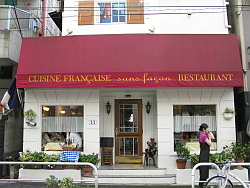 French restaurant in Kagurazaka, Tokyo
Access: Getting to Kagurazaka
Kagurazaka is accessible from five train lines:JR Chuo Line/Sobu Line: Iidabashi StationTozai Subway Line: Iidabashi Station or Kagurazaka StationNamboku Subway Line: Iidabashi StationYurakucho Subway Line: Iidabashi StationOedo Subway Line: Iidabashi Station (for access to the bottom end) or Ushigome-Kagurazaka-cho Station (for access to the top end)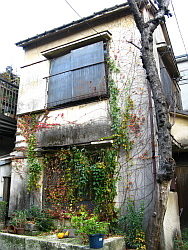 Abandoned house in Kagurazaka, Tokyo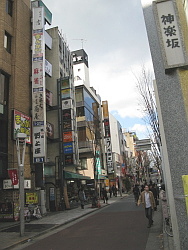 Kagurazaka main street, Tokyo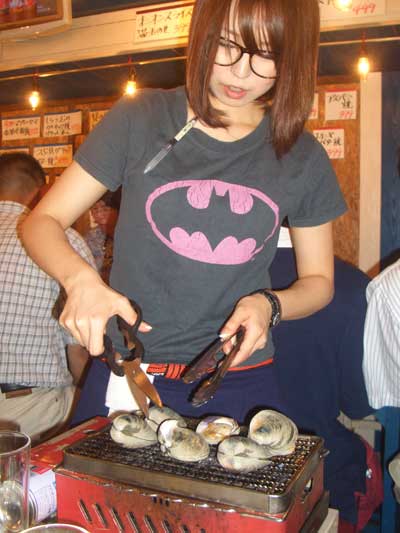 Chichukai Uomaru Restaurant, Kagurazaka, Tokyo
Enjoy delicious seafood at Chichukai Uomaru Restaurant, Kagurazaka
Map
For a full listing of Tokyo Museums & Art Galleries click here
Book Hotel Accommodation in Tokyo Near Kagurazaka
All the themes of the city