Tokyo Kabukiza Ginza
The Kabukiza Theater in Tokyo is located in Tokyo's upmarket Ginza district. The first Kabuki Theater was first built here in 1889.
Kabukiza Ginza 歌舞伎座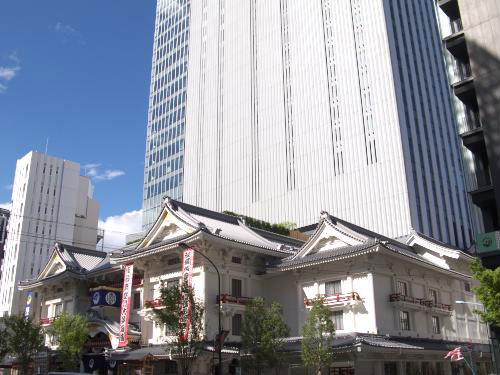 Ginza Kabukiza, Ginza, Tokyo
The Kabukiza Theater in Tokyo is located in Tokyo's upmarket Ginza district. Kabuki Theater was first built in 1889, heralding the new-found respectability of the dramatic art of kabuki.
The present Kabuki Theater is the fourth kabuki theater to be built on its site in a little over 120 years. The Kabuki Theater is distinguished by its Japanese castle and shrine style architecture, as well as by the ultramodern skyscraper that emerges from out of it, together officially known as Ginza Kabukiza.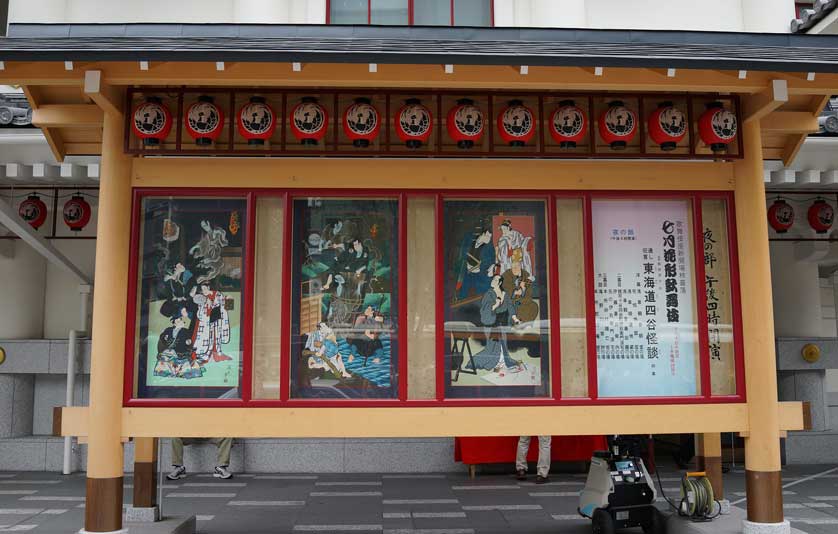 Kabukiza Theater, Ginza, Tokyo
Kabukiza Ginza History
The Kabukiza theater was born of a nationalistic revival of kabuki in the 1880's. By the late nineteenth century, Japan was finding its feet as a newly modernizing nation and, as such, was fearful of losing its cultural identity.
Kabuki had traditionally been, if anything, a subversive form of entertainment in that it was lower class, and closely associated with red light districts. However, Japan now sought to preserve kabuki as a "uniquely Japanese" institution by reinventing it and removing it from its former underground, "immoral" milieu.
The success of this development was cemented in 1887 when the Emperor Meiji hosted a kabuki performance. The erection of the Ginza Kabuki theater two years later in 1889 was the next major step in this cultural sanitization of kabuki. The promoter was the journalist, Genichiro Fukuchi, a political supporter of the new regime's oligarchy in league with a prominent financier.
The Ginza Kabukiza was the first kabuki theater in Japan to use electric lighting, and boasted the biggest stage in Japan as well. The Kabukiza survived some financial vicissitudes, but was destroyed by fire in 1921 caused by an electrical short circuit. The basic structure had been rebuilt by 1923, only for the Great Kanto earthquake to strike, causing a fire which burned all the materials stored on site, and halting construction for a while. The second Kabukiza finally opened in 1925 and was a famous symbol of Tokyo's recovery from the great earthquake.
Disaster struck again twenty years later in the form of an Allied air raid on Tokyo that razed the Kabukiza. Following the war, in 1949, Kabukiza was established as a limited company, rebuilt, and opened in January 1951: an effort in which General Douglas MacArthur's interpreter and aide-de-camp, the scholar Faubion Bowers, greatly assisted in.
By the first decade of the 21st century, the more than 50 year old Kabukiza was requiring more and more maintenance, there were concerns about its earthquake safety, and it was in no way barrier-free in its design. Plans were therefore launched in 2008 to rebuild it a fourth time. The stunning result of Kabukiza's 21st century reincarnation is a picture-perfect replica of the Kabukiza's old look, but incorporating a 29-story skyscraper (plus four underground floors), which opened in March/April 2013.
Performances
Kabuki performances can be seen daily at the Kabukiza for anything from about 4,000 to 22,000 yen, depending on the seat. Reservations should be made at least two days in advance, preferably earlier. Many performances have an English Earphone Guide rental service for those who do not understand the Japanese language and are unfamiliar with kabuki. The guide, for a fee of 700 yen (plus refundable deposit of 1,000 yen) both translates and explains what is going on.
Kabukiza is run by Shochiku Co., Ltd. See the English-language page for Kabukiza for details of what's on.
Kabukiza Ginza Access
Kabukiza Ginza is just a few blocks east of the main Ginza shopping street. Kabuki Ginza is accessible from:-Exit 3 of Higashi Ginza station on the Hibiya and Asakusa subway lines (instant access).-Exit A6 of Ginza station on the Ginza, Marunouchi, and Hibiya subway lines (5 minutes).-Tokyo Station (10 minutes by taxi)
Google Map of Kabukiza Ginza
Kabukiza Ginza4-12-15 Ginza, Chuo-kuTokyo 104-0061JapanTel. 03-3545-6800
Book Hotel Accommodation in Tokyo Japan in Ginza
All the themes of the city