Asakura Museum of Sculpture
Asakura Museum of Sculpture: the sprawling, three-storied former residence and studio of sculptor Fumio Asakura (1883-1964) in Tokyo's attractive Yanaka district.
Asakura Museum of Sculpture 朝倉彫塑館
The Asakura Museum of Sculpture (also known as the Asakura Choso Museum) is the sprawling, three-storied former residence and studio of sculptor Fumio Asakura (1883-1964) in Tokyo's attractive Yanaka district. The Museum features many of Asakura's bronzes, and includes his extensive library, other collectibles such as paintings and pottery, and gardens both at ground and roof level.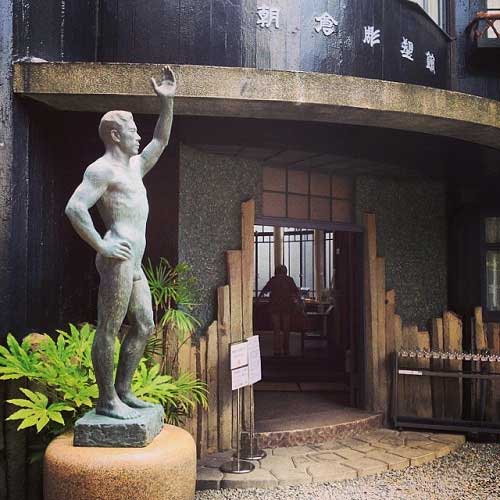 Asakura Museum of Sculpture, Tokyo
Fumio Asakura
Fumio Asakura was born in Oita prefecture in Kyushu, but came to Tokyo at age 19 to study at what is now the Tokyo University of the Arts, living with his brother who was also a sculptor.
Asakura excelled at sculpture, making a name for himself even before graduation with his winning entry for a bust of Admiral Kagenori Nire commissioned by the Ministry of the Navy. As a student unable to afford models he would wander the Ueno district sketching animals - a penchant preserved in his numerous sculptures of cats. Also, through the good offices of one of his professors, he churned out about one statue a day for commercial customers.
Asakura set up a studio in this house in Yanaka in 1908, immediately after graduation, and set about expanding the premises little by little, selecting the materials and providing the concepts for the architecture and layout himself. Although the building escaped damage during the Pacific War, over 400 of his works were requisitioned and melted down for the war effort.
After the war, Fumio Asakura continued to pursue his sculpture of naturalistic realism, prolifically producing until his death at age 81 in 1964. He is buried in the grounds of nearby Tennoji Temple.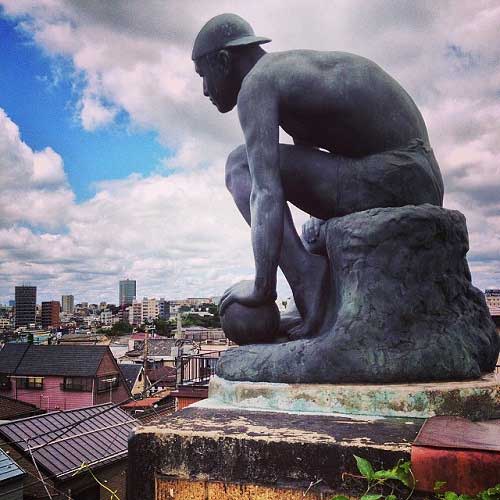 Statue on roof of Asakura Museum of Sculpture, Tokyo
The Museum
Asakura Museum of Sculpture has a modern facade from its recent renovation, belying its traditional interior. The building comprises two wings: a Japanese-style residential space and a Western-style studio space. The Western studio space has a grand, very high-ceilinged main room exhibiting several large statues, dominated by a more-than-life-size twice prime minister of Japan and founder of Waseda University, Shigenobu Okuma, in academic garb.
Fumio Asakura's impressive library of thousands of tomes, behind glass, is housed in the adjoining study, along with curios such as a human skeleton.
Upstairs of the Western-style wing is the Orchid Room, now home to several evocative statues of cats (and a photo of the mature bachelor Asakura surrounded by feline companions). Upstairs from there is the attractive roof garden from which to view the whole building, including the Japanese garden below and the statues topping the roofs.
The Japanese-style wing, the artist's residence, is most notable for its large and sparsely yet elegantly decorated Sunrise Room. Other rooms contain artifacts besides the artist's works such as Japanese ceramics and calligraphy. A closer view of the garden, and its fishpond, is afforded from here.
Photography inside the museum is prohibited.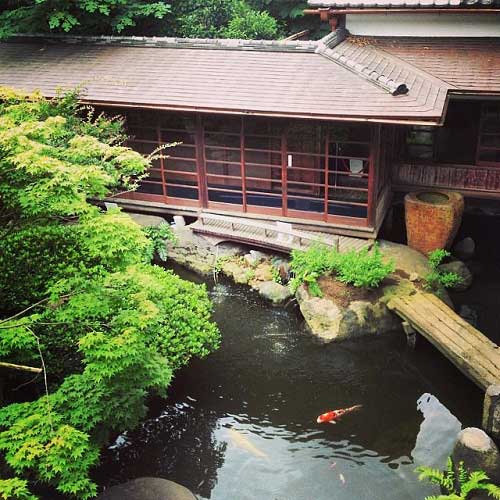 Garden pond, Asakura Museum of Sculpture, Tokyo
Museum grounds
The beautiful grounds of the Asakura Museum of Sculpture feature a Japanese garden, with carp pond, enclosed by the studio and residence. Direct access to the garden is not possible, but there are ample opportunities to view it from several parts of both wings.
Museum hours
The Asakura Museum of Sculpture is open 9:30 a.m. to 4:30 p.m. (last admission 4:00 p.m.) every day except Monday and Friday. However, if Monday or Friday is a public holiday, it remains open on that Monday or Friday and will be closed the next day (Tuesday or Saturday). The Museum is also closed over New Year (December 29 - January 3).
Entry is 500 yen for adults, and 250 yen up to high school student age.
Asakura Museum of Sculpture access
Yanaka 7-18-10, Taito-ku, Tokyo 110-00013 minute walk from JR Nippori Station. Turn left out of the West Exit of Nippori Station, follow the road as it slopes up, take the third street on your left, walk 75 meters, and the Museum is on your left.
Google Map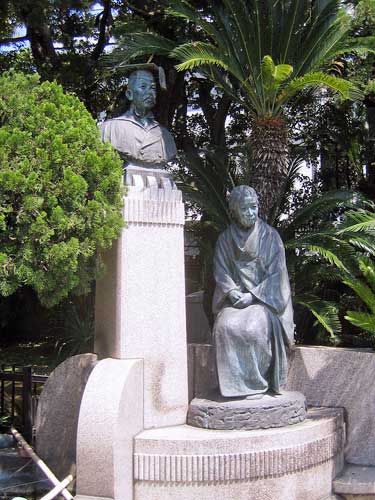 Statues by Fumio Asakura of Kazuo and Haruko Hatoyama, Hatoyama Kaikan, Bunkyo-ku, Tokyo
Attractions nearby the Asakura Museum of Sculpture
Just east of the Museum is beautiful Yanaka Cemetery and Tennoji Temple. South of the Asakura Sculpture Museum is the Daimyo Clock Museum. Further west, on Shinobazu-dori Road, are the Kyu-Iwasaki Teien Gardens, which is the 19th century home of the founder of the Mitsubishi Group, the Yokoyama Taikan Memorial Museum, which is the old home of a famous Japanese-style artist, and Yushima Tenjin shrine. Beautiful Nezu Shrine is a short walk away.
Book Hotel Accommodation in Japan Near the Asakura Sculpture Museum Tokyo
All the themes of the city