Shimokitazawa Area Guide Tokyo
Shimokitazawa 下北沢
Shimokitazawa (AKA "Shimokita"), in Setagawa ward, is one of Tokyo's most alluring and atmospheric areas for hip street fashion, cafe culture, underground music and alternative theater.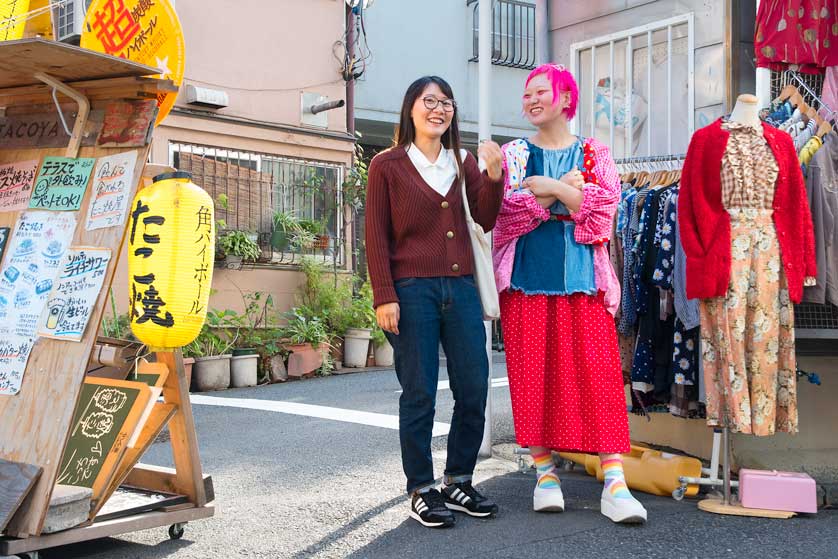 Looking hip in Shimokitazawa
With its narrow pedestrian-friendly lanes, "Shimokita" retains something of its old village atmosphere, but for a younger, hipper, alternative, set. Shimokitazawa's prime attraction is its shopping, especially for reasonably priced, stylish used clothing, from thrift store to recycled high-street fashion. Shimokitazawa also has cheap characterful eating, drinking and cafe cruising.
It was students of nearby universities who first generated Shimokitazawa's bohemian vibe, and students are the main patrons of the district's many theaters and music clubs. Shimokitazawa is now a hangout for anyone seeking the sense of freedom that first drew students here, and devotees of the street fashion and style that give this otherwise quite tawdry townscape its unique look and vibe.
Shimokitazawa's streets, alleys and buildings are crammed with typically very small vintage/second-hand apparel stores, cafes, bistros, bars, pubs (izakaya), vinyl record stores, art galleries, amusement arcades, antique and curio shops, live music clubs, and theaters.
One of Shimokitazawa's charms is its irregular random layout, enhancing the sense of discovery to be had wandering its narrow lanes.
History
Until the 1920s, Shimokitazawa was a rice farming village outside of Tokyo proper. The 1923 Great Kanto Earthquake transformed Shimokitazawa into an urban district when thousands of displaced people from eastern Tokyo came here as refugees. Shimokitazawa Station opened in 1927, further urbanizing the area, and becoming the new center of Shimokitazawa. Because, until then the area's center had been Kitazawa Hachiman Shrine 1km further south.
Shimokitazawa escaped bombing during World War Two, so its streets retain their pre-automobile age narrowness, proliferation of cul-de-sacs, and lack of parking spaces. Because it was undamaged, Shimokitazawa become a post-war black market hub, further energizing the area commercially.
From the mid-1970s, Shimokitazawa saw an influx of students. Their traditional quarter of Shinjuku was developing rapidly, and Shimokitazawa was a cheaper but still well-located alternative. Establishments catering to students sprang up, creating a free and easy youthful counterculture.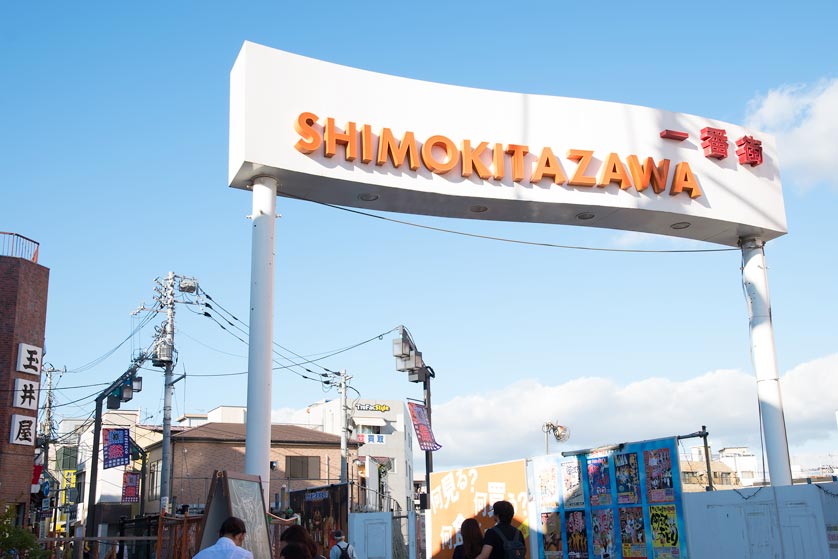 Shimokitazawa sign, just north of the station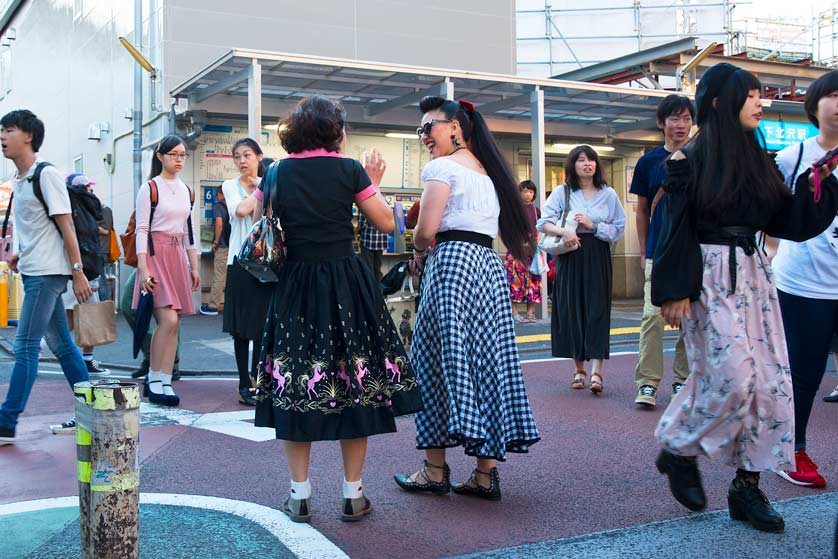 Fashionistas in front of Shimokitazawa station
Shimokitazawa Station
Shimokitazawa Station serves two intersecting lines: the east-west elevated Keio Inokashira Line and, the north-east/south-west underground Odakyu Line.
Shimokitazawa is cut in two by the Keio Inokashira Line station. Around the station are large fenced-off vacant lots undergoing reconstruction of the sort many believe will eventually detract from Shimokitazawa's charm.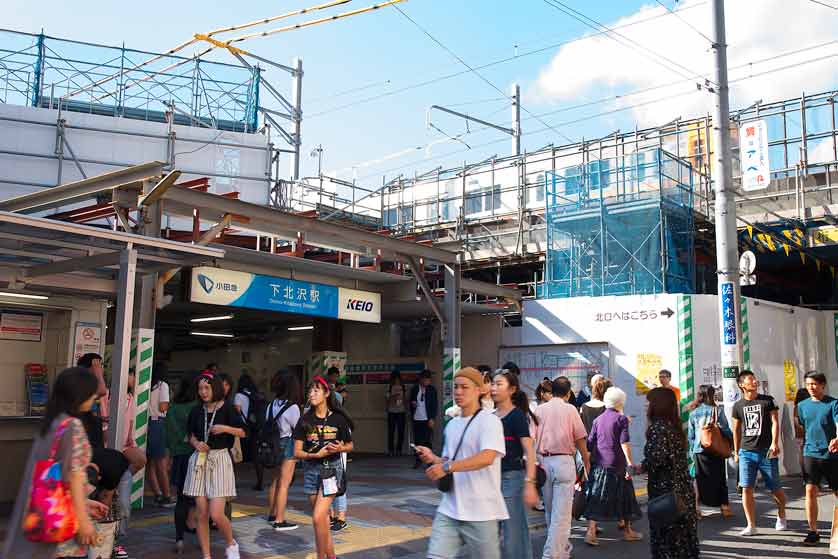 South Exit of Shimokitazawa Station, Keio and Odakyu lines
Shimokitazawa Shopping
Shimokitazawa's post-war black market is largely what put the area on the map, and Shimokitazawa is still full of stores with that unplanned hole-in-the-wall feel.
The Shimokitazawa Station area is generically commercial, with several chain stores and a modern shopping mall. The bohemian vibe gets stronger further from the station.
South of Shimokitazawa station has most of the live music clubs and theaters. The north side has more of the vintage clothing shops, cafes, bars, restaurants, and curio stores.
Shimokitazawa offers a huge range of vintage and second-hand clothing, and is the place for new and vintage aloha (Hawaiian) shirts, in particular. See a detailed guide to Shimokitazawa shopping.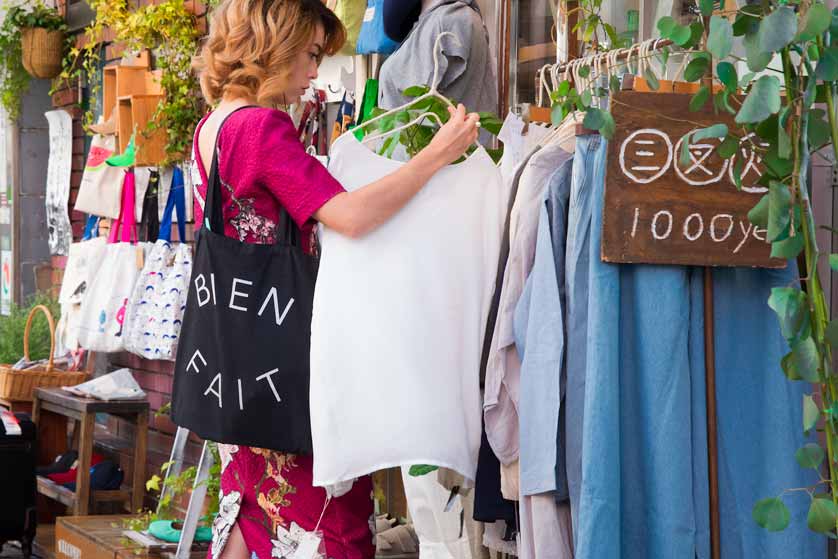 Shimokitazawa shopping
Shimokitazawa Dining
Shimokitazawa caters to the curious and cosmopolitan palates of its hip denizens with a huge range of culinary options. There are little bars, cafes and restaurants throughout Shimokitazawa, especially north of the station, that offer memorable dining for usually very reasonable prices. Read more about cafes and restaurants in Shimokitazawa.
Shimokitazawa Music and Stage
Until the recent rise of its hip cafe scene in the 1990s, Shimokitazawa's sole claim to cultural fame was its vibrant music and theater scene.
Shimokitazawa Live Houses
A "live house" is a small music venue for live bands, and Shimokitazawa's live house scene has the most cred of anywhere in Tokyo, with numerous now nationally famous rock bands having gotten their start doing gigs here.
The live house scene in Shimokitazawa took off in the 1970s, and is still very much alive. The dozens of live houses here are nearly all south of the station, and have an average capacity of 200 people. You can catch performances here every day, covering a wide range of genres from the long-standing Japanese youth staple of punk, to pop, world music, jazz, rap and even DJs. Read more about Shimokitazawa live houses.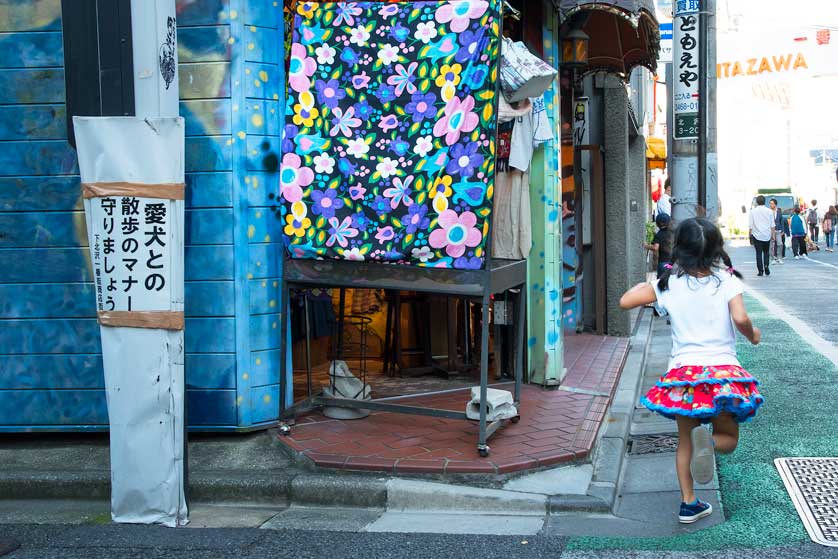 Shimokitazawa alley
Shimokitazawa Theaters
The theater scene in Shimokitazawa is intimately linked to the fortunes of its godfather, Kazuo Honda (b.1934), who started off as an actor, then went into the bar business, ending up owning dozens of bars in Shimokitazawa.
In 1981, Honda established the Suzunari Theater (a dumpy old place with dive bars out front, north-east of the station) and went on to establish another seven theaters. The biggest and most famous is the Honda Theater and occupies one floor of the Marche Shimokitazawa shopping building. There are four other theaters in Shimokitazawa not affiliated with Kazuo Honda. The oldest is the Parata Theater, home of the Toen theatrical troupe, which set up here in 1978. All are holes in the wall east of Shimokitazawa Station, except Shimokitazawa Alley Hall, which is a little north.
Torii gate of Kitazawa Hachimangu Shrine, Shimokitazawa
Shimokitazawa Shrines and Temples
Kitazawa Hachiman Shrine 北澤八幡神社
Kitazawa Hachiman Shrine is a spacious, picturesque shrine in the Daizawa neighborhood, 10 minutes' walk southeast of Shimokitazawa. Kitazawa Hachimangu, as it is popularly known, is said to date from the late 15th century, and is the guardian shrine for the whole of northern Setagaya ward. The very popular Kitazawa Hachiman Festival takes place on the first weekend in September and is the biggest festival event of the year for Shimokitazawa, involving the whole district. Read more about Kitazawa Hachiman Shrine.
Shinganji Temple 森巌寺
Shinganji Temple is just west of Kitazawa Hachimangu Shrine, about 8 minutes' walk from Shimokitazawa Station, and was founded about four centuries ago. The temple's main feature is a large, ancient ginkgo tree that dates from its founding, a transparent telephone-box like shrine on the premises to the god Benzaiten, and an annual Needle Funeral on February 8, when old sewing needles are put to rest in the temple's special Needle Grave. Read more about Shinganji Temple.
Shimokitazawa Accommodation
Accommodation near Shimokitazawa is mainly apartments rather than hotels.
Shimokitazawa Apartment Matsuda is a furnished apartment conveniently located a little south of Shimokitazawa and sleeping up to eight people at a time. Smoke-free rooms, kitchen facilities, and free Wi-Fi.
Apartment in Daita TW30 is just one stop from Shimokitazawa. This spacious, reasonably priced property sleeps up to two guests. Air conditioning, kitchen, free Wi-Fi.
Tokyo Petty Bourgeois Taste FF17 is a small apartment near Shimokitazawa accommodating up to three people. Has all the basics - including Wi-Fi and washing machine - for a quiet, comfortable and very reasonably priced stay.
Tokyo Counseling Services Center
The Tokyo Counseling Services Center, south of Shimokitazawa Station, is for English speakers in Japan who seek help with living- and relationship-related problems. Hours: Mon-Fri 9am-7pm, Sat 9am-5pm, Sun: sometimes open 9am-noon, depending on counselor availability. See the Tokyo Counseling Services Center website.
Shimokitazawa Video Guide
Go with David of JapanVisitor through the streets of Shimokitazawa, seeing the sights and hearing the sounds in the YouTube video guide below.
Access to Shimokitazawa
Shimokitazawa is most easily accessed from Shibuya Station by way of a 3-minute (express train) ride on the Keio Inokashira Line, and Shinjuku Station by a 10-minute ride on the Odakyu Odawara Line.
Nearby Shimokitazawa
Sangenjaya is another suburban fashionista district - more laid back and spacious than Shimokitazawa - just over 2km south, walkable in 30 minutes, or accessible by taking the Keio Inokashira Line to Shibuya and then the Tokyu Toyoko Line to Sangenjaya.
Shibuya is a highly commercial, always-crowded, shopping-packed fashion center of Tokyo just four stops (7 minutes) east on the Keio Inokashira Line.
Shimokitazawa is a small, very atmospheric fashion district in west Tokyo, crammed with vintage clothing stores, cafes, and music and stage performance spots.
All the themes of the city