Shinjuku Nightlife
Shinjuku Nightlife: read a guide to the nightlife available in Tokyo's Shinjuku district including Kabukicho and Ni-chome.
Tokyo Area Guide: Shinjuku Nightlife 新宿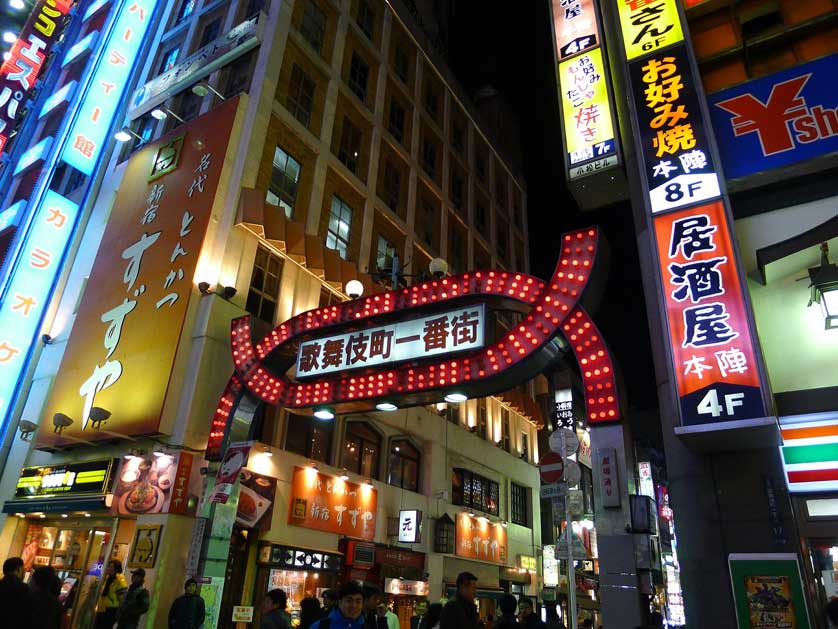 Kabukicho
Shinjuku, on the western edge of Tokyo, is a city within a city, that truly never sleeps. Shinjuku is the contemporary heart of Japan's bustling capital.
When you are done with shopping in Shinjuku during the day, turn your attention to all the area has to offer after dark from fine dining, to rowdy pubs, from sex and sleaze to one of the world's most vibrant gay entertainment districts.
Shinjuku is divided into Higashi (east) and Nishi (west) Shinjuku by the train lines that run through Shinjuku Station on the Yamanote Line.
Nishi Shinjuku in particular exudes wealth and power with its towering skyscrapers. Among them are the majestic twin-towered Tokyo Metropolitan Government Buildings, or 'Tocho', designed by the legendary architect Kenzo Tange, and occupied during the day by over 13,000 city administrative workers.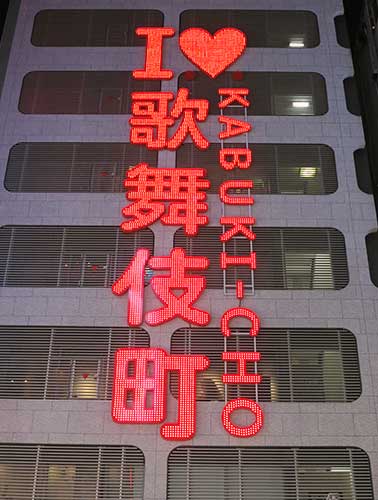 Kabukicho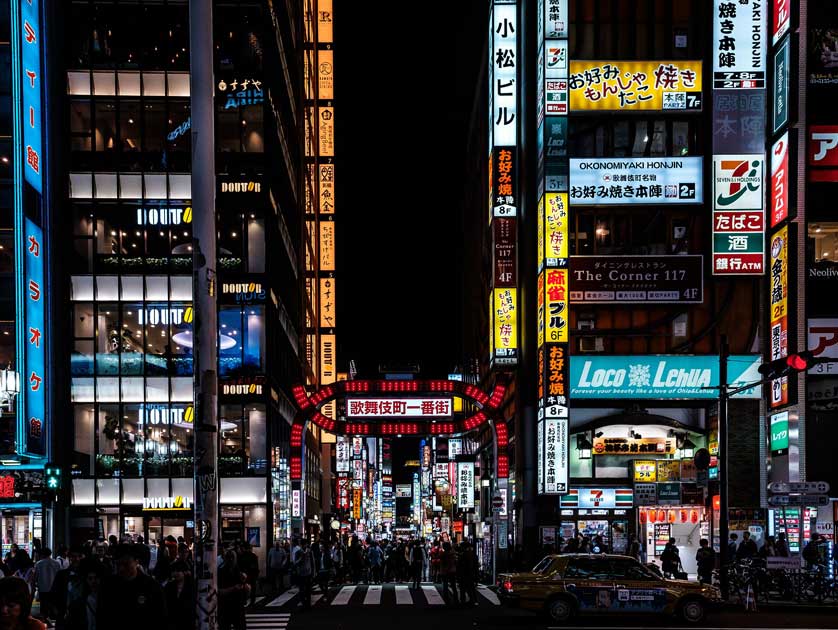 Kabukicho
Kabukicho - Straight Shinjuku Nightlife
Kabukicho (歌舞伎町) is a red-light district north off Yasukuni-dori Avenue, east of Seibu Shinjuku Station and accessible from the Kabukicho or Shinjuku Kuyakusho-mae (Shinjuku Ward Office) intersections.
Kabukicho is renowned for its thousands of hostess bars, pink cabarets, soaplands, strip joints, porno video and DVD outlets and its numerous love hotels. Many of the sexual services on offer are not available to foreigners unless you go with a Japanese cognoscente.
Though yakuza (gangsters) are out and about here and both foreign and Japanese touts can get in your face, it is safe enough even at night, and plenty enough restaurants and bars that cater to every taste to keep you from having to wander for too long. Kabukicho is not all sleaze and there are a number of cinemas and good restaurants in the area. Check out the over-the-top (but misleadingly named) Robot Restaurant for some fun, clean, above-board, but unforgettable, high-tech entertainment.
Watch a YouTube video of Kabukicho.
Kabukicho is the setting for much of Natsuo Kirino's novel Out.
Golden Gai is block of bars just east of Kabukicho that preserves the Tokyo of the 1960's. It escaped the fate of most such areas in the 1980s which was arson by the yakuza for the purpose of sale to developers, thanks to the vigilance of its supporters.
Famed for its dense rows of tiny bars and its unabashed grottiness, this ground-level warren of tiny bars attracts a multitude of different types, and promises interesting encounters. Of the over 200 bars here, there are many that welcome foreigners. Look for signboards with English.
Omoide Yokocho roughly translates as Memory Lane - or, in other words, a place that you know from way back and feel somewhat nostalgic about.The area started out as a huge black market close to Shinjuku Station in the days right after World War II. Now Omoide Yokocho is a cosmopolitan den of izakaya type bars with an international clientele of Japanese office workers and foreign tourists.
Gay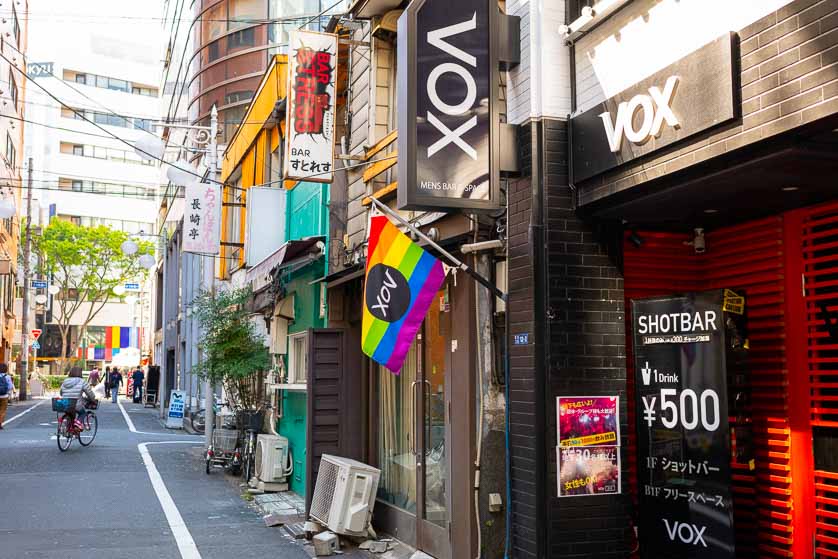 Streets of gay bars and clubs in Shinjuku 2-Chome, Tokyo
Shinjuku Ni-chome is the heart of the Tokyo gay scene.
Shinjuku Ni-Chome is accessible from the Central East Exit or South-East Exit of Shinjuku Station and is about 8 minutes' walk.
This conclave of mostly tiny bars, as well as more spacious cruise bars, dance clubs, bookshops, cafes, and saunas, is a little world unto its own after dark.
In warm weather, especially, the streets are thronged with men moving from place to place, or as spill-over from street bars, chatting with drinks in hands.
Some of the most famous gay bars and clubs that make it into the guide books include:Arty Farty (Tel: 03 5362 9720)
AiiRo (Tel: 03 6273 0740)
GB (Tel: 03 3352 8972)
Goldfinger (Tel: 03 6383 4649) lesbian bar.
All tastes catered for!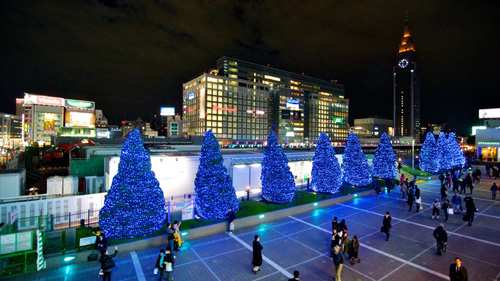 Shinjuku Southern Terrace, Tokyo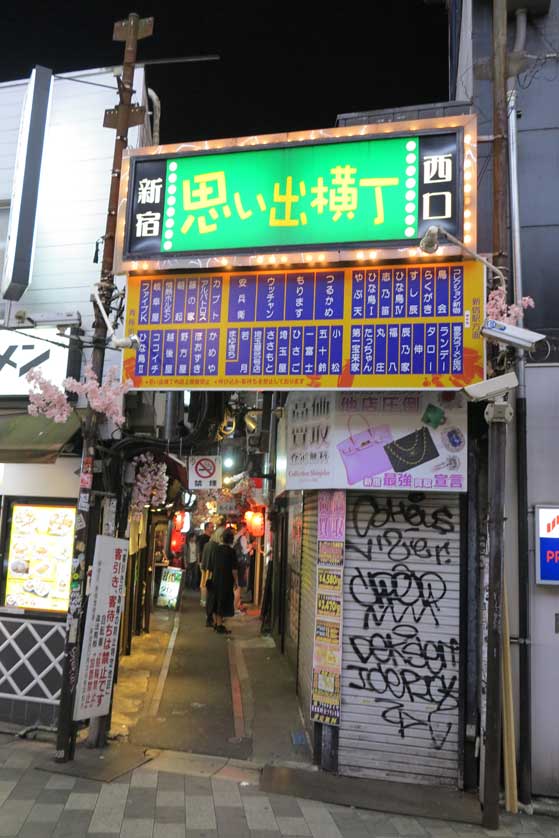 Omoide Yokocho, Shinjuku

Shinjuku Bar & Restaurant Listing
Shinjuku bars
Dubliners (Tel: 03 3352 6606), an Irish theme pub, part of a chain in Tokyo with branches in Ikebukuro, Shibuya, Akasaka, Toranomon and Shinagawa.Bar Plastic Model (Tel: 03 5273 8441), a 70s/80s (Showa 50s) retro-theme bar in Goldengai.
Tokyo Loose (Tel: 03 3207 5677) late night bar/club open with 500 yen drinks during Happy Hour.Esogie (Tel: 03 3353 3334) is a West African bar and restaurant between Yasukuni-dori and Shinjuku-dori east of the Isetan department store.
La Provenle (Tel: 03 3205 8113), a French wine tachinomiya near Seibu Shinjuku Station.La Jetee (Tel: 03 3208 9645) foreigner-friendly film buffs' bar in Goldengai.The Hub (Tel: 03 3345 5310) Japan-wide chain of faux British pubs popular with the younger crowd where boy meets Japanese girl(s). There are four of them in the Shinjuku area alone.
Shinjuku restaurants
Angkor Wat (Tel: 03 3370 3019) for authentic Cambodian cuisine just west of Yoyogi Station.Kakiden (Tel: 03 3352 5121) is a kaiseki-ryori restaurant on the 6th-9th floors of the Yasuyo Building near the Central East Exit of Shinjuku StationTsunahachi (Tel: 03 3352 1012) for delicious tempura.New York Grill (Tel: 03 5323 3458) on the 52nd floor of the Park Hyatt Hotel for American-style buffets and extraordinary views from the wall-to-ceiling windows looking out over Tokyo.Taz Mahal (Tel: 03 3343 1718) good value Indian food with halal dishes available for Muslims.
Fiesta (Tel: 03 3208 0442) Nepali/Indian food, part of the Mandala chain of three restaurants in Tokyo.
Kabukicho Video
Book Hotel Accommodation in Shinjuku Tokyo Japan
All the themes of the city