Omoide Yokocho Shinjuku
Omoide Yokocho in Shinjuku, Tokyo is a warren of small alleys crammed with izakaya-type restaurants appealing to office works and foreign visitors alike.
Tokyo Area Guide: Omoide Yokocho, Shinjuku, 思い出横丁, 新宿, 東京
Johannes Schonherr
Shinjuku Station, often called the busiest railway station in the world, is, for the most part, very modern, brightly lit but often rather difficult to navigate.
Multiple rail carriers have their multiple train lines running out of here, department stores, often operated by the rail companies, are attached to multiple floors lined with restaurants and shops.
Outside, giant high rise buildings and pedestrian bridges dominate the city scape. Huge video screens covering entire building fronts noisily blast out the latest in J-Pop and rock while legions of businessmen in suits hurry by.
For the casual (foreign) visitor, the school girls in uniform and colorful characters of all stripes may complete the image of Shinjuku as a futuristic manga fantasy come to life.
For the regular Tokyo rush-hour commuter, however, Shinjuku Station is not much more than an unavoidable hassle, though sweetened by endless shopping opportunities.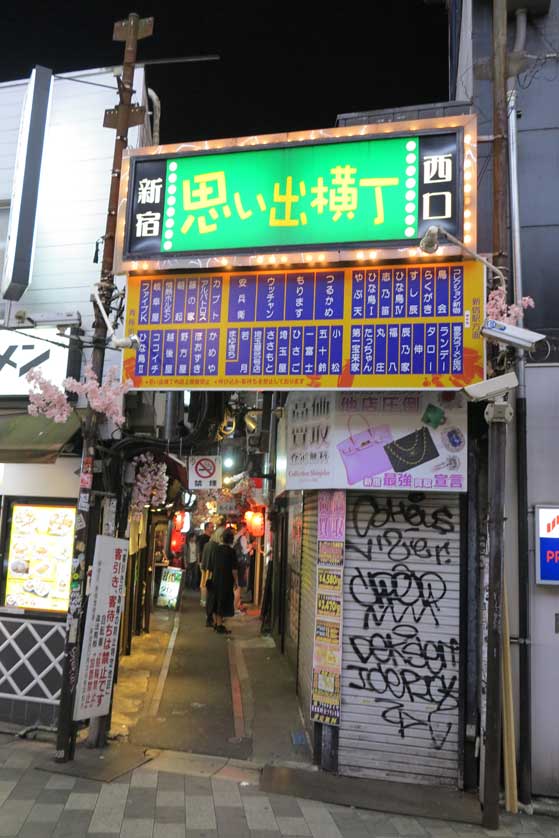 Omoide Yokocho, Shinjuku, Tokyo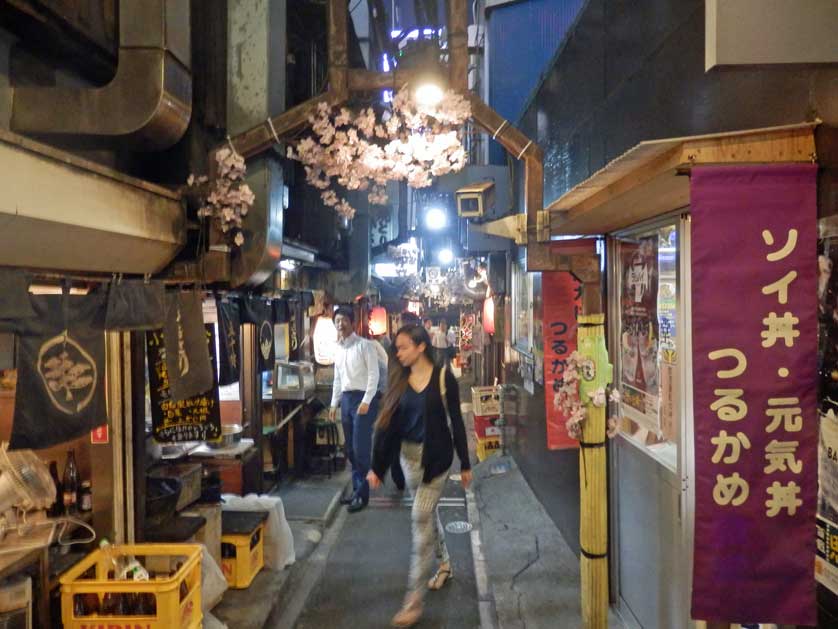 Omoide Yokocho, Shinjuku, Tokyo
Omoide Yokocho
Omoide Yokocho, a maze of narrow alleys close to the West Exit of Shinjuku Station, stands in stark contrast to all the bright and clean modern environs of the station. Tiny restaurants and open barbecue food stalls spill their smoke, noise and greasy steam over alleys hardly wide enough to stretch out your arms.
The buildings are old and mostly run down, the food stalls very traditional, the visiting crowd multilingual. At dinner time, when it gets most crowded here, tired Tokyo office workers relax with a beer and a few sticks of yakitori chicken at the food stalls, sitting next to excited tourists chattering loudly in Chinese, Cantonese, English or Korean.
Does Omoide Yokocho feel like a lively remnant of old, Showa-era Japan? Or rather like science fiction - Tokyo as a last resort, a colorful yet rundown refuge for people from all over the world - a future Tokyo as portrayed in, say, the dark and violent 2016 TV drama Dias Police?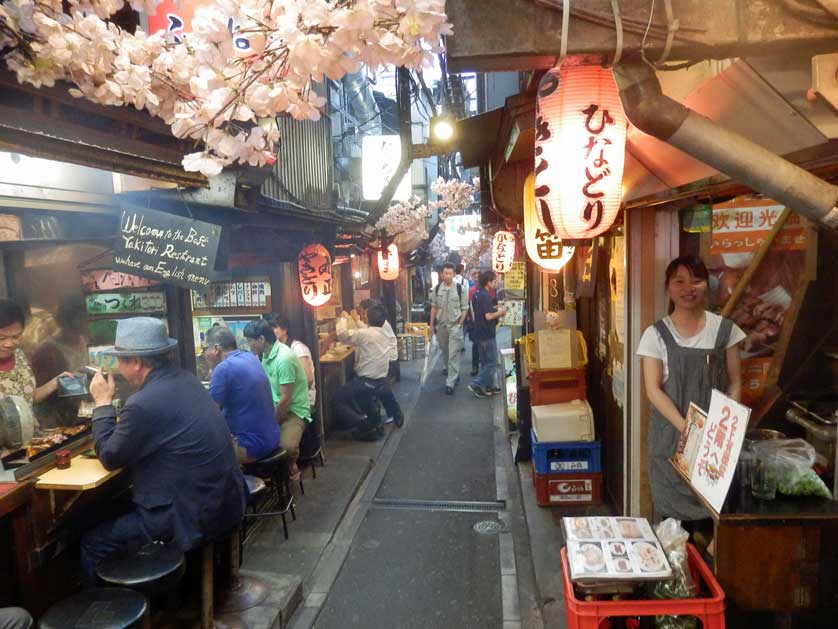 Omoide Yokocho, Shinjuku, Tokyo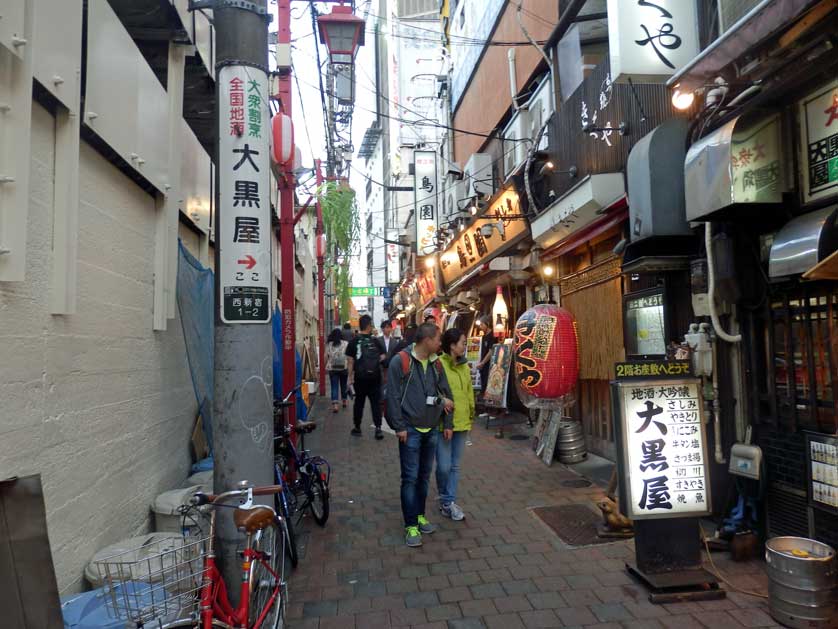 Omoide Yokocho, Shinjuku, Tokyo
Omoide Yokocho History
Omoide Yokocho roughly translates as Memory Lane - or, in other words, a place that you know from way back and feel somewhat nostalgic about.
The area started out as a huge black market close to Shinjuku Station in the days right after World War II. In those days, it was certainly dangerous to visit the area - but hardly anyone had a choice. Here was the food, here were the supplies.
The old black market, already legalized as restaurant area, was partly razed when the current Shinjuku Station was built in the late 1960's, a great fire in 1999 took another toll on the area. But a sizable chunk survived all odds up to today.
Current Omoide Yokocho food stalls still trace their tradition back to the wild spirit of the old black market era of yore - though they are all properly licensed restaurants now.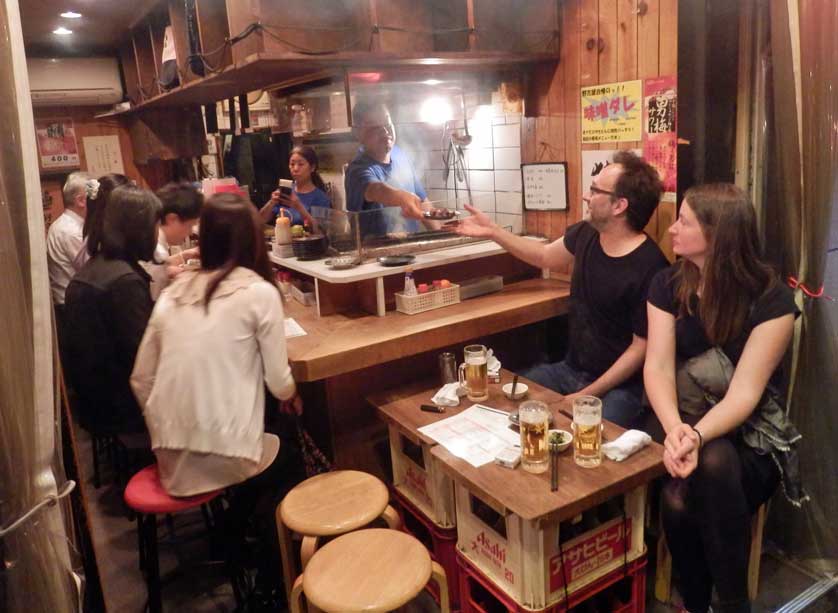 Omoide Yokocho, Shinjuku, Tokyo
Omoide Yokocho Today
Omoide Yokocho is a perfectly safe place to visit. Look for a food stall with the outermost seats available, sit down, order a drink and a few small dishes. Almost all the restaurants and food stalls have English menus available.
Just look at the flow of people coming through the alley. It's people watching at its best. Tokyo rarely gets more international than here - from the traditional sumo wrestler to the local salaryman to international tourists from Asia, Europe and beyond to tall African-Americans playing in the Japanese basketball league - you can expect to encounter all sorts of people here from everywhere. There might even be someone you know from your hometown walking down the alley (it happened to friends of mine on their first visit to Japan and Omoide Yokocho).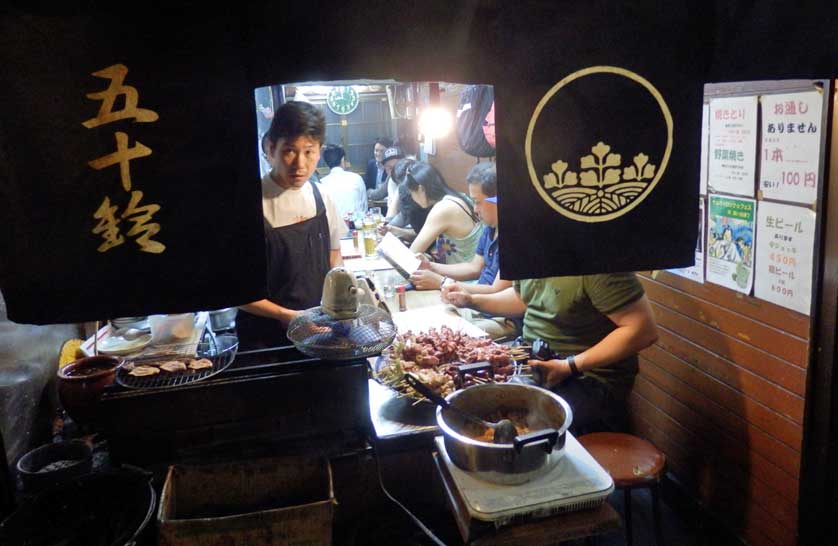 Omoide Yokocho, Shinjuku, Tokyo
Omoide Yokocho Food & Rules
Though there is a certain variety of food on offer, the general rule in Omoide Yokocho is quickly prepared izakaya food. Mostly of the freshly grilled variety. Grilled seafood, grilled chicken (yakitori in all its variations), grilled meat and grilled intestines.
Some of the latter dishes might sound strange to Western visitors ("grilled pig rectum," anyone?) but they are actually very tasty if you have a somewhat adventurous palate.
Service is generally very quick and the beer flows easily - but don't try to go on the beer alone. You need to order food with the beer here - or you will be sent on your way.
The alleys of Omoide Yokocho are littered with overhead non-smoking signs. They mean that you are not supposed to walk the crowded alleys with a burning cigarette in hand. When sitting down in any of the restaurants / food stalls, ashtrays are available and smoking is absolutely fine.
Omoide Yokocho website in English
Omoide Yokocho on google maps
Shinjuku Nightlife
Goldengai is another Shinjuku drinking denizen with a similar history.
Read an overview of Shinjuku nightlife.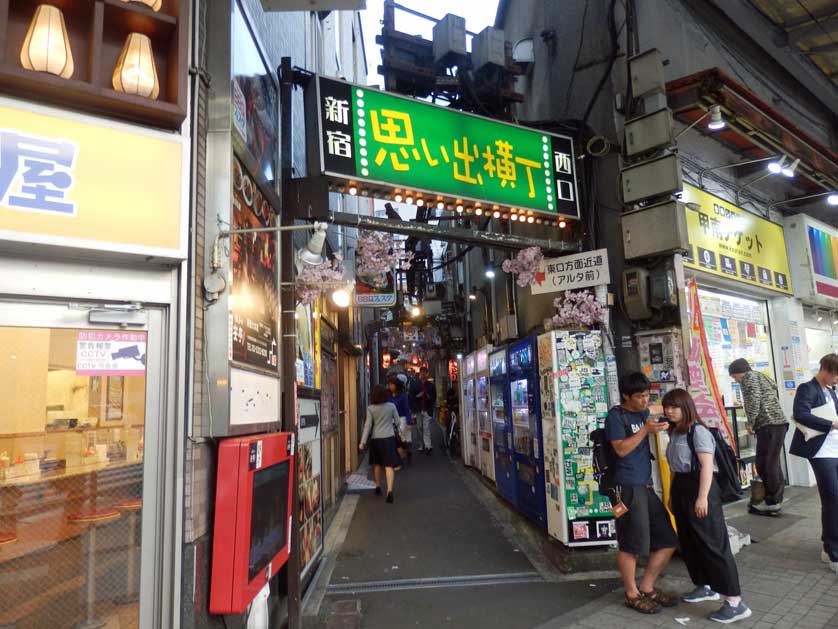 Omoide Yokocho, Shinjuku, Tokyo
Book Hotel Accommodation in Shinjuku Tokyo Japan
All the themes of the city