Motonosumi Inari Shrine
Motonosumi Inari Shrine, Nagato City, Yamaguchi 元乃隅神社
Perched atop dramatic cliffs on the Sea of Japan coast in northern Yamaguchi Prefecture, Motonosumi Inari Shrine has risen from obscurity to become a famous tourist spot.
With its line of 123 vermilion shrine gates set against the verdant green hillside with deeps blue sea and blue sky, it is a photogenic place that has become known as a "power spot".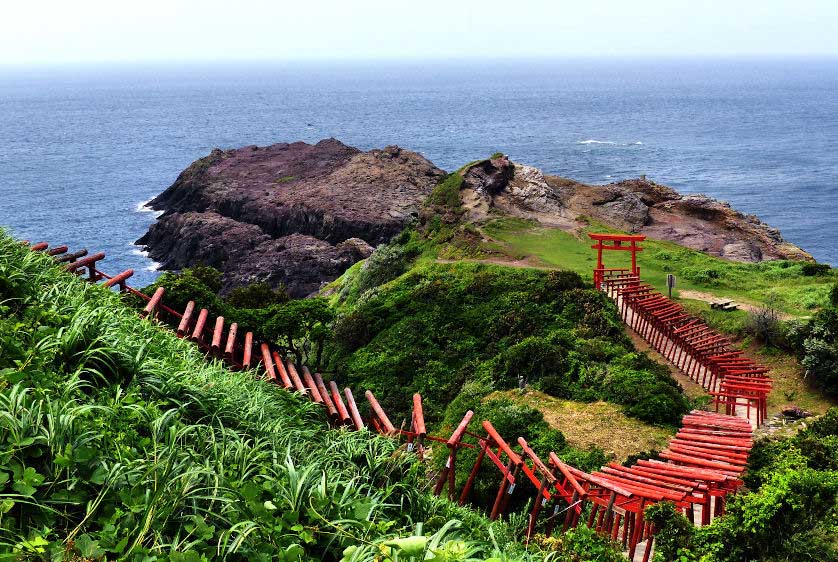 Motonosumi Inari Shrine, perched atop dramatic cliffs on the north coast of Yamaguchi
View From The Sea
My first encounter with Motonosumi Inari Shrine was from about one mile offshore as I was sailing down the Japan Sea coast.
This part of the Yamaguchi coastline was particularly dramatic with few signs of civilization. A streak of vermilion against the dark green was conspicuous and on returning home I looked it up on the internet to find out what it was.
At that time it was not at all well known, probably only visited by local people and the occasional tourist driving along this seldom visited coast.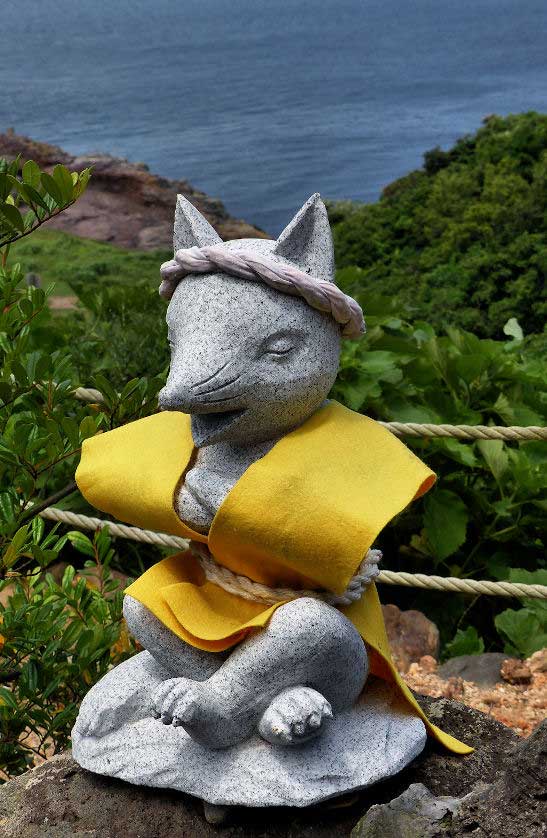 Unusual fox statue guarding the entrance to Motonosumi Inari Shrine
Tourist Hotspot
In the intervening years Motonosumi Inari Shrine has become a major tourist site with regular tour buses stopping by. It has even become noteworthy to international visitors thanks to such media as Instagram and YouTube.
While a lot of the internet material on it tends towards hype, Motonosumi Inari is in reality a dramatic site and well worth a visit. However, its remote location means that driving by car is the best option as buses do not run there and the closest railway station is 8 kilometers away.
History
The shrine itself is quite small and set in the rocks on the cliff top above the sea. Stretching from the small shrine is a line of more than 100 vermilion, torii gates that wind down the hillside to a rocky outcropping with great views up and down the coast and out to sea.
The origin of the shrine is said to be a dream had by a local fisherman back in 1955. In his dream a white fox appeared and asked that a shrine be built here.
Foxes are magical creatures in Japanese folklore. Sometimes appearing as "shapeshifters" or tricksters, there are many horror stories involving demonic foxes appearing as beautiful maidens, but also they just as often said to be beneficial to humans.
Further south in Yamaguchi is the ancient hot spring resort of Yuda Onsen, said to have been discovered by a white fox.
Most commonly nowadays, foxes are considered messengers of the god Inari, originally associated with the rice harvest, but nowadays also associated with commercial and other types of prosperity.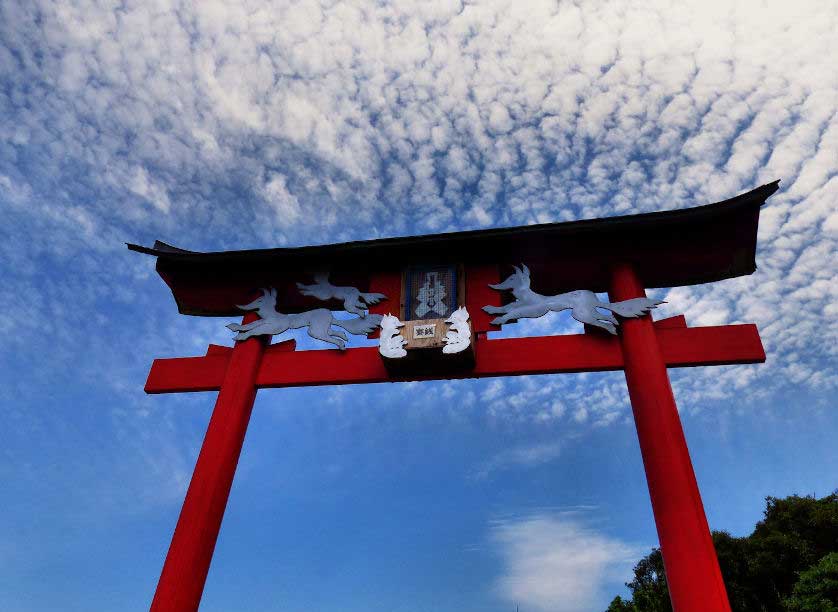 The large entrance gate, torii, notice the offertory box placed high up into which you throw your coin offering
Creating A New Inari Shrine
To open a new Inari shrine, the spirit of Inari must be brought to the site from another Inari shrine.
Many of the thousands of smaller Inari shrines throughout Japan enshrine the wakemitama, the divided spirit, of Inari from the famous Fushimi Inari Shrine near Kyoto, the head shrine for all Inari Shrines.
Here at Motonosumi Inari Shrine the spirit was brought from Taikodani Inari Shrine in Tsuwano in neighboring Shimane Prefecture.
As you enter the shrine you will notice white foxes decorating the large vermilion entrance gate. Perhaps you won't notice that attached to the upper part of the gate is an offertory box.
At most shrines this box is right in front of the main shrine building and in it you put a small offering, usually a 5 yen coin.
Here at Motonosumi Inari the trick is to throw your coin up into the box, and it is really quite tricky. If you are successful then the chances of your wishes and prayers being fulfilled are greatly increased.
Actually this is a new twist on a shrine tradition found at many shrines. If the entrance gate is made of stone you will often see piles of small stones on the cross beam. These have been thrown there by visitors, the idea being that if you can get your stone onto the top your wishes will be fulfilled.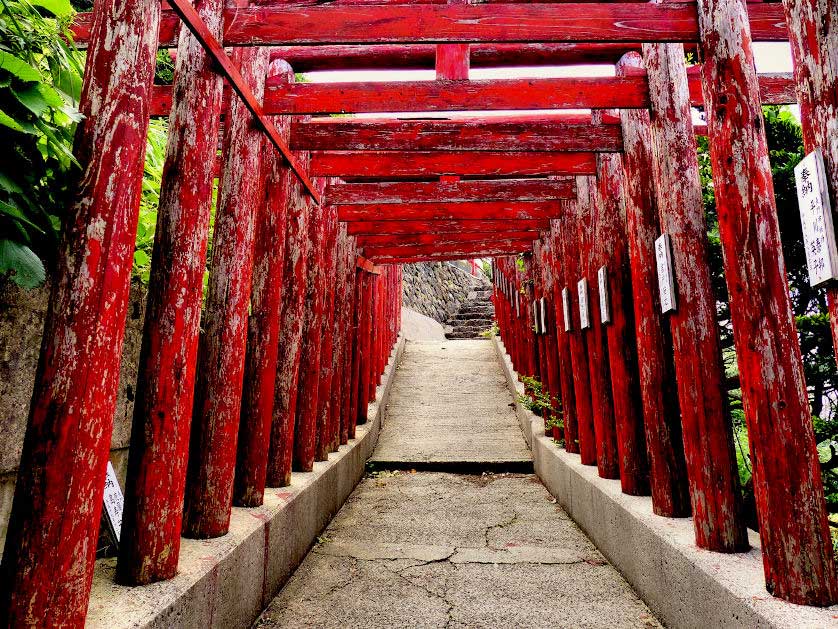 A tunnel of torii at Motonosumi Inari Shrine in Yamaguchi
Shrine Buildings
The shrine buildings at Motonosumi Inari are small and rudimentary, nothing grand or imposing.
The main feature of the shrine is the line of red torii gates that form a tunnel and lead from the shrine down to the cliff top.
From the cliff top you can look up and down the coast and down onto small small islets just offshore.
There are also several small stone shrines here, though they are Buddhist, with a Jizo, a Fudo Myo, and a curious Kannon with an octopus.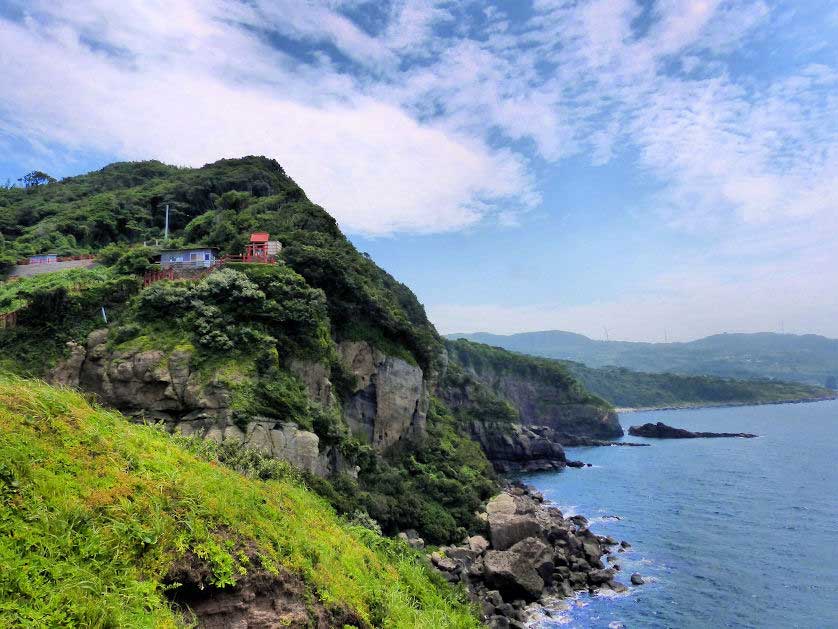 Clinging to the cliff top, dramatic coastal views can be enjoyed at Motonosumi Inari Shrine
Ryugu no Shiofuki
A short walk along the cliff will take you to Ryugu no Shiofuki, "Dragon Palace Geyser" a spout of water that shoots into the air from a blowhole in the cliff. This most often happens when the waves and winds are just right, usually in the late fall and winter.
In the northern Yamaguchi area there are numerous other sites that can be visited. Nearby is Omishima Island, with a stunning coastline known as the Marine Alps that is accessible via tour boats.
Further east is the old castle town of Hagi, now with UNESCO World Heritage. Inland is Akiyoshido, the biggest cavern in all of East Asia underneath the scenic Akiyoshidai Plateau.
Quite a few people also visit Tsunoshima, a small island west of Nagato that has the longest toll-free bridge in all Japan.
Shin-Yamaguchi provides the best access to the UNESCO World Heritage sites and castle town of Hagi on the north coast.
Chugoku JR Buses operate regularly and it takes 1 hour 12 minutes for the journey between Shin-Yamaguchi Station and Hagi. Buses also operate heading to Akiyoshido.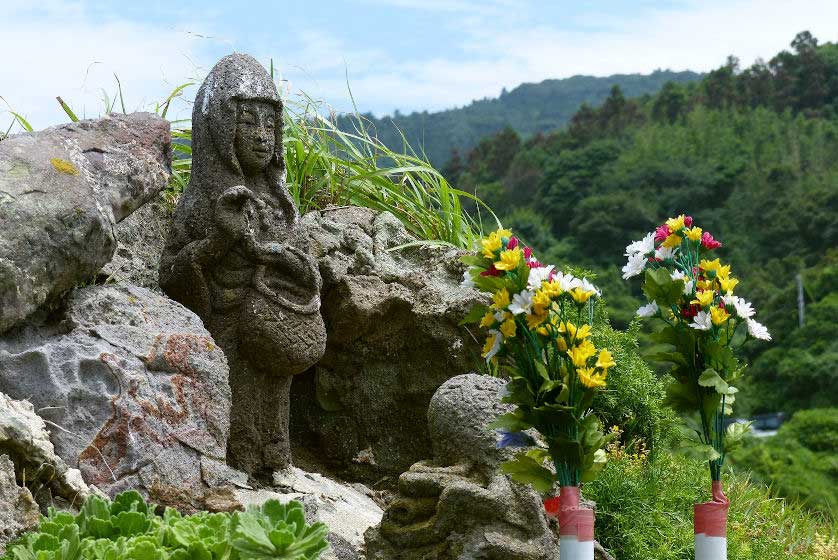 Statue of the Goddess of Mercy, Kannon, on the cliff top at Motonosumi Inari Shrine
Access
For people wanting to spend more than a flying visit, the area is well supplied with campgrounds.
Nagato also has many hotels and ryokan, including the hot spring resort of Yumoto. There is more accommodation at the mountain hot spring village of Tawarayama with its unique fertility shrine, Mara Kannon.
Motonosumi Inari Shrine
498 Yuyatsuo
Nagato-shi, Yamaguchi 759-4712
Tel: 0837 26 0708
Best visited by car, the shrine is about 30 minutes from Nagato, 50 minutes from Hagi, 80 minutes from Shimonoseki, or 90 minutes from Yamaguchi.
The closest train station is Nagato-Furuichi on the JR San-in Line, just over 7 kilometers away. It is about 2,000 yen by local taxi (Tel: 0837 37 3194). Alternatively, the shrine is 18 km from Nagatoshi Station on the JR San-in Line and JR Mine Line.
Most visitors nowadays visit on one-day bus tours from Hiroshima, Yamaguchi, or Fukuoka.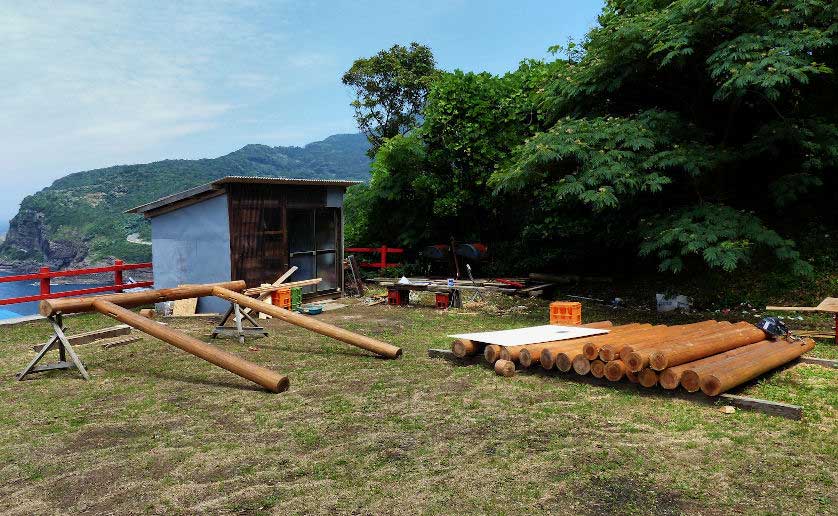 Exposed to elements, the wooden torii at the shrine need constant replacement
Hotel Accommodation in Yamaguchi
Ryokan and hotels in the area include Izumiiya Ryokan, Otani Sanso and Hotel Nagato Harada.
Near Shin-Yamaguchi Station on the Pacific coast are the recommended Toyoko Inn Shin-Yamaguchi Shinkansenguchi, the Hotel Active and the Comfort Hotel Shin-Yamaguchi.
Yamaguchi Related
Yamaguchi Xavier Memorial Church
Motonosumi Inari Shrine on the Sea of Japan coast in Yamaguchi Prefecture has a line of 123 vermilion torii gates in a beautiful setting.
All the themes of the city