Ikebukuro district, Tokyo
池袋


The district of parties and pop culture in the north of Tokyo
Ikebukuro is one of the main districts in Tokyo and one of the most lively, but not far from the buzz, discover another, calmer side. Between electronics shops, Japanese pop culture boutiques, popular restaurants and izakayas, high-end clubs and famous universities, discover this unique and unmissable district.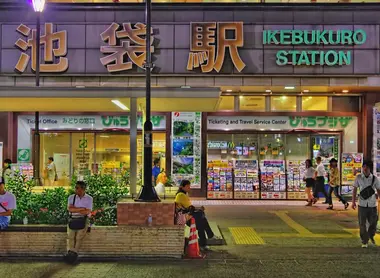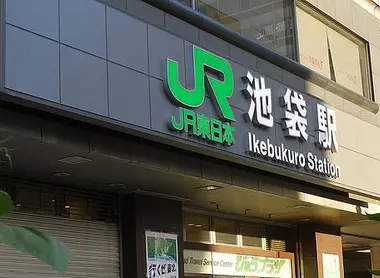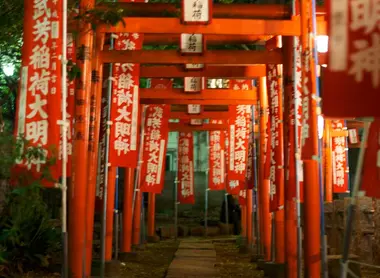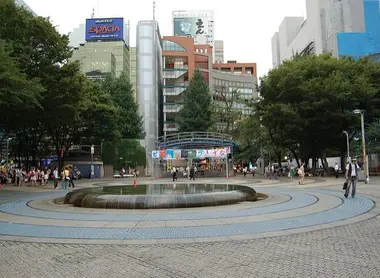 Ikebukuro, an old artistic district
Ikebukuro is in the district of Toshima, which has long carried a dark image (post-war black market, Sugamo prison) and has a well-connected station. Eight train and metro lines go through Ikebukuro station. It's the third biggest station after Shibuya and Shinjuku, and more than two million people pass through it each day 
Here there are restaurants, karaoke bars, anime shops, souvenir shops and game centres, along large streets crowded in the evening and on weekends especially because there are many theatres including the Ikebukuro Engei Jo, one of the four rakugo theatres (humorous narrative literary show) in Tokyo... This is a neighbourhood with varied entertainment; however, it's less festive than Shibuya or Shinjuku.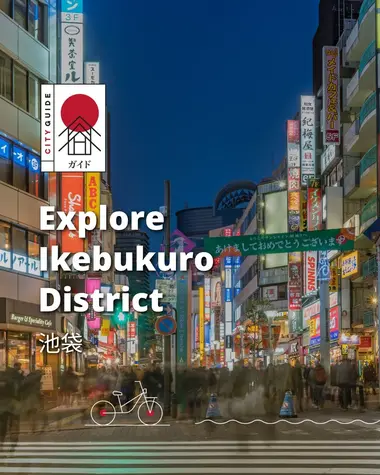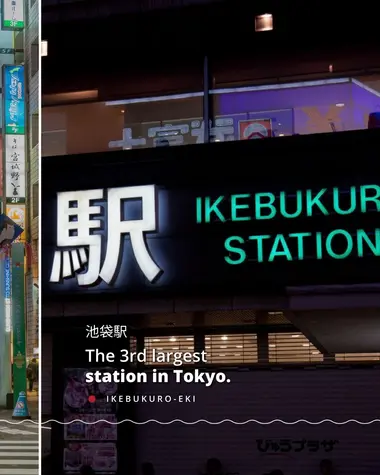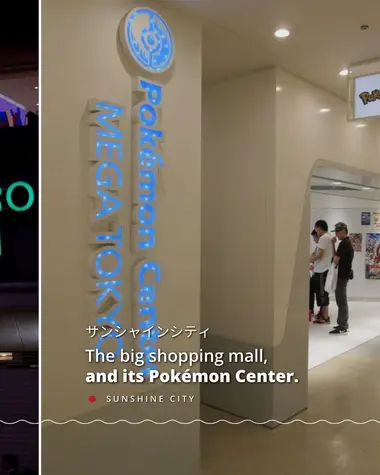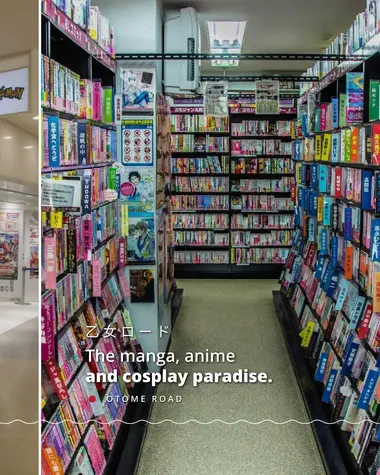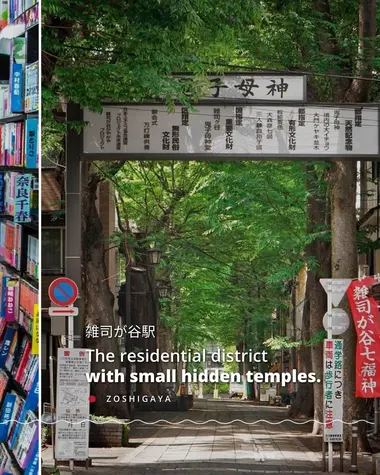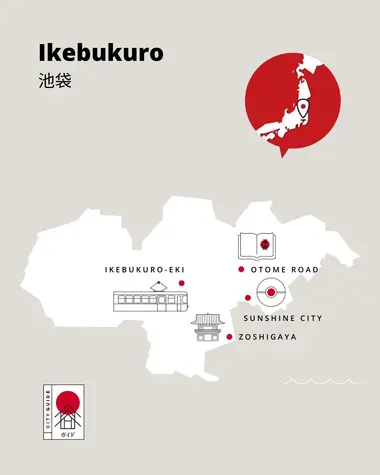 Students are also very present due to the area's schools and universities. From the 1920s to the 1940s, there were many artists' studios at the beginning of the Ikebukuro Montparnasse artistic movement, so named because the atmosphere resembled the fashionable Montparnasse neighbourhood in Paris. It's why Ikebukuro has kept its image as a district of art and culture.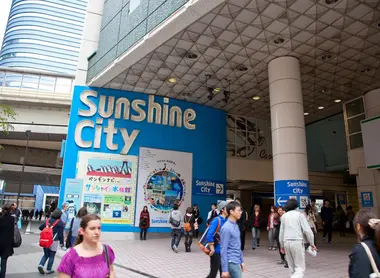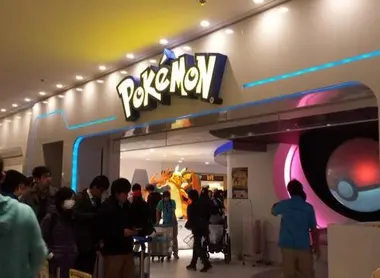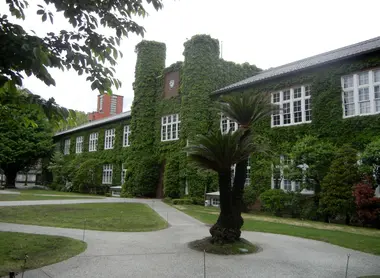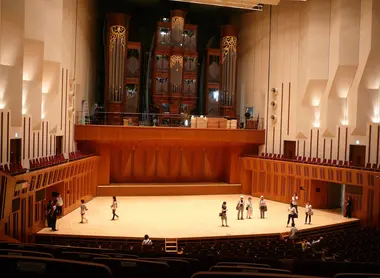 Each exit of the station, a different ambiance
On the east exit of Ikebukuro Station, you'll see a 60-storey tower and a large shopping centre, called Sunshine City. Different attractions are on offer: aquariums, planetariums, an indoor theme park (Nanja Town), and a big Pokemon store (Pokemon Centre) to entertain the family.
From the intersection of Sunshine City to Kasuga Avenue, 200 meters long, Otome road is the street for female otaku, like Akihabara is for boys. There are lots of stores specialising in manga, anime and cosplay. Surely today's youngsters will feel right at home! Note that there is a manga, Ikebukuro west gate park, with a story which takes place in this area and that makes the current atmosphere between youth in need of guidance and violence.
Towards the Toden Arakawa tram line, Zoshigaya is a residential area that was not bombed during the Second World War. Here there are still hidden temples which remain preserved. Cats roam peacefully, and you can do the same. Tezuka Osamu, the great mangaka, lived here when he was young, near Kishimojin, a Buddhist temple of the Nichiren School built in 1664. Kishimojin, a buddhist goddess of children, protects this district, which has a huge 600-year-old ginko biloba tree. The children come to play there to run in a small torii tunnel, and especially buy candy at an antique shop located in the very heart of the temple.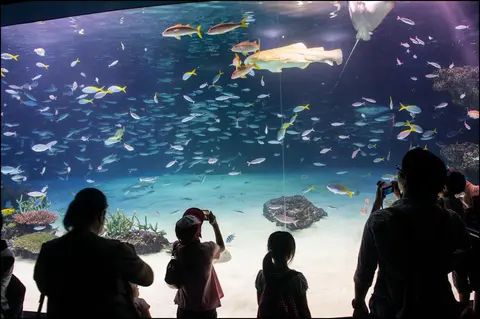 On the East Exit side of Ikebukuro Station, you immediately come across Tokyo Geijutsu Gekijo (Tokyo Metropolitain Theater), a huge Tokyo performance venue with four halls for all kinds of shows, including the biggest one for the most prestigious orchestras. It has 1999 seats plus one for Euterpe, the Greek muse of music.
A little further is Kyodo Shiryokan or the Toshima Archives Museum, which lets you discover everything about the history of this district, and entry is free. Nearby you'll find Jiyu Gakuen Asahikan, or Jiyu Gakuen Girls School, a former school that has become a cultural heritage site, built in 1921 by the great American architect Frank Lloyd Wright. The light floods this beautiful place, that's popular with couples for their wedding ceremony. 
Entry price: 400 yen. Open 10:00 to 16:00, closed on Mondays.
You can finish your walk with a detour by Rikkyo university, where you can see writer Edogawa Rampo's house. His 26th and last move was here next to this university. This house, built in 1957 and decorated to his taste, houses his entire collection of books in the library. 
In the north of Ikebukuro is a lively neighbourhood, especially in the evenings, similar to Shinjuku's Kabukicho. It's a Chinatown with more than 200 settlements in this community. 
Free to visit on Wednesdays and Fridays, 10:30 to 16:00.
Watch our Ikebukuro district video, featuring our Travel Angel Chris:
---
Address, timetable & access
Address

Timetable

Ikebukuro Station on the JR Yamanote Line
All the themes of the city