Kinshicho Guide
Tokyo Area Guide: Kinshicho 錦糸町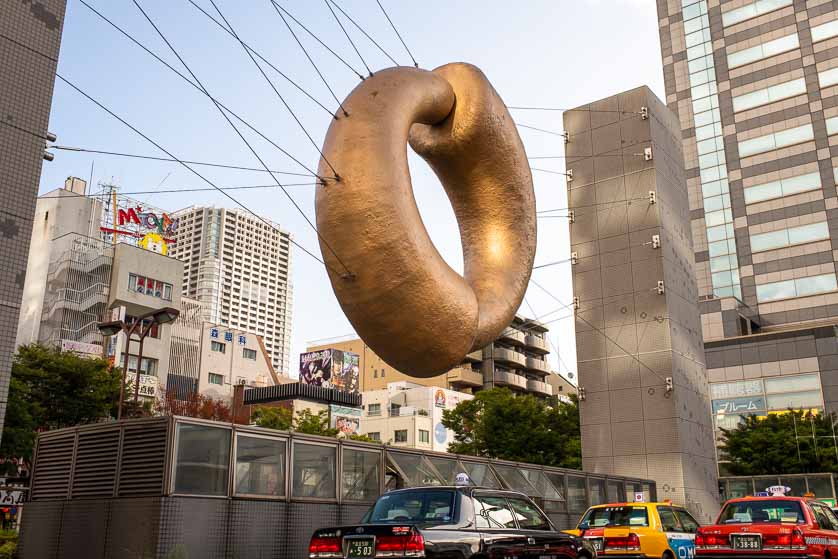 "Echo," Kinshicho Station
Kinshicho in Tokyo's Sumida ward is the biggest commercial area in Tokyo east of Ueno. In terms of atmosphere, Kinshicho is comparable to Tokyo's Ikebukuro area: down to earth with a more relaxed and, in places, rough-around-the-edges vibe.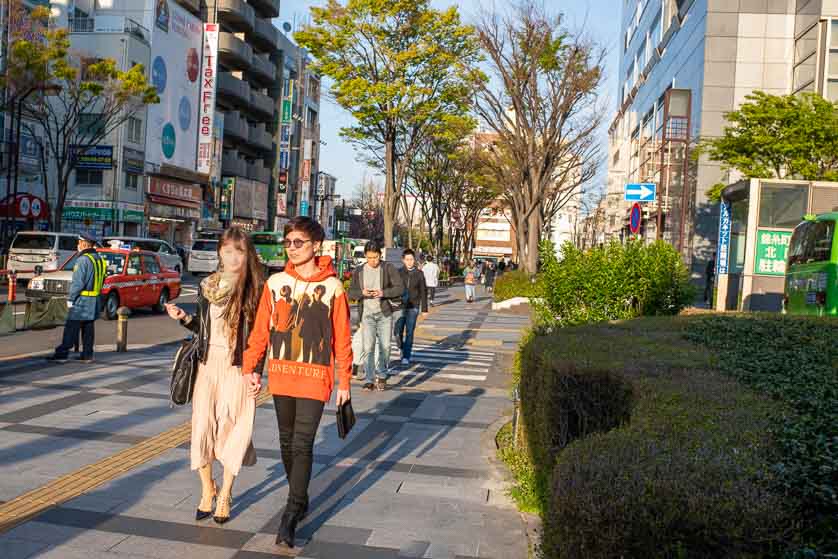 Hokusai-dori Avenue, the main street northside of Kinshicho Station
Kinshicho, together with neighboring Kameido - one stop east on the Chuo-Sobu Line - forms one of Tokyo's seven official sub-metropolitan centers, or fukutoshin.
The area surrounding Kinshicho station is divided into a largely shopping-oriented north, and a largely gambling- and love-hotel-oriented south. North and south are divided by Keiyo-doro Street (an extension of Yasukuni-dori Street), which the south side of the station faces onto.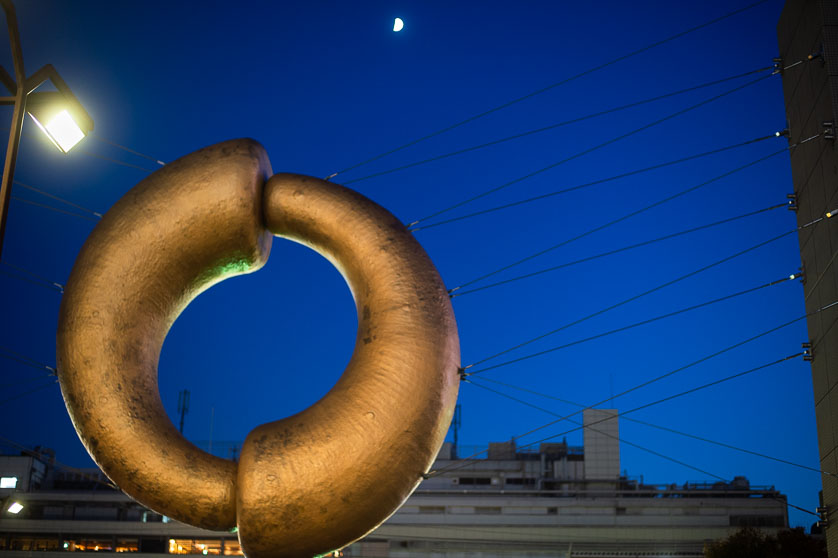 "Echo" under the moon, Kinshicho Station
Kinshicho Station
Kinshicho Station is on the JR Sobu line and the Hanzomon subway line.
Outside the north entrance of Kinshicho Station is a sculpture called Echo, a huge golden ring suspended between two stone pillars, by the American artist, Loren Madsen (b.1943). Designed on the theme of "music city Sumida," it depicts the history of music between the 16th and 20th centuries.
Sumida Triphony Hall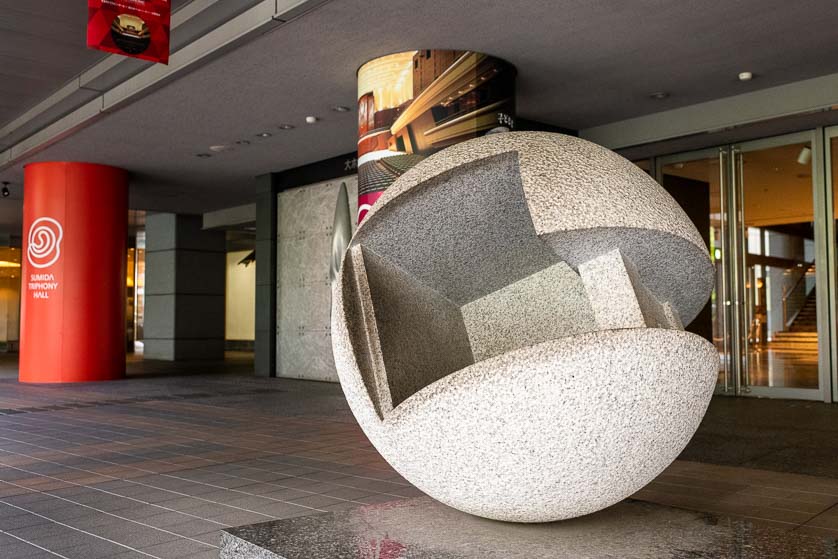 Sumida Triphony Hall, Kinshicho, Sumida ward, Tokyo
Just west of Kinshicho Station is Sumida Triphony Hall. Sumida Triphony Hall opened in 1997 and is the home of the New Japan Philharmonic Orchestra.
Triphony Hall has a 1800-seat Concert Hall with pipe organ, and a 252-seat Recital Hall.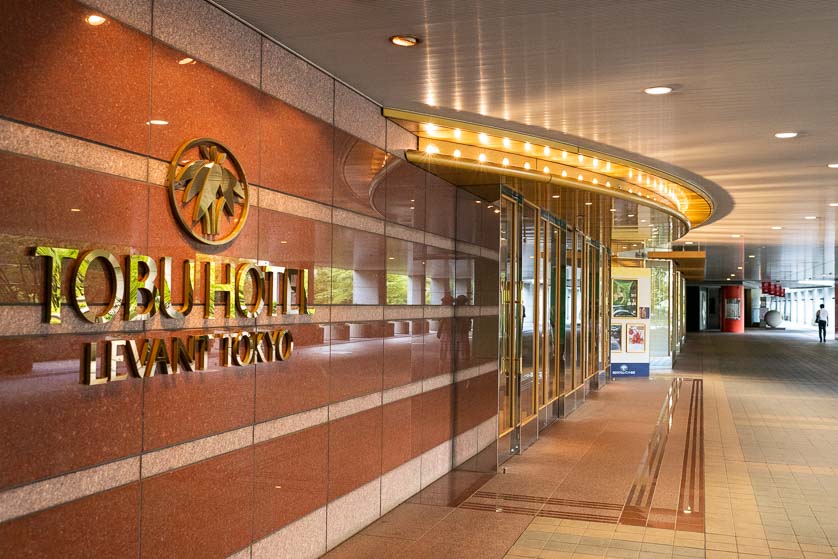 Tobu Hotel Levant Tokyo, Kinshicho, Sumida-ku, Tokyo
The conveniently located, mid-range Tobu Hotel Levant Tokyo is next to Sumida Triphony Hall - only a couple of minutes' walk from Kinshicho Station.
Kinshicho Shopping
Termina Department Store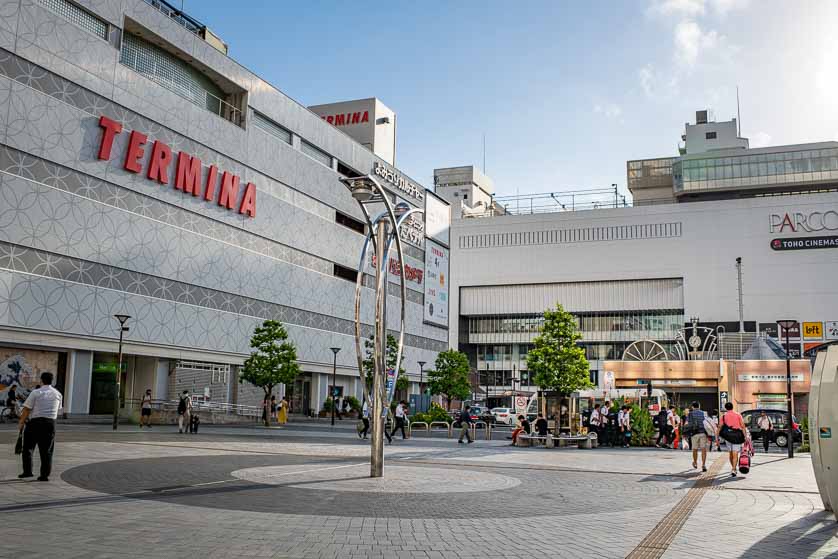 Termina Department Store, Kinshicho, with Parco across the road
The Kinshicho Station building houses the Termina Department Store containing well over 100 different stores. "Termina" is 7 floors on the south side of the station, with floors 1 to 3 occupied by a branch of the Yodobashi Camera electronics megastore, the B1 floor is a supermarket and delicatessens. Next to it is "Termina 3": 6 floors of restaurants. "Termina 2" on the north side is a single ground floor of restaurants and fashion stores.
Termina hours vary by store but are generally 9:30 am to 9:30 or 10 pm.
Parco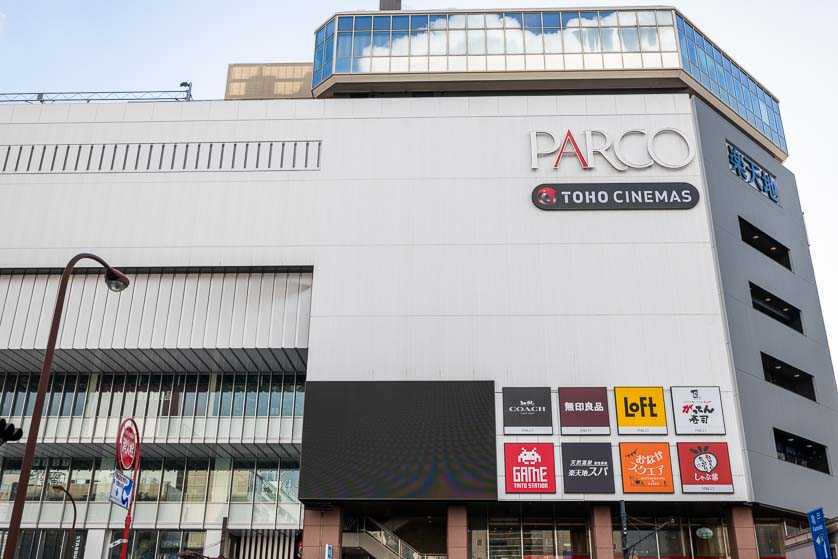 Parco Department Store, Kinshicho, including Seiyu supermarket and Toho Cinemas
Parco is a department store in the same building as the Seiyu supermarket. Parco has seven floors allocated in typical Japanese department store style to cosmetics and a food hall on the first floor, and the others to men's and ladies' fashion, lifestyle goods, etc. Besides the 1F Food Hall, there are several restaurants and cafes throughout other floors.
Parco hours are generally 10 am to 9 pm for regular stores, and 11 am to 11 pm for most of the restaurants and cafes.
Seiyu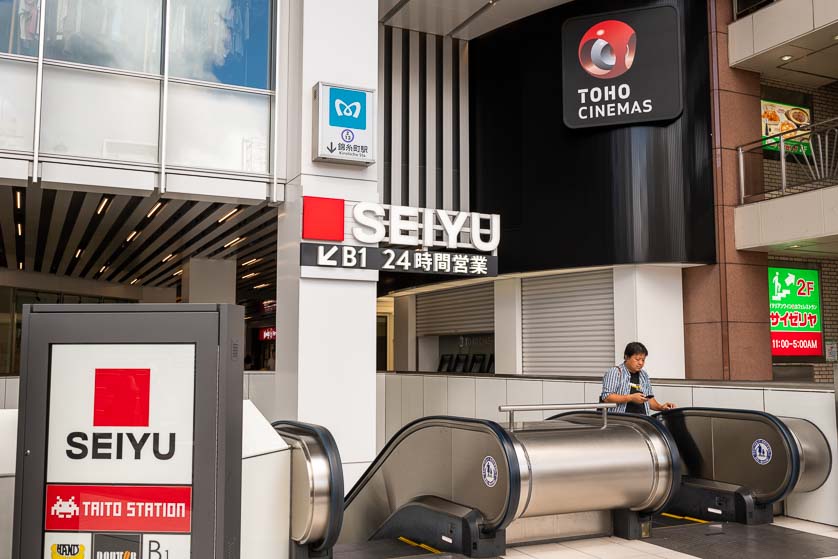 Seiyu Supermarket, with subway exit and Toho Cinema Kinshicho Rakutenchi, Kinshicho, Tokyo
Seiyu is a 24-hour supermarket that occupies the same building as the Parco department store, across Yotsume-dori Avenue from (i.e., just east of) Termina.
Toho Cinemas Kinshicho Rakutenchi
Toho Cinemas Kinshicho Rakutenchi has several screens here in the same building as Parco and Seiyu. (This Toho Cinema is different from the Toho Cinemas Kinshicho Olinas a little further north).
Arcakit Shopping Building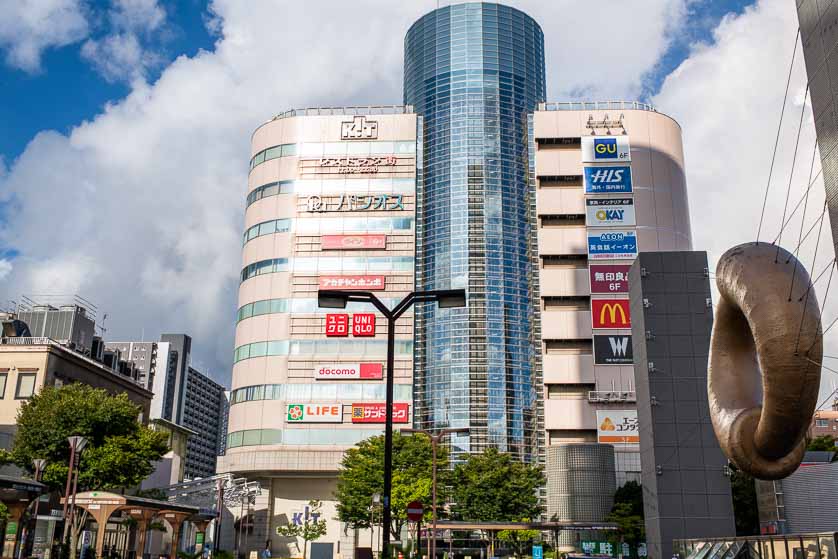 Arkakit, Kinshicho
On the north side of the station is the Arcakit building. Arcakit is 11 stylish floors of everything from a supermarket on the B1 floor, through to a wide range of lifestyle, health, hobby, toys, furniture, interior decoration and fashion related up to the 11th. Arcakit's restaurants are on the 10th floor. The 7th floor of Arcakit is a massive branch of the Daiso 100 yen store, with a mind-boggling range of goods available.
2-1-1 Kinshicho, Sumida-ku, Tokyo 130-0013. 10 am - 9pm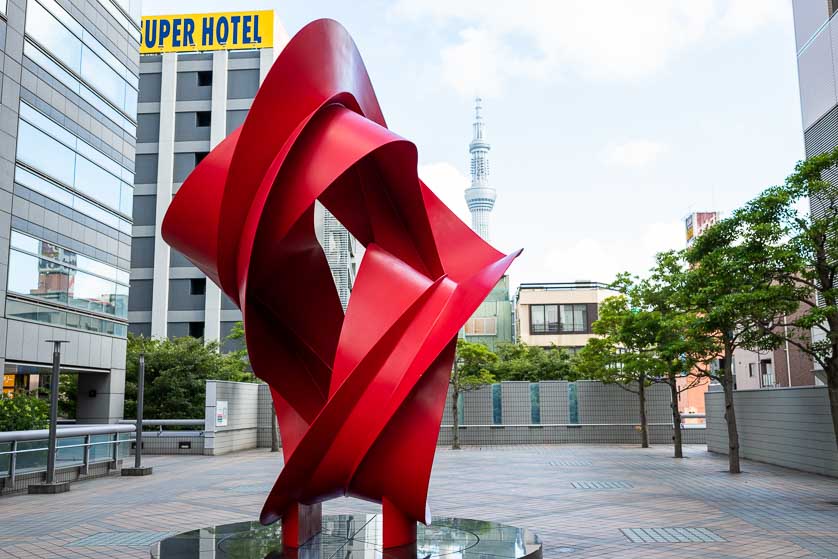 Sculpture in plaza of Arkakit, Kinshicho, Sumida ward, Tokyo
Marui Department Store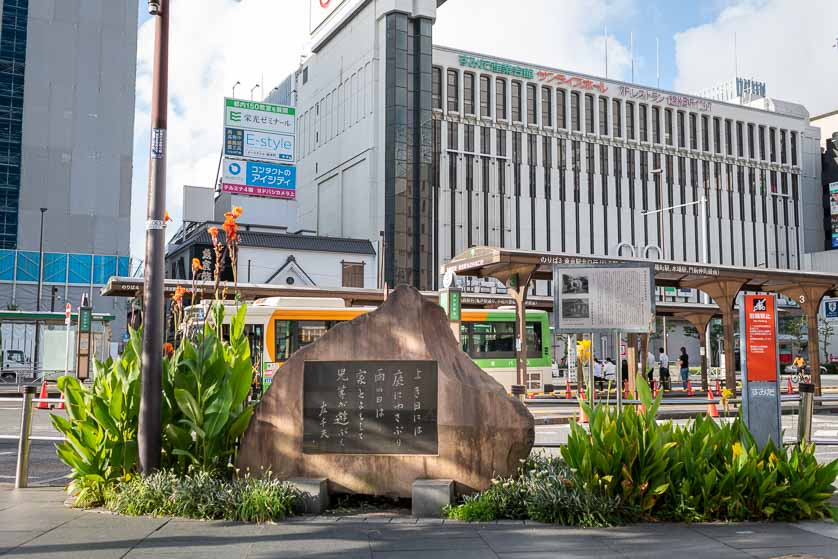 Monument to writer Sachio Ito (1864-1913) with bus station and Marui Department store behind, Kinshicho
South of Kinshicho Station and across Keiyo Doro Road is the Marui Department Store, mainly clothing but with a 7th floor of restaurants and an 8th floor beer garden and futsal park.
3-9-10 Kotobashi, Sumida-ku, Tokyo
11.30 am - 8.30 pm (From 11am on weekends/holidays)
Olinas Shopping Complex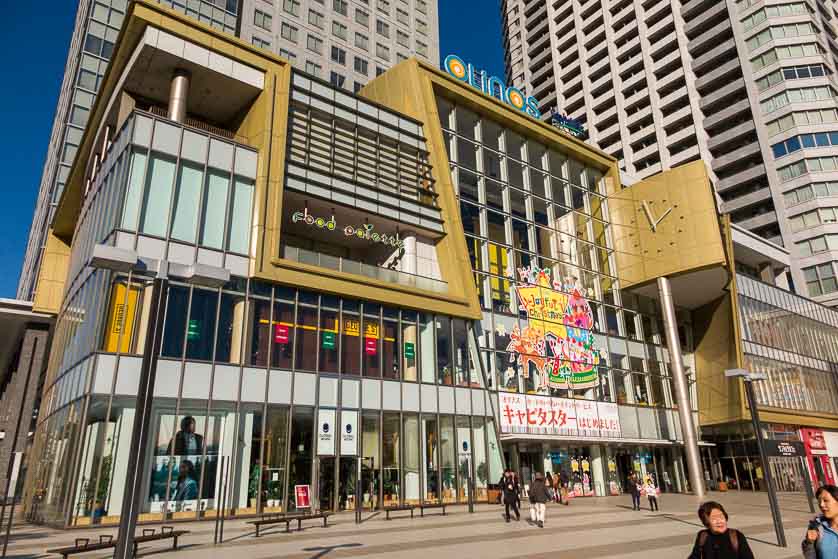 Olinas, Kinshicho, Tokyo
The Olinas shopping complex a few minutes' walk north-east of the station incorporates two shopping malls: Olinas Mall and Olinas Core. It is classy, colorful, breezy, and modern (designed by the prominent American architects, RTKL Associates). A lot of the shopping is family-orientated (typically, the Babies'R'Us store). The complex houses the Toho Cinemas Kinshicho Olinas (different from Toho Cinemas Kinshicho Rakutenchi a little further south), and the Tokyu Department Store. Across the road from Olinas is Kinshi Park.
4-1-2 Taihei, Sumida-ku, Tokyo 130-0012
Most stores 10 am to 9/10 pm. Restaurants 11 am - 11 pm.
WINS, Japan Racing Association, Kinshicho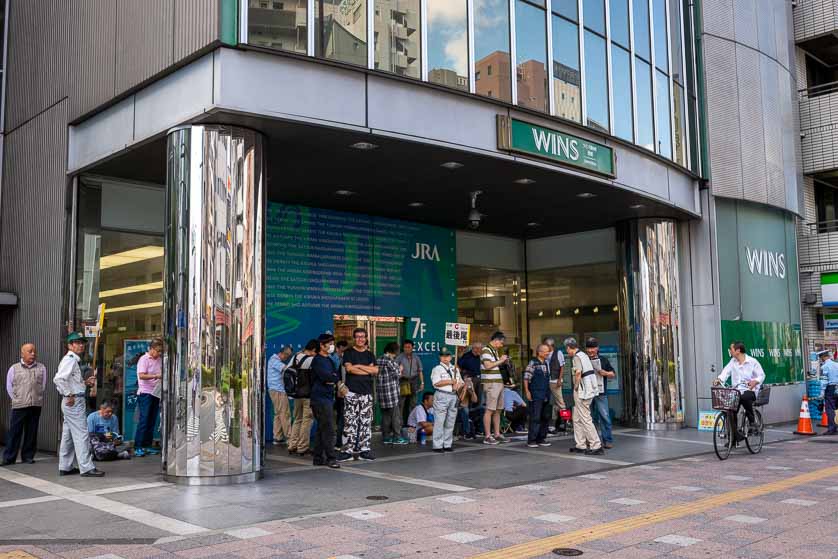 Waiting for WINS to open, Kinshicho, Sumida-ku, Tokyo
On either side of the Marui Department Store are large branches of WINS, the horse betting business run by the Japan Racing Association (JRA), a horse racing betting agency. The interior of WINS resembles the ticket area of a railway station, and is full of generally older men milling around looking at results on screens.
Kinshicho red light district
Behind Marui and the JRA are backstreets lined with small semi-outdoor eateries, often with a TV screen, where the horse racing gamblers take meal breaks and watch the results while they eat and talk. This area is where the love hotel and hostess club district begins.
Kinshi Park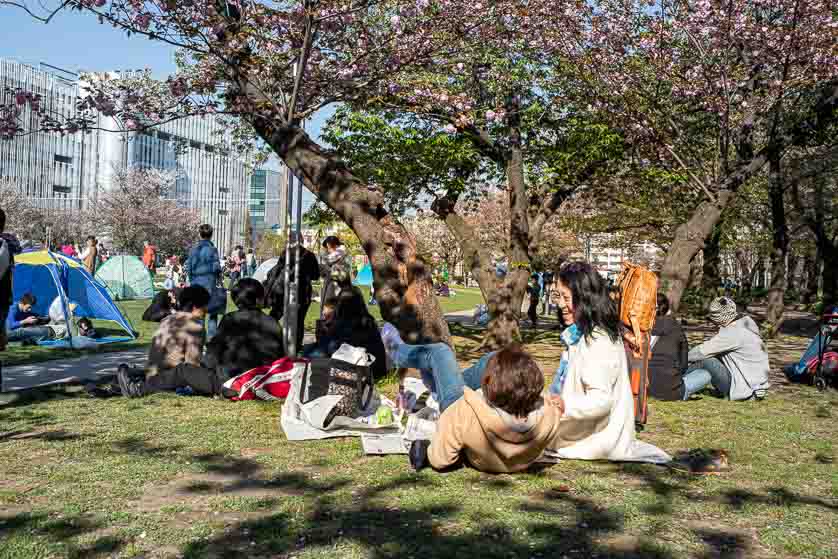 Cherry blossom hanami picnic, Kinshi Park, Kinshicho, Tokyo
Kinshi Park is right in front of the Olinas shopping complex, a little north-east of Kinshicho Station. Kinshi Park has parkland, notable for its many cherry blossoms, a baseball field, and the Sumida City Gymnasium.
Kinshi Park is a popular hanami cherry blossom viewing spot in spring.
Oyokogawa Shinsui Park (Oyoko Waterside Park)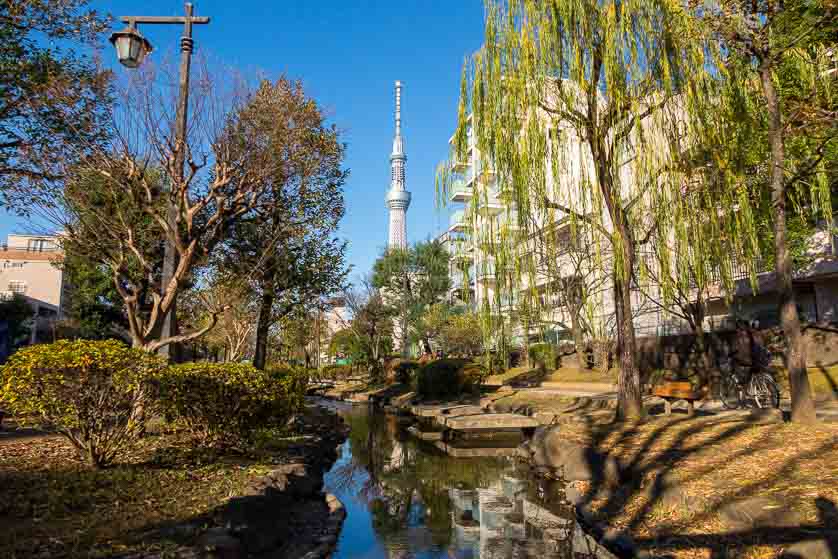 Oyokogawa Shinsui Park, Kinshicho, with Tokyo Skytree at the northern end
Oyokogawa Shinsui Park is a park just 400 meters west of Kinshicho Station. The park stretches 1.8 km in a north-south direction, all the way from the overhead Metropolitan Highway No.7 in the south to the Tokyo Skytree in the north. A river meanders through the park. There is often an open air flea market happening in the park nearest Hokusai-dori Avenue (the street that passes through the north side of Kinshicho). The Tobacco and Salt Museum is on the edge of Oyokogawa Shinsui Park, about 1 km north of Kinshicho.
"Cosmos II" sculpture, by Kyu Suzuki, outside Exit 3 of Kinshicho Subway Station, Hanzomon Line
Festival すみだ錦糸町河内音頭盆踊り
The Sumida Kinshicho Kawachi Ondo Bon Dance Festival is the best known annual festival happening in Kinshicho, at the end of August. This rock concert-cum-traditional dance festival is a fusion of electric guitars and massive concert speakers with traditional Japanese o-bon singing, dancing and drumming. Originally from Osaka, this uniquely energetic style of o-bon dance festival has become a major feature of the east Tokyo summer.
The Sumida Kinshicho Kawachi Ondo Bon Dance Festival happens in Tatekawa Shinsui Park (just north of Sarue Park) under the elevated Route 7 Metropolitan Expressway.
Access to Kinshicho
Kinshicho is accessible by the JR Sobu line, and the Hanzomon subway line.
Near Kinshicho
Tokyo Skytree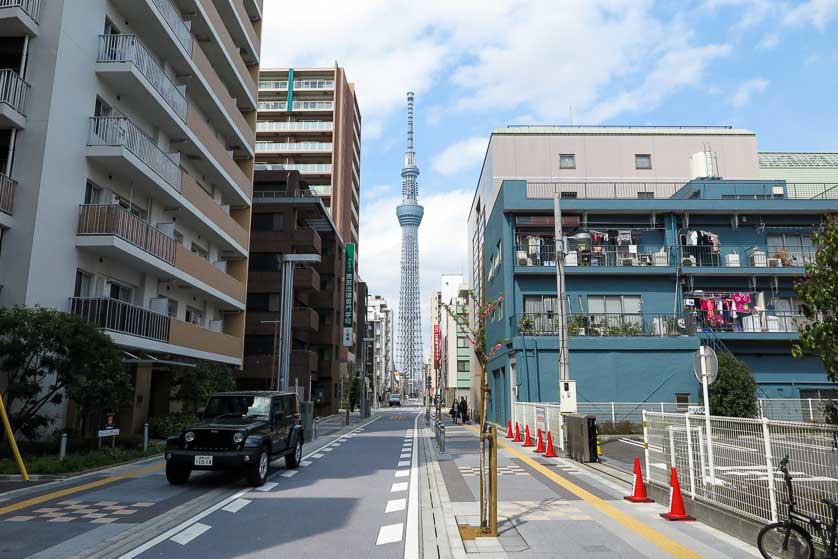 Tokyo Skytree, seen from Hokusai-dori Avenue in Kinshicho
The Tokyo Skytree is just 20 minutes' walk (about 1.5 km) north of Kinshicho. The most pleasant route is via Oyokogawa Shinsui Park.
Sarue Park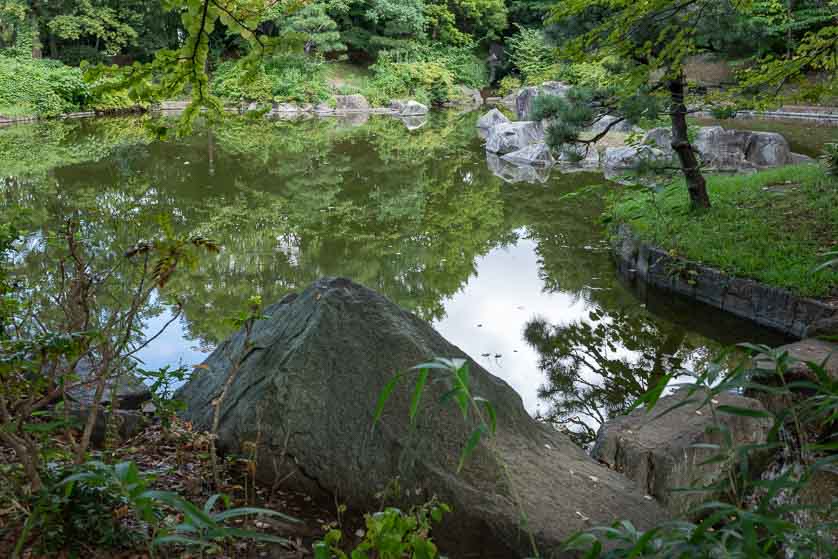 Pond in southern section of Sarue Park, Koto ward, Tokyo
Sarue Park in adjacent Koto ward is about 500 meters south, and very slightly east, of Kinshicho Station. This relaxing 14.5 hectare area of lawn, woods, garden, ponds and sporting and cultural facilities dates from 1932.
Sarue Park's origins are in the 1730's when it was developed as a lumberyard for lumber floated down the Yokojikken River, flowing along the park's eastern side, into Edo (old Tokyo) for the construction projects of the then-ruling Bakufu administration. Sarue Park has been in its full-sized present form since 1983.
Sarue Park is divided north-south by Shin-Ohashi-dori Street. The northern section consists mainly of playgrounds for children and tennis courts.
The southern section consists of a baseball field and Tiara Koto, a large cultural and performance facility. It also has a pond with a waterfall.
Sarue Park has over 200 sakura blossom trees.
Kameido
Kameido with its beautiful gardened shrine, is one stop east of Kinshicho. Just south-west of Kinshicho is the fascinating Fukagawa district.
Book Hotel Accommodation in Tokyo Near Kinshicho
Kinshicho. Read a guide to Kinshicho, Tokyo's easternmost commercial center, and a bustling mixture of high and low culture.
All the themes of the city