Ningyocho Guide
Tokyo City Guides: Ningyocho, Nihonbashi, Tokyo 人形町
Ningyocho means "Doll Town" and is a charming little district in the Nihonbashi district of Tokyo's Chuo ward that has made an effort to convincingly retain and recreate a sense of Tokyo tradition. Ningyocho features often quaint street scenery, old-style shopping, numerous cafes and renowned places to dine, and cultural appeal with its museum to a famous Japanese print maker. Ningyocho is taken to include the area, too, around the adjacent Suitengumae Station, just a few minutes' walk east.
Ningyocho-dori Street, Ningyocho, Tokyo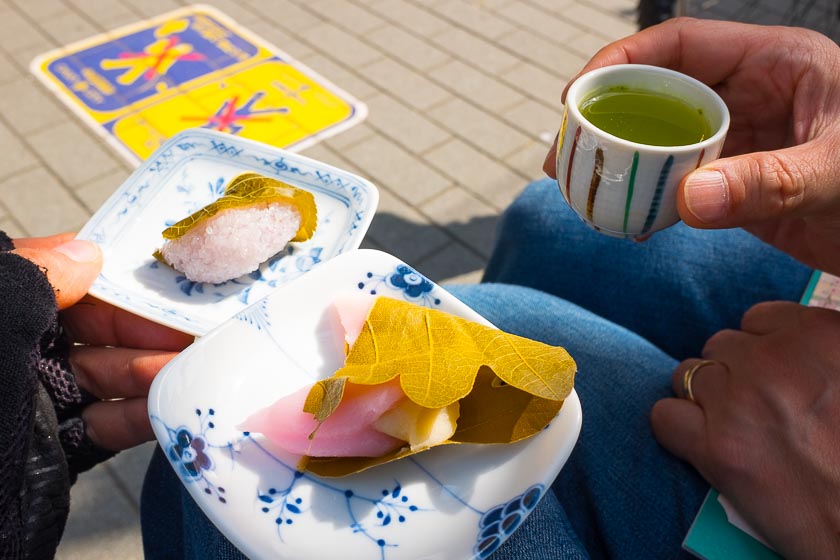 Enjoying traditional Japanese sweets in Ningyocho
History
The whole of the Nihonbashi area, of which Ningyocho is a part, began as a tradesmen's town, with tradesmen from Kyoto and Osaka flocking here to help build the infrastructure for the newly established Shogunate. Ningyocho was originally the district's pleasure quarter, during the mid-17th century (before its Yoshiwara district moved to Asakusa) and whiffs of the colorful, lighthearted air of that time can be had here even today. The first kabuki theater in Edo was established here in 1624, with a proliferation of small establishments of all sorts offering cheap entertainment. Some such entertainment was puppet theaters, and Ningyocho became a center for doll-related: doll makers, merchants and puppeteers. However, the district came to be formally known as Ningyocho only in 1933.
Ningyocho became the monthly scene of Tokyo's busiest commercial activity following the move here from Akasaka in 1872 of the very popular Suitengu shrine. Ningyocho was also the site of Tokyo's first covered shopping arcade, in 1951.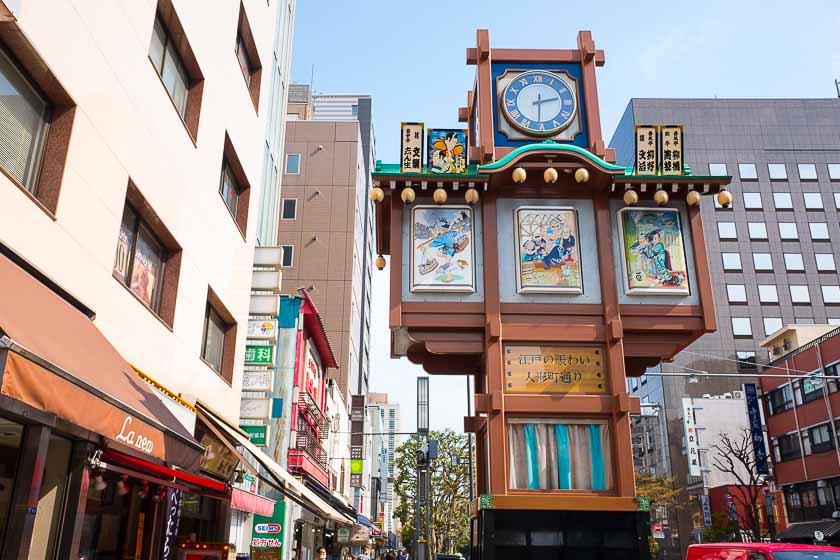 Marionette clock in Ningyocho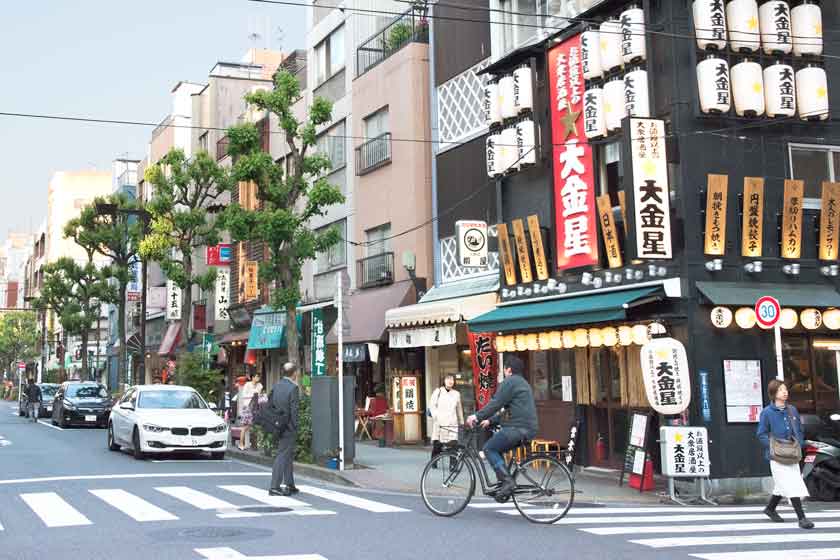 Amazakeyokocho Avenue, Ningyocho
Amazakeyokocho
Amazakeyokocho is Ningyocho's most famous shopping street, running between Exit A1 of Ningyocho Station and Exit A2 of Hamacho Station (in front of the Meijiza Theater). The name means "sweet sake alley" and is named after a store that once stood here, renowned for its sweet sake.
Today Amazakeyokocho is a pleasant, tree-lined street with a laid back, old-time feel, and with neighborhood-style dining and snacking opportunities galore. Artisans still ply their pre-modern trades on Amazakeyodocho, and there are great places all along it to eat and drink - including a craft beer pub on the corner of Amazakeyokocho intersection.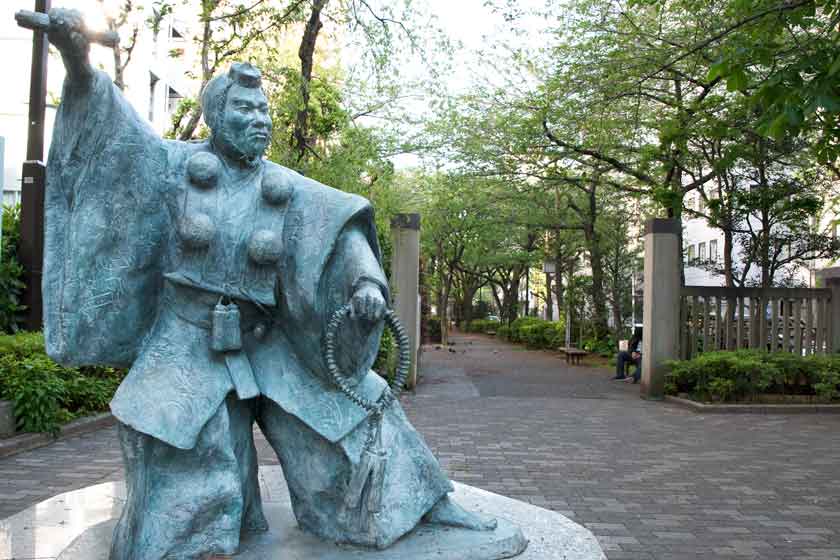 Benkei statue in Hamacho Ryokudo
Amazakeyokocho goes through a green belt called Hamacho-ryokudo, readily identified by the statue of a character from the 19th century kabuki play Kanjincho: the warrior monk Musashibo Benkei (died 1189) who is a legendary symbol of strength and loyalty.
Intersecting with Amazakeyokocho is the other - and bigger - main street: Ningyocho-dori, which has just as much for the sightseer as the more famous Amazakeyokocho. Be sure to pick up a ningyoyaki or two - a ningyoyaki being a bean-paste filled sweet in the shape of a cute, pudgy face representing one of the seven lucky gods of Japanese mythology, and with a connection to the local Suitengu shrine.
Ningyocho has numerous shops selling reasonably priced Japanese ornaments and accessories, such as folding fans and figurines, that make great souvenirs.
Marionette Clocks
In 2009, Ningyocho got two huge antique-looking marionette clocks, about 8 meters high, that perform a "puppet show" on the hour every hour between noon and 7pm. Each is on opposite sides of Ningyocho-dori Avenue, divided by Amazakeyokocho intersection.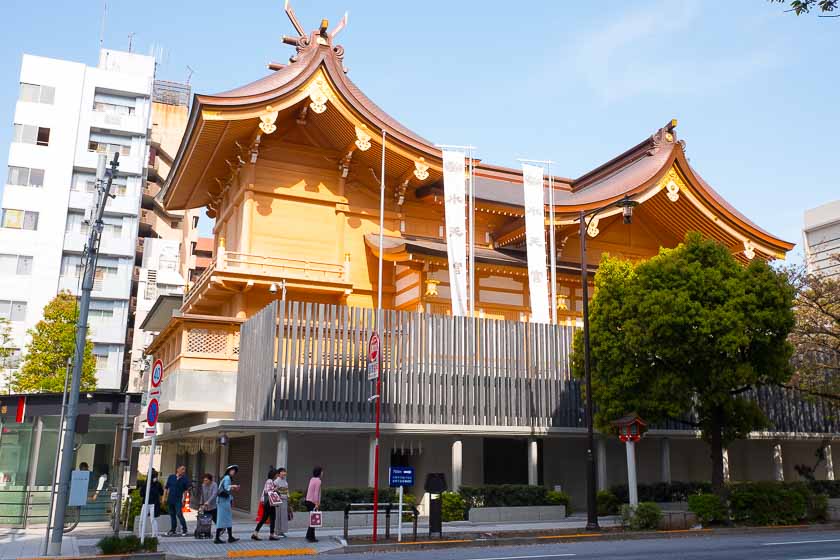 Suitengu, near Ningyocho
Suitengu Shrine
Suitengu is a gleaming gold Shinto shrine, perched on a one-story high platform, that grandly dominates an intersection of the same name. Suitengu is less than 400 meters walk south-east of Ningyocho Station down Ningyocho-dori Avenue. The shrine is alongside Suitengu-mae Station. Suitengu moved here from the Mita area of Minato ward in 1872.
Suiten is the Japanese name for Varuna, the Hindu god of water, and gu means shrine. Suitengu is best known as the shrine in Tokyo to visit for safe childbirth. Until the Second World War, Suitengu was the center of commercial activity in Ningyocho, with crowds flocking here from all over Tokyo on the fifth of every month, which is the day associated with the god Suiten. Suitengu was completely renovated in 2016.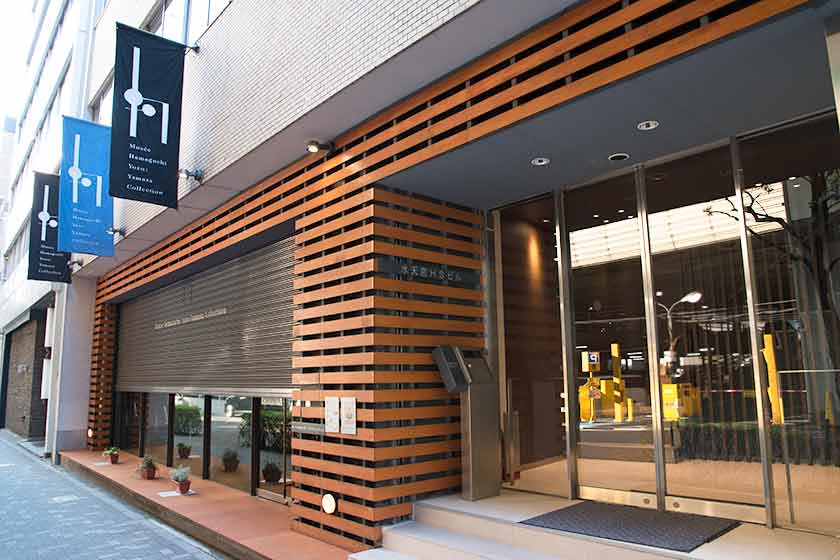 Musée Hamaguchi Yozo: Yamasa Collection
Musée Hamaguchi Yozo: Yamasa Collection
Yozo Hamaguchi (1909-2000) was a pioneering and internationally feted Japanese print maker who invented the "mezzotint" technique. The Musée Hamaguchi Yozo: Yamasa Collection has a collection of Hamaguchi's works, however exhibitions here cover a variety of Japanese artists' works. The museum includes a small cafe. Musée Hamaguchi Yozo: Yamasa Collection is beside Suitengumae Station, near Exit 3. If coming from Ningyocho Station, take Exit A2.
Hours: 11 am-5 pm Mon-Fri, 10 am-5 pm Sat., Sun. & public holidays.
1-35-7 Kakigaracho, Nihonbashi, Chuo-ku, Tokyo
Junichiro Tanizaki Birthplace
Ningyocho's reputation for high culture is further enhanced by its being where the prominent Japanese author, Junichiro Tanizaki (1886-1965), was born. There is an inconspicuous plaque on Amazakeyokocho commemorating Tanizaki's birth, two blocks south-west of Amazakeyokocho intersection.
Food and Drink in Ningyocho
When it comes to food and drink, exploring is rewarded in Ningyocho. For a small, not-so-prominent Tokyo district, Ningyocho has an unusual wealth of memorable gourmet opportunities. A stroll will quickly reveal everything from cheap but tasty katsudon and noodle joints, to Japanese-style restaurants, to time-honored sushi establishments, to quality Western food. There are cafes galore, and plenty of places to drink - including a craft beer pub on the Amazakeyokocho intersection.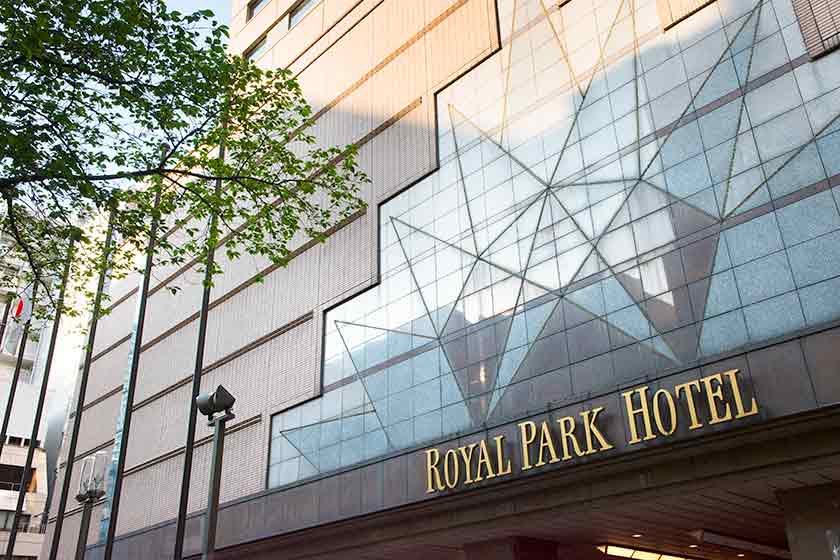 Royal Park Hotel, near Ningyocho
Ningyocho Accommodation
Staying at a hotel in Ningyocho gives you the convenience of quick and easy access to Tokyo's biggest sights, near three subway stations, and the comfort of this quiet, charming location.
The Sotetsu Fresa Inn Nihombashi-Ningyocho is a smart-looking budget hotel near both Ningyocho Station and Suitengu-mae Station, with small but comfortable rooms, each with its own private bathroom and toilet, and clothes washing/drying facilities for guests.
The Hotel Horidome Villa is actually closer to Kodenmacho, the next stop on the Hibiya Subway Line from Ningyocho, but offers great value for money with a small but more than adequate room with hair dryer, kettle and well equipped bathroom. Plenty of reasonably priced stores and restaurants in the neighborhood.
The Royal Park Hotel Tokyo is a more luxurious option, at the end of the next station east, Suitengumae (yet still just a 6-minute walk from Ningyocho Station). Cleanliness and comfort are the catchwords at the Royal Park Hotel, where you can enjoy the atmosphere of old Tokyo in a superbly convenient location. Breakfast has a great reputation here, and the service is of the kind that makes Japanese hospitality legendary.
Access
Ningyocho can be accessed from Ningyocho Station on the Toei Asakusa Line and the Tokyo Metro Hibiya Line, or Suitengu-mae Station on the Tokyo Metro Hanzomon Line of the Tokyo subway.
Ningyocho means Doll Town and is a charming little district in the Nihonbashi district of Tokyo's Chuo ward. Ningyocho features often quaint street scenery, an old-style shopping street, and cultural appeal with its museum to a famous Japanese print maker.
All the themes of the city