Kyoto Cherry Blossom Viewing Spots
Kyoto cherry blossom viewing spots: see a listing of the best places in Kyoto to enjoy hanami or cherry blossom viewing.
Cherry Blossoms in Kyoto 桜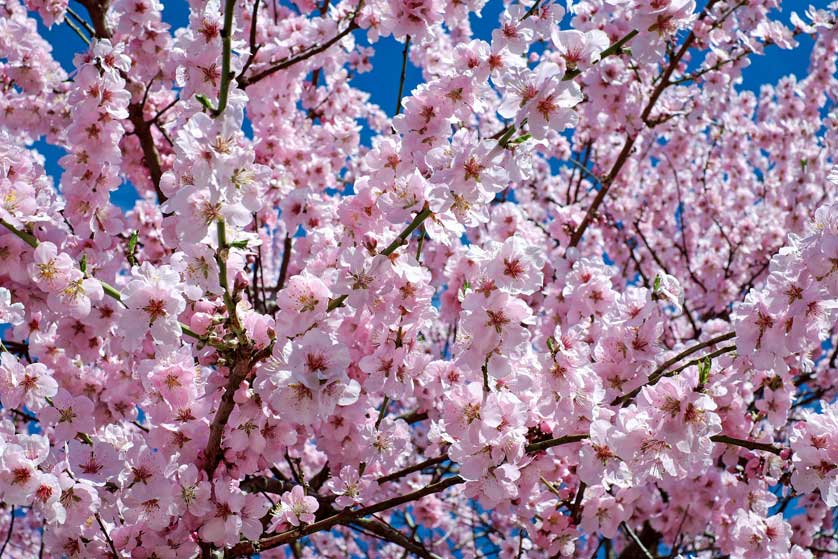 Enjoy the cherry blossom (sakura) in Kyoto
Kyoto is blessed with a number of wonderful places to enjoy the hanami (cherry blossom viewing) season. Choose from quiet contemplation of the brevity of existence in a remote temple or shrine to a full-on, sake-fueled knees-up in a public park.
Hanami season in March and April is, for many Japanese, the best time of year. This is when the cherry blossom trees all over Japan come in to bloom for between seven and 10 days and people hold outdoor parties to view them. The name says it all - hana means "flower" and mi is "to look".
Below is a list of some of the places to see the blossoms in the ancient capital, Kyoto.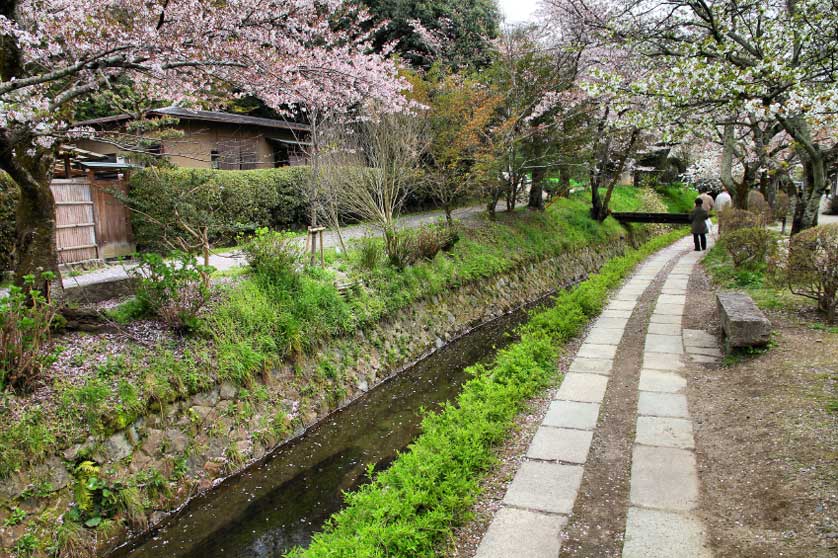 Philosopher's Walk is a favorite spot for cherry blossom viewing in Kyoto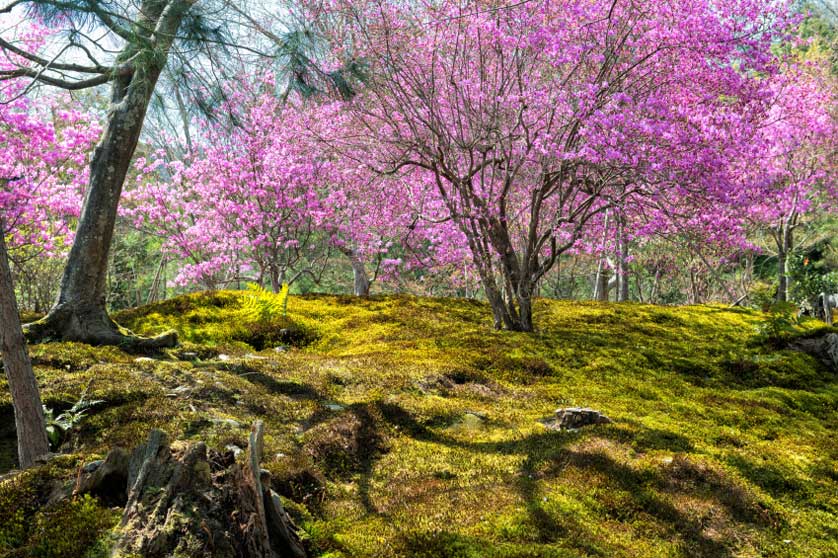 Cherry blossom and moss in Arashiyama, Kyoto
Maruyama Koen
Downtown Maruyama Park and nearby Yasaka Shrine in Gion are Kyoto's
most famous hanami locations. Something of a raucous, 24-hour party goes on in Maruyama Koen with many temporary food stalls set up and musicians and buskers sometimes entertaining the crowds. A large weeping cherry tree is a focal point in the park.
Shirakawa & Takase
The Shirakawa stream in Gion is a very picturesque place to stroll day or night especially in hanami season. The small Takase River along Kiyamachi in Kyoto's entertainment area has a number of cherry trees and is illuminated at night.
Philosopher's Walk
Philosopher's Walk in the southern Higashiyama district of Kyoto is a cherry-tree lined stream running roughly from Ginkakuji Temple to Nanzenji Temple. It is particularly pleasant to stroll in the evening when the crowds may be less.
Shinnyodo & Yoshidayama
Off-the-beaten track Shinnyodo Temple and Yoshidayama near Kyoto University are peaceful places to admire the petals. The Institut Franco-Japanois du Kansai has some lovely trees to contemplate over an outdoor lunch of French cuisine.
Keage
East of Philosopher's Walk along Sanjo, Keage has around one hundred cherry trees planted in rows along the railroad of the Kyoto Aqueduct that brought water and goods from Lake Biwa to Kyoto.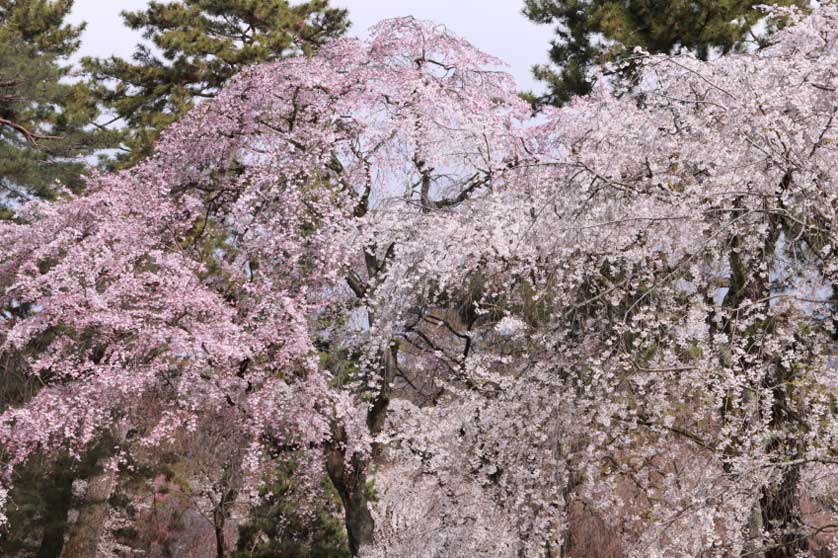 Cherry blossom in full bloom, Kyoto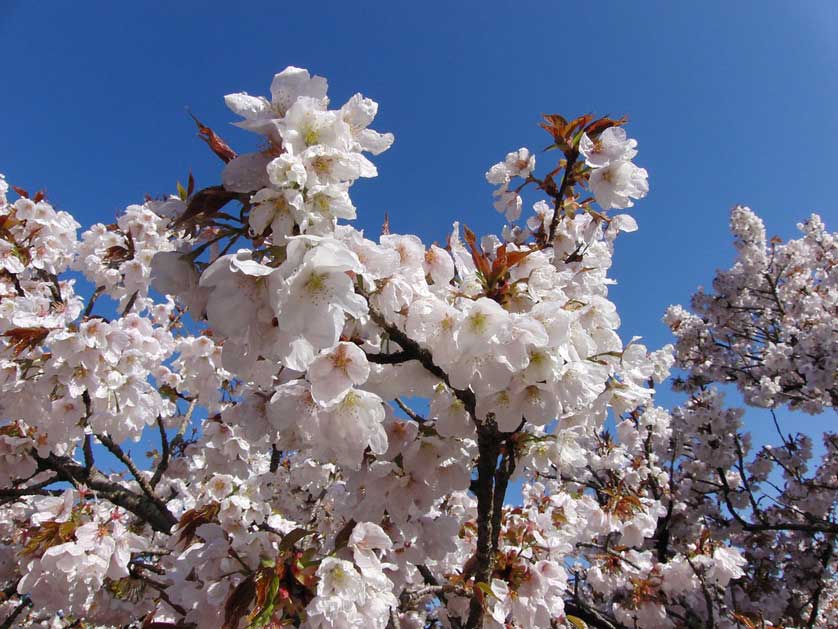 Cherry blossom in full bloom at Ninnaji Temple, Kyoto
Kiyomizudera
Kiyomizudera is popular throughout the year and in particular in hanami season. Many of the trees are near the entrance and can be viewed from the raised veranda of the main hall.
Heian Shrine & Okazaki Museum District
The garden of Heian Shrine behind the main hall is known for its late flowering weeping cherry trees or yaebeni shidare. Weekdays are the best time to come to avoid the crowds of viewers. The many canals in Okazaki that feed in to the Kamo River are also lined with cherry blossom and special boats provide tours in this season.
Shoseien
Shoseien Garden part of Higashi Honganji Temple is a beautiful garden and pond designed by Ishikawa Jozan in the Edo Period. Shosei-en is easily reached on foot from Kyoto Station.
Kamo River
The Kamo River is lined with many cherry trees along its course down from the Botanical Garden to Sanjo. Near Kitaoji Bridge the cherry trees hang over wooden trellises for walkers to admire strolling the river banks.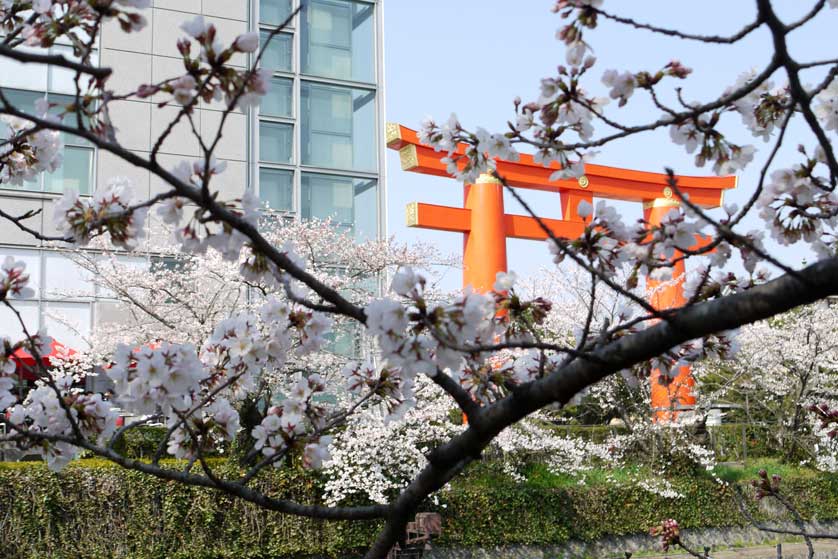 Cherry blossom Heian Shrine & Okazaki Museum District, Kyoto

Daigoji Temple
Located in eastern Kyoto, Daigoji Temple is a UNESCO World Heritage site and the location of a hanami party organized by warlord Toyotomi Hideyoshi in the 16th century. Daigoji is known for its weeping cherry trees in the Sanboin Garden and near the Reihokan Hall Museum, which contains 10 national treasures. Take a Tozai Line subway to Daigo Station.
Nijo Castle
The grounds of Nijo Castle in west Kyoto are a popular cherry blossom viewing spot with evening illuminations. Check with the Tourist Office at Kyoto Station for details on times.
Kyoto Botanical Garden
Kyoto Botanical Garden in the north of the city, just east of the Kamo River. Some 500 cherry trees, or 70 species, are now being lit up every evening from sundown until 9pm. The entrance fee is 200 yen for adults.
Kamigamo Shrine
Further north of Kyoto Botanical garden is the UNESCO World Heritage site of Kamigamo Shrine which has some wonderful and large cherry trees to admire in its spacious grass grounds. Ideal for a picnic if the weather is fine.
Kodaiji Temple
The cherry blossoms in the grounds of Kodaiji Temple can be seen at night as part of the illuminations of Kodaiji's gardens in spring from mid-march to early May.
Ninnaji Temple
Ninnaji Temple is an ancient temple in western Kyoto famed
for late blossoming 'Omuro Zakura'. Low bamboo seats are set up beneath the blossoms. Come here after the main season is over.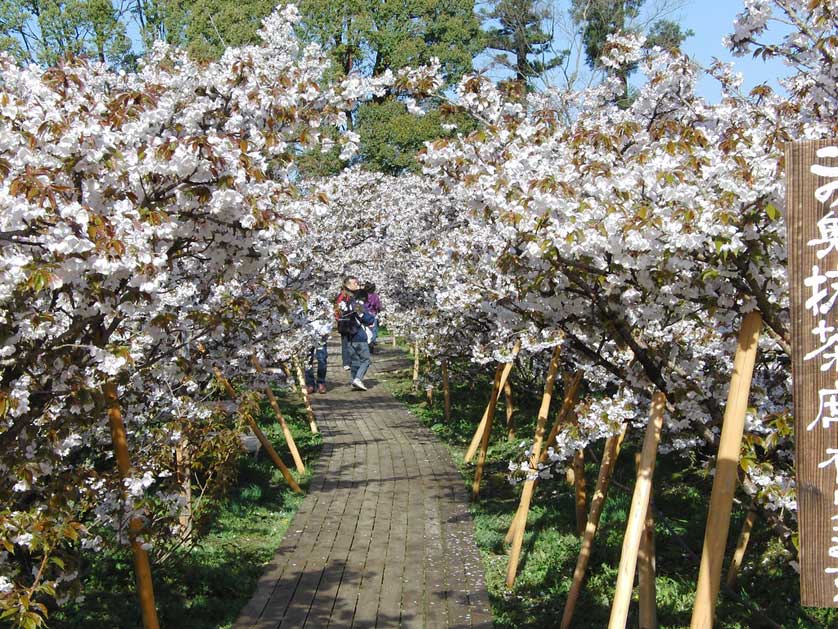 Cherry blossoms at Ninnaji Temple, Kyoto

Haradani-en Garden
Haradani-en Garden in the hills above Kinkakuji Temple is a delightful spot to appreciate the blossoms. Price of admission is 1200 yen on weekdays and 1500 yen on weekends and public holidays. Take an M1 bus from Kitaoji Bus Terminal.
Daikakuji Temple
Traveling west from Ninnaji, the Heian Period gardens and pond of Daikakuji Temple are one of Kyoto's best-kept secret cherry blossom viewing spots.
Arashiyama
Further to the west, Arashiyama has been a well-known cherry blossom viewing area for centuries, ever since the retired Emperor Go-Saga (1220-1272) had cherry trees from Mt. Yoshino in Nara brought here, and the river banks near Togetsukyo Bridge and Nakanoshima Park are good places for a hanami picnic.
Hirano Jinja
Hirano Jinja is a small shrine in north western Kyoto near Kinkakuji Temple ten minutes walk from Kitano Hakubaicho station. Food and game stalls are set up here and the location is popular with students from nearby Ritsumeikan University.
Ohara
The rural area of Ohara about an hour north east from Kyoto Station around Sanzen-in Temple is ideal for picnics.
Any Public Park in Japan!
No matter where you are in Japan, you would be hard pressed to find a park that wasn't planted with at least one row of cherry trees for the hanami season.
Related Japan Seasonal Links
List of Parks and Gardens in JapanTokyo Cherry Blossom SpotsKyoto Fall ColorsTwo Days in Kyoto Itinerary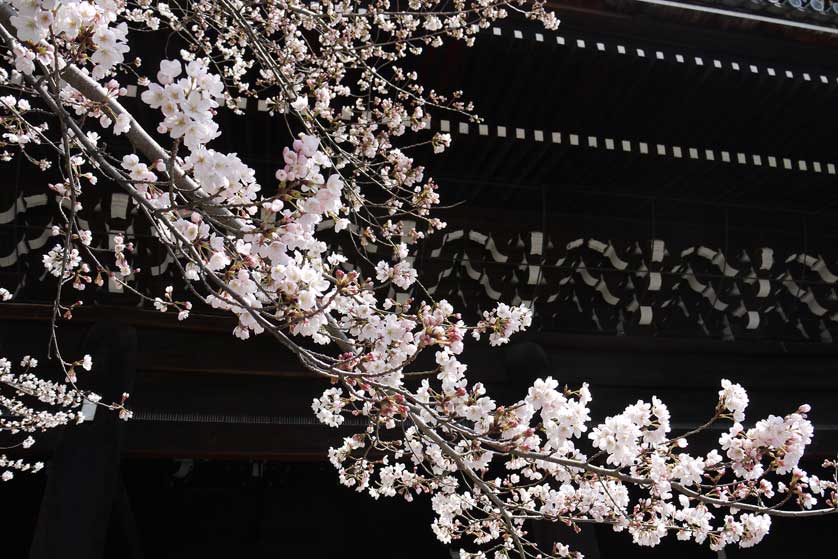 Cherry blossom at Chionin Temple, Kyoto

Kyoto Accommodation
All the themes of the city