Horyuji
法隆寺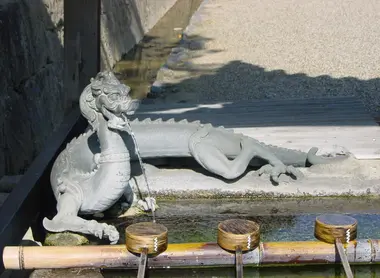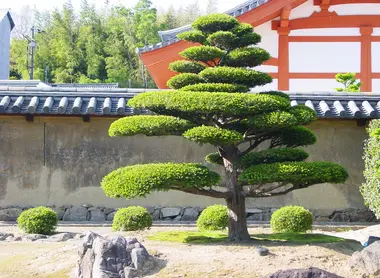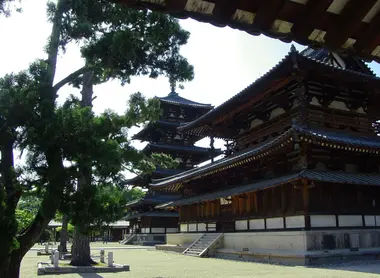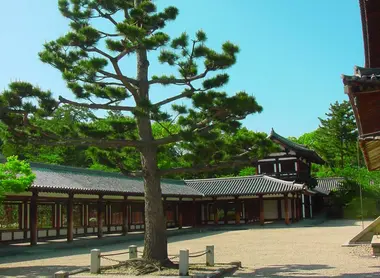 Temple of the Flourishing Law
Nara's Horyuji, located in Ikaruga, is a vast place of worship amid the pine trees, and houses the oldest recorded wooden buildings in the world. It remains the oldest temple in Japan!
Built in 607, at the request of Prince Regent Shotoku Taishi (574-622) to fulfill the wish of his father, Horyuji Temple showcases the Chinese and Korean architectural influences of the seventh and eighth centuries.
Considered a source of civilization and Japanese arts, the site, the first in Japan to be inscribed as a Unesco World Heritage Site in 1993, is divided into two distinct structures. The west section (Sai-in) with its five-story pagoda and the Kondo, the main pavilion that burned down in 1949 due to an electrical short circuit. This majestic building was faithfully reconstructed.
Inside, statues of Buddhas are conserved, including a representation of Shaka triad. That is to say, Sakyamuni, the historic Buddha also known as Siddhartha Gautama, flanked by two bodhisattvas (beings of Enlightenment and pure compassion), bronzes made ​​in 623 by the Tori master and dedicated to Prince Shotoku.
The east section (To-in) is organized around the Yumedono or Temple of Dreams - its name comes from a legend that the Prince saw in a dream a celestial nymph which enlightened him about the mystery of a sutra (text of words attributed to the Buddha or his immediate disciples).
This surprising octagonal architecture, the oldest of its kind in Japan, contains statues of great interest, including that of Guze Kannon, which was kept hidden for over seven hundred years and never viewed in sunlight, and so retains most of its original luster. This "hidden statue", which is said to resemble prince Shotoku himself, is only visible at certain times of the year.
Compassionate beauty
Famous for the sculptures, paintings and ritual objects it holds, this "Temple of the Flourishing Law" contains unique artistic treasures. A masterpiece dating from the seventh century, the statue of Bodhisattva Kudara Kannon, is the emblematic work of this period, called Asuka (538-710). Carved from a block of camphor, wood that is notoriously hard to work with, it embodies the elegance of this style. The slender body, an enigmatic smile, almond-shaped eyes, its head with a halo, and the pleats of the draping robe, all contribute to the emergence of a sense of compassion.
---
Address, timetable & access
All the themes of the city