Nagai Stadium & Nagai Park
Nagai Stadium (ヤンマースタジアム長居) & Nagai Park (長居公園)
Nagai Stadium (ヤンマースタジアム長居; Yanmar Stadium Nagai) is a large multi-sports stadium located within Nagai Park in Higashisumiyoshi ward, south Osaka.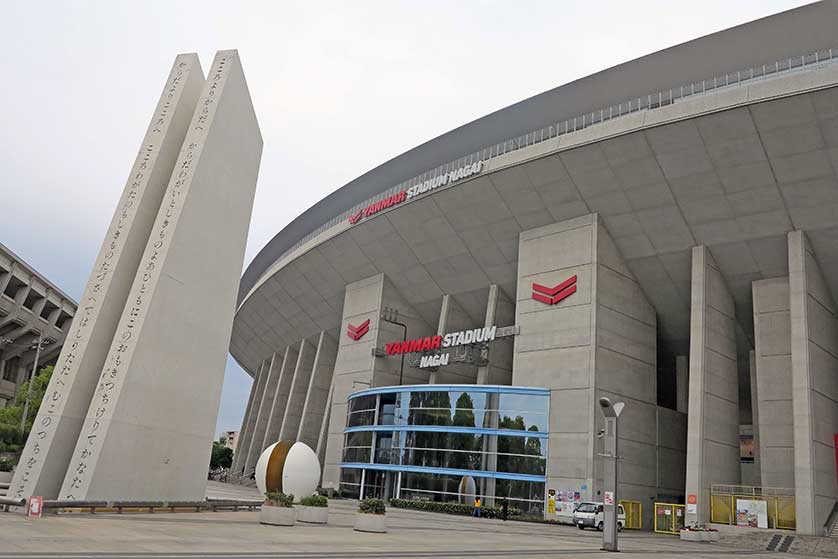 Yanmar Stadium Nagai, Nagai Park, Osaka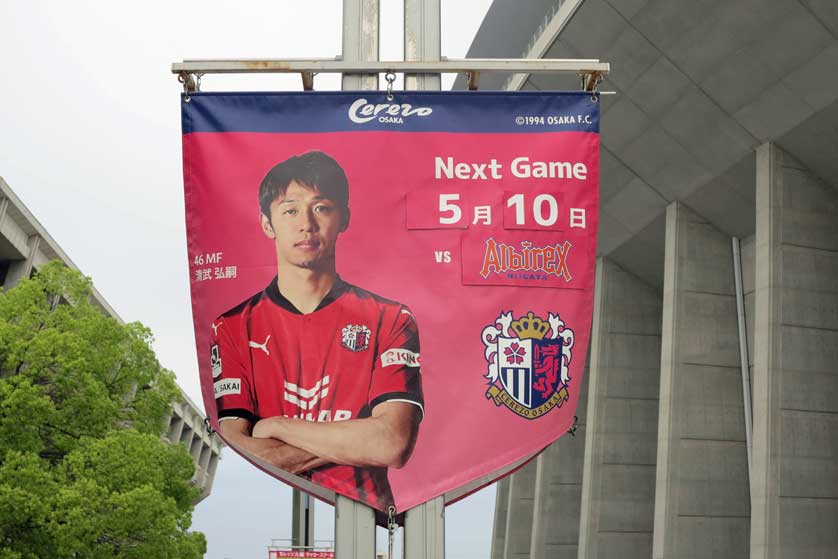 Yanmar Stadium Nagai is the home ground of J.League team Cerezo Osaka, Nagai Park, Osaka
Nagai Stadium
The Yanmar Stadium Nagai has a capacity for 47,000 spectators. It was built in 1964 for the Tokyo Olympics of that year when it staged soccer matches. The capacity was increased in 1996 and the stadium hosted three matches at the 2002 World Cup.
Nagai is the home stadium of J.League team Cerezo Osaka. It also hosts international fixtures for both the women's and men's national soccer teams.
As a football stadium, Nagai is a rather unprepossessing concrete bowl with a running track. As an athletics stadium, Nagai hosted the 2001 East Asian Games and the 2007 World Championships. The Osaka International Ladies Marathon also finishes in the stadium.
There are two other smaller stadiums adjacent to the main stadium. These are the 15,000 capacity Yanmar Field Nagai and the 20,000 capacity Nagai Gridiron. Yanmar Field Nagai hosts mostly university and high school soccer and athletics. Nagai Gridiron is a stadium for American Football including X-League games, rugby and other events.
Address: 1-1 Nagai-Koen, Higashisumiyoshi-ku, Osaka City, Osaka 546-0034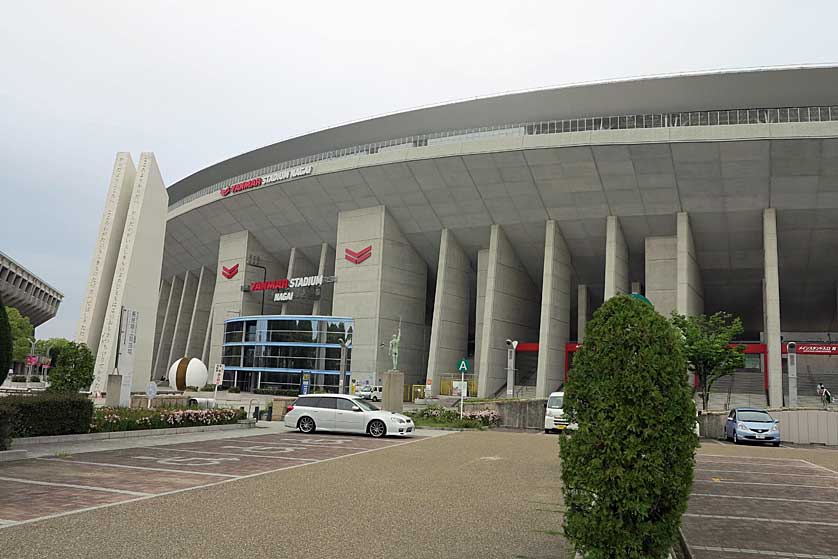 Nagai Stadium, Nagai Park, Osaka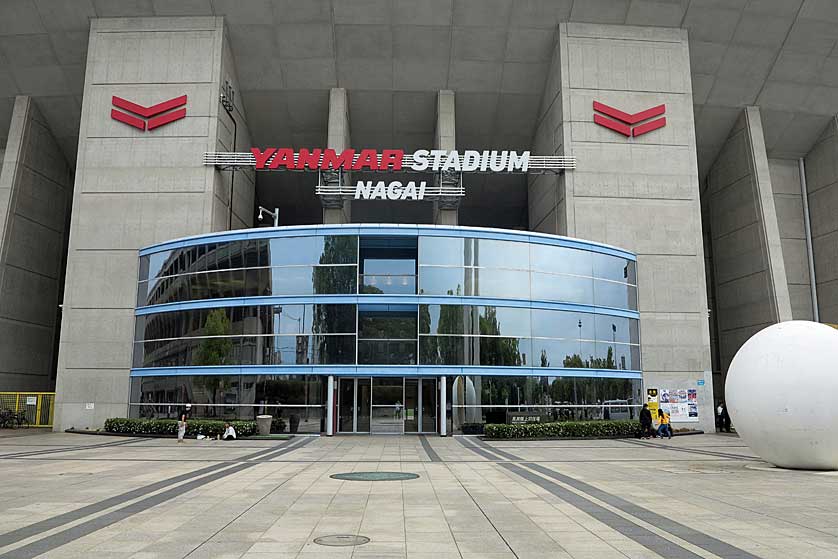 Nagai Stadium, Nagai Park, Osaka
Nagai Park
Nagai Park is the much larger space that holds not just the three stadiums listed above but also the Osaka Museum of Natural History.
In addition, this large, open green space has a sumo stadium for amateur wrestlers, tennis courts, an indoor and outdoor pool, a fitness/training center, a specialized sports facility for the disabled and several flower gardens within Nagai Botanical Garden.
There is also a running / walking course through the park which is popular with joggers and walkers.
Nagai Park, as a whole, is also a popular cherry viewing and picnic spot in spring. Nagai Koen is open 24/7.
As within Nagai Koen is the budget Osaka Municipal Nagai Youth Hostel with dorm beds, wifi and bicycle rental.
Nagai Botanical Garden
Nagai Botanical Garden covers over 24 hectares and boasts a rose garden, camellia garden, lotus pond, peony garden, iris garden, rhododendron garden, hydrangea garden and azaleas.
Its over a 1000 species of trees and plants provide a natural habitat for many types of wild birds.
Admission is 200 yen for adults and free for kids under 15. Hours are the same as the Osaka Museum of Natural History (see below for details).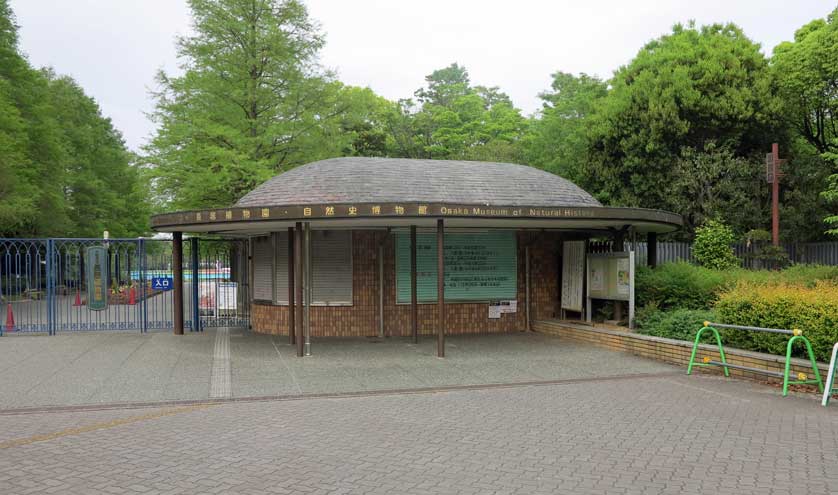 Osaka Museum of Natural History Entrance, Nagai Park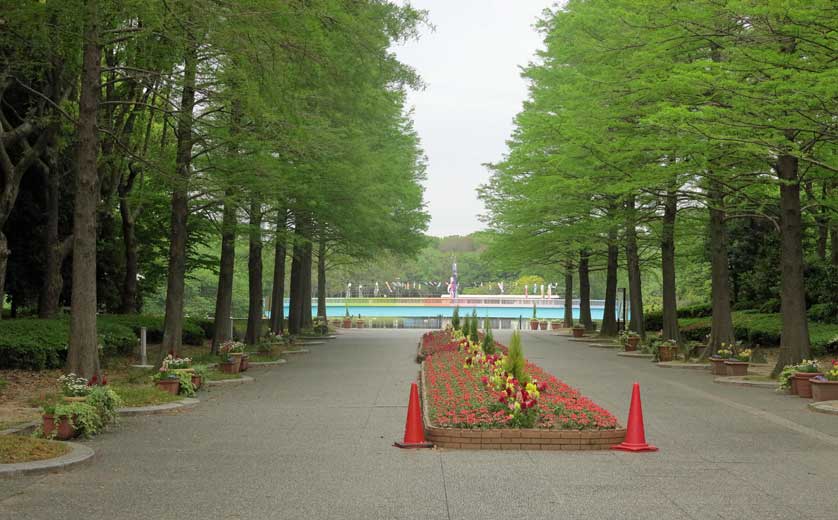 Nagai Park (Nagai Koen), Osaka
Osaka Museum of Natural History
Osaka Museum of Natural History is an interesting museum with a diverse collection situated at the south west corner of Nagai Botanical Garden.
There are sections on the urban environment of Osaka and alien species that have entered through the city's port.
This is in addition to the more standard displays of dinosaur skeletons and life size models of such animals as the Naumann Elephant and Giant Elk. There are further galleries on the history of life on earth, plants, the lives of living things and evolution.
The Nature Hall section has displays of the nests of Japanese birds, fossils, shells, stones and the habitat of the local Yodogawa River.
Though primarily aimed at school groups this museum is of interest to adults as well.
Admission is 300 yen for adults, 200 yen for high school and university students and free for kids under 15.
Hours: March to October 9.30 am - 5 pm (last entry 4.30 pm); November to February 9.30 am - 4.30 pm (last entry 4 pm). The museum is closed on Mondays (unless Monday is a national holiday when it closes the next day) and over the New Year period from December 28 - January 4.
Around Nagai Park
Three kilometers west of Nagai Park is Sumiyoshi Taisha, an ancient shrine dedicated to the gods of the sea and the kami who protect sailors, fishermen and those traveling on the sea.
Nearby Tennoji ward includes Tennoji Park with its Tennoji Zoo, which opened in 1915, the Osaka Municipal Museum of Fine Art and the strikingly updated Isshinji Temple.
Access - Getting to Nagai Park
Nagai Park and Nagai Stadium can be accessed by either the subway or JR from Nagai Station.
Nagai Station is situated on the Midosuji Line of the Osaka subway system running south from Tennoji Station bound for Nakamozu.
Nagai Station is also on the JR Hanwa Line from Tennoji to Wakayama with some trains going to Kansai Airport Station for Kansai International Airport (KIX) via Hineno and some return trains continuing on the JR Osaka Loop Line to Kyobashi Station and then to Shin-Osaka Station.
Tsurugaoka Station on the JR Hanwa Line is 5 minutes from the north west corner of the park.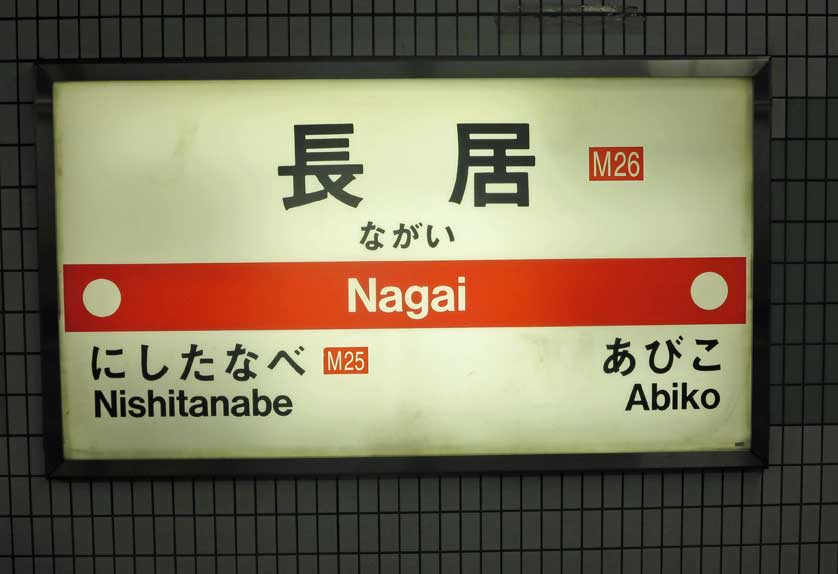 Nagai Station on the Midosuji Line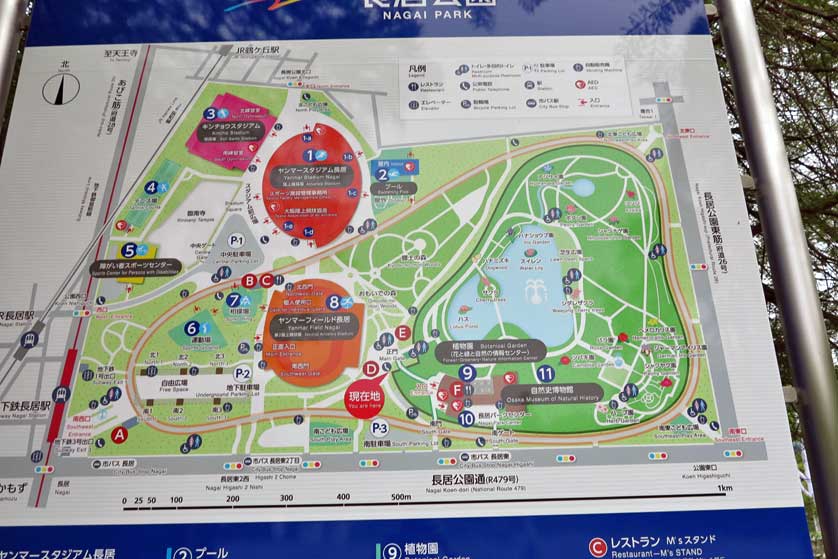 Nagai Park, Osaka
Map
Osaka Articles
Nagai Park in the south of Osaka holds Nagai Stadium, two other sports stadia as well as Nagai Botanical Garden and Osaka Museum of Natural History.
All the themes of the city