Ginza
Ginza. Read about Ginza, Tokyo's luxury shopping district for the rich and famous. The Ginza area means the place where silver is minted.
Tokyo Area Guide: Ginza 銀座
Ginza
Ginza is Japan's iconic shopping area, and has been the stomping grounds of the phenomenally wealthy since the early 1900s. As such, Ginza draws tourists from all over Japan and Asia, who are now the main engine of its continuing success.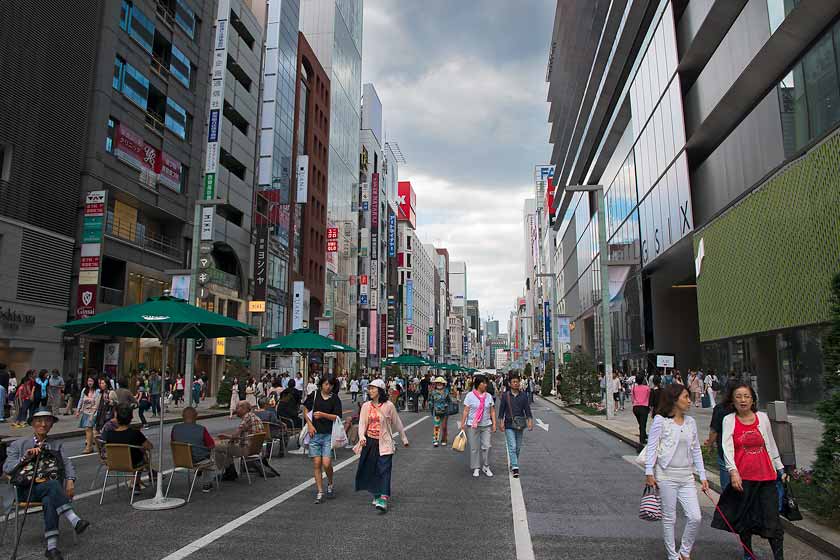 Weekend on Chuo-dori Avenue, Ginza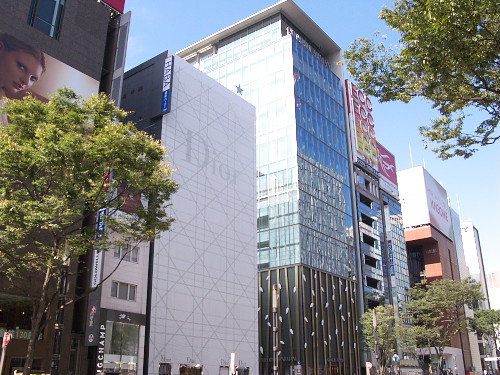 Fashion stores on Chuo-dori Avenue, Ginza, Tokyo
While it may not look as bustling as Shinjuku or Shibuya further west, in terms of turnover Ginza is the commercial capital of Tokyo, a fact which is reflected in its prices.
Ginza's high-end stores cater to the generally more mature crowd. It has several luxurious department stores, beginning with the legendary Wako Department Store, and, across the road from it, Mitsukoshi.
On Sundays, Chuo Dori Avenue is closed to traffic. Mikimoto, Louis Vuitton, Apple, Sony, and many more big brands have mega-stores here along with branches of international and Japanese banks and a number of high-end hotels.
Ginza History
Ginza, meaning the "place where silver is minted" got its name when Tokugawa Ieyasu, the founder of the Tokugawa regime, began minting silver coins here at the beginning of the 17th century. After the Meiji Restoration in 1868 and Japan's increased westernization, the area was developed as "Bricktown" by British architect Thomas Waters in 1872, when many of the wooden buildings in the area were destroyed in a fire. The area quickly gained a reputation as the height of fashion - that is, Western fashion - and the place has never looked back.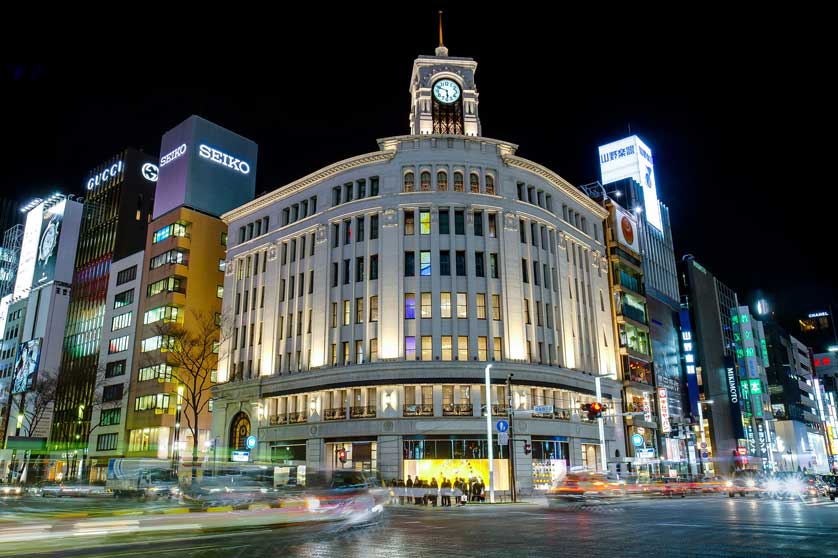 Wako Department Store, Ginza, Tokyo
Ginza Architecture
Ginza is an architectural treasure trove. Do not miss the DeBeers building, just east off Chuo-dori Avenue, looking for all the world as if it had just been massively, but beautifully, twisted out of shape in a gale or a temblor.
Kabukiza Ginza
The spectacular old Kabukiza in east Ginza, by Miharabashi intersection, an architectural must-see, was rebuilt and reopened in March 2013, maintaining its old look, but with a a skyscraper now arising from its midst.
Weekend Chuo-dori Avenue, Ginza, Tokyo
Ginza shopping
Ginza is Japan's most exclusive shopping district. Read about Ginza shopping.
Ginza art galleries
Ginza has Tokyo's biggest concentration of commercial, privately owned, art galleries. Although an estimated 200 such galleries are packed into Ginza, they are surprisingly easy to miss, the majority being in side streets on the upper floors or basement floors of buildings. The biggest concentration of art galleries is in Ginza 6-chome, behind the Ginza Six shopping building, extending to 7-chome and 8-chome to the south and east. There are a lot of art galleries, too, in Ginza 5-chome (between the Ginza Six shopping building and the main Ginza intersection) and they become less concentrated as you keep going along Chuo-dori Street, the closer you get the overhead Tokyo Expressway.
The range of art galleries in Ginza is huge. Some deal in the great masters and have contracts to sell the works of prominent international painters and sculptors. The majority deal in Japanese art, mainly modern, naive in style.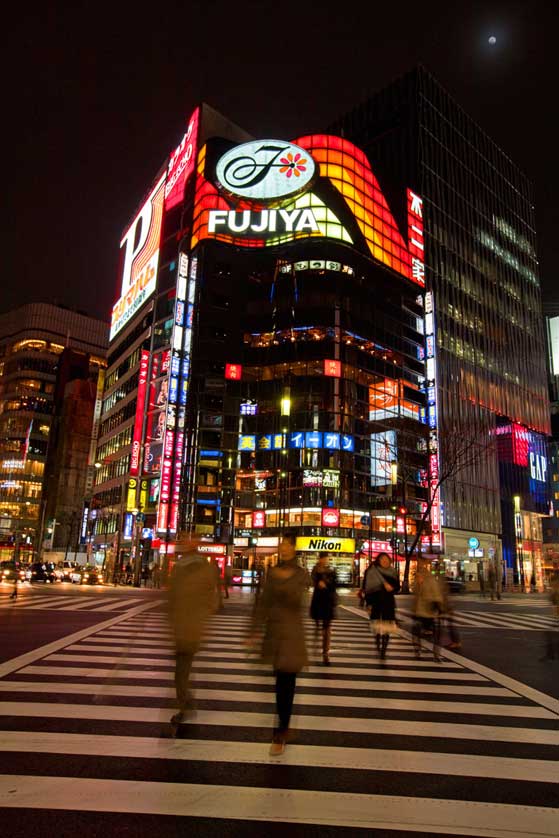 Ginza by night, Tokyo
Ginza Subway Station
Ginza subway station consists of three underground floors with numerous shopping outlets and is a popular meeting place. Ginza is accessible on the Marunouchi, Hibiya, and Ginza Subway Lines.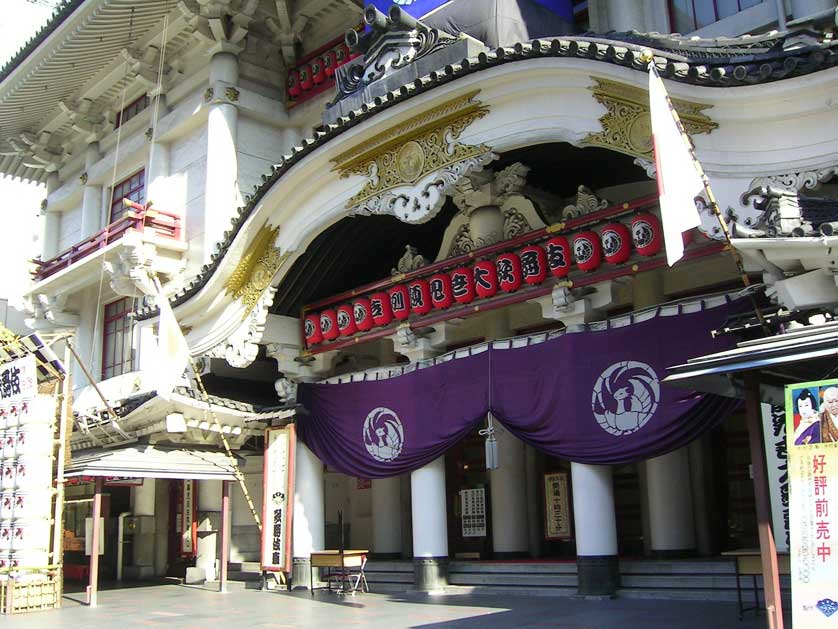 Kabukiza at Ginza 4-chome intersection, Tokyo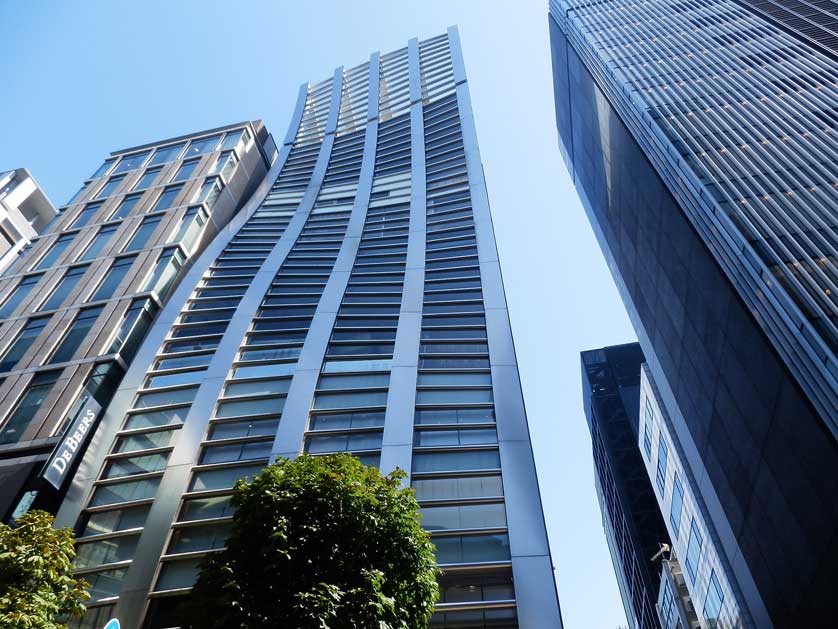 De Beers, Ginza, Tokyo
How to get to Ginza in Tokyo
Ginza is accessible from Ginza Station on the Marunouchi, Hibiya, and Ginza subway lines and Higashi Ginza Station on the Asakusa and Hibiya subway lines.
Ginza YouTube Guide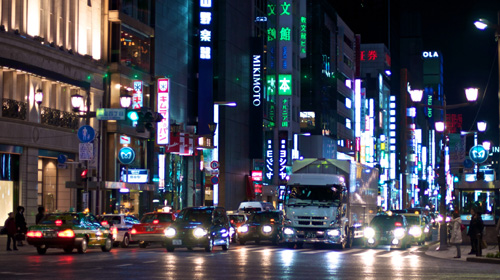 For a full listing of Tokyo Museums & Art Galleries click here
Book Hotel Accommodation in Ginza Tokyo Here
All the themes of the city