TeamLab Borderless Odaiba
Mori Building Digital Art Museum Epson TeamLab Borderless is a cutting-edge immersive digital art museum on the artificial island of Odaiba in Tokyo Bay, and offers visitors an ever-changing wonderworld of sensory stimulation and delight.
TeamLab Borderless Odaiba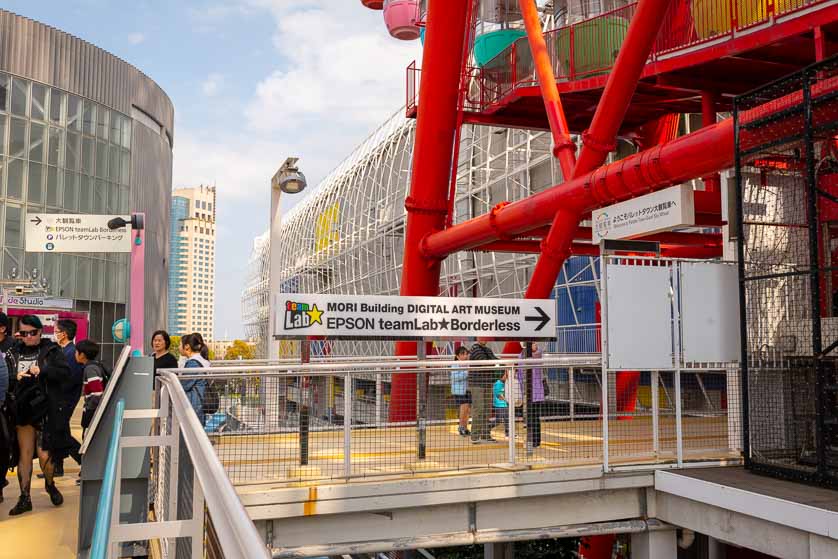 TeamLab Borderless, Odaiba, Tokyo
Mori Building TeamLab Borderless Odaiba is an interactive and immersive digital art fantasy world in Tokyo featuring ultra-sophisticated effects. The mesmerizing colors, shapes, sounds and movements here play in the mind for a long time after your visit.
Odaiba, where the museum is located - inside the Palette Town complex - is a manmade island in Tokyo Bay, accessible by monorail or bus. There are numerous other attractions here, and ample shopping opportunities, that you can incorporate into your day out.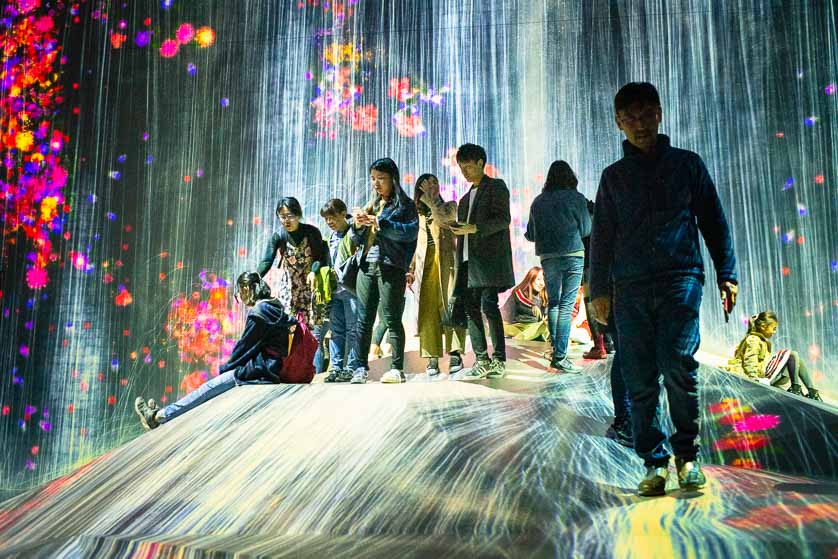 Universe of Water Particles on a Rock where People Gather, TeamLab Borderless, Odaiba, Tokyo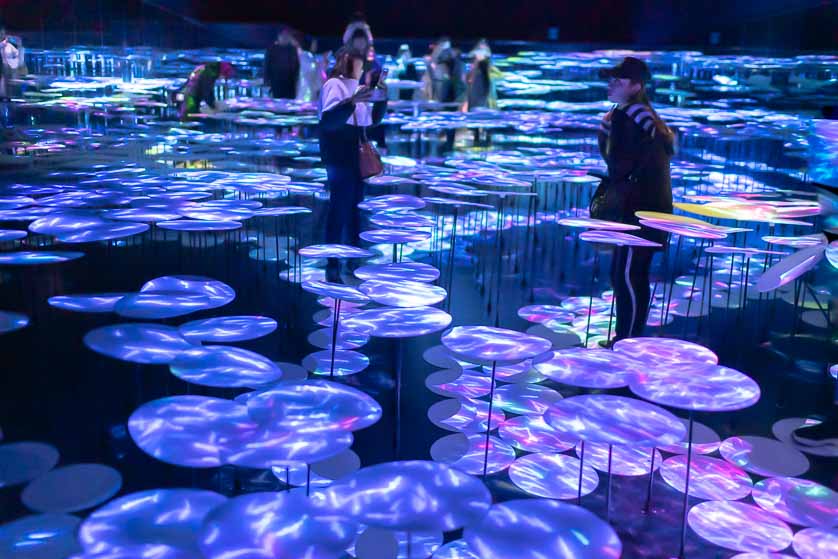 Memory of Topography, TeamLab Borderless, Odaiba
Borderless
The interactive TeamLab Borderless digital art museum in Odaiba is created by TeamLab, a Tokyo-based art collective. TeamLab Borderless is just one of several venues in Japan and overseas showcasing TeamLab's art.
TeamLab is serious about "borderless" - and serious about having people appreciate and enjoy the concept. TeamLab is artists, programmers, engineers, CG animators, mathematicians and architects. And the inspiration for their mind-bending works of art is a recognition of the oneness of humans, technology and the natural world - or, what you could call borderlessness.
It's also about border-free collaboration between individual creators in different fields. It may sound abstract but makes impactful sense when you're sitting in the Borderless cafe. Because, before your eyes, garden suddenly blends with tearoom and fantasy with reality as, from out of the delicious bowl of tea you're sipping, magically bloom gorgeous flowers!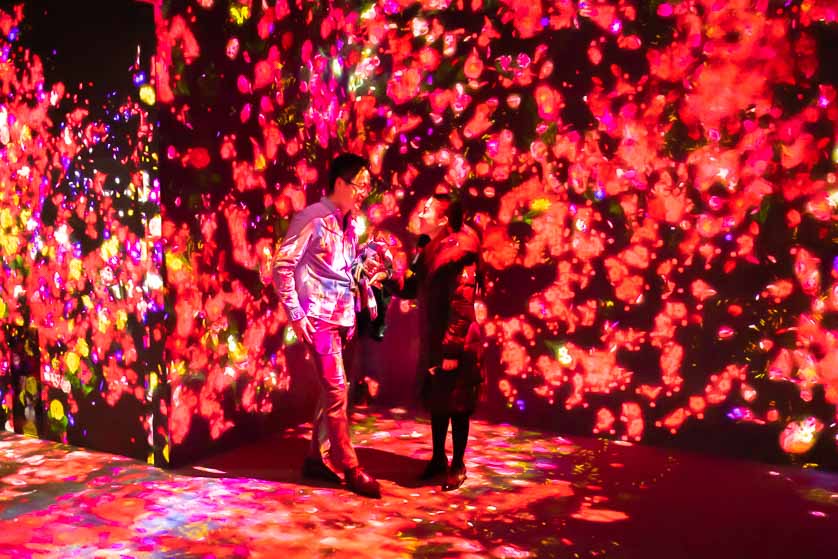 Love among the flowers, TeamLab Borderless
All-Five-Senses Workout
TeamLab Borderless Odaiba is seemingly endless inside. With a full hectare (2.5 acres) of floor area, the museum comprises cavernous spaces of vastly different atmospheres. Visitors wander and explore through different levels, visually seduced, aurally stimulated, dazzled, physically titillated and challenged, in a full five-senses workout.
The several sections include the Borderless World, Athletics Forest, and Future Park. However, in keeping with the borderless idea, TeamLab ensures that the transitions between areas are barely noticeable. Memes and themes subtly pervade the whole space in ways that delight once they've made it through to your consciousness.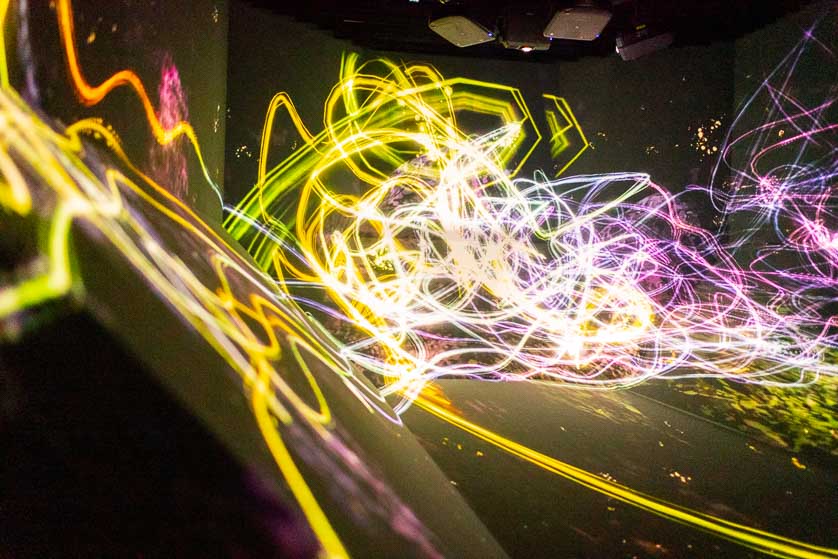 Light show, TeamLab Borderless
Stop and Appreciate
Frame of mind is everything, and stopping to take your time and appreciate is the recommended approach at TeamLab Borderless.
Most exhibits are interactive, but that interactivity is not always instant, or instantly apparent. Make your move, then wait a few moments for the art to take its turn. The art has its own cycles, some of them quite long. You will get the most out of your experience if you approach the works in an unhurried, observant - even meditative - way. Remember, too, that memories are all the stronger for being direct and immersive, rather than from on the other side of a smartphone or camera.
Goes Something Like This...
Here we introduce a few of TeamLab Borderless's stand-out experiences as examples of what you can expect. But be aware that TeamLab Borderless constantly updates and changes its exhibits like at a regular art museum. This ensures as unique an experience as possible, and makes multiple visits worthwhile. And there are dozens of different exhibits, so the description here of our experience of TeamLab Borderless should be taken as anecdotal, not spoiler-type definitive.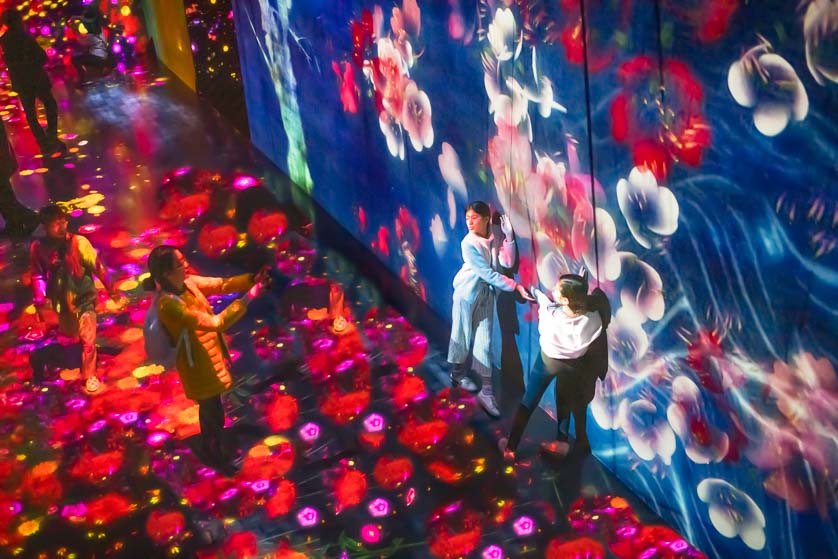 Immersive garden, TeamLab Borderless, Odaiba
Movement throughout TeamLab Borderless is basically free, with no defined course, and no "getting lost" (so to speak) - just wandering and enjoying, and going back to re-experience things if you wish. Allow yourself at least a couple of hours here.
Note, however, that you can get easily get separated from others if you are part of a group, so do keep careful track of the other people in your party. Also, once you have exited the museum, re-entry is not allowed.
En Tea House
Slowing down and gently extending your feelers is probably best exemplified in the En Tea House. The tea house requires extra payment: 500 yen per bowl and 200 yen for a top-up. But the generous bowls of tea served graciously in the soft semi-darkness are probably like none you'll enjoy elsewhere in Japan. After paying and choosing your variety of tea at the reception desk, you are given a small sample of the tea of your choice so you can savor its fragrance while waiting. The tea, of true connoisseur quality, is then served inside at bar-type counters with spacious seating. Leave your tea bowl in any one spot, and an initially tiny flower appears in the center, gradually blossoming to fill the bowl. Move it, and the bowl issues a dreamy trail of luscious petals across the table. An extra few yen for an extra 15 to 20 minutes very well spent.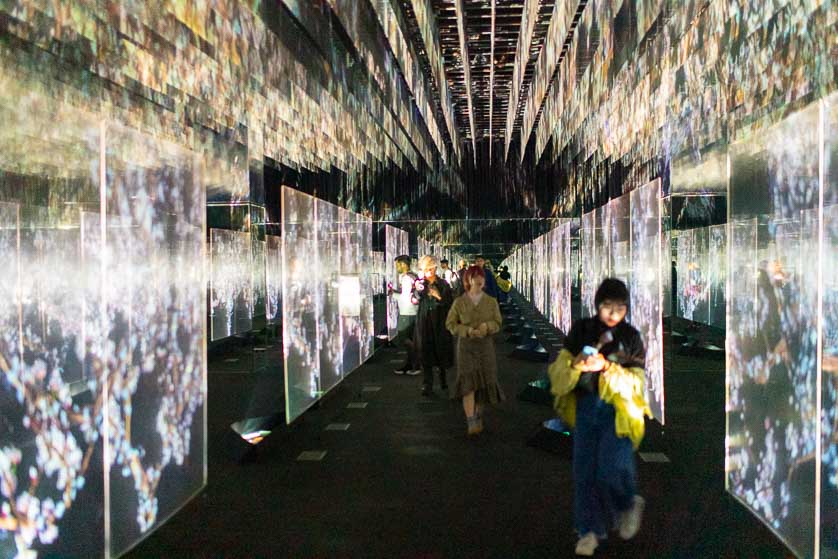 Animals of Flowers, Symbiotic Lives - Layered Ultrasubjective Space, TeamLab Borderless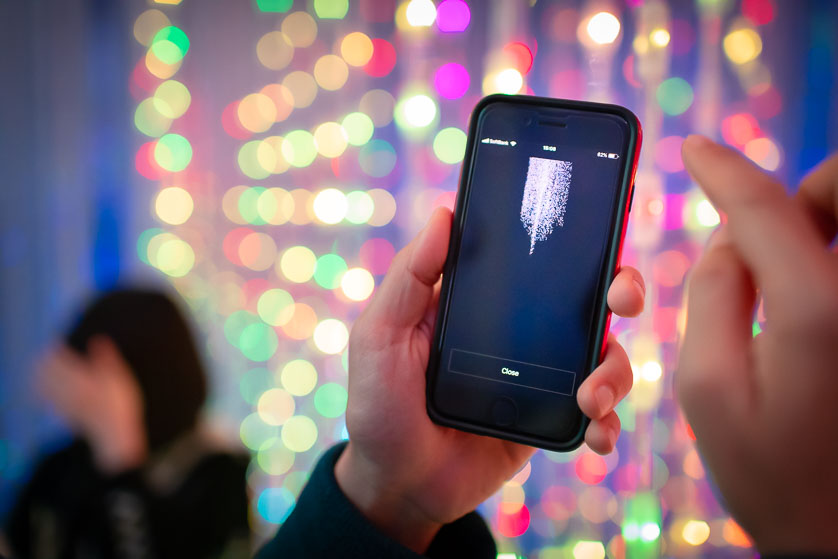 Smartphone interaction with Crystal World, TeamLab Borderless, Odaiba
Borderless World
In the Borderless World section's main room was the Universe of Water Particles on a Rock where People Gather. The space is dominated by a "rocky prominence" under a "waterfall" in a forest, with virtual "water" from the waterfall flowing all over it. (There were no real water attractions at TeamLab Borderless when we visited.) The installation can be freely clambered over. In doing so, enjoy the vivid rainbow of shapes and colors projected all over your and everyone else's bodies.
But, as with everything at TeamLab Borderless, stop and appreciate! It takes a few moments for the interactiveness to set in, and in the case of the Universe of Water Particles, after some seconds the water diverts around you. All the while, birds are singing, soul-soothing sounds are playing, and flowers are blooming in the forest.
There is a viewing platform in one corner of the space, upstairs, where you can take in the whole of this large-scale attraction from above.
Crystal World is a particular visitor favorite. Wander a pathway through a dense seemingly endless LED string curtains, enveloped in a shimmering, morphing cloud of light with mirrored floor, walls and ceiling. Download the teamLab Exhibition App to your smartphone beforehand so you can stop and generate patterns with a swipe of your finger. Then pinch yourself just to remind you it's all real!
For this one-time club-goer, the Light Sculpture was my favorite. Like a cubic dance spot, all black, the Light Sculpture features scores of swivelling spotlights that create eye-absorbing, awe-inspiring, ever-morphing structures in space. The spine-tingling light engineering was pregnant with tension, happening to darkish, rhythmic, somewhat toned down club beats.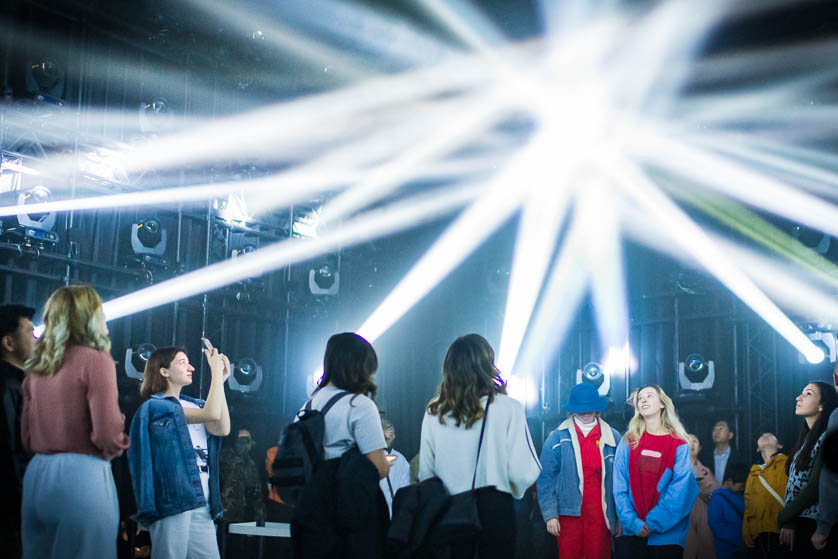 Light Sculpture, TeamLab Borderless, Odaiba
Athletics Forest
The Athletics Forest domain of the digital art museum is where it got especially physical. Firstly, the floor where you enter is undulating, so some care is needed when navigating it, and any footwear other than flat-soled is unsuitable. (Note that if you come in high heels for example, sneakers can be rented near the entrance.) The soft padding and carpet on the floor is for maximum safety.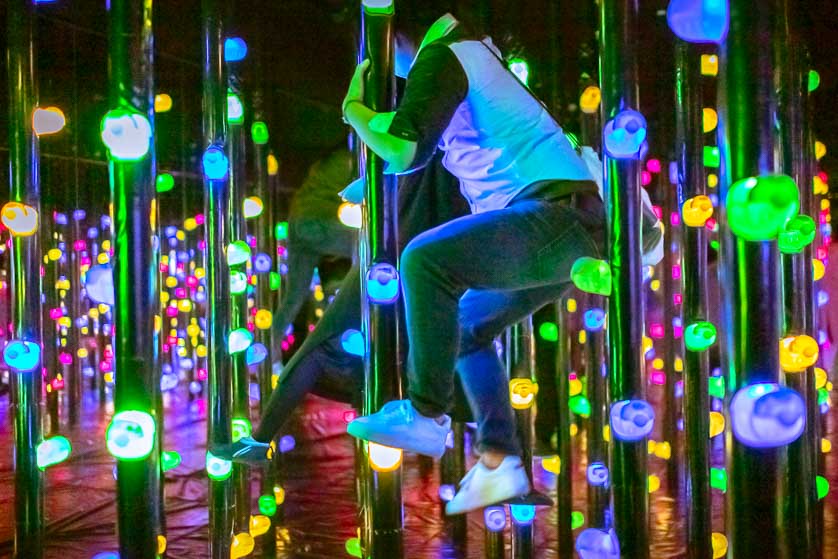 Light Forest Three-dimensional Bouldering, TeamLab Borderless, Odaiba
Kids love the Multi-Jumping Universe, which is interactive digital art trampolining. Jumping in one spot brings on the birth of a planet, while bouncing along in a line creates an ephemeral trail of stars.
Adults can be kids again in the Weightless Forest of Resonating Life, where you wander among giant colored balloons, some tethered, others freely floating. Touch them and they change color. Watch adjacent balloons change color in sympathy!
And aesthetics really does get athletic with the Light Forest Three-dimensional Bouldering. This is a forest of poles, each with four or five lit-up jewel-like grip-cum-steps attached. You work your way along the course, grasping and clambering from pole to pole, placing your feet on and grasping only jewels of the same color. The surrounding lights change in sync with your progress as your efforts generate a glowing extra precious dimension. Minimum body height requirement.
Kid-Friendly Future Park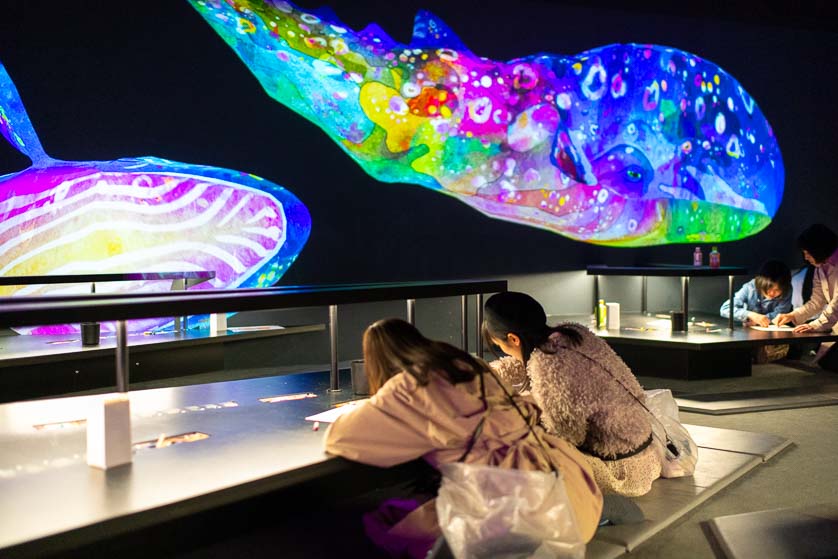 Sketch Aquarium, TeamLab Borderless, Odaiba
The whole of TeamLab Borderless is child-friendly, but Future Park has special appeal for juniors. The Sketch Aquarium is one attraction where imagination and interactivity, creation and evolution, find the perfect match. Kids sit at benches and use the supplied materials to put marine scenes straight from their imagination down on paper. They can then easily scan their artistic creations in the facilities provided. Let them then watch, enchanted, as the creatures they engendered appear on the walls of the aquarium, taking on a much bigger life of their own, swimming around.
Digital Paintings
Epson, the visual digital technology manufacturer, has its wares most conspicuously on show in the form of digital paintings. Hung in booths here and there, these paintings cover multiple genres, but all feature exquisite detail in ultra-high resolution. Look from arms length to watch the work slowly morph, then study them up close observing the infinitesimal movement of the tiny otherworldly elements that - far beyond pixelated - appear perfectly fluid.
New and Changing Exploration
To reiterate, TeamLab Borderless is an art museum - albeit of interactive digital art. As such, it frequently changes its exhibitions. Therefore, half the fun of visiting TeamLab Borderless is of not knowing what you will find.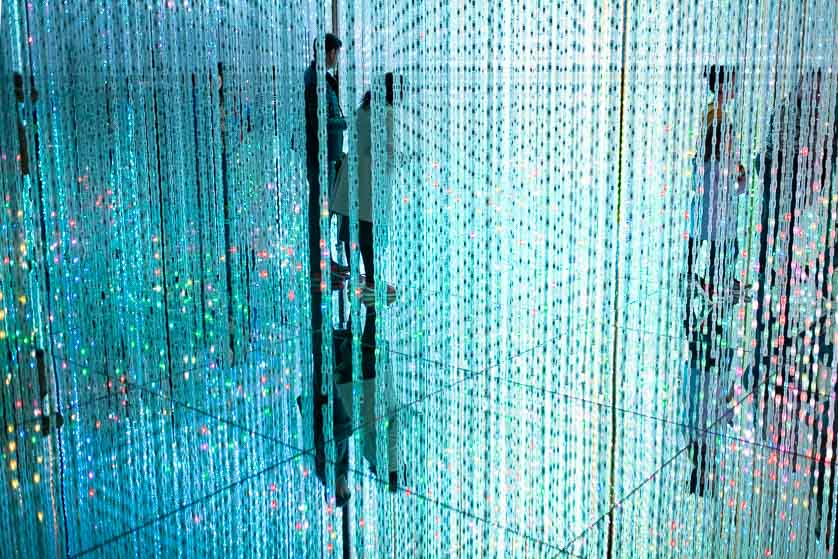 Crystal World, TeamLab Borderless, Odaiba
Dos and Don'ts
Photography is freely allowed at TeamLab Borderless, but no selfie-sticks, monopods, tripods or use of flash.
Footwear should be flat-soled with good grip. Wearing unsuitable footwear may prohibit you from using the Athletic Area.
Skirts are best avoided by female visitors, as several attractions have mirrored floors.
Any objects longer than 60 cm must be left in a locker just after passing through reception (requires a 100-yen coin that is refunded when re-opening the locker). Backpacks should preferably be left in a locker, or, at least worn on your front, not your back.
No consumption of food; no smoking. No alcohol, no uncovered/uncapped drinks, and no drinking anywhere except designated rest areas.
Tickets
TeamLab Borderless is closing its doors this year as Palette Town - the building also housing VenusFort - will be undergoing redevelopment. The closing date is set on the 31st August 2022.
Access
TeamLab Borderless is under the Ferris wheel in the Palette Town complex, Odaiba, Tokyo. Do not be misled by the "Mori Building" part of the name: do not go to Roppongi!
Nearest stations
The nearest stations to TeamLab Borderless are:
Tokyo Teleport Station on the Rinkai Line
Aomi Station on the Yurikamome Line
It is also accessible by WaterBus to the Palette Town Station.
Quick Train Guide to TeamLab Borderless Odaiba
The following are the quickest routes to TeamLab Borderless Odaiba from Shinjuku, Akihabara, Tokyo and Shibuya stations.
From Shinjuku Station
The fastest route from Shinjuku Station is:
Saikyo Line from Shinjuku to Osaki (12 minutes)
Change to Rinkai Line, to Kokusaitenjijo/Ariake (13 minutes)
Change to Yurikamome Line to Aomi (4 minutes)
From Akihabara Station
The fastest route from Akihabara Station is:
Yamanote Line from Akihabara to Shimbashi Station (7 minutes)
Change to Yurikamome Line to Aomi (20 minutes)
From Tokyo Station
The fastest route from Tokyo Station is:
Yamanote Line from Tokyo to Shimbashi (3 minutes)
Change to Yurikamome Line to Aomi (20 minutes)
From Shibuya Station
The fastest route from Shibuya Station is:
Saikyo Line from Shibuya to Osaki (6 minutes)
Change to Rinkai Line to Kokusaitenjijo/Ariake (13 minutes)
Change to Yurikamome Line to Aomi (4 minutes)
From Haneda Airport
Take an airport bus bound for Palette Town.
Or take a Keikyu Bus bound for Tokyo Big Sight and get off at Palette Town Mae bus stop
From Narita Airport
Take an airport bus bound for the Hotel Nikko Tokyo or Grand Pacific Le Daiba. The bus leaves from the 1st floor of both terminals.
Mori Building TeamLab Borderless Odaiba, Odaiba Palette Town, 1-3-8 Aomi, Koto-ku, Tokyo, Japan 135-0064
Nearby
The Venus Fort shopping mall is also a part of the Palette Town complex and is right next door to TeamLab Borderless. See an Odaiba guide for more nearby attractions.
teamLab Planets is another, quite different, teamLab museum, in Tokyo's Toyosu district.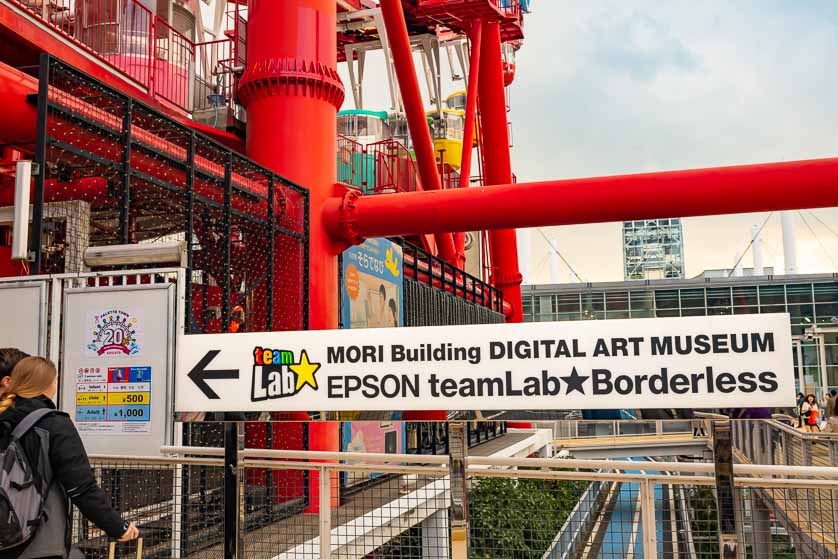 All the themes of the city