Aichi Prefecture
Aichi Prefecture located in the Chubu area of central Japan is both an industrial and agricultural powerhouse centered on the city of Nagoya.
Japan's Regions: Aichi Prefecture 愛知県
Aichi Prefecture is located in the Chubu region of central Japan. Aichi Prefecture borders Mie Prefecture, Gifu Prefecture, Nagano Prefecture, and Shizuoka Prefecture. To the south is the Pacific Ocean and the Ise and Mikawa bays and there are a number of interesting small islands and beaches close to Nagoya to visit along the coast.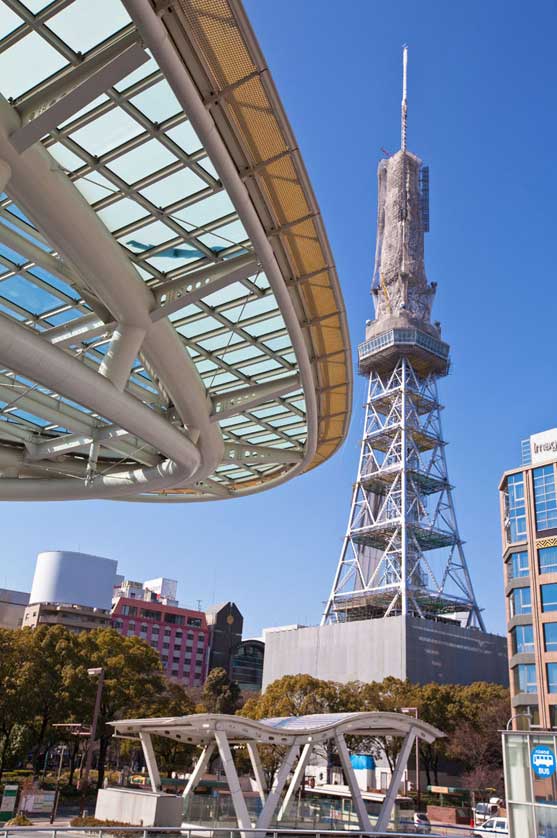 Nagoya is the major city in Aichi and the Chubu area
Aichi is a densely populated, mixed industrial and agricultural prefecture with its prefectural capital Nagoya - Japan's 4th largest city after Tokyo, Yokohama and Osaka. Nagoya and its surrounding towns and cities have a population of around 10 million inhabitants.
17% of the total land area of Aichi Prefecture has been designated as Natural Parks. These include Aichi Kogen, Hida-Kisogawa, Mikawa Wan and Tenryu-Okumikawa Quasi-National Parks plus seven Prefectural Natural Parks.
Aichi Prefecture is very urbanized and main cities and towns include the capital Nagoya, with a population of around 2,283,000 inhabitants, plus the towns and cities of Anjo, Chiryu, Chita, Gamagori, Handa, Hekinan, Ichinomiya, Inazawa, Inuyama, Iwakura, Kariya, Kasugai, Kiyosu, Komaki, Konan, Miyoshi, Nagakute, Nishio, Nisshin, Okazaki, Owariasahi, Seto, Shinshiro, Tahara, Takahama, Tokoname, Tokai, Toyoake and Toyohashi.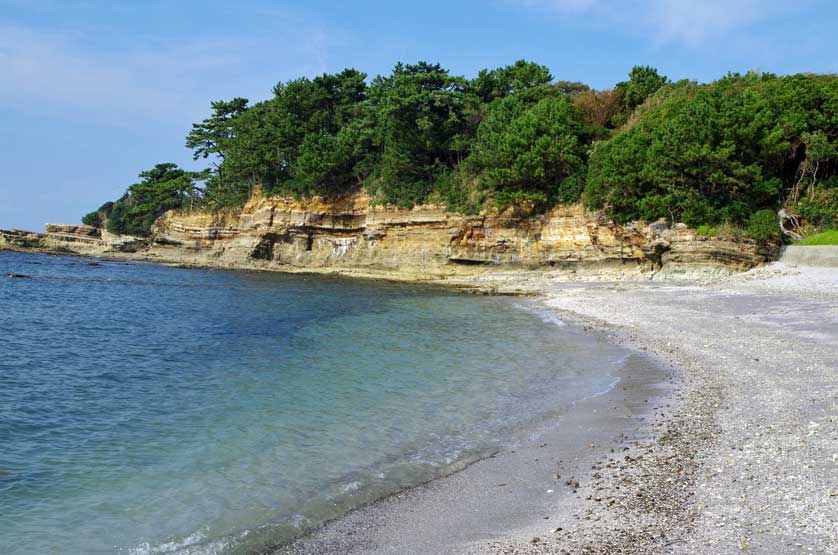 Deserted Beach, Sakushima, Aichi
Aichi has the typical weather patterns of central Honshu with hot, humid summers with temperatures in the prefecture usually topping 30 degrees Centigrade or more in July and August. Nagoya has the reputation of being one of the hottest places to be in Japan in mid-summer.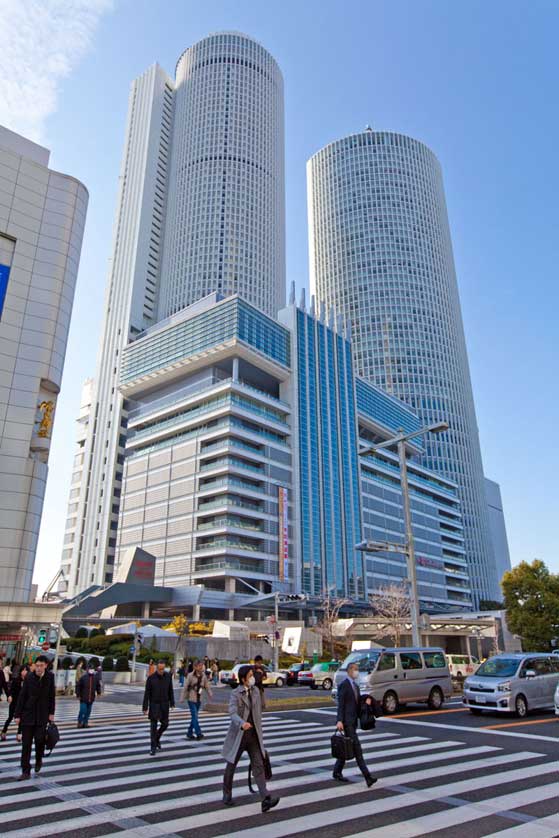 The soaring Twin Towers of Nagoya Station - the world's largest station building by area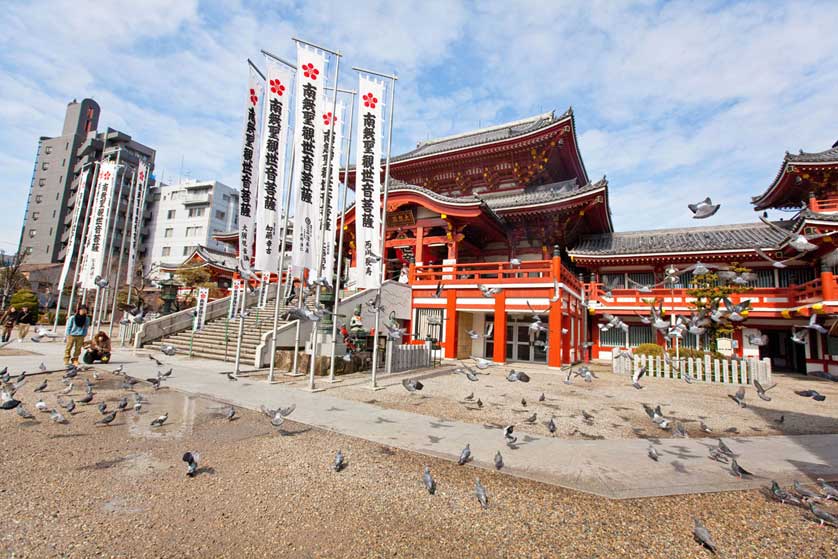 Osu Kannon Temple, Nagoya

Aichi Attractions
Aichi Prefecture has a much to see and do and due to its location in the center of Honshu is a good place to base yourself on any visit to Japan for exploring further afield.
Nagoya is the prefectural capital and a very busy, prosperous metropolis. Toyota, NGK and Mitsubishi have a number of production plants in and around the city. Other major corporations with a HQ in Aichi Prefecture include Brother, Denso, Makita, Matsuzakaya, Meitetsu and Noritake.
Nagoya's many attractions include Nagoya Castle, Tokugawa Art Museum, Toyota Commemorative Museum of Industry and Technology, Atsuta Shrine, SCMAGLEV & Railway Park, Legoland, Toyota Automobile Museum, Meiji Mura and a number of fine parks and gardens. See here for a full list of attractions in Nagoya.
Arimatsu, a suburb of Nagoya, is known for its Arimatsu shibori tie dye and colorful festival.
Gamagori is a pleasant onsen resort not far west of Nagoya.
Inuyama is worth visiting to see Inuyama Castle - Japan's oldest fortress - and it is close to Meiji Mura open air museum.
Okazaki is 40km west of Nagoya. Okazaki's main attraction is Okazaki Castle, the birthplace of Ieyasu Tokugawa, the founder of the Tokugawa dynasty and one of the most important figures in Japanese history.
Tokoname, on the Chita Peninsula, south of Nagoya, is famous for its historic kilns and is one of Japan's main producers of maneki neko ceramic cats.
Toyohashi, an historic, pleasant city on the Tokaido Highway.
Toyota, due to the wealth of the Toyota Motor Corp, has a number of fine museums, sponsored by the giant car maker. These include Toyota Kaikan (which can include a tour of the automobile production line) and the Toyota Municipal Museum of Art.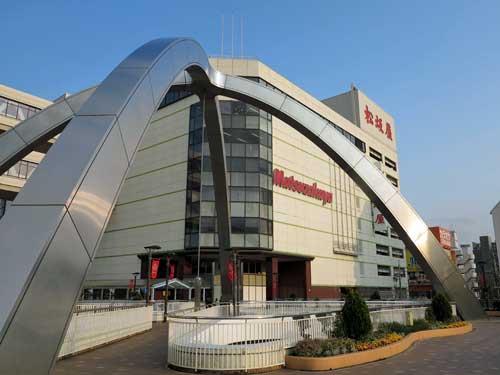 Matsuzakaya Department Store, Toyota-shi Station area, Toyota city, Aichi Prefecture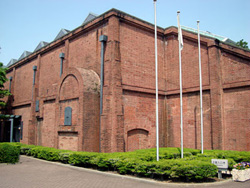 Toyota Commemorative Museum of Industry & Technology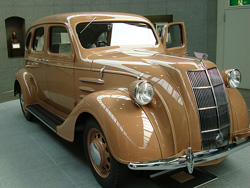 Toyota Automobile Museum
Aichi History
Many famous warlords of Japanese history originated in the Tokai area including the three great "unifiers" - namely Oda Nobunaga, Toyotomi Hideyoshi and Tokugawa Ieyasu.
Other noted warriors in the Azuchi-Momoyama Period who had their roots in what is now contemporary Aichi are Kato Kiyomasa, a fearsome warrior and great castle architect, who built Kumamoto Castle and helped in the building of Nagoya Castle, Maeda Toshiie, a leading general of Oda Nobunaga and Shibata Katsuie, another of Nobunaga's men.
At the beginning of the Meiji Period the two provinces were combined to form Aichi Prefecture.
The Aichi area along with nearby Mie Prefecture suffered considerable damage and loss of life in the 1959 Ise-wan Typhoon.
In 2005 the Aichi Expo was held on the outskirts of Nagoya in Seto and Nagakute.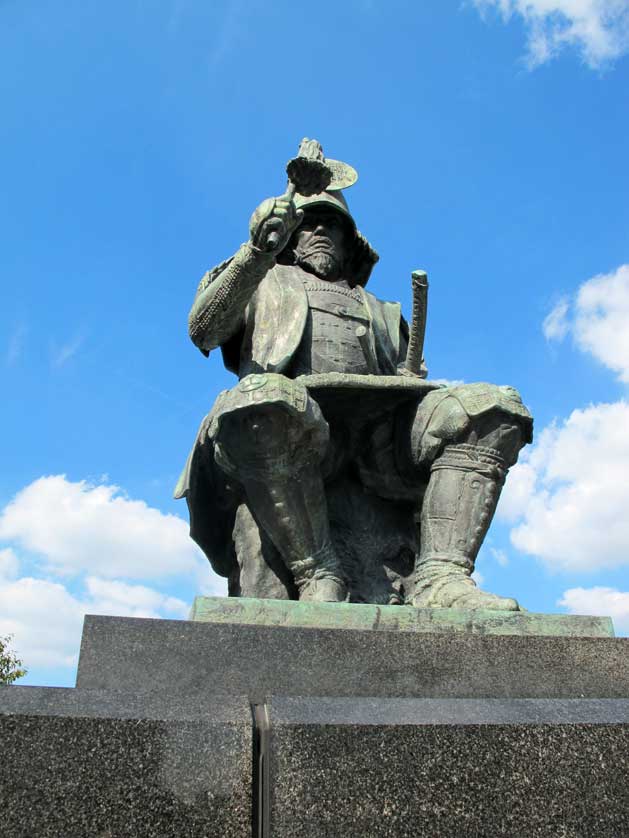 Nagoya Castle, Nagoya, Aichi Prefecture.
Aichi Festivals
Aichi has a large number of festivals throughout the year. Several of them have a long history such as the processions with floats at the Arimatsu (first Sunday in October) and Inuyama (first weekend of April) matsuri, others are more recent creations such as the Nagoya Festival in October and the various fireworks festivals popular in the area such as the Okazaki Fireworks Festival in early August.
The quirky Tagata Shrine Phallic Festival north of Nagoya takes place on March 15 with the equally bizarre Konomiya Naked Festival taking place in February depending on the lunar calendar.
Other festivals in Aichi include the Anjo City Tanabata Festival in early August.
Access
Air
The nearest international airport serving Aichi is Chubu International Airport (Centrair) south of Nagoya off the western coast of the Chita Peninsula.
Train
The Tokaido shinkansen bullet train connects JR Nagoya Station in Nagoya with Tokyo Station and Kyoto Station. Journey times on the fastest Nozomi trains are 35 minutes to Kyoto and 1 hour, 40 minutes to Tokyo.
Adjacent to JR Nagoya Station are the Nagoya Kintetsu Station and Nagoya Meitetsu Station. Kintetsu trains run to Namba Station in Osaka and also to the Ise Shima region of Mie Prefecture. Meitetsu trains connect Nagoya with Okazaki, Toyota and Toyohashi and many places in the greater Nagoya conurbation.
Bus
There are regular express highway buses from JR Nagoya Station and Meitetsu Bus Station to many places throughout Japan.
There are overnight buses from .agoya to Shinjuku Bus Station (Busta Shinjuku), Kawasaki Station, Ikebukuro, Tokyo Disney Resort, Yokohama and Omiya Station in the greater Tokyo area as well as daytime services to Tokyo, Kyoto, Nara, Fukui, Toyama and various destinations in Shikoku. There is an overnight JR bus to Matsue and Izumo in Shikoku.
Meitetsu runs buses to Shirakawa-go, Gero Onsen, Gujo Hachiman, Fukuoka, Fuji Five Lakes, Iida, Ina, Kamikochi, Kanazawa, Kobe, Kochi, Kumamoto, Matsumoto, Matsuyama, Niigata, Nagasaki, Takamatsu, Takayama, Tokushima and as far afield as Utsunomiya in Tochigi and Sendai in Miyagi.
*See www.meitetsu-bus.co.jp for further details (In Japanese).
Car
The main highways running through Aichi include National Highway 1 - the old Tokaido, Chuo Expressway, Ise Bayside Expressway, Meishin Expressway, Higashi Meihan Expressway, .agoya Expressway,
Tokai-Hokuriku Expressway and the Tomei Expressway.
Ferry
There are ferries from Nagoya Port to Sendai and then on to Tomakomai in Hokkaido. Take the Aonami Line to Noseki Station from Nagoya Station and then a local bus 7 minutes to the port.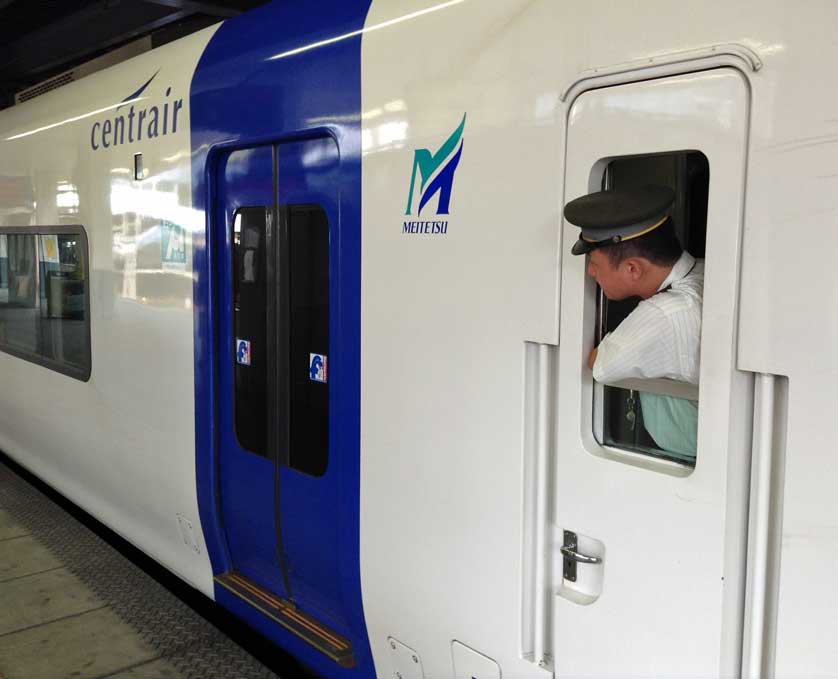 Meitetsu Airport Rapid Limited Express μ-SKY at Chubu International Airport south of Nagoya
Book Hotel Accommodation in Aichi Prefecture
All the themes of the city