Kyushu Guide
The Kyushu region consists of the third largest island in Japan and the most south westerly of the four main Japanese islands.
Japan's Regions: Kyushu 九州
The Kyushu region consists of the third largest island in Japan and the most south westerly of the four main islands. Administratively and politically Kyushu also includes Okinawa Prefecture.
Kyushu includes the seven prefectures of the island of Kyushu plus Okinawa: Fukuoka Prefecture, Kumamoto Prefecture, Nagasaki Prefecture, Oita Prefecture, Saga Prefecture, Kagoshima Prefecture, Miyazaki Prefecture and Okinawa Prefecture.
Kyushu, because of its location near the Asian continent, was long a conduit for the transmission of ideas, goods and people between mainly China and Korea and Japan.
The region is marked by short winters with hot, almost sub-tropical temperatures in the southern prefectures of Miyazaki and Kagoshima, in summer.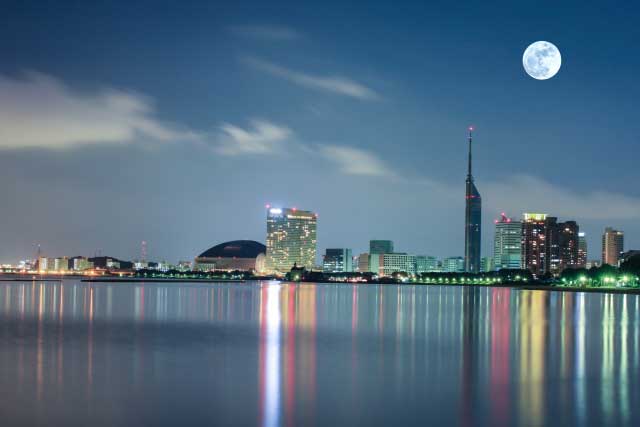 Fukuoka, Kyushu, Japan
The Kyushu region's early history is dominated by its relative proximity to the Asian mainland.
Dazaifu was once the seat of Yamato government for Kyushu back in the seventh and eighth centuries when the town was a center of defense from and trade with nearby Korea and China.
Later with the arrival of the first Europeans in the mid-16th century (Portuguese aboard a Chinese vessel run aground in Tanegashima), Hirado and then Dejima in Nagasaki became centers of trade with the outside world through European (later exclusively Dutch) and Chinese merchants.
Kyushu is separated from Honshu by the narrow Kanmon Straits which are crossed by both the the Kanmon Tunnels and the Kanmon Bridge from Kitakyushu in Kyushu over to Shimonoseki in Honshu. Car and passenger ferries also make the short journey across the straits.
Kyushu's main towns and places of interest are:
Fukuoka - Fukuoka is Kyushu's main city with impressive modern architecture.
Oita & Beppu - on the north east coast are famous for their hot springs.
Dazaifu - is now an historic temple town 15km south east of Fukuoka.
Kirishima - the Kirishima volcanic chain provides a scenic hiking area, where it is possible to view crater lakes and a wide array of flora.
Kumamoto - Kumamoto is a pleasant, medium-sized city on the west coast of Kyushu.
Nagasaki - Nagasaki is a small, hilly, port city on the west coast of Kyushu with a long history of interaction with the West. Nagasaki was the second city in Japan after Hiroshima to be atom bombed at the end of World War II.
Sakurajima - one of the world's most active volcanoes.
Mt Aso Caldera - Mount Aso is a 1,592 meter active volcano in Aso Kuju National Park.
Himeshima - Himeshima (Himejima) is a tiny island just off the north east corner of Kyushu on the Kunisaki Peninsula.
Yanagawa - Yanagawa is known primarily for its hundreds of kilometers of canals, and this is what pulls in the tourists.
Yunohira - Yunohira is a tiny mountain hot spring village in Oita Prefecture.
Kannawa - Kannawa is one of the most famous onsen districts of Beppu.
Yufuin - Yufuin is a small onsen town of around 36,000 people nestled in the picturesque valley below Mount Yufu-dake near Beppu.
Takachiho - Takachiho, in Miyazaki Prefecture, is known for the beauty of its river gorge and its associations with the Amaterasu legend of Japan's mythical foundation.
Hirado - Hirado Island off the north west coast of Nagasaki Prefecture is a beautiful and historic location full of interesting museums, Christian churches, white sandy beaches and an imposing castle.
Huis Ten Bosch - Huis Ten Bosch ("house in the woods") is an impressive and expansive theme park and makes for an excellent day-trip or overnight stay in one of its luxury hotels.
Shimabara & Mt Unzen - the active volcanoes of Unzen (雲仙) dominate the center of the peninsula and the massive peaks of the volcano: Fugendake (1,359m) and Heisei Shinzan (1,486m) are clearly visible from most of the peninsula.
Kunisaki Peninsula - Kunisaki is known for its stone-carved Buddha images scattered around the peninsula, many of them near Usuki and a number of ancient temples and shrines.
Kagoshima - Kagoshima is the prefectural capital city of Kagoshima Prefecture and the largest city in the southern part of Kyushu, with a population of over 600,000 inhabitants.
Kokura - Kokura has reinvented itself as the commercial, entertainment, and transportation center of Kitakyushu.
Miyazaki - Miyazaki is the prefectural capital city of Miyazaki Prefecture on the south east coast of Kyushu.
Space World, Yahata - Space World is a major amusement park in the Yahata district of the city of Kitakyushu, Fukuoka prefecture, built around the theme of space.
Moji-ko Port Kitakyushu - Moji Port is a port in the city of Kitakyushu, in Fukuoka prefecture, and is strategically located at the narrowest point of the Kanmon Straits that separate Kyushu - the island it is on - from the main island of Honshu.
Nakatsu - Nakatsu in Oita Prefecture, is known for its castle and as the birthplace of Fukuzawa Yukichi.
Yabakei Gorge - the Yabakei Gorge is an area of outstanding natural scenery south of the town of Nakatsu.
Oka Castle Taketa - the folk song Kojo no Tsuki (The Moon over the Ruined Castle) was inspired by Oka Castle.
Chiran - home to a preserved area of samurai houses and a museum dedicated to the kamikaze pilots of World War II.
Hiji - Hiji is home to a ruined castle and garden by Sesshu in Sho'oku-ji Temple.
Usa - Usa is most famous for Usa Jingu, a major Shinto shrine that is the head of 80,000 other Hachiman shrines throughout the country.
Lake Shitaka - Lake Shitaka (Shitakako in Japanese) is a popular destination for day trippers who like to walk around the lake.
Usuki - Usuki is a former castle town and most famous for its collection of stone Buddha carvings, almost 60 of which are classified as National Treasures.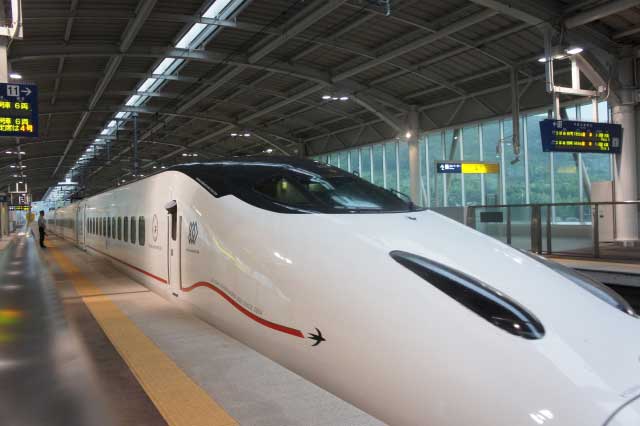 Kyushu Shinkansen, Japan
Kyushu Access
Air
Fukuoka Airport is a major international airport and there are regional airports in Kagoshima, Kitakyushu, Oita, Kumamoto, Miyazaki and Nagasaki.
Ferry
There are a number of ferry services operating to and from various ports in Kyushu.
Osaka - Kobe - Beppu
Osaka - Shibushi
Osaka - Kitakyushu
Train
The Kyushu shinkansen runs between Hakata Station and Kagoshima Chuo Station. This makes Kagoshima directly accessible from Osaka (which connects eastwards to Tokyo).
Bus
All large cities in Kyushu and even many small towns will have at least one highway bus connection with Osaka and Tokyo per day with the larger towns having both daytime and overnight buses. Journey time from Tokyo to Hakata overnight is around 15 hours by bus.
Kyushu Map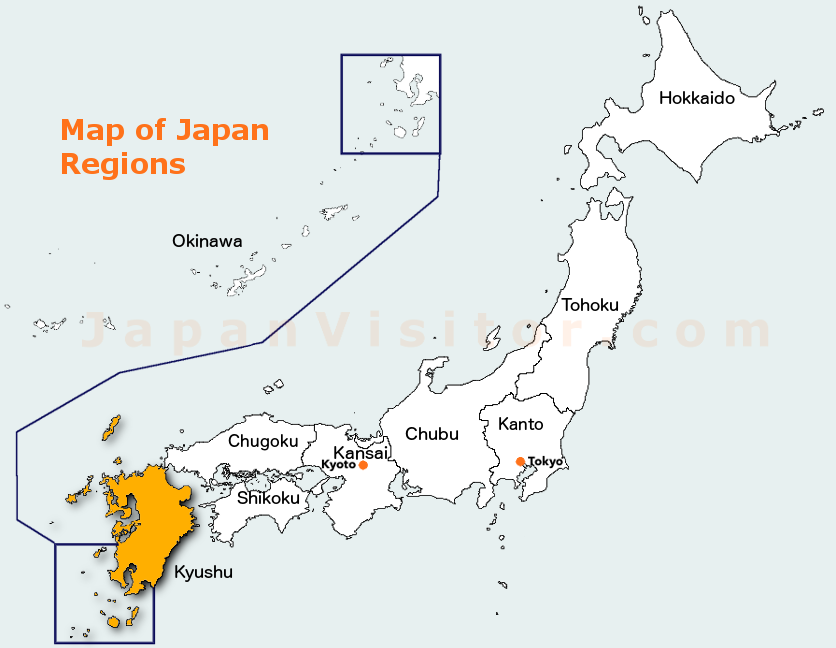 Book Hotel Accommodation in Kyushu Japan
All the themes of the city