The Wajima-nuri Lacquerware Museum
輪島塗会館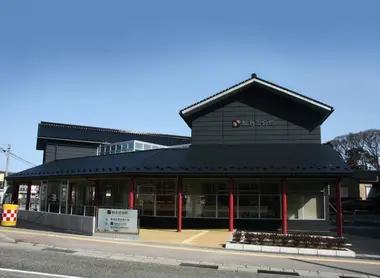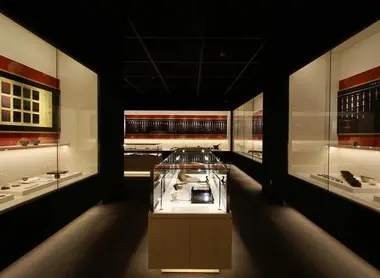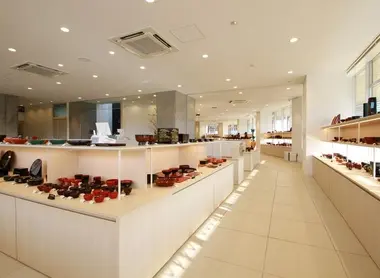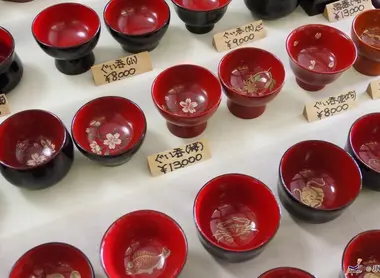 Beauty and robustness
The port city of Wajima in Ishikawa prefecture has established itself as the center of production of very high quality lacquerware; the wajima-nuri. Enter the museum dedicated to them.
Put Wajima back in the spotlight
If you mention wajima-nuri lacquers in the archipelago, you will only hear about them a plethora of compliments to underline their unfailing solidity, their deep luster, their beauty and their brilliance . Exceptional old pieces also adorn the windows of the largest Japanese museums because during the Edo period (1603-1868), itinerant merchants transited through Wajima, a port of call located on a major maritime trade route and participated in the spread of wajima-nuri lacquer throughout the country.
Noting this, the collector Hoshino Jonosuke, at the beginning of the 1970s, argued with the local authorities that Wajima must also be able to promote its emblematic craftsmanship and thus have its museum. The establishment, which opened in 1971, was designated an Important Material Cultural Property six years later with regard to the quality and uniqueness of the wajima-nuri lacquerware. It consists of an exhibition space accessible for 300 yen (2€30) and a vast showroom with free access where you can buy your bowl, your chopsticks or your tray among the thousands of pieces on offer. The museum space highlights craftsmanship deeply rooted in the land of Wajima and the Noto peninsula.
To read: A day on the Noto Peninsula
Wajima's Gift of Nature
The particularity of the wajima-nuri lies in their robustness which gives them the application of an undercoat made from a mixture of rice glue, urushi and powdered diatomaceous earth or ji-no-ko . This silicon dioxide powder is mined from natural quarries in Ishikawa Prefecture . The ji-no-ko combined with the urushi is the secret of the wajima-nuri. This mixture is then applied to the locally sourced wood substrates which have been left to dry for 3 to 5 years. The shape of the future object determines the type of wood used (cypress, zelkova). The nuno-kise technique also makes it possible to consolidate the lacquers by applying small pieces of fabric to the most fragile and finest places.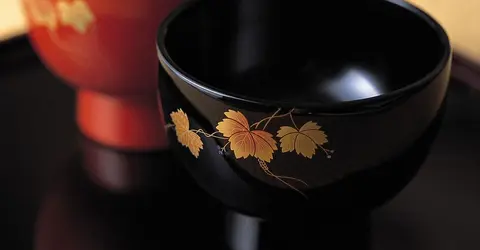 The search for excellence
Although the existence of wajima-nuri is attested since the Muromachi period (1333-1573) , the current technique dates from the beginning of the Edo period. It is through perseverance that the skilled craftsmen of Wajima have perfected their know-how over the centuries. This manufacturing method called hon-kataji has a total of 124 steps carried out by dozens of different craftsmen! The role of the nushiya is to supervise the entire process of making and decorating up to the marketing and delivery of the lacquers. This supervising craftsman ensures the quality requirement and compliance with the production criteria imposed by the law on the promotion of traditional craft industries.
See also: Urushi, Japanese lacquer
---
Address, timetable & access
Address

Phone

+81-(0)768-22-2155

Timetable

From the Furatto Hômu bus station (former Wajima station), take the local bus and get off at the "Chuô-dôri Man-naka Shôten-gai" stop.

Price

Adult: 300 yen. High school students: 200 yen. Middle school students: 100 yen. Free for children.

Access

Open daily from 8:30 a.m. to 5 p.m.

Website

http://www.wajimanuri.or.jp
All the themes of the city