Edo Castle
Edo Castle: read a guide to Edo Castle in Tokyo. Edo Castle is now the Imperial Palace, home to the Japanese Emperor.
Edo Castle 江戸城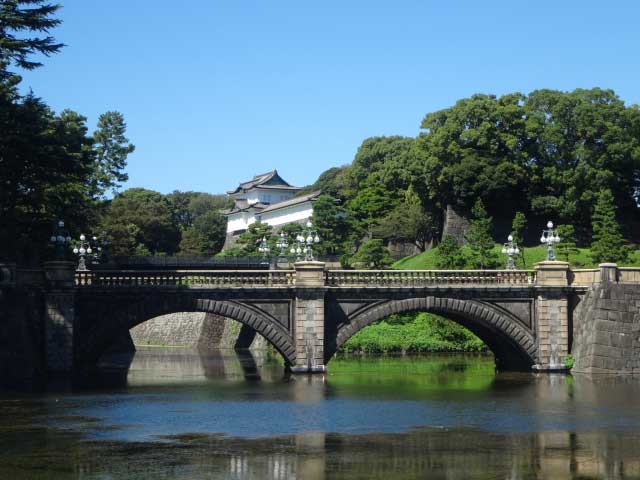 Edo Castle, Seimon Ishibashi bridge and moat
Edo Castle, also known as Chiyoda Castle was first built in 1457 by Ota Dokan and parts of the castle area are now the grounds of the Imperial Palace.
The original Edo Castle covered a larger area than today and included present-day Tokyo Station and the Marunouchi district - area within the maru (bailey).
The pleasant castle grounds, impressive walls and moats of Edo Castle now contain Higashi Gyoen Park and Kitanomaru-Koen Park as well as the Imperial Palace.
The Nippon Budokan, the Science Museum Tokyo (not to be confused with the National Museum of Nature and Science Tokyo in Ueno Park), the National Museum Of Modern Art Tokyo (MOMAT) and the MOMAT Crafts Gallery are all located in Kitanomaru Park.
Higashi Gyoen contains Fujimi-yagura, a three-story watch tower built in 1659 to protect the southern side of the main keep.
The main gate to Edo Castle, Ote-mon, also still survives along with the stone foundations of the original donjon. Hirakawa-mon also survives and was the main gate to the Sannomaru (the third bailey) of Edo Castle.
The tatsumi-yagura (巽櫓), aka sakurada-yagura (桜田櫓), is a surviving turret at the eastern corner of the Sannomaru.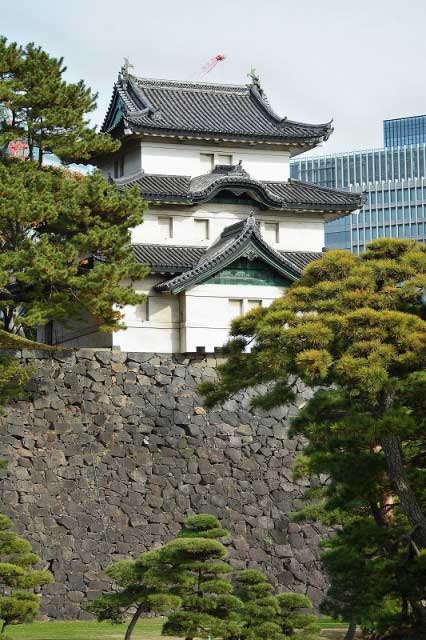 Fujimi Yagura, Edo Castle & Walls, Tokyo, Japan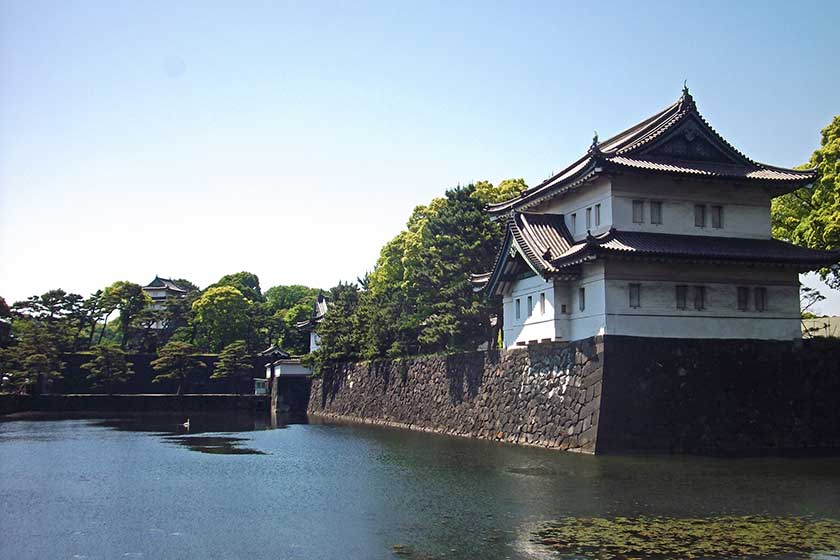 Tatsumi-yagura at Kikyo-bori moat, Edo Castle, Tokyo, Japan
The original Edo Castle came under the control of warlord Tokugawa Ieyasu in 1590 and after his victory at the Battle of Sekigahara, Edo Castle became the center of the Tokugawa regime. Edo Castle grew in size over the following years and had a perimeter of 16 km by 1636.
Altogether there were nine gates: Hanzomon,  Hirakawamon, Inuimon, Kita-hanebashimon, Kikyomon, Otemon, Sakashitamon, Sakuradamon and Seimon.
The inner donjon (keep) was destroyed by fire in 1657 and was not rebuilt. After the restoration of imperial power in 1868, the castle became the new Imperial Palace but many of the castle's original buildings were burnt down in another fire in 1873.
Access To Edo Castle
From JR Tokyo Station, the grounds of the castle are a short walk west through the Marunouchi district via such attractions as Naka Dori, Tokyo International Forum and Brick Square Marunouchi and the Ichigokan Museum. This will bring you to the wide Babasaki Moat of Edo Castle.
The nearest station to Kitanonomaru-koen is Kudanshita subway station on the Toei Shinjuku, Hanzomon and Tozai lines.
Google Map to Edo Castle and Imperial Palace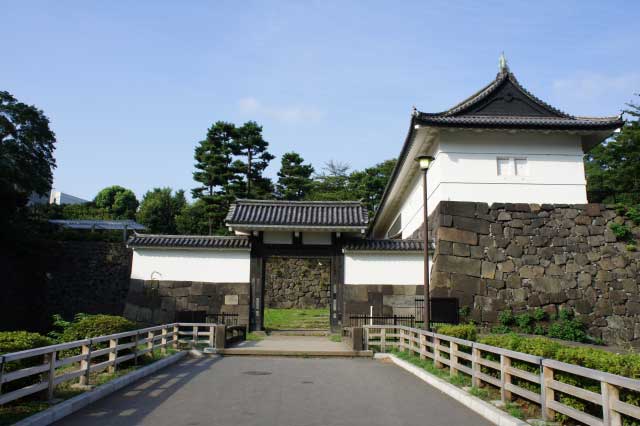 Edo Castle, Tokyo, Japan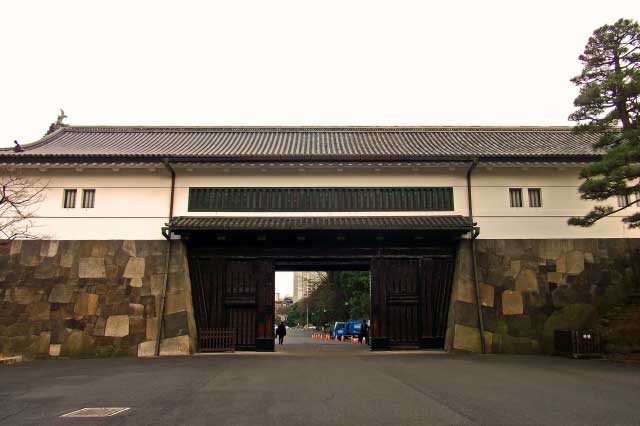 Sakuradamon (the site of the assassination of Ii Naosuke in 1860), Edo Castle, Tokyo, Japan
Read more about Japanese Castles
Book Hotel Accommodation in Tokyo Near Edo Castle
All the themes of the city