Ebisu Yokocho
恵比寿横丁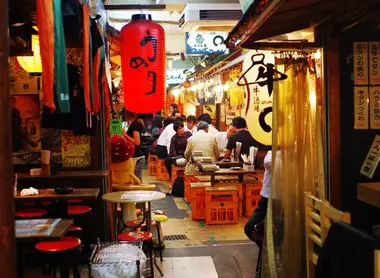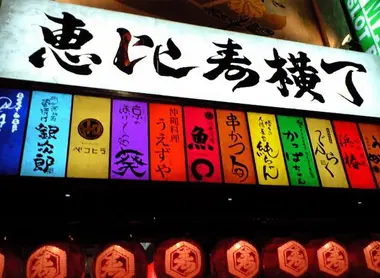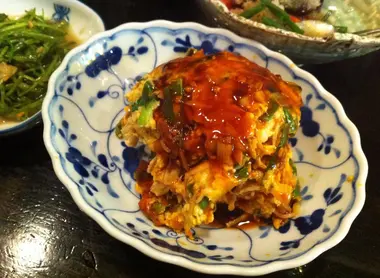 The Taste of Others <br>
Once through the sliding, tinted plastic door, it's a myriad of smells, colors and sounds that instantly awaken the senses. This passage delight fans of Japanese cuisine while offering the quaint charm of a big canteen.
On the left is an alcove where some raised seats surround a bar decorated with plants and fruit. On the right, a mini bar where a Mama san and a young employee are busy making onigiri (a rice sandwich wrapped in dried seaweed and stuffed with various foods) while they watch over  fish on the grill.
These small restaurants all serve exclusively Japanese cuisine, some offer specialties such as fish, sashimi (raw fish slices), okonomiyaki (pancakes with eggs and cabbage filled with cheese, vegetables and sometimes meat or seafood) or tempura (vegetable or prawn fritters).
Sit where there is room and be surprised! It is not very expensive, the atmosphere is cheerful and relaxed. Salarymen (Japanese white-collar workers), leaving work, come for a bite to eat and to drink a few beers with colleagues or friends. Others celebrate a birthday. A couple share a no frills hot potato stuffed with fish eggs and sprinkled with cheese.
Time goes by, and the dishes too. Tip: choose the restaurant to the left, near the toilets, the one with a wooden bench running around the bar and tables with chairs made from crates. It offers both classics such as potato salad, fried tofu, grilled fish and grilled pork cutlets, as well as more original specialties such as the sea urchin salad or yakisoba (fried noodles ). Whichever you choose, all of these eateries have their charm!
---
Address, timetable & access
All the themes of the city