Kumano Hongu Taisha
熊野本宮大社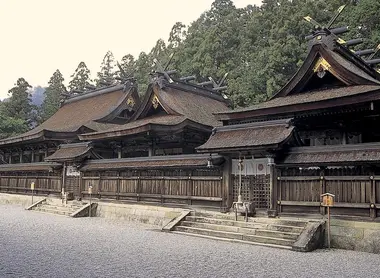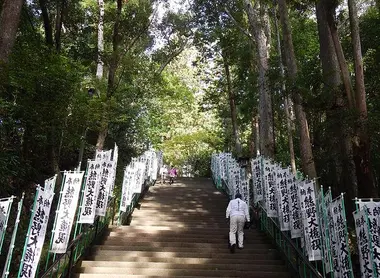 Mystical steps
Isolated in a dense cedar forest in the center of the regional Pilgrimage route network, Hongu shrine commands respect.
To reach it, you will need to climb a carved out staircase used by tens of thousands of pilgrims since ancient times, which leads to the largest of the three sacred shrines of Kumano. For here the sun goddess is honored Amaterasu, head of the Shinto gods, and mythical founder of the Japanese imperial lineage.
Unlike the vermilion pavilions of Hayatama shrine (in Shingu) or the pagoda in Nachi, the Kumano Hongu Taisha is an austere building, made of raw wood with a thatched roof, typical of the early days of Shintoism.
You can then resume your Kumano pilgrimage route (information and maps are available at the tourist office opposite the shrine) to Nachi waterfall or Mount Koya. Or walk to Hossinmon-oji (via Nakahechi road, 2 hours of walking, a bus connects the two sites), where you will find one of the most impressive torii (a wooden gate that always marks the entrance to a sacred Shinto space) in Japan: it is here that Hongu Taisha buildings used to be situated, before the site was flooded at the end of the nineteenth century.
---
Address, timetable & access
All the themes of the city