Karafuneya Coffee
からふね屋珈琲店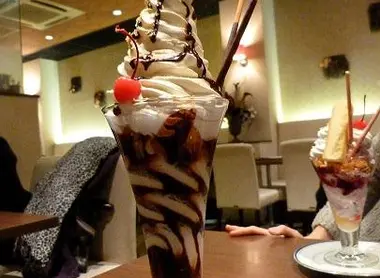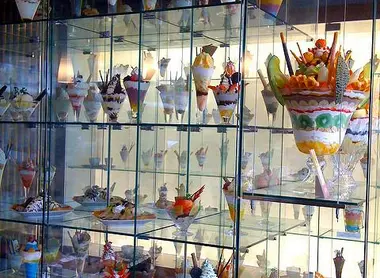 Parfait paradise
The parfait, or ice cream sundae, a popular dessert in Japan, reaches new heights and comes in incredible flavor combinations at this Kyoto cafe.
In Kyoto, Karafuneya Coffee specializes in making one popular type of Japanese dessert, the parfait (パフェ), or ice cream sundae.
Sumptuous sundaes
You won't be able to miss Karafuneya Coffee while walking along this Kyoto shopping street: your eye will inevitably be drawn to the huge windows at the entrance of the cafe which contain dozens, even a hundred plastic reproductions of a small selection of the incredible ice cream desserts on offer.
Read : Kakigori, traditional shaved ice
The cafe offers an (extremely long) menu in English, full of ice cream sundaes of all kinds, from matcha through chocolate, vanilla, even sweet potato or cheesecake: you will find something to tempt you.
Related : Four amazing Japanese sweets
Salty, sweet
The particularly special feature of the cafe is that it offers sweet/savory parfaits using tempura or kara-age! The unusual combination is a great success!
You can also ogle the plastic reproductions on display of some of the absolutely giant sundaes: the largest one costs 50,000 yen ($460 USD)! It needs to be ordered in advance for special occasions.
Also in Kyoto : Gion Koishi
---
Address, timetable & access
All the themes of the city