Goryokaku park
五稜郭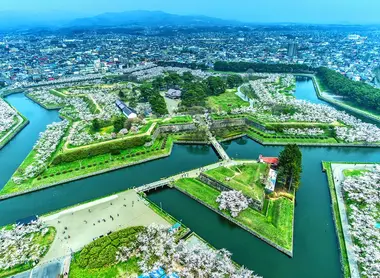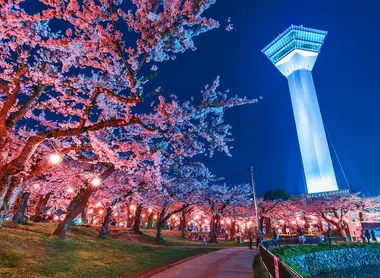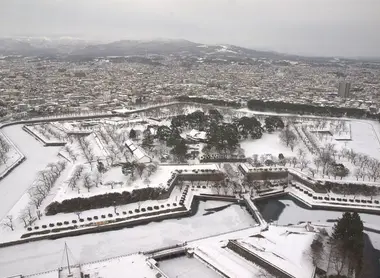 Hokkaido star
Goryokaku is a fortress inspired by Vauban's construction techniques, built in order to establish the power of the shogun in this region.
The fortress of Goryokaku, with its unusual star shape, was built between 1857 to 1866 under the Tokugawa shogunate.
Its history begins in 1854, when the Port of Hakodate opened. This attracted many foreigners to the region: the shogun then decided to establish a fortress, to show them the strength of Japan.
A year later, a French battleship entered the port. A Japanese army expert, Ayasaburo Takeda, met one of the French commanders and learned about European star fort plans: fortresses built in a star shape, to reduce the number of blind spots vulnerable to cannon fire. This was the inspiration behind building the Goryokaku.
The work lasted seven years, and the fortress was finished in 1866. Two years later, in 1868, it was the end of the Edo period.
It is also the vestige of the ephemeral independent Republic of Ezo, a political system set up by the partisans of the shogunate at the time of the Boshin War, which saw them clash with those of the empire.
A final battle broke out between the last supporters of the shogun and those of the new Meiji government. The fortress was damaged during the war.
A park with cherry trees
In 1914, it became Goryokaku Park, and opened to the public. Thousands of cherry trees were planted for the occasion.
Today, 1,600 of these trees remain, which bloom each spring. This fantastic natural spectacle transforms the area, and hundreds of Japanese and tourists flock there every year for hanami.
In the park, Goryokaku Tower allows you to observe the beautiful star shape from above, as well as the entire Hakodate Bay up to the Tsugaru Strait.
---
Address, timetable & access
All the themes of the city