Odaiba Guide



Odaiba, Tokyo. Read a guide about Odaiba, a new Japanese high-tech shopping, restaurant and entertainment area in south-west Tokyo.
Tokyo Area Guide: Odaiba お台場
Odaiba お台場
Odaiba (or Daiba) is a leisure and entertainment area in Koto ward, Tokyo, that covers part of two islands in Tokyo Bay. As a leisure spot, Odaiba has something for everyone, day and night, from sports facilities and stadiums, elaborate shopping malls, museums, concerts, hotels, to great views of Tokyo Bay and Tokyo itself. Odaiba's fun and cutting-edge, yet outdoorsy, vibe makes it popular with the young and dating couples.
Odaiba forms the main part of the "Rinkai metropolitan subcenter" (Rinkai Fukutoshin), one of seven such designated sub-centers in Tokyo.
Odaiba's most prominent link to the rest of Tokyo is the 800 meter (half-mile) long Rainbow Bridge, which can also be crossed on foot.
Odaiba History
Odaiba's name (お台場) comes originally from the gun emplacements built here to protect Tokyo Bay in the Edo Period of Japanese history. Only six of the planned eleven island fortresses were completed in a futile attempt to ward off the return of Commodore Perry and his "Black Ships" in the 1850's. Battery number 6 remains in Tokyo Bay and battery number 3 became Metropolitan Daiba Park in the the 1920s.
In the late 1980's "Bubble Period" of Japan's economy the Tokyo Metropolitan Government began a huge development of the site, but the subsequent economic slump put paid to the original grandiose plans.
Since the late 1990's, Odaiba has made a comeback as a fashionable leisure and shopping area for young Tokyoites.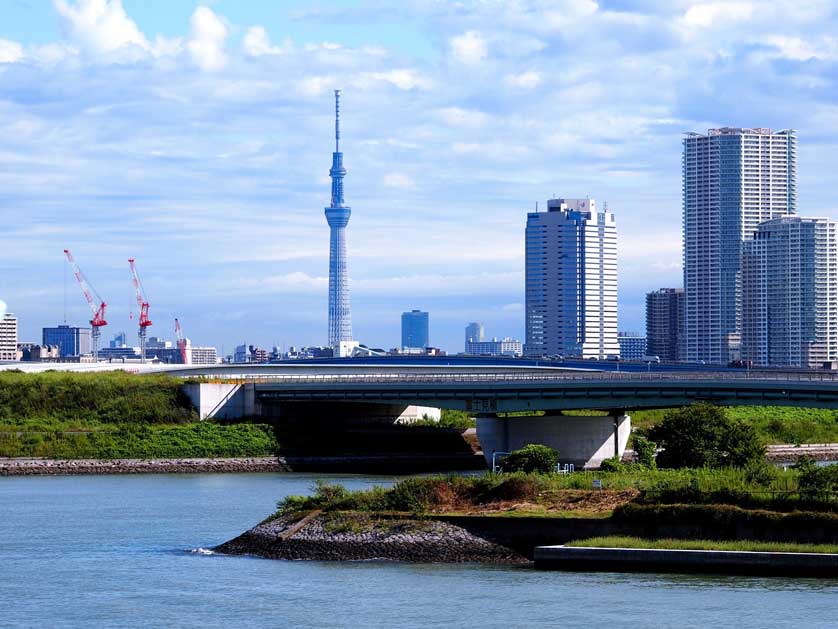 View of Tokyo Skytree from Odaiba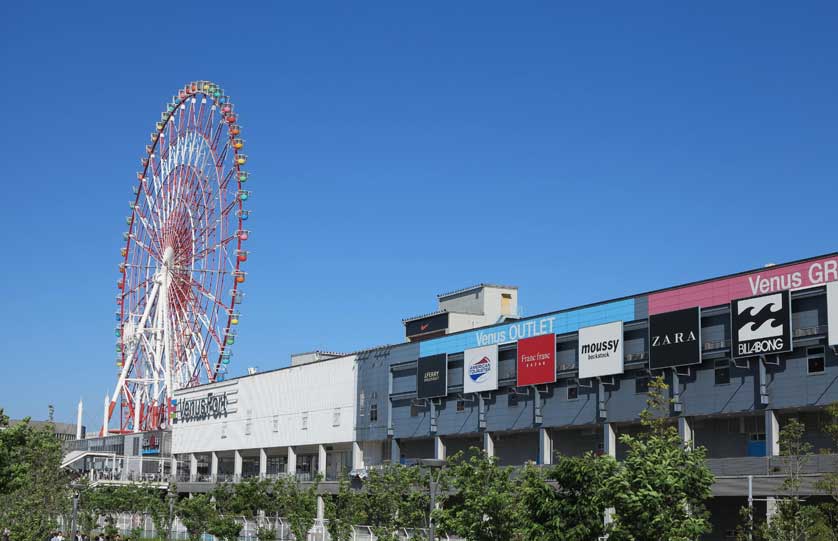 Venus Fort, Odaiba, Tokyo
East Odaiba
Odaiba stretches roughly east-west for about 3 km over part of two islands in Tokyo Bay.
East Odaiba is mainly about exhibitions and sport. East Odaiba is served by Kokusai-Tenjijo Station on the Rinkai Line, and Kokusai-Tenjijo-Seimon, Ariake, and Ariake-Tennis-no-Mori stations on the Yurikamome Line.
Tokyo Big Sight is Japan's biggest exhibition center and hosts events, such as trade fairs, daily throughout the year. The annual Tokyo Anime Fair is held here in March. Tokyo Big Sight is also the venue for the biannual Design Festa.
Tokyo Big Sight is accessible from both Kokusai Tenji-jo Seimon station (Exit 1) on the Yurikamome Line, and Kokusai Tenji-jo station on the Rinkai Line.
The nearby Panasonic Center (03 3599 2600) is a permanent exhibit of the technology of the Osaka-based electronics giant Matsushita. The Panasonic Center showcases cutting-edge electronics (HD TVs, Blu-Ray, DVD etc), eco-homes, product design and includes a Nintendo games center and RiSuPia: "an experience-oriented museum for visitors to experience the fun of science and mathematics." Entrance to the Panasonic Center is free, though there is a 500-yen charge for adults to the RiSuPia "Discovery Field" on the 3F, a hands-on sound and illumination exhibit. Hours: 10 am - 6 pm (last entry to Risupia: 5 pm). Closed Mondays and at year end/New Year. There are other Panasonic Centers in Osaka and Beijing.
Tennis-no-Mori Park is just north of Kokusai-Tenjijo Station and National Highway 357 and has 48 tennis courts that are rentable by the hour (reservation required). Nearby is the huge Ariake Coliseum stadium, with 10,000-capacity and a retractable roof, which hosts sports and music events, including the Japan Open Tennis Tournament in October.
The Tokyo Bay Ariake Washington Hotel and the very slightly more up-market Sunroute Ariake Hotel are reasonably priced hotels for business travelers, just 1 or 2 minutes walk from Ariake Station on the Yurikamome Line or Kokusai Tenji-jo station on the Rinkai Line.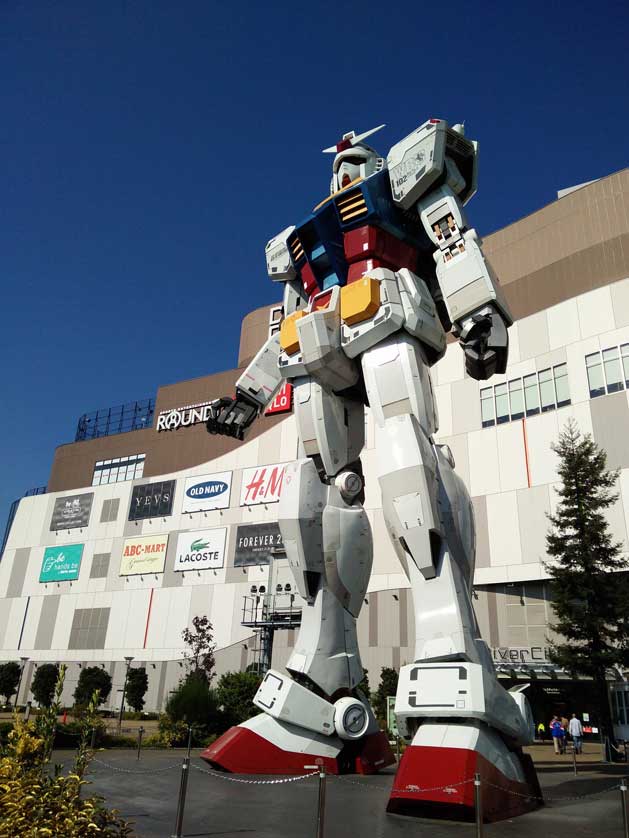 Gundam Statue, Odaiba, Tokyo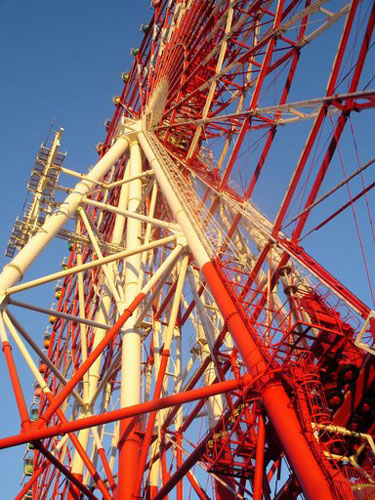 Odaiba Ferris Wheel, Tokyo
West Odaiba
West Odaiba is mainly about shopping, museums and parks. West Odaiba is served by Tokyo Teleport Station on the Rinkai Line, and five stations on the Yurikamome Line: Odaiba-Kaihin-Koen, Daiba, Fune-no-gakuen-kan, Telecom Center, and Aomi stations.
West Odaiba - north side
North of the highway that runs east-west through western Odaiba are shopping malls and parks.
Odaiba Seaside Park stretches along West Odaiba's northern coast, has a constructed beach, as well as a replica of the Statue of Liberty. Odaiba Seaside Park is where Tokyo cruise boats share a pier. Swimming in Tokyo Bay is not recommended.
Fronting the beach are shopping malls. The two biggest malls are Decks Tokyo Beach and Aqua City.
Decks Tokyo Beach
Decks Tokyo Beach includes Legoland, the "Joypolis" mega game arcade, Madame Taussauds, and lots more. Open from 11 am - closing time depends on the store/attraction.
Aqua City
Aqua City is a sprawling, seven-floor complex distinctively colored shades of earthy pink and orange. Aqua City has a food court, two floors of restaurants plus brand shops.
The Disney Store in Aqua City sells Disney merchandise and tickets for the Tokyo Disney Resort® Parks: Tokyo Disneyland and Tokyo DisneySea.
Mediage in Aqua City includes a multiplex cinema, a wedding chapel, the Sony ExploraScience technology museum (admission 500 yen adults, 11 am - 7 pm) and more shops and restaurants. Mediage opens at 11 am. Closing time depends on the store or attraction.
Behind Aqua City is Kenzo Tange's futuristic Fuji TV Building complete with a giant "Hachitama" Spherical Observation Room incorporated into the building on the 25th floor (550 yen) and gift shop. Hours: 10 am to 6 pm. Closed Monday, but open when Monday is a public holiday, in which case closed the next day.
At the westernmost end is the colosseum-like Hilton Tokyo Odaiba with grand views over Tokyo Bay and the Rainbow Bridge.
West Odaiba - south side
DiverCity Tokyo Plaza is on the south of the highway from the Fuji TV Building. DiverCity Tokyo Plaza is a 7-floor shopping and dining complex marked by an 18 meter-tall Gundam figure outside. The DiverCity Tokyo Plaza complex also contains Bandai's Gundam Front Tokyo museum dedicated to all things Gundam including Gundam scale models such as a full scale Core Fighter Ver. GFT "mecha" and a 1/3000 A Baoa Qu Space Fortress. Also on display are original drawings by robot designer Okawara Kunio and animator Yasuhiko Yoshikazu. Another section of the museum contains over 1,000 Gunpla plastic models of robots and battleships. 10 am - 7 pm. Open 365 days.1,200 yen for adults, 1,000 yen for school age on the day (200 yen off if pre-booked). Time limit on weekends and public holidays: 10 am-noon, noon-3 pm, 3 pm-6 pm. No time restriction on weekdays.
Retail outlets at DiverCity include Uniqlo, Zara, Armani Jeans and H&M. Zepp Diver City Tokyo is one of the two Zepp performance spaces in Odaiba, the other being in Palette Town.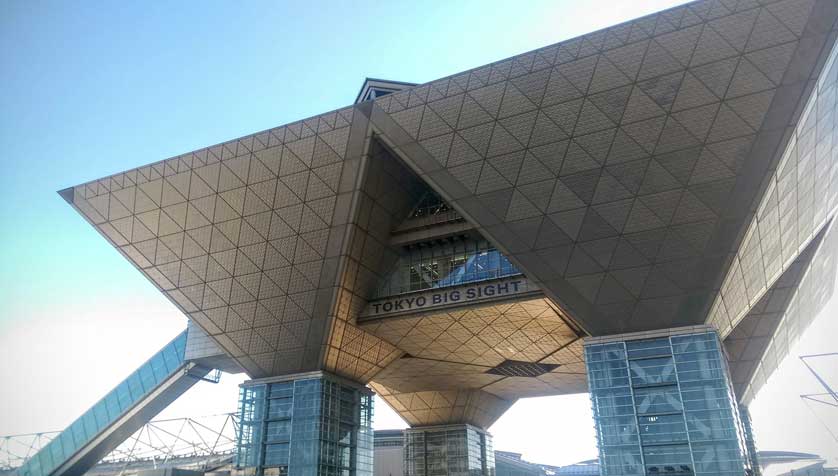 Tokyo Big Sight, Odaiba, Tokyo
Palette Town, nearest Aomi Station on the Yurikamome Line, is four minutes walk south-east of Diver City, across the 1 km-long strip of park that stretches along the west part of Odaiba. Palette Town is home to:
·Venus Fort, a grand, European-themed shopping mall.
·TeamLab Borderless Odaiba is a cutting-edge digital art museum offering an immersive, interactive experience with dozens of different artistic lighting effects and attractions, located right under the Giant Sky Wheel.
·Giant Sky Wheel, a 115 m-diameter Ferris wheel (10 am - 10 pm, until 11 pm on Fri, Sat., public hols., 1,000 yen per person (must be 4 y.o. or over).
·Megaweb, a high-tech 'Look', 'Ride' and 'Feel' car theme park by Toyota (11 am to betw. 6 & 9 pm depending on the section, closed Mon. "Fun Kart Ride" and "Ride Studio" attractions only for those who speak Japanese).
·Zepp Tokyo concert hall.
Museum of Maritime Science
The West Promenade is the end of the long strip of park through this part of Odaiba. Just west of it is the free-entry Museum of Maritime Science with two real ships, the Antarctic exploration vessel, Soya and the ferry Yotei Marine docked outside the cruise-ship shaped museum building. Inside the museum and its grounds are model boats, submarines, a flying boat and two outdoor swimming pools open in summer. The Museum of Maritime Science is accessed directly from Fune-no-gakuen-kan (the Museum's Japanese name) Station on the Yurikamome Line. Free entry. 10 am - 5 pm, closed Mon., but open if Mon. is a national holiday in which case it closes the next day. Closed Dec 28 - Jan 3. (Please note the the main indoor exhibition is currently closed for renovation, but that all other displays are open.)
From the abovementioned West Promendade, a further strip of park lies at a right-angle southward. A 6-minute walk down this southern strip of park brings you to the National Museum of Emerging Science and Innovation (better known as the "Miraikan" locally), a fascinating interactive museum dedicated to robotics, space travel and superconductivity. The Miraikan is open every day 10 am - 5 pm except Tuesday (but open on Tuesday if Tuesday is a national holiday) closed December 28 to January 1. Entry: 620 yen for adults, 210 yen for children.
A 3 minute walk further down the southward strip of park from the Miraikan takes you to Telecom Center Station on the Yurikamome Line. Just beyond it is the imposing Telecom Center, with a 99-meter-high observatory for 500 yen.
Just to the right of Telecom Center Station if you're facing it is the Oedo Onsen Monogatari (Tel: 03 5500 1126), the Odaiba branch of a nationwide chain of hot spring theme parks with various types of baths, footbaths, sandbaths and massages as well as a restaurant and relaxation area, all kitschily themed on Edo Period onsen bathhouses. There are free shuttle buses from Tokyo Station, Shinagawa Station and from Tokyo Teleport Station on the Rinkai Line. 11 am - 9 am (next day), every day. Last entry: 7 am. Standard entry fee for adults: ¥2,480, but off-peak discounts apply.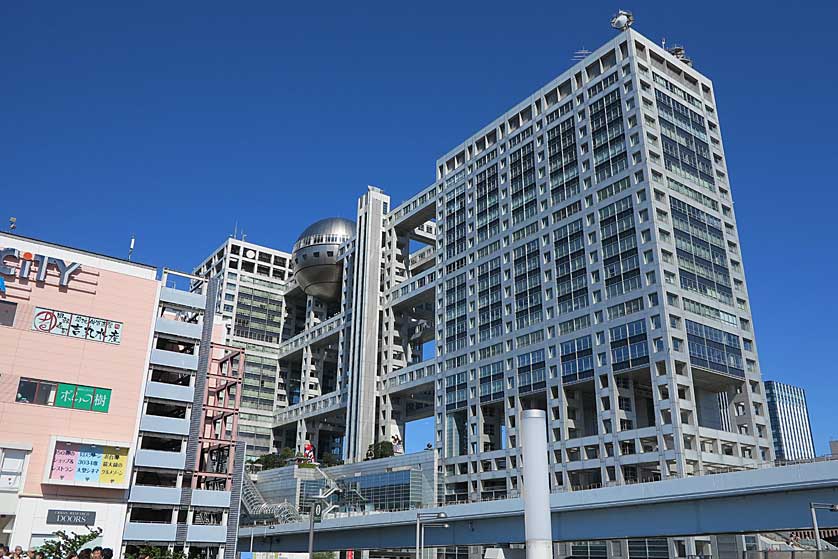 Fuji TV Headquarters, Odaiba, Tokyo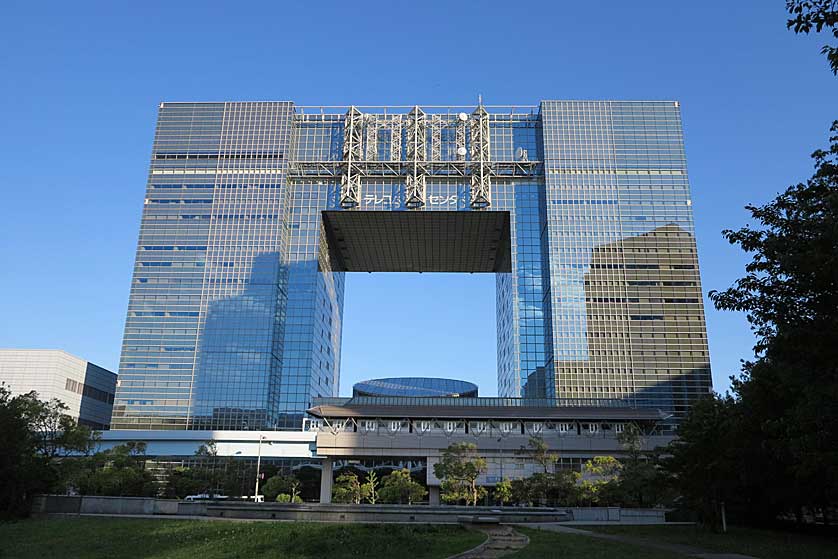 Telecom Center, Odaiba, Tokyo
Cruises
Sightseeing boats stop at Odaiba on cruises up and down the Sumida River, to and from Tokyo Bay. The Tokyo Cruise Line and the Tokyo Mizube Line (or "Tokyo Waterbus") have a pier each in Odaiba Seaside Park (Odaiba Kaihin Koen), near Odaiba Kaihin-Koen Station on the Rinkai Line. Odaiba Seaside Park is distinguished by its Statue of Liberty replica. Read more about Tokyo Sightseeing Cruises.
Odaiba Hotels
Odaiba has a number of hotels, with the following among those recommended: Grand Pacific Le Daiba Hotel, Tokyo Bay Ariake Washington Hotel, Hotel Nikko and Hotel Sunroute Ariake.
Access To Odaiba
Access to Odaiba is by the Rinkai Line to Tokyo Teleport Station (west Odaiba) or Kokusai-Tenjijo Station (east Odaiba), or by the Yurikamome Line to any of the eight Yurikomome Line stations that loop the Odaiba area: Ariake-Tennis-no-Mori, Ariake, Kokusai-Tenjijo-Seimon, Aomi, Telecom Center, Funenokagakukan, Daiba, and Odaiba-Kaihin-Koen stations.
Odaiba is accessible by car or foot across the Tokyo Rainbow Bridge. By foot, from the mainland side, go from Tamachi Station (16 minutes walk to bridge entrance) or Shibaura-futō Station (Yurikamome Line) (5 minutes walk to bridge entrance). From the Odaiba side, go from Odaiba-kaihin-koen Station (Yurikamome Line) (8 minutes) or Tokyo Teleport Station (Rinkai Line) (13 minutes) to the bridge entrance at the very northern end of Odaiba Seaside Park. Tokyo Rainbow Bridge can be crossed on foot 9 am - 9 pm April 1 - October 31, and 10 am - 6 pm November 1 - March 31. The bridge walkway is 1.7 km (1 mile) long.
There are buses from Shinagawa Station or a ferry from Hinode Sanbashi.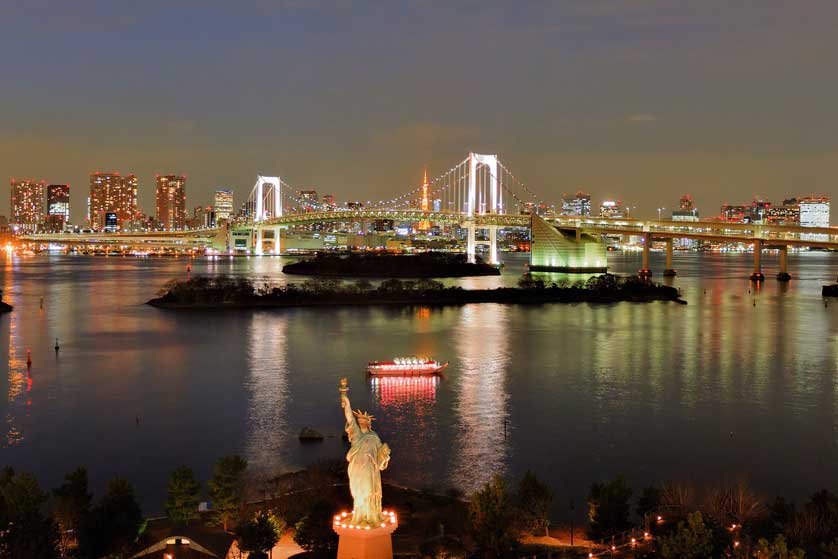 Rainbow Bridge illuminated at night, Odaiba, Tokyo
Book Hotel Accommodation in Odaiba Tokyo
All the themes of the city