Shibuya Shopping
Read about the main shopping attractions in Shibuya, Tokyo's prime youth fashion district.
Tokyo Area Guide: Shibuya Shopping 渋谷 買い物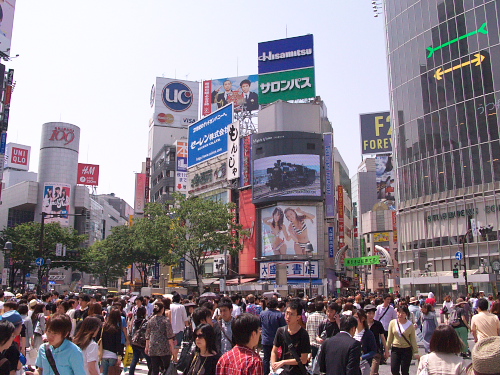 "Shibuya Scramble" intersection in front of Shibuya Station
Shibuya is all about shopping, from the hole-in-the-wall manicure salons for high school girls, to bustling basement food emporiums for their grandmothers.
Take the Hachiko Exit from Shibuya Station. Outside the Hachiko Exit is Hachiko Square, an always-crowded rendezvous spot, with its famous statue of the faithful dog Hachiko after which the exit and square are named.
Most of Shibuya shopping is across the huge intersection, known as the "Shibuya Scramble" for the seething crowds that cross it every couple of minutes when the lights change.
Cross Shibuya Scramble intersection, and the first famous Shibuya shopping spot you encounter is the alley known as Center Gai (pronounced "center guy"), which starts just to the left of the building that has Tsutaya and Starbucks. Center Gai is as good a place as any to start and get a feel for the glam, frenetic, slightly off-the-wall vibe that is Shibuya shopping.
Shibuya Shopping Map
See a map of featured Shibuya stores, with further details on each store listed below.
Main Shibuya shopping attractions
The following are Shibuya's main shopping attractions.
Jinnan
Jinnan is the district up the street just to the right of Center-Gai, i.e. up Fire Street. Jinnan is geographically the closest part of the Shibuya station area to stylish Omotesando, and shares something of that catwalk street fashion vibe. Jinnan's boutiques include high-end second hand fashion, there are lots of hip cafes, and a fun grid of sloping streets to explore and find something wearably unique. Right at the top of Jinnan stops being fashion and starts being the headquarters of Japan's national broadcaster, NHK; and a cluster of sporting facilities, including one of Japan's most stylish stadiums. Read more about Jinnan
Tokyu Toyoko Department Store

There are two Tokyu Department Stores in Shibuya: Tokyu Toyoko Store and the Tokyu Honten Department Store with a free shuttle bus running between them.Tokyu Toyoko Store is by Shibuya Station and has two wings: South and West, interconnected by passageways on the 5th, 6th, and 7th floors.The tax-free shopping counter is on the 5th floor of the West Wing.A shuttle bus departs from near the Tokyu Toyoko store to the East Entrance of the Tokyu Honten Department Store, departing every 10-15 mins from 10am to 8pm. To get to the shuttle bus, turn right at the police box on Hachiko Square and walk a little past where the railway line runs overhead.
Hours: B1 & 1st floors: 11am-8pm, 2nd-rooftop floors: 10am-7pm, 8th floor restaurants: 11am-10.30pm. 2-24-1 Shibuya, Shibuya-ku, Tokyo 150-8319
Tokyu Honten (i.e. "Main") Store

Tokyu Honten (i.e. "Main") Store is just a little west, along Bunkamura-dori. It interconnects with the Bunkamura (literally "Culture Village") complex at the B3, B1, 1st, 2nd, and 8th floors.The tax-free shopping counter is on the B1 floor.Hours: B1 & 1st floors: 10am-8pm, 2nd-7th floors: 11am-7pm, 8th floor restaurants: 11am-10.30pm. 2-24-1 Dogenzaka, Shibuya-ku, Tokyo 150-8019
Bunkamura ("Culture Village")

Bunkamura is a stylish Shibuya landmark that opened in 1989 and has the whole street it is on named after it. Bunkamura is right next to the Tokyu Honten Store and interconnected at the B2, B1, 1st, 3rd, and 6th floors. It features mainly entertainment, with a concert hall, cinemas (Bunkamura is one of the venues for the Tokyo Film Festival held every fall), and event ticket sales, as well as the Bunkamura Museum of Art (B1 floor), a wine salon, and cafes.The tax-free shopping counter is on the B1 floor of the adjoining Tokyu Honten Department store.2-24-1 Dogenzaka, Shibuya-ku, Tokyo 150-8507
Daiso 100-yen store
The Shibuya Center-gai branch of Daiso is one of the smaller branches of the nationwide "100-yen store" Daiso chain. Like every Daiso store in Japan, the two-floor Shibuya Center-gai Daiso is an emporium of implements and knick-knacks for every aspect of everyday living - most for 100 yen (plus consumption tax), but with certain items costing up to about 300 yen. Great for both personal use and souvenirs and, at the very least, fun browsing.
Hours: 10 am - 9 pm
35-2 Udagawacho, Shibuya-ku, Tokyo
Just across from Daiso is Yoshimoto Mugendai Hall where fans of Japanese stand-up comedy can catch motormouthed Japanese comedians do their slapstick thing.
Seibu Department Store

The 10-floor Seibu Department Store is 100m across the road from the Hachiko exit of Shibuya Station. Seibu Department Store consists of an adjacent A and B Wing on either side of Inokashira-dori Street connected on the 3rd and 5th floors.
Most floors of both wings of Seibu Department Store are dedicated to men's and women's clothing. The A Wing 8th floor is all restaurants including Japanese, Chinese and Western choices (11am-11pm). There is a pet shop (10am-8pm) on the rooftop floor of the B Wing.
The tax-free shopping counter is on the 7th floor of the A Wing.
Hours: Sun-Wed 10am-8pm, Thu-Sat 10am-9pm.
21-1 Udagawacho, Shibuya-ku, Tokyo 150-8330
Shibuya Modi

Shibuya Modi is 10 floors covering a wide range of shopping, dining and refreshment opportunities. The 8F is for karaoke, and the 9F all restaurants.Hours 11am-9pm (closes 8.30pm Sun and public holidays) 1-21-3 Jinnan, Shibuya-ku, Tokyo 150-0041
Shibuya Marui

Shibuya Marui is diagonally across the road from Marui Modi, and directly across the road from the Seibu Department Store's B Wing. 8 floors of - you guessed it! - fashion, pretty much all for women. Sportswear floor, too.Hours 11am-9pm (closes 8.30pm Sun and public hols) 1-22-6 Jinnan, Shibuya-ku, Tokyo 150-0041
Shibuya 109

Shibuya 109 is a 9-floor shopping complex planted, bold and glitzy, diagonally across from Shibuya Station packed with about 120 mainly fashion boutiques for the under-30 glamor girl. Store names like "Me Jane," "Baby Shoop," "Pinky Girls, "Honey Bunch," and "Dazzlin'," "Swanky," "Egoist," and "Shagadelic" say it all. 109 is, when said as "ten, nine" in Japanese, pronounced "toh-kyu" - i.e., Tokyu, the company that runs it.Hours 10am-9pm, except 7F restaurants: 11am-10.30pm, 8F restaurants: 11am-11pm. 2-29-1 Dogenzaka, Shibuya-ku, Tokyo 150-0043
Magnet by Shibuya 109

Magnet by Shibuya 109 is the younger sibling of 109 and its chic robo-tech exterior is the first thing you see when you come out of Shibuya Station. Like 109, Magnet by Shibuya 109 has 9 floors of shopping and dining, but the clothing here is exclusively for men. The Mag's Park (11 am-11 pm) rooftop casual dining space provides a good view of the famous "Shibuya Scramble" (Shibuya Ekimae) intersection.Hours 10am-9pm, except the 7F Mag 7 fast food mall and the rooftop Mag's Park restaurant: 11 am - 11 pm.1-23-10 Jinnan, Shibuya-ku, Tokyo 150-0043
Mega Don Quijote
Mega Don Quijote is the huge Shibuya presence of this nationwide chain of discount megamarts. Mega Don Quijote Shibuya is modeled on a traditional department store, with foodstuffs on the B1 floor, but is more fashion- and tourist-oriented than the typical Don Quijote store, with, for example, perfumes, colored contact lenses and souvenirs on the first (ground) floor, lots more fashion-related on the upper floors, and a tax-free shopping counter on the 3F.Open 24 hours, 7 days a week.28-6 Udagawacho, Shibuya-ku, Tokyo 150-0042
Shibuya Mark City

Shibuya Mark City, just west of and attached to, Shibuya Station, is a smart, modern complex with a 25-story East Tower containing the Shibuya Excel Hotel Tokyu and a 23-story office block West Tower. From the B1 to 4th floors is shopping and, on the 4th floor, an excellent selection of restaurants.Shibuya Station on the Keio Inokashira Railway Line is on the second floor of Shibuya Mark City.Store hours are generally 10 am - 9 pm: restaurant hours are 11 am - 11 pm. (Certain stores' hours may differ.)
Limousine buses to Haneda Airport and Narita Airport, and intercity highway buses, leave from the 5th floor of the West Wing, Mon-Sat 9am-8pm, Sun/public hols 9am-6pm, Tel. 03 3476 8018 (not for reservations).
1-12-1 Dogenzaka, Shibuya-ku, Tokyo 150-0043. Tel 03 3780 6503.
Tokyu Hands

Tokyu Hands Shibuya on Inokashira-dori is the head store of the almost thirty Tokyu Hands branches spread throughout Japan. This 8-floor "creative life store" stocks everything from DIY to interior decoration to cycling and outdoor-related to hobbies, crafts and stationery. Tokyu Hands provides tax-free shopping.Hours 10 am-9 pm. 12-18 Udagawacho, Shibuya-ku, Tokyo 150-0042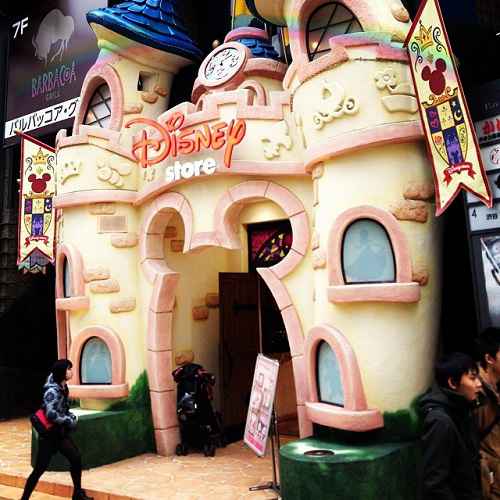 Disney Store, Shibuya
Shibuya Koen Dori Disney Store
Shibuya Koen Dori Disney Store on Shibuya Koen-dori is one of six Disney stores in Tokyo proper. In terms of looks, the Shibuya Disney Store is the one to visit, with its fantasy castle shop front opening directly onto the street. Packed with always new and exciting goods featuring your faithful favorite Disney characters. Also has a ticket counter on the 3F for the Tokyo Disney Resort® Parks: Tokyo Disneyland and Tokyo DisneySea. Hours 10 am-9.30 pm (but till 9 pm for the 3F Ticket Counter). Humax Pavilion Shibuya Koen Dori, 20-15 Udagawa-cho, Shibuya-ku, Tokyo 150-0042 Tel.03 3461 3932
Loft

Loft Shibuya, on Inokashira-dori, is the head store of over fifty Loft branches spread throughout Japan. Loft is similar to Tokyu Hands in being a boutique department store, but perhaps is a little more chic in its youth-orientation. 7 floors with stationery, gifts, accessories, health goods, furniture, interior goods (4-5F), and more.Hours 10am-9pm. 21-1 Udagawacho, Shibuya-ku, Tokyo 150-0042
Parco

The Parco shopping complex, alongside Tokyu Hands, comprises two main buildings: Parco Part 1 (10 floors) and Parco Part 3 (9 floors) both chockablock with mainly fashion-related goods. Logos bookstore on the B1F of Part 1 has foreign books and magazine. Parco Museum on the 3F of Part 1 features arty, often fashion-inspired, exhibitions. Parco Gallery X on the B1 of Part 1 is renowned for anime-related displays. The 7-8F of Part 1 are restaurant floors (11am-midnight), and the 9F is the Parco Theater. The 8F of Part 3 is the Cine Quinto movie theater.Hours 10am-9pm. 15-1 Udagawacho, Shibuya-ku, Tokyo 150-8377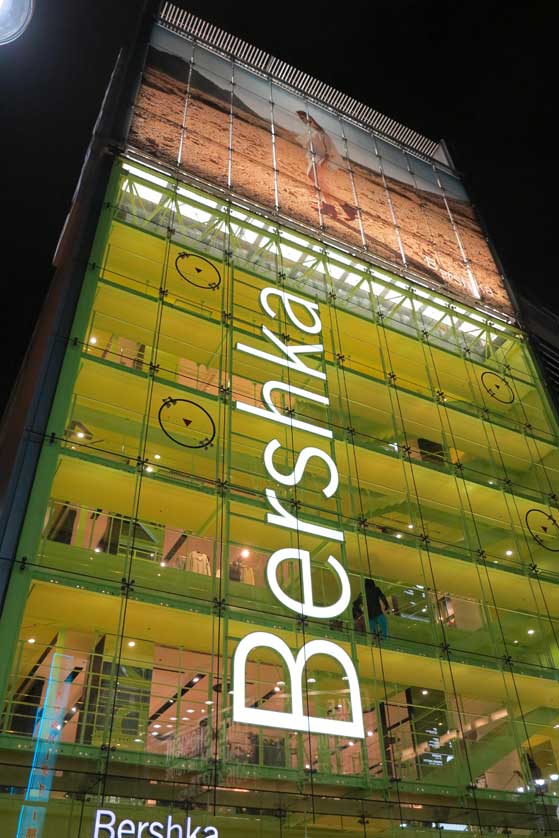 Bershka Zerogate
Zero Gate
Zero Gate is a fashion and dining building just 120 meters away from Parco 1 & 2 down the fashion boutique street known as Supein-zaka ("Spain Slope"). Zero Gate is also part of Parco, and floors 1 to 4 of the building are home to the Bershka fashion brand. Bershka hours: 11am-10pm.16-9 Udagawacho, Shibuya-ku, Tokyo 150-8330.
Shibuya Hikarie
Shibuya Hikarie is probably Shibuya's most visually striking building, 34 floors high just outside the East Exit of Shibuya Station near Aoyama-dori. Shibuya Hikarie is full of trendy, elegant shopping and relaxation opportunities for the professional set. Shibuya Hikarie features a more relaxed pace than the high-powered youth-oriented commerce that dominates the west Shibuya area.Shibuya Hikarie is home to the ShinQs shopping mall run by the Tokyu Department Store company. ShinQs comprises over 200 stores occupying the floors from B3 to 5F, covering food (with a focus on delicatessen and confectionery) (B3 & B2), beauty (B1), fashion (2F, 3F, 4F), and lifestyle (5F). Cafes and restaurants occupy Shibuya Hikarie's 6th and 7th floors. The 8th floor Creative Space is dedicated to art- and exhibition-related. (ShinQs mall's individualized restrooms are already legendary!)The TokyuTheatre Orb cinema complex is on the 11th to 16th floors of Shibuya Hikarie and also includes cafes and restaurants.Shibuya Hikarie has a direct pedestrian connection to the subway and JR lines of Shibuya Station. Shibuya Hikari is accessible from Exit 15 of Shibuya subway station, or the 2F pedestrian walkway from the JR and Keio Inokashira line stations.ShinQs hours: 10 a.m.–9:00 p.m.
Other shops and spaces throughout Shibuya Hikarie have various hours, opening as early as 7:00 a.m. and closing as late as midnight.
2-21-1 Shibuya, Shibuya-ku, Tokyo 150-8510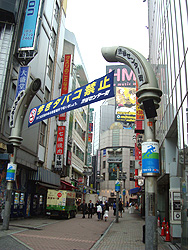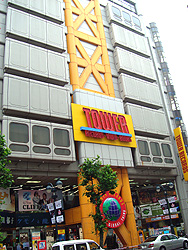 Tax-Free Shopping
Most stores in Shibuya offer tax-free shopping, where the non-resident purchaser can claim back the consumption tax normally added to purchases. Read more about tax-free shopping in Japan.
Near Shibuya
One stop from Shibuya Station on the Tokyu Toyoko Line will take you to Daikanyama, the quiet shopping counterpoint to what is often the Shibuya station area's noise and brash consumerism. One stop west from Shibuya on the Keio Inokashira Line (or a ten-minute walk through Shibuya Mark City from Shibuya Station) is Shinsen, the jumbly heart of Shibuya's hip street alternative scene.
One stop north on the Saikyo or Yamanote lines will bring you to Harajuku, a smaller area, equally intense, but with a less glitzy, somewhat more underground vibe. Running parallel to Harajuku's main street, just minutes' walk from it, is Omotesando, an elegant boulevard with mainly high-end fashion shopping, and connecting them both: Cat Street.
For a full listing of Tokyo Museums & Art Galleries click here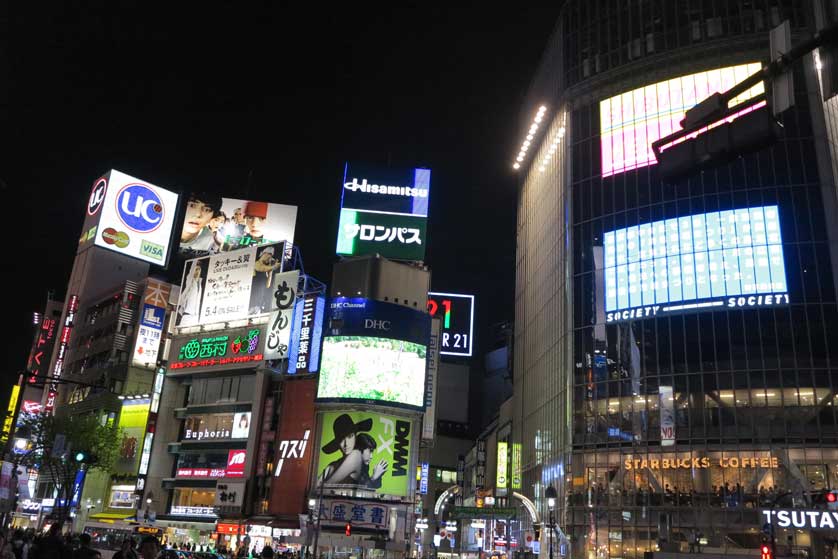 Shibuya by night
Book Hotel Accommodation in Shibuya Tokyo
All the themes of the city