Kawaramachi Catholic Church
Kawaramachi Catholic Church in the center of Kyoto dates from 1967 and is the cathedral for the diocese which includes Kyoto, Nara, Shiga and Mie prefectures.
Kawaramachi Catholic Church カトリック河原町教会
Kawaramachi Catholic Church in Kyoto is located on the main Kawaramachi shopping street just south of Oike Street, Kyoto City Hall and Kyoto Hotel Okura.
History of Kawaramachi Catholic Church
Kawaramachi Catholic Church was first constructed in 1890 during the Meiji Period by Friar Villon, a missionary of the Paris Mission Society, after the edict banning Christianity in Japan was lifted.
The first church was done in wood in a Baroque style. In 1967, however, this historic church was removed to Meiji Mura in Inuyama, Aichi Prefecture and a new church built with modern materials, designed by the Swiss missionary, Friar Freuler, took its place.
The new cathedral is 43 meters long, 15.4 meters long and 24 meters high. The curving roof is influenced by similar roofs of traditional Japanese Shinto shrines.
Much of the interior including the pulpit, the chancel and the floor of the sanctuary is done in marble.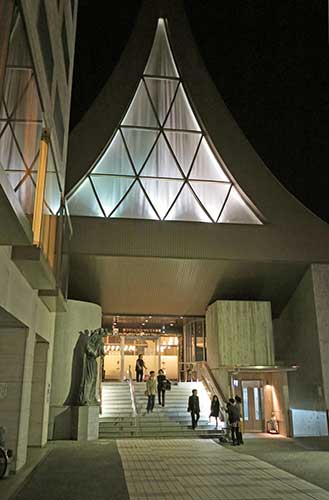 Kawaramachi Catholic Church, Kyoto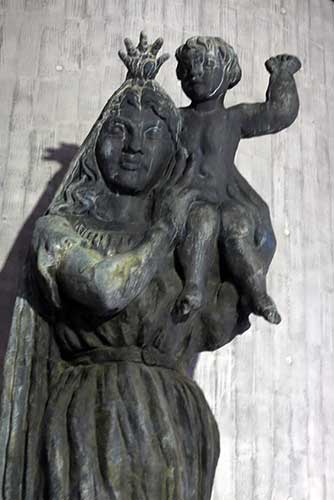 Kawaramachi Catholic Church, Kyoto
The stained glass windows were manufactured by Hans Stockler of Switzerland. They include images of St. Michael, St. Francis Xavier, the 14 Stations of the Cross and the Resurrection. The images are arranged in the shape of the Japanese archipelago with green and purple the dominant colors representing vegetation growing in light and water. Behind the altar is a large stained glass window of the Creation.
The pipe organ comes from Germany and was installed in 1971. It has 1509 pipes and 22 stops.
At the rear of the cathedral is a special space dedicated to the Christian martyrs of Nagasaki, 187 men, women and children who died for their faith during the periodic Hideyoshi Toyotomi and Tokugawa regime crackdowns on Christianity during the late Azuchi-Momoyama Period (1573-1603) and early Edo Period (1603-1868).
The basement of the church includes a small chapel used for weekday masses and religious retreats. An historic bronze statue of the Holy Mother dating from the late 19th century is placed here.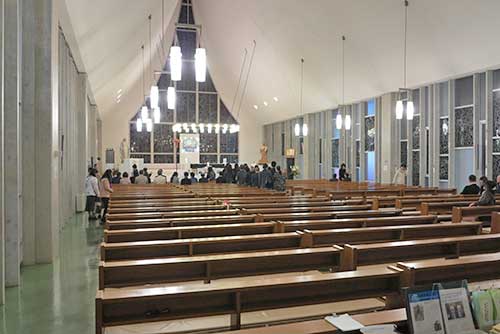 Kawaramachi Catholic Church, Kyoto, showing the Rose Window
Access - Getting to Kawaramachi Catholic Church
Kawaramachi Catholic Church is a short walk south from the Kyoto Shiyakusho subway station on the north-south Karasuma Line of the Kyoto subway.
Kyoto buses that stop near Kawaramachi Catholic Church include the number #4, #5, #17, and #205.
Kawaramachi Catholic Church (catholickawaramachi.kyoto)
Kawaramachi Sanjo-agaruNakagyo-kuKyoto, 604-8006Tel: 075 231 4785
Masses at Kawaramachi Catholic Church are held every Sunday at 7 am, 10.30 am and 12 pm (in English 2nd and 4th Sundays) with masses in Japanese on other days held at 6.30 am and 6.30 pm (except Thursday). Please check the homepage above for confirmation of times.
All the themes of the city