Gion Kyoto
Kyoto Area Guide: Gion 祇園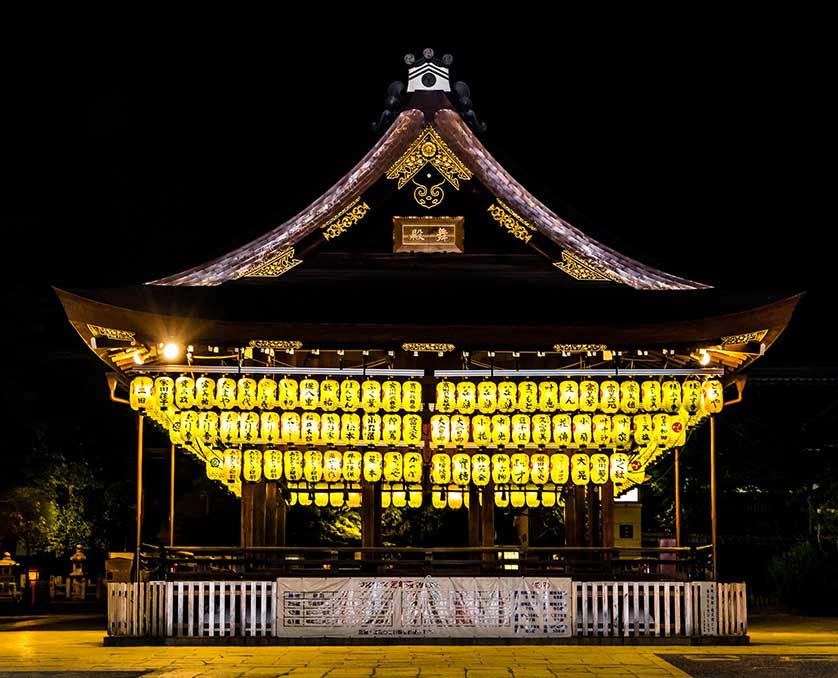 Yasaka Shrine at night, Gion, Kyoto
Gion is the famed area of Kyoto close to and surrounding Yasaka Shrine.
The neighborhood was originally developed to serve the needs of pilgrims to the shrine - mainly inns and restaurants - but ultimately came to be home to the tea houses, geisha, and night culture that have made the name of the neighborhood synonymous with the famous flowers of the night.
Today there are several hundred working geisha in Kyoto.
Though Gion in places is quite beautiful, much of it is like the rest of Kyoto. In particular, the area north of Shijo Dori that contains the hostess bars, "cabarets," and other bars and brothels catering to middle-aged business men is astoundingly gaudy. And you will never find a geisha or maiko here.
In the area near Shirakawa Dori, however, telephone wires have been buried, there are no garish signs, and it looks like what tourists expect to find in Kyoto.
On the other side of Shijo Dori, too, the area near the Gion Kaburenjo Theater (pictured below) - where geisha perform several times a year - has also been well preserved.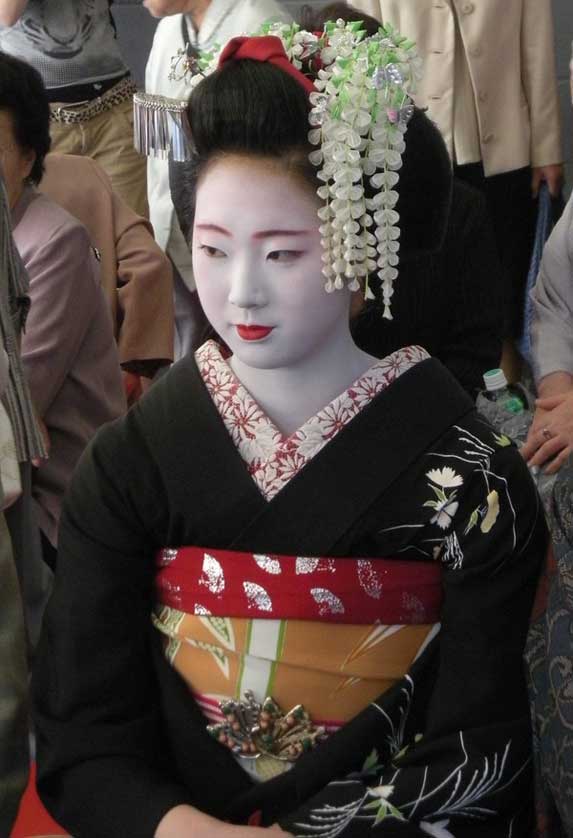 Gion geisha in the Pontocho district of Kyoto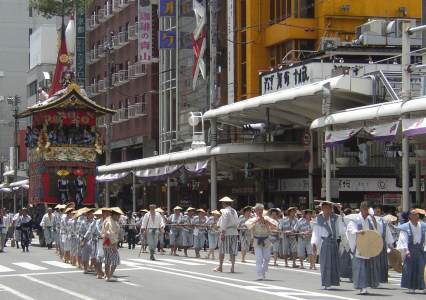 Gion Matsuri procession, Kyoto
Gion Machiya
That is, both areas have the classic Kyoto machiya buildings, and have limited Coke machines and other tasteless elements of modern life.
Though the fortunes of the geisha have declined significantly, and they are perhaps not as exotic and remote as they once were - tourists will never be entertained by one unless they have an introduction and are invited to a tea house (ochaya) where they work.
The women are not sex workers - the word "geisha" literally means "artist person" - and no amount of money or persistence will gain you entry into a tea house.
Of the licensed geisha areas, or hanamachi - Gion, Miyagawa-cho, Kamishichiken, Pontocho, and Shimabara - the only one that caters to the masses is Kamishichiken. It opens a beer garden every summer in the grounds of the large temple in the area. The "garden" is open to the public, and as you drink overpriced beer, geisha from this hanamachi will flit around, stopping at your table briefly. It is a five-minute walk from Kitano Tenmangu Shrine.
If however you are famous or connected and do get into a tea house, what to expect? You will be wined and dined by the geisha, talk to her (if you can understand a rather anitquated form of Kyoto dialect), and get to listen to and watch the women sing and dance.
Depending on how long you stay and how many geisha are there, you will be billed anywhere from 70,000 yen ($700) and up.
If you hope to just catch a glimpse of a geisha, your best bet is to hang around Gion or Pontocho around five or six in the evening. That is when the ladies are en route to their first evening appointments.
Thanks to the mystique of the geisha, Gion has appeared in many novels and films. Mineko Iwasaki, the American geisha Liza Dalby, and Memoirs of a Geisha author Arthur Golden have all documented the area.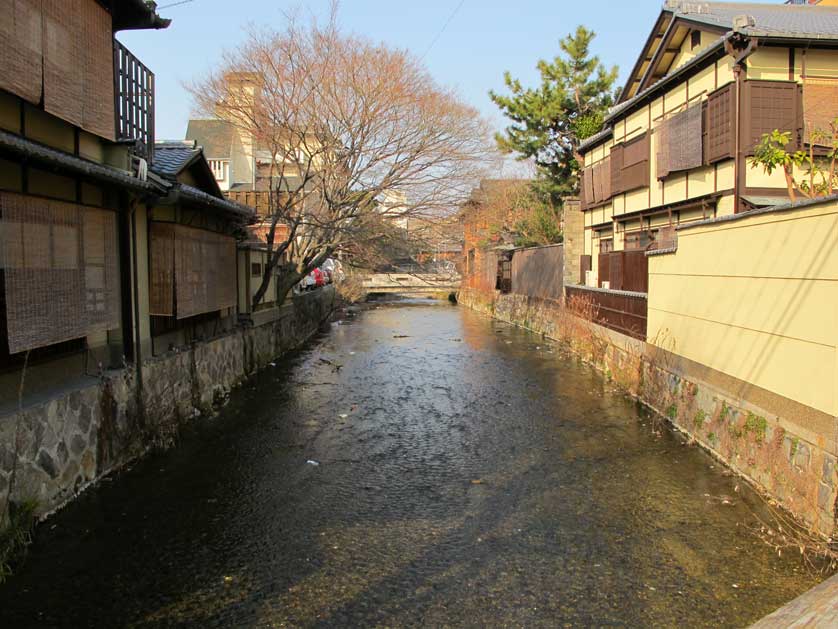 Gion district, Kyoto, Japan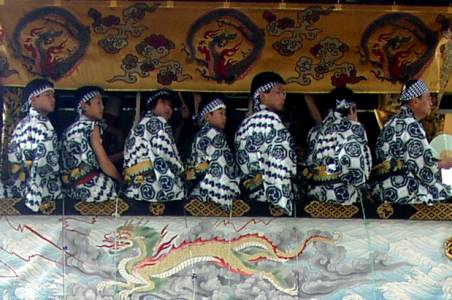 Gion Matsuri float
Gion Theaters
Kabuki theaters moved into the area in the 16th century from the Kamo River banks, where it all began. The Minamiza is the most famous one still in existence and the venue for Kaomise Kabuki in December. The Gion Kobu Kaburenjo features the Gion geisha's annual dances in April. The performances at Gion Corner are a good introduction for tourists to sample a number of Kyoto's traditional arts including kyomai - Kyoto dances - kyogen comic dances and ikebana flower arranging. There are evening performances at 7.40 and 8.40pm from March to November.
Gion Kobu Kaburenjo
Gion Shopping
Gion's main shopping street is on and around Shijo Street from Yasaka Shrine to the Minamiza and the Kamo River to the west. There are a number of exclusive shops selling kimono, kimono accessories, combs, hairbands, bags and traditional shoes and sandals like geta and seta. The Kyoto Craft Center has a wide range of traditional Kyoto items and is a good place to begin.
Hanamikoji Street runs north and south from Shijo at the corner of the exclusive Ichiriki Teahouse and has a number of interesting shops selling antiques as well as more ochaya, up-market eateries and cafes. Shinbashi Street runs east off Hanamikoji and is a beautifully preserved street of wooden ochaya with wooden lattices and bamboo curtains. Tatsumi Daimyo-jin shrine is at the eastern end of Shinbashi and is covered with the name cards (meishi) of hundreds of Gion's geisha, hostesses and bar and restaurant owners hoping for success in business.
The Furumonzen Street area including Shin-Monzen Street and Nawate is known for its many antique shops selling Japanese furniture items such as tansu as well as antique masks, ceramics, folding screens (byobu, samurai armor, lacquerware, dolls, tea sets and inro.
The rest of north-eastern Gion is a maze of narrow, neon-lit karaoke bars, clubs and bars in marked contrast to Shinbashi.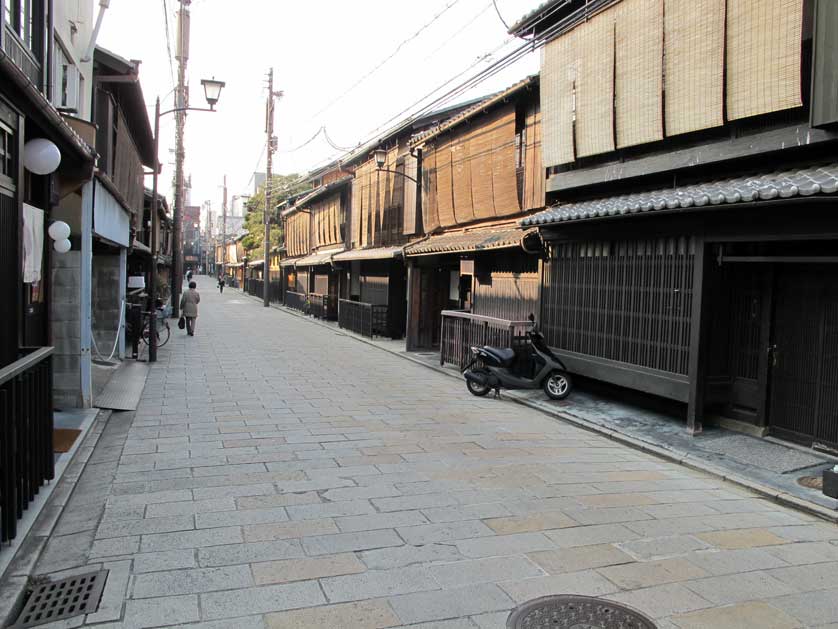 Shinbashi Street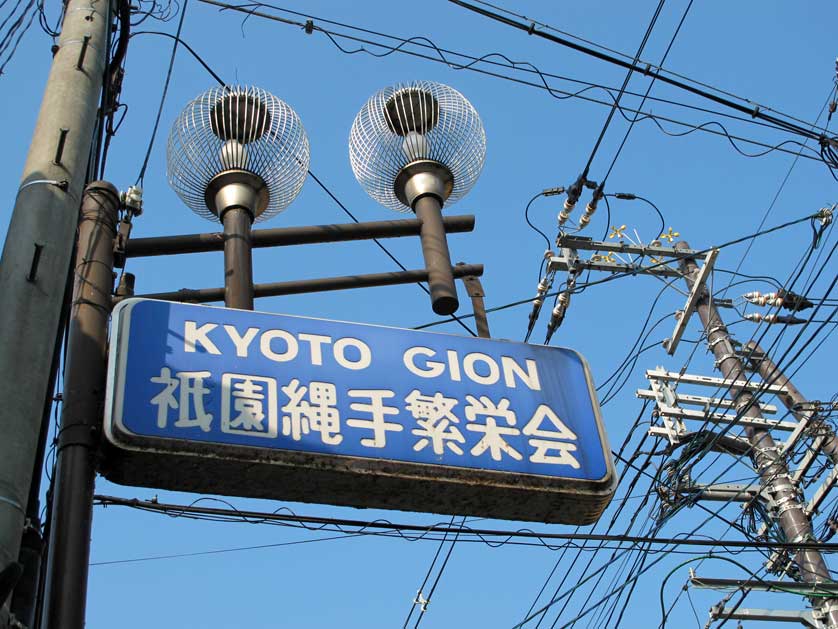 Gion Sign in Shinbashi
Gion Access
From Kyoto Station, take the number 206 bus (220 yen for adults) from bus stop D2.
A taxi will cost about 1500 yen ($15).
The closest train is Keihan Shijo Station. Sanjo Station is also within walking distance.
If you are in the downtown area, Kawaramachi Station on the Hankyu Line is convenient. Exit for Kiyamachi and walk across the Shijo Ohashi (bridge).
Gion Kaburenjo Theater
Gion Hanami-koji, Higashiyama-ku Kyoto
Tel: 075 561 1115
Museums in Kyoto
For a full listing of Kyoto Museums & Art Galleries click here
Gion Map
Book Hotel Accommodation in Gion Kyoto Japan
Gion. Kyoto's Gion is the area of the city most famous for geisha. Gion is one of Kyoto's geisha districts and now a popular tourist location for its famous temples, shrines and traditional housing.
All the themes of the city