Osaka Festivals & Events
Osaka Festivals: see a listing of festivals in Osaka throughout the year from January to December including the Tenjin Festival and the Danjiri Matsuri.
Osaka Festivals 大阪祭り
Osaka certainly doesn't have as many festivals as nearby Kyoto. The city and its people have long had a reputation more for practicality and business sense rather than religious observance and frivolity.
However, what Osaka may lack in quantity it makes up with quality with two very important festivals, the Tenjin Festival in Osaka city proper and the Danjiri Matsuri in nearby Kishiwada.
One thing Osakans certainly know how to do is have a good time. When festival time comes around the locals put their heart and soul in to it.
See below for a listing of Osaka festivals by month in both Osaka city and Osaka Prefecture.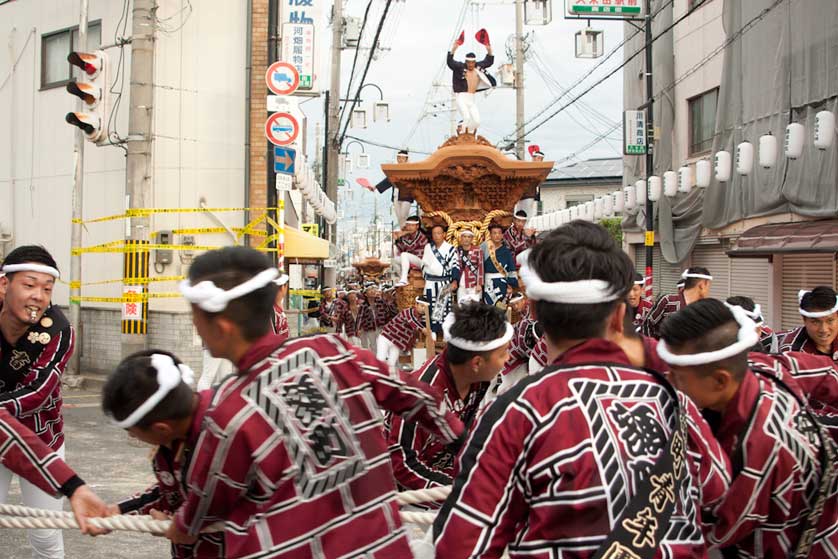 Danjiri Festival, Kishiwada, Osaka - Danjiri is the liveliest festival in Osaka
Osaka Festival Listing By Month
January
Shogatsu (New Year)
Shrines in and around Osaka especially Sumiyoshi Shrine are packed with worshippers coming to pray for a successful, healthy and prosperous new year.
The New Year hatsumode at Sumiyoshi Shrine attracts as many as two million people over a three day period January 1-3. On the 4th there is the Toka Matsuri - an offering of rice cakes to the kami along with kagura dancing.
Many people in Osaka also attend oshogatsu (New Year) festivals in Kyoto. This is a busy period and local train companies Keihan and Hankyu run special trains through the night.
Toka Ebisu Festival
The Toka Ebisu Festival is another huge festival attracting over a million spectators. The three-day festival from the 9-11 February is dedicated to Ebisu, the god of business and prosperity at Imamiya Ebisu Shrine in Osaka. Visitors can purchase a good luck charm from a massive array on offer as well as receive the free fukusasa ceremonial bamboo branch.
February
Setsubun
Osaka's most popular Setsubun festival takes place on February 3 at Domyoji Tenmangu Shrine south east of the center of the city near the border with Nara Prefecture. Domyoji Station, on the Kintetsu Line from Osaka Abenobashi, is the nearest station to the shrine. Domyoji Station is 17 minutes by Semi-Express or 35 minutes by local train from Abenobashi.
March
Osaka's annual sumo tournament takes place in March at Osaka Prefectural Gymnasium. The venue is a short walk from Namba Station.
April
April is usually cherry blossom time in Japan. The best places to enjoy the hanami season in Osaka include Osaka Castle Park (Osakajo Koen), Osaka Mint Bureau and several other of the city's parks. These include Kema Sakuranomiya Park, Expo 70 Commemorative Park, Tsurumi Ryokuchi Park and Nagai Park.
May
The Osaka Oktoberfest is a long running celebration of beer that takes place in Nagai Park in the south of the city. There is lots of German beer, food (sausages, pretzels, pizza, French fries etc) and live music. The festival takes place from May 17 to June 2 in 2019.
June
Aizen Festival
The Aizen Festival (愛染 祭り) at Shi-Tennoji Temple is one of Osaka's three major summer festivals along with the Tenjin and Sumiyoshi festivals. It celebrates Aizen Myo-oh the greatest of the eight Buddhist guardian gods and the temple's principle image. Throughout history Aizen Myo-oh has been worshipped by actors, actresses, entertainers and prostitutes as the god of charms and popularity. Hundreds of thousands turn out every year to see the glamorous parade of "geisha" (glamorous women in this case not the refined artists and entertainers of nearby Kyoto) riding on decorated palanquins called hoekago. In 2019 the festival takes place from June 30 to July 2.
Access: JR Tennoji Station, Subway Shitennojimae-yuhigaoka Station.
Candle Night
Candle Night (100万人のキャンドルナイト), when the buildings in Osaka's central business district of Umeda turn off their electric lights and candles are lit in the streets, has become an annual event held in June from 8 pm-10 pm. The festival aims to promote awareness of a sustainable lifestyle.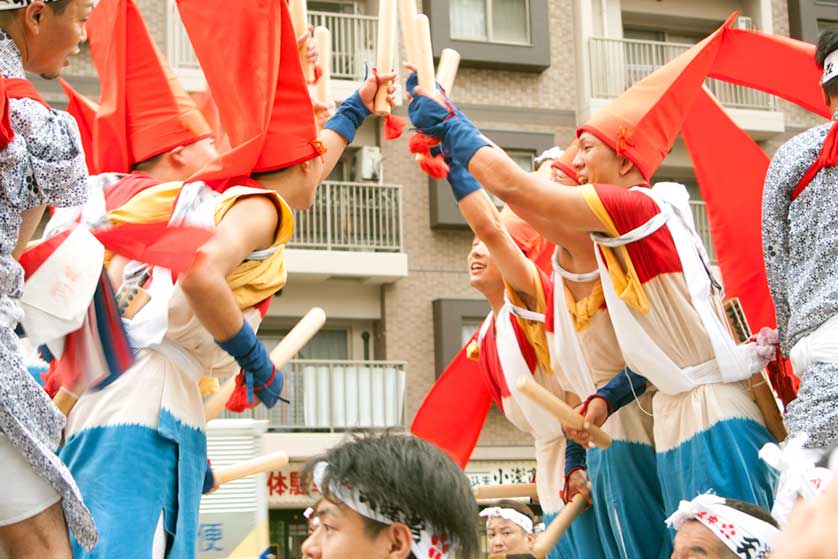 Tenjin Festival, Kita-ku, Osaka
Tenjin Festival, Kita-ku, Osaka - Festivals in Osaka
July
Tenjin Matsuri
Osaka city's biggest festival is the Tenjin Matsuri that takes place annually from July 24-25. It is one of Japan's three major festivals. Various festivities on the first day include a procession of danjiri festival floats, drumming performances and a lion dance. On the second day, spectators gather at 4 pm and a drum-led procession from Tenmangu Shrine to the Tenjin bridge begins. At 6.30 pm the procession continues on the river with 100 decorated boats. Bugaku and kagura are performed on a lantern-lit floating stage in the middle of the river.
The Sumiyoshi Festival at Sumiyoshi Shrine south of Tennoji takes place on Marine Day (due to the shrine's connections with the sea) on the third Monday in July. Related events also occur from July 30 - August 1. There are processions and mikoshi (portable shrines) are paraded through the local streets.
Umeda Yukata Festival (梅田ゆかた祭) encourages people to don a yukata and take to the streets in the Umeda district of the city. Participants can also learn and take part in traditional o-bon dances. Events take place from mid-July to mid-August.
August
Naniwa Yodogawa Fireworks Festival
The Naniwa Yodogawa Fireworks Festival takes place in early August every year. The event began in the late 1980's and has been going strong every since. The festival is hugely popular with Osakans, so you will need to get there early for a decent view. The nearest stations are Osaka Station and Umeda Station both in the Umeda district, Juso on the Hankyu Line north of the Yodogawa River or Tsukamoto to the west on the JR Tokaido Line.

© Summer Sonic
Summer Sonic
Summer Sonic is one of Japan's biggest music festivals and usually takes place on the third weekend of August. The line-up is of mostly rock, punk and now hip-hop acts. Previous performances have included Avril Lavigne, Beastie Boys, Darkness, Lee "Scratch" Perry, Radiohead, The Damned and many more. It is held at Maishima Sports Island in the Osaka Port area of the city. Take bus 81 from Nishi Kujo Station on the JR Osaka Loop Line.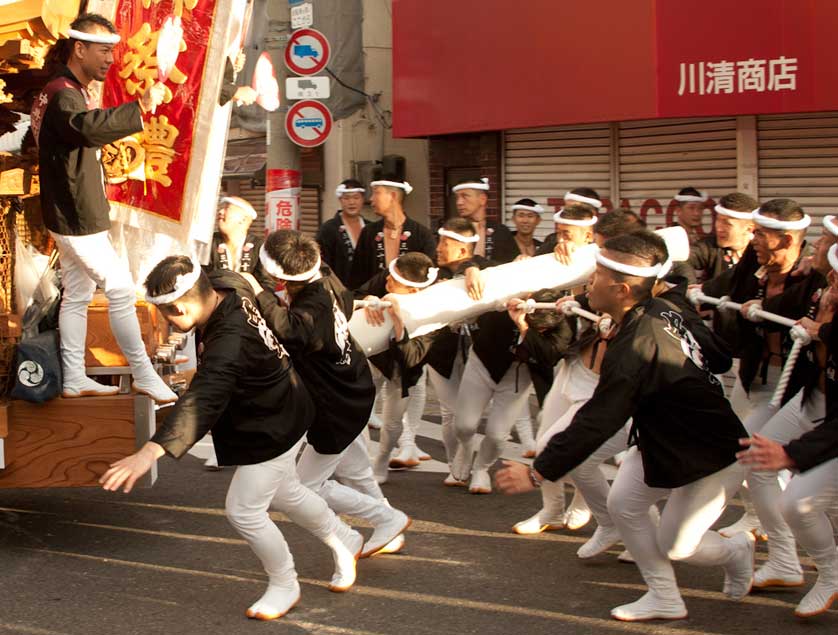 Danjiri Festival, Kishiwada
September
Danjiri Festival
The Danjiri Festival in Kishiwada city, south of Osaka, takes place in September. Danjiri festivals are common throughout Japan, but if you say "Danjiri Matsuri" (festival) to a Japanese person, there is one festival that will come to mind: the violent, exuberant mayhem that takes place every September in the town of Kishiwada, Osaka.
The "danjiri" are the large wooden floats, or portable shrines, that are pulled around a pre-set route on the day of the festival. These shrines are kept in storage for a year and are quite beautiful.
Prior to the festival, there are ceremonies and prayers. The ornate shrine is taken out and readied; then the fun starts.
© Mecha Happy Festival
October
Osaka Mecha Happy Festival
Osaka Mecha Happy Festival takes place in early October in various locations around the city including Osaka Castle Park. Mecha Happy is a dance festival and competition with around 2,800 dance groups taking part each year, many of them wearing happi coats, hence the play on the name (happy/happi).
Sakai Matsuri
Sakai Matsuri (堺まつり) in Sakai city takes place on the third weekend of October and features bicycle and unicycle parades, a Grand Tea Ceremony and the Namban Markets in Xavier Park. The Namban ("Foreigners") Markets offer local products for sale, including Sakai knives, incense, kombu (seaweed), and textiles. Multiple stalls also offer a variety of world foods. There are performances of dance, music and marching bands by local participants during the event.
November
Shitenno-ji Wasso Festival
Shitenno-ji Wasso Festival takes place at Shitenno-ji Temple near Tennoji annually on November 3. It is a parade of thousands of people dressed as heroes and historical figures who take to the surrounding streets in south Osaka. Colorful boat-shaped floats join the procession and add to the magnificent spectacle.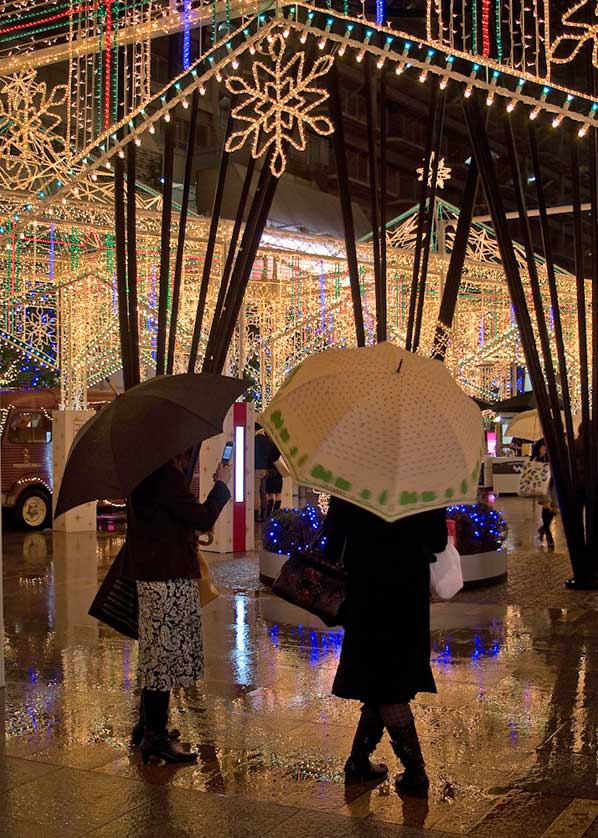 Osaka Festival of Lights
December
Osaka Festival of Lights
Osaka is sometimes said to be at its best at night. This is certainly true around Christmas and New Year time in the city. Osaka's Festival of the Lights includes the illuminations along Midosuji-dori, recorded as having the largest number of illuminated trees in The Guinness Book of Records with 606 as well as the Osaka Hikari Renaissance.
Hikari Renaissance is the name given to the illuminations in and around Nakanoshima Park in the Nakanoshima district. Osaka City Hall is also the venue for a light show and projection mapping every night during the event.
Hikari Renaissance runs from mid-November to the end of the year. The lights on Midosuji last from the third week of November to the second week of January.
Other Festivals In Japan
Ako Festival - Ako - December
Anjin Festival - Ito city Shizuoka - August
Aoi Festival - Kyoto - May
Coming of Age Day - Nationwide - January
Daimonji Festival - Kyoto - August
Gion Matsuri - Kyoto - July
Hamamatsu Festival - Hamamatsu - May
Hina Matsuri - Nationwide - March
Jidai Matsuri - Kyoto - October
Kurama Fire Festival - Kyoto - October
Kuromatsu Festival - Kuromatsu - July
Mitama Festival - Yasukuni Shrine, Tokyo - July
Murakami Dolls Festival - Murakami city, Niigata, March
Nagasaki Lantern Festival - Nagasaki - February
Nagoya Festivals - throughout the year.
Otabi Festival - Komatsu - May
Sapporo Snow Festival - Sapporo - February
Shichigosan Festival - Nationwide - November
Shirahagi Festival - Kitsuki - October
Summer Music Festivals in Japan - Fuji Rock, Summer Sonic
Tanabata Festival - Nationwide - July
Tokorozawa Doll Memorial Celebration - Tokorozawa - June
Wakuwaku Winter Festival - Niigata - February
Yabusame Festival - Tsuwano - April
DISCLAIMER Festivals may be cancelled or postponed without much warning. Check with your local tourist office for confirmation.
Danjiri Festival Video
Osaka Hotels
All the themes of the city