Takayama Museums
Takayama Museums 高山の美術館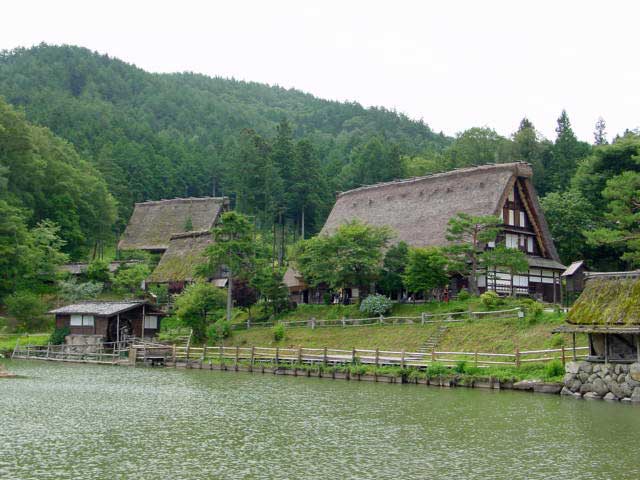 Hida Folk Village, Takayama
Takayama has many interesting museums, several of them located in historic buildings.
Many of Takayama's museums are dedicated to the local arts and crafts of the Hida area of Gifu Prefecture. Quite a few of the museums are also free admission.
There is a lot to see and do in terms of art and culture on any stay in this delightful town. This applies especially if it is raining or cold and you need to seek shelter from walking the streets.
Hida Folk Village (Hida no Sato)
The Hida Folk Village (Hida no Sato) is an open air museum located just outside the center of Takayama.
Hida no Sato is a collection of traditional wooden farm houses and storehouses from the Hida area. They have been reassembled around a central lake (Goami Lake) in pleasant wooded countryside. There are also interesting demonstrations of local art and craft production.
The over 30 buildings collected at Hida no Sato are mainly from the Edo Period. They include huts, residences, storehouses and other farm buildings.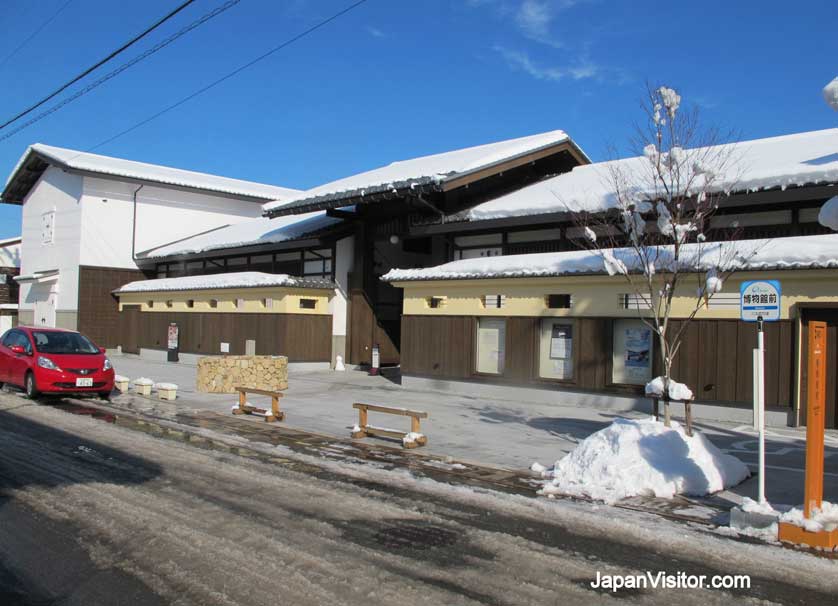 Takayama Museum of History & Art exterior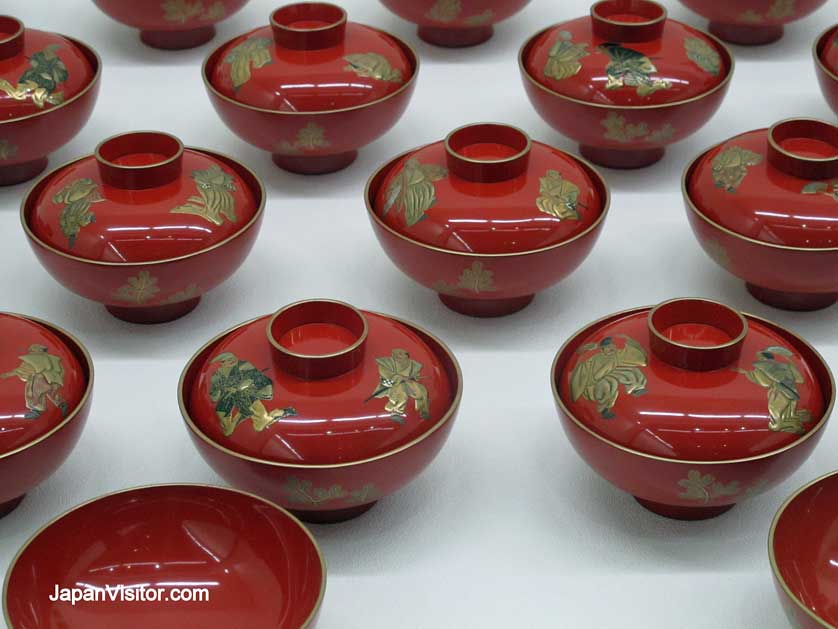 An exhibit of inlaid lacquer bowls, Takayama Museum of History & Art
Takayama Museum of History and Art
The Takayama Museum of History & Art (飛騨高山まちの博物館; Tel: 0577 32 1205) is housed in the old storehouses of a local merchant family and includes a lovely garden along with a modern museum interior with original maps, scrolls, paintings, documents and local handicrafts such as lacquerware. Free admission. Hours: 9 am - 7 pm daily. The garden is open from 7 am - 7 pm daily
Takayama Jinya
Takayama Jinya (Tel: 0577 32 0643; 高山陣屋) dates from the early 19th century and is the sole surviving district office of the Tokugawa shogunate. The wooden buildings include a rice warehouse and a torture chamber. Takayama was under the direct control of the Tokugawa regime at the time due to the importance of its timber resources and trade. Takayama Jinya also includes a Japanese garden, guest rooms, offices, a 49-tatami mat conference room, a law court and exhibits of samurai armor and weapons. Admission: 430 yen for adults. Hours: March - October (excluding August) 8.45 am - 5 pm; August 8.45 am - 6 pm; November - February 8.45 am - 4.30 pm.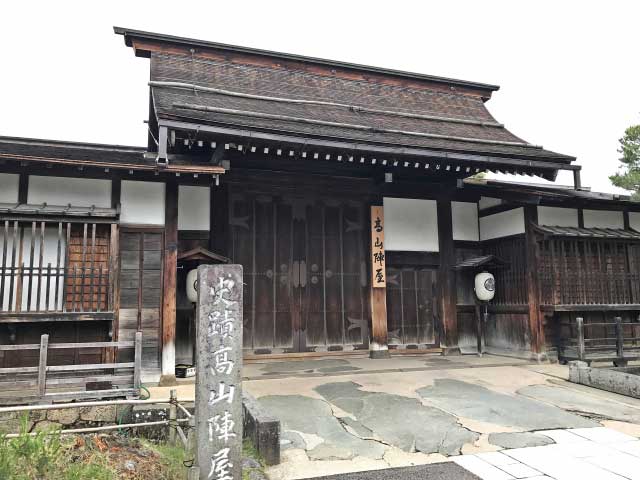 Takayama Jinya - the district office of the Tokugawa shogunate
Takayama Matsuri Yatai Kaikan
The Takayama Matsuri Yatai Kaikan (Tel: 0577 32 5100; 高山祭屋台会館) exhibits 4 of the 11 floats used in the October festival on a rotation basis. The floats are known for their detailed and colorful carvings, lacquer- and metalwork and amazing marionettes (karakuri). The Takayama Festival Floats Exhibition Hall is located in the grounds of Sakurayama Hachiman Shrine. Admission is 820 yen for adults and the museum is open from 8.30 am-5 pm March to November and 9 am-4.30 pm December to February.
The Sakurayama Nikko-kan (Tel: 0577 32 5100; 日光館) also in Sakurayama Hachimangu Shrine has elaborate 1:10 scale models of the shogunate shrines in Nikko complete with computerized lighting effects. The models took over 15 years to complete by over 30 carpenters.
Fujii Folkcraft Museum
The Fujii Folkcraft Museum (Fujii Bijutsu Mingei-Kan; 藤井美術民芸館; Tel: 0577 35 3778) is a preserved merchant's store house with exhibits of Japanese furniture (tansu), lacquerware, yuzen, and ceramics. The 2,500 piece collection was owned by a local doctor, Dr. Fujii. The local Hina Dolls are a highlight. Look out for the beautiful wooden gate and paper lantern outside. Admission 700 yen. Hours: 9 am - 5 pm; daily.
Miyaji Heritage House
Miyaji Heritage House (宮地家住宅; Tel: 0577 32 8208) is an historic private house and garden dating from the early Meiji Period. The property displays the life style of a rich, Edo Period,  Takayama sake and rice merchant family. Free admission. Hours: 9 am - 4.30 pm. Open on weekends and national holidays.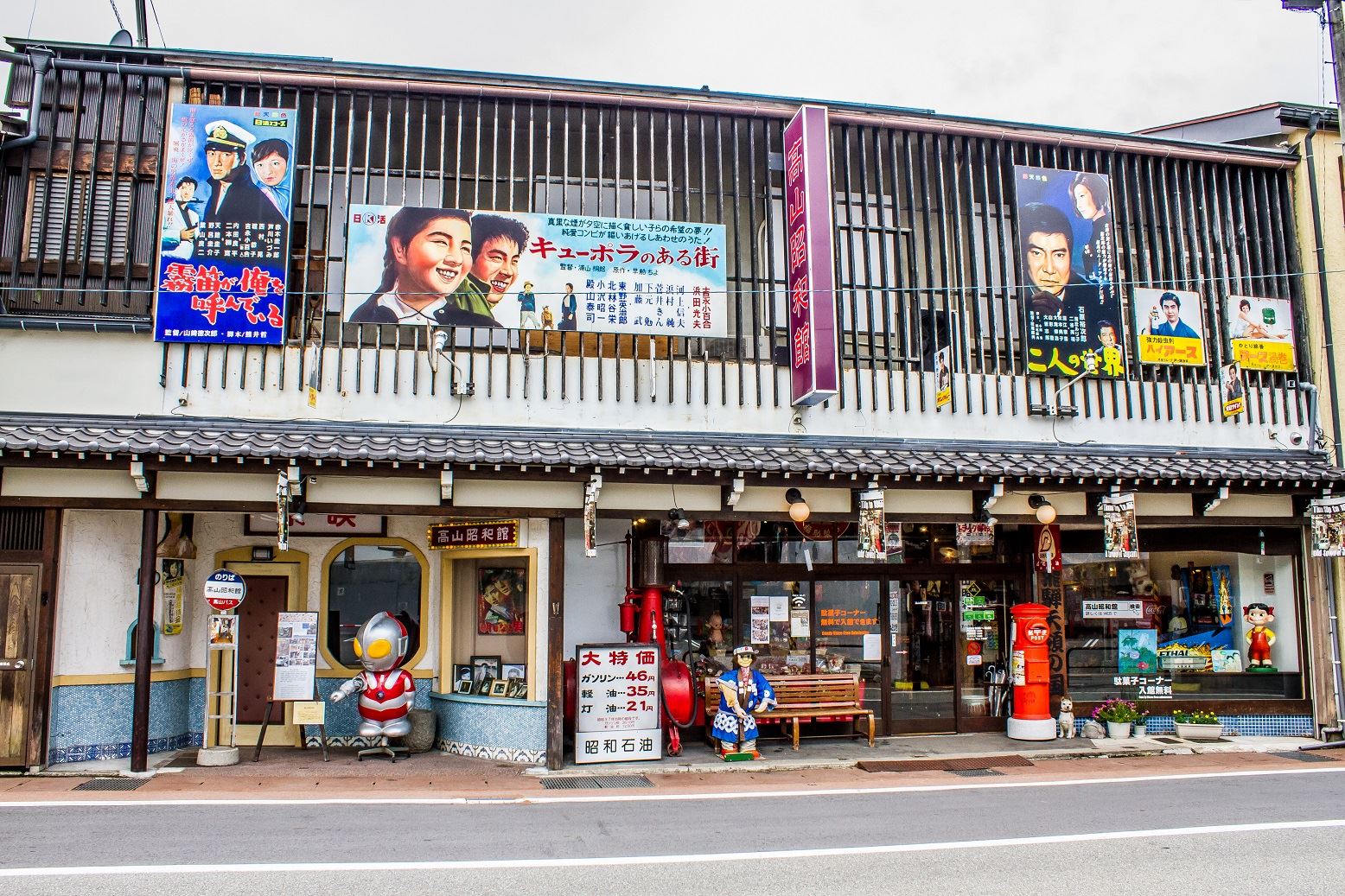 Takayama Showa Museum © 高山昭和館
Takayama Showa Museum
Takayama Showa Museum (Takayama Showa-kan; Tel: 0577 33 7836; admission 800 yen) displays exhibits from the Showa Period which evokes a deep sense of nostalgia in many adult Japanese. Wander the various "streets" and "shops" which are full of Showa memorabilia. There's a toy shop, appliance store, restaurant, doctor's surgery, movie theatre, barber's etc. There are also exhibits on pro-wrestling that was very popular at the time as well as electric collections of battledores, war relics, plastic anime and manga masks, cameras, movie posters and children's toys. The museum is a fun experience and a trip back in recent time. Hours: 9 am - 6 pm daily. (takayama-showakan.com)
Hida Takayama Museum of Art
The Hida Takayama Museum of Art (飛騨高山美術館) has a large and important collection of European glass arts on display. These include art deco and contemporary glass, art nouveau as well as European furniture.
A three meter-high glass fountain by Rene Lalique - The Fountain of The Champs-Elysees Shopping Arcade (1926) is a popular highlight. There are works on display by Dale Chihuly, Emile Galle, Gustav Klimt, Louis Majorelle, Charles Rennie Mackintosh, Louis Comfort Tiffany and others.
The modern museum is located on a hill with fine views of the Southern Alps and over Takayama city. The museum has a shop and stylish cafe decorated in the style of C.R. Mackintosh.
Address: 1-124-1, Kamiokamoto-cho, Takayama-shi, Gifu 506-0055
Tel: 0577 35 3535
Hours: 9 am - 5 pm; closed Wednesday or the next day if Wednesday is a national holiday.
Admission: 1,300 yen for adults; 1,000 yen for university and high school students, 800 yen for junior high and elementary school students. The museum is 10 minutes by Nohi bus from Takayama Station. Get off at the Hida Takayama Bijutsukan stop.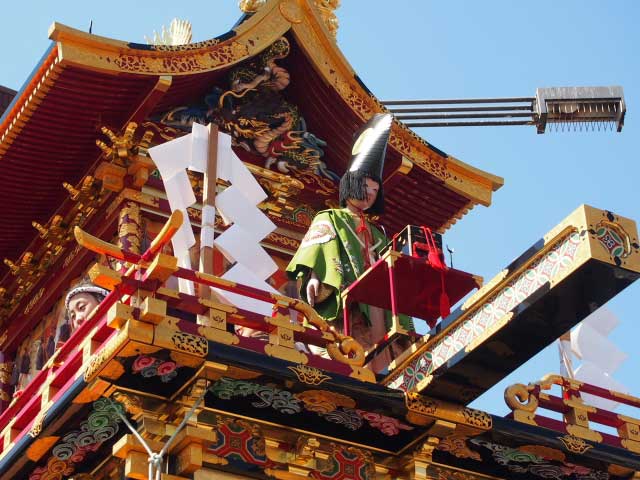 Karakuri ningyo on a festival float in Takayama, Gifu Prefecture
Other Museums in Takayama
The Shishi Kaikan aka the Karakuri Museum (Tel: 0577 32 0881; 飛騨高山獅子会館 からくりミュージアム) has exhibits of lion dance masks and karakuri puppets. There are daily performances using the karakuri mechanized dolls. The puppets perform writing, serving tea and also acrobatics on a trapeze. The museum has a souvenir shop and is open from 9.05 am to 4.25 pm.
The Takayama Old Town Museum (古い町並美術館 山下清 原画展) - formerly called the Honmachi Museum - exhibits original paintings by Yamashita Kiyoshi (1922-1971), known as the "Van Gogh of Japan" or the "Naked General." The museum also displays everyday items evocative of the Showa era when Yamashita was active on his wanderings. These include clocks, posters, toys, station signs and even motorbikes. Admission is 700 yen for adults. The museum is open daily from 9.30 am to 5 pm.
The Matsumoto Heritage House (松本家住宅; Tel: 0577 36 5600) is another free-to-enter old Takayama merchant residence. It is open on weekends and national holidays only. Hours: 9 am - 4.30 pm.
The Takayama Museum of Local History (Takayamashi Kyodokan) (Tel: 0577 32 1205) has local wood carvings, and neat gardens.
The Hirata Folk Art Museum (Hirata Kinen-kan; 平田記念館) (Tel: 0577 33 1354) is another preserved merchant's house with an eclectic display of the area's arts and crafts. Admission 300 yen; Hours 9 am - 5 pm; daily.
The Kusakabe Folk Art Museum (Kusakabe Mingeikan; Tel: 0577 32 0072) is a former money-lender's house now open to the public.
The Yoshijima Heritage House (Yoshijima-ke; 吉島家住宅) (Tel: 0577 32 0038) is a former sake merchant's residence. Admission 500 yen. Hours 9 am - 5 pm March to November; 9 am - 4.30 pm December to February.
The Tea Ceremony Museum (Tel: 0577 37 1070), 17 minutes by bus from Takayama Station near to Museum Hida (Tel: 0577 37 6111), showcases Hida traditional furniture and crafts.
The Hida Takayama Festival Forest (Tel: 0577 37 1000) shows examples of modern festival floats.
The Ryu Tetsuya Longing Museum is dedicated to the famous enka singer. Ryu Tetsuya (竜 鉄也; 1936-2010) had a number of hit songs including his debut Okuhida Bojo (奥飛騨慕情) inspired by a 15-day stay in the Hida area.
The Hida Takayama Teddy Bear Eco Village (Tel: 0577 37 2525) has over 800 teddy bears exhibited in a historic Gassho-style house.
Hotels in Takayama
The following three hotels are recommended as budget, mid-range and luxury places to stay in Takayama.
Sakura Guest House in the middle of Takayama is a clean, convenient, traditional-style budget option. Private and dormitory rooms available, shared bathrooms. Free Wi-Fi and parking. Coin launderette on the premises, a common area with wood-burning stove, and a kitchen with microwave.
Guest House & Cafe SOY has a superb reputation for all-out hospitality and helpfulness. This huge, handsome converted traditional farmhouse has become a very atmospheric, dark-wood guest house with modern amenities and all the comforts for a wonderful stay. Wonderful food and service in a semi-rural-looking setting.
Oyado Koto No Yume is a classy, traditional ryokan inn a short walk from Takayama Station and very near the Miyagawa Morning Market. Fully-fitted out, comfortable, spacious tatami-mat rooms have everything required for a pampered stay, and exquisite local cuisine is served. Optimum accommodation in the best location in Takayama. Attentive service.
Other options include the Takayama Green Hotel, the Hida Plaza Hotel, the Associa Takayama Resort Hotel, the Best Western Hotel and the Washington Plaza Hotel.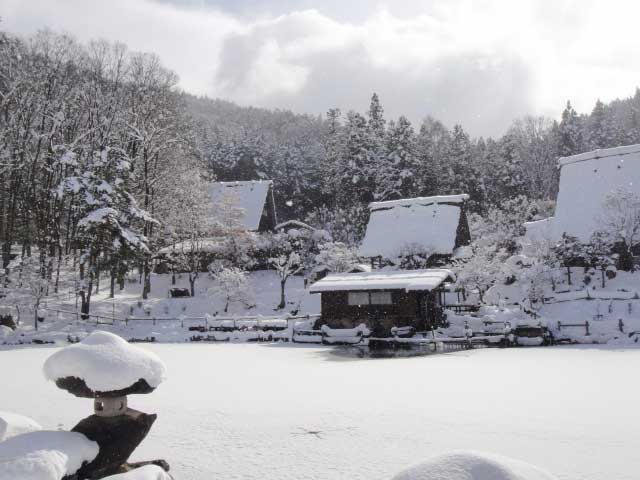 Hida Folk Village in the snow, Takayama, Gifu Prefecture
Access - Getting to Takayama
Takayama deserves at least an overnight stay if not longer if you wish to explore the other sites of interest within easy access of the town including: Shirakawa-go, Hida Furukawa, Gero Onsen, Kamikochi, Gujo Hachiman and Matsumoto.
Air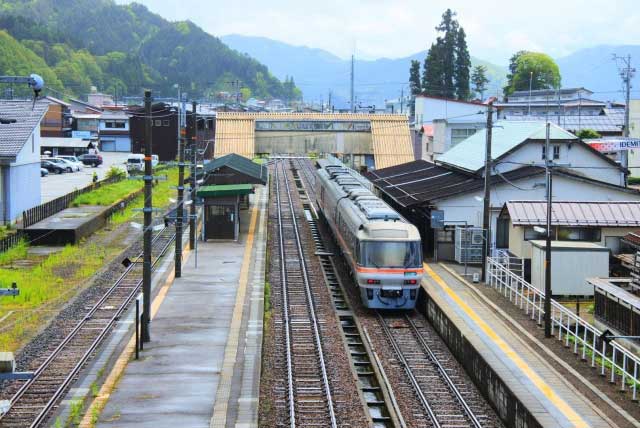 Chubu International Airport is the nearest large international airport to Takayama. There are direct connecting trains on the Meitetsu Centrair service to Nagoya and Gifu.
Rail
Takayama is 110 km north from Nagoya. By Tokaido Shinkansen, Nagoya is 52 minutes from Osaka and 1 hour 40 minutes from Tokyo.
From Nagoya Station, Takayama is 2 hours, 9 minutes by JR Takayama Line on the Hida Express. From Toyama there are also trains taking about 90 minutes. There are also direct trains to Osaka (4 hours, 11 minutes), though it is quicker, though more expensive, to take the Shinkansen to Nagoya and change.
Bus/Road
There are long distance bus services from outside Takayama Station to Tokyo (Shinjuku; 5 hours, 30 minutes), Kyoto, Osaka (5 hours), Nagoya (2 hours, 45 minutes), Kanazawa (3 hours), Hida Furukawa (30 minutes), Gero Onsen, (90 minutes), Matsumoto (2 hours), Kamikochi, and Gujo Hachiman (1 hour, 15 minutes). In Nagoya get on the bus to Takayama at Meitetsu Bus Center Boarding Point 7.
Driving from downtown Nagoya follow National Highway 41 from Tsurumai all the way north via Minokamo City and Gero. Alternatively take the Chuo Expressway to Nakatsugawa and then exit at the sign to Gero Onsen.
Getting Around Takayama
Cheap bicycle hire is available from the Tourist Office, Takayama Green Hotel and other places around town. There is also a circular sightseeing bus which leaves from the bus station. Most places can be reached easily on foot.
There are also excellent cycle tours of the local countryside organized by Hida Satoyama Cycling.
Takayama Related
Map
Takayama Museums: Takayama has many notable museums including Hida Folk Village, Takayama Matsuri Yatai Kaikan and Takayama Jinya.
All the themes of the city