Ryogoku Tokyo
Ryogoku: read about the Ryogoku area in Tokyo's Sumida-ku, the home of Japanese sumo wrestling and Eko-in Temple.
Ryogoku 両国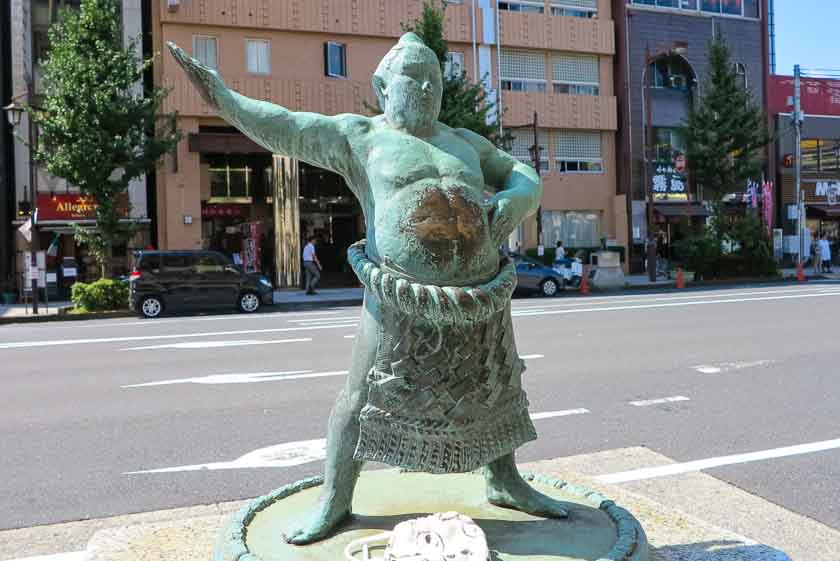 Sumo statue, Ryogoku, Tokyo
Ryogoku is a bustling district in the east end of Tokyo across the Sumida River from Asakusabashi. Ryogoku is best known as the spiritual heartland of sumo in Japan.
Ryogoku is a blend of the down-to-earth (typical of Fukagawa a little further south), with its main street conglomeration of restaurants, entertainment, temples, parks and museums.
Located in Tokyo's Sumida Ward.

The Ryogoku area 両国

The Ryogoku area is centered around JR Ryogoku station. To the south is Eko-in Temple, to the immediate north the Ryogoku Kokugikan sumo arena and the Edo-Tokyo Museum, and to the north-east are numerous small single-interest museums.

Ryogoku Station and Ryogoku Edo Noren


Ryogoku Station, Tokyo

Ryogoku Edo Noren is a photogenic, nostalgia-themed dining and tourist information section of JR Ryogoku Station. Ryogoku Edo Noren opened in 2016, taking advantage of the classic art deco look of the station, which was rebuilt in 1929. "Edo" refers to the Edo period of Japanese history, which ended in 1868 at the start of Japan's modernization. Noren is the attractively-designed split curtain that typically hangs in the entrance of traditional Japanese eateries.

Dominated by a raised, earthen dohyo (sumo ring) in the middle, Ryogoku Edo Noren is two floors of Japanese-style restaurants, with suitably historical decor, including one offering that staple cuisine of sumo wrestlers, chanko-nabe. The Ryogoku Tourist Information Center is on the first floor (10 am-6 pm, but until 7 pm during the sumo tournament season), and has information in English. The restaurants open at 11 am, with last orders taken at around 10.30 pm - some earlier, some later.

Ryogoku Kokugikan, Tokyo

Ryogoku Kokugikan

The Ryogoku Kokugikan (literally Ryogoku National Sports Stadium) is on the north side of JR Ryogoku Station. Built in 1985, it is the fourth sumo stadium in Tokyo. Traditionally sumo was held only outdoors at shrines and temples.

It was not until 1909 that a sumo-dedicated stadium was built in Ryogoku, Tokyo's traditional sumo area.

With a capacity of over 10,000, the present stadium is used not only for sumo, but hosts a variety of events throughout the year such as boxing and pro wrestling, not to mention the 'Beethoven's Ninth for 5000 Voices' concert held here every year on the 3rd or 4th Sunday of February. Its main function, though, is as host to the 'Tokyo Basho': sumo tournaments held in January, May and September.

Kokugikan - the spiritual home of Japanese sumo
Sumo wrestlers' banners fly outside the Kokugikan in Ryogoku

Sumo Museum

A little inside the right-hand entrance to the Ryogoku Kokugikan is a small sumo museum. Lined along its walls are resplendent kesho-mawashi ceremonial aprons of every successive sumo yokozuna champion. Whatever your interest in sumo, these works of exquisite embroidery are worth a look. Each is accompanied by a short history and prominent photograph of the mighty wrestler. You can also see examples of the lacquered paddles used by sumo referees.

Entrance is free and, except during tournaments when limited to ticket-holders, accessible to all.

Ryogoku Kokugikan1-3-28 Yokoami Sumida-kuTokyo 130-0015 JapanTel. 03 3623 5111
Ryogoku Kokugikan & Sumo Museum Map

Edo-Toyko Museum, Ryogoku

Edo-Tokyo Museum

The Edo Tokyo Museum is a huge museum dating from 1993 that is all about Tokyo - and the town known as Edo that came before it - from ancient times to modern. It is just east of the Ryogoku Kokugikan. It is immediately identifiable by its distinctive design, something like a pyramid on stilts.

Allow at least a couple of hours to see the Edo-Tokyo Museum. This is a historical and cultural resource superlative in its imaginative presentations, interactivity, scope, and user-friendliness - for English-speakers as well.

Eko-in Temple

Eko-in Temple, less than five minutes walk south down Kokugikan-dori Avenue from the west exit of JR Ryogoku Station, has been the spiritual home of sumo since tournaments began being held here from 1768 until the first Ryogoku Kokugikan was built in 1909. This history-filled temple is spacious and beautifully landscaped with some exquisite statuary and unusual architecture. Read more about Eko-in Temple.

Kira-tei 生良邸跡


Kira Residence, Ryogoku

Kira-tei, or "Lord Kira's Residence," is an old walled compound two blocks east of Eko-in Temple. Kira-tei is famous for being where Kira Kozuke-no-suke, the villain in the tale of the 47 Samurai (AKA 47 Ronin), or "Chushingura," was killed in revenge by the 47 retainers of Asano Naganori, who had been ordered to commit suicide for his role in a fight with Kira in Edo Castle. Kira-tei is free to visit. Related to this site by way of the 47 Ronin story is Sengakuji Temple, in the south of Tokyo, where the 47 Samurai are buried.
3-13-29 Ryogoku, Sumida-ku, Tokyo

Kyu-Yasuda Teien Gardens


Small Shinto shrine on the grounds of Kyu-Yasuda Teien Garden

Just north of the Kokugikan is the Kyu-Yasuda Teien Garden. This elegant garden began as the grounds of a samurai residence in 1691. It was famed for its pond that was fed by the Sumida River which, being close to the sea, was affected by the tides, causing the water level in the pond to regularly change. Kyu-Yasuda Teien Garden is only a few minutes' walk from Ryogoku Station and from the Kokugikan, so is definitely worth a short visit if you are in Ryogoku. Read more about Kyu-Yasuda Teien Garden

Sumo banners at Kokugikan in Ryogoku, TokyoThe Japanese Sword Museum, Sumida ward, Tokyo

The Japanese Sword Museum

The Japanese Sword Museum occupies a corner of Kyu-Yasuda Teian Gardens, and is a modern, three-floor facility dedicated to preserving and showcasing the legendary katana swords wielded by samurai warriors of old.

Yokoami-cho Koen Park

Tokyo Metropolitan Hall of Remembrance

Not far from the north-east entrance of Kyu-Yasuda Teien Gardens is the fascinating Yokoami-cho Koen Park.

Yokoami-cho Koen Park is a wide, nicely laid out park created in 1930. The park has the Tokyo Metropolitan Hall of Repose (Tokyo-to Ireido), a large Buddhist temple-style hall with a 41m (134ft) three-story pagoda. Tokyo bought the plot from the army in 1922 and was developing it into a park when the Great Kanto Earthquake hit in 1923. Read more about Yokoamicho Park.

Edoyu 江戸遊

Edoyu Spa, Ryogoku

Edo-yu is a five-floor spa facility in Ryogoku styled after a traditional Japanese bathhouse, or sento, that offers an authentic sento bathhouse experience in stylish, elegant, traditionally-inspired environs. Edoyu includes a rock bath, saunas, bubble bath, and various other exotic kinds of bath, a healing room with different kinds of massage available. Unisex and separate bathing options are available on different floors. The "Hokusai" restaurant on the premises adds a delicious finishing touch to the bathing experience.Edoyu hours: 11.30 am - 5 am the next day (last admission 4 am). Basic admission: 2,380 yen.
1 minute walk from Exit A3 or A4 of Ryogoku Station on the Toei Oedo Line. 5 minutes' walk from the East Exit of Ryogoku Station on the Chuo-Sobu Line.
1-5-8 Kamezawa, Sumida-ku, Tokyo 130-0014. Tel. 03 3621 2611

Ryogoku Access

Ryogoku Station (JR Sobu Line) connects west with Asakusabashi, Akihabara and Ochanomizu stations.
Ryogoku Station (Toei Oedo subway line) is one stop north of Morishita and one stop south of Kuramae.

Memorial Hall, Yokoamicho Koen Park, Ryogoku

Nearby Ryogoku

The Sumida Hokusai Museum is a few minutes' walk east of Ryogoku in the Kamezawa district of Sumida ward.

Book Hotel Accommodation in Tokyo Here
All the themes of the city