Kurama Fire Festival
Fire Festival Kurama, Kyoto. Read about the October Fire Festival held in Kurama, Kyoto.
Kurama Fire Festival 鞍馬火祭り
Fire Festival, Kyoto
C. Ogawa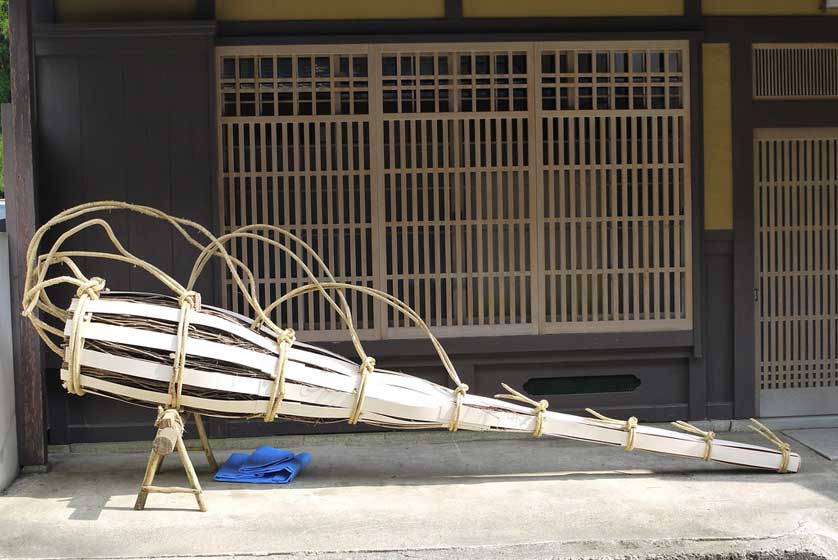 Large taimatsu
Kyoto's Fire Festival is held on October 22 in the remote village of Kurama, far in the mountains of Kyoto City.
Events begin as darkness falls, which at this time of year is at roughly 6 pm. Bonfires, known as kagaribi, are lit in front of most of the houses in the village. Villagers parade up and down the main street holding taimatsu (pine torches). Children with the pine torches rush by saying "saireiya, sairyo!"
Later, massive pine torches (pictured above right) are carried along the same street. After a visit to the Yuki Shrine, at 8 pm, two portable shrines are carried on the shoulders of the participants.
The village is a tiny mountain hamlet that has been carved into a narrow valley. It is known for its hot spring and fall colors. The houses in the town are built almost flush against the road.
When is the Fire Festival?
The Fire Festival is held on October 22nd.
Where is the Fire Festival?
The Fire Festival is held in the village of Kurama, which is technically part of Kyoto City, though deep in the mountains north of the city.
To get there, you have to ride the Eiden Railways train. It leaves from Demachiyanagi Station, and takes 30 minutes to reach the final stop of Kurama. Round-trip tickets are 840 yen.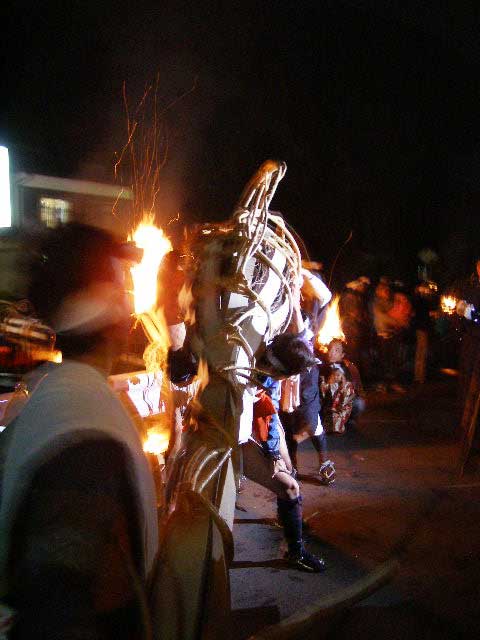 What is the Fire Festival?
The Kurama Fire Matsuri dates to 940 A.D. It was until recent years a rite of passage for the youth of the village.
Today it is very much on the tourist radar of events in Kyoto--and very, very crowded.
During the Heian Period--a time rife with war, fire, and natural disasters--the emperor in 940 A.D., in an attempt at appeasing the gods, moved Yuki Shrine north to the village of Kurama. Those charged with the actual moving of the shrine and its effects were said to form a line a kilometer long. The villagers were so moved by this sight that they vowed to protect the gods and the ceremony related to the shrine for eternity.
The current festival is thought to find its origins in that event.
Advice for the Fire Festival
Go early. Though events officially begin at 6 pm, you should try to arrive in Kurama well before then. If you don't you will be packed into the train and forced to compete with many other onlookers, herded behind a police cordon, for a peek at the events happening so close yet so far from you.
Bring warm clothes. The village is considerably colder than downtown Kyoto.
Book Hotel Accommodation in Kyoto
Books on Japanese Festivals
All the themes of the city