Korankei Valley
香嵐渓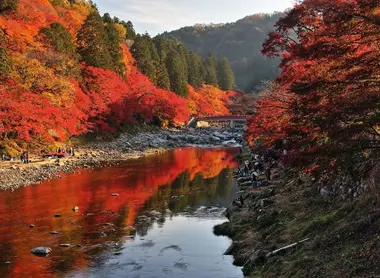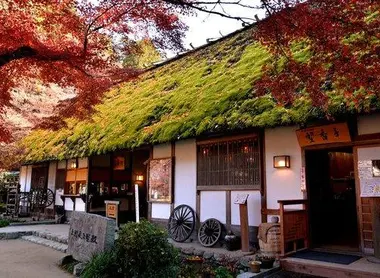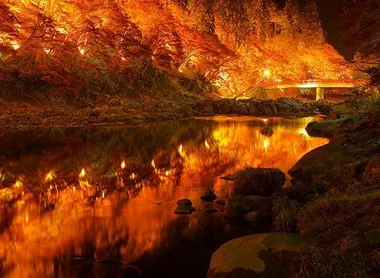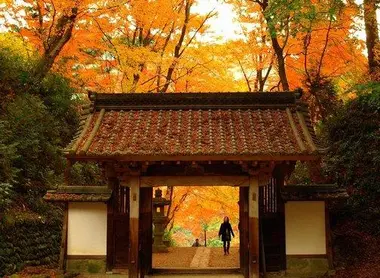 Maple and Ginkgo Trees
Nagoya, the third largest city in Japan, has the image of an industrial town without charm. Still, only a few kilometers away are the magnificent gorges of Korankei.
During the seventeenth century, a monk from the temple of Kojakuji decided to plant a maple tree in the secluded valley where he built his temple.
Soon after, many pilgrims and locals followed suit. They planted and took care of the maple trees of Korankei.
The result is that today Korankei Valley has become the best place to admire the fall foliage, known as koyo, throughout central Japan.
Nature close to Nagoya
Korankei Valley, which borders the Tomoe rivers, is shallow and forms an S around the Iimori mountainous terrain, 254 meters high and reached by several strenuous hiking paths .
The bed of the river is bordered by a rocky riverbank, easily accessible to visitors who often use it in the summer as a place of relaxation. People come from afar to have their picture taken on the vermillion Taigetsukyo bridge, or pray at the Kojakuji temple, lost in the maple trees.
Koyo in Korankei
But it is in the fall that Korankei Valley must be visited, preferably between late October and late November. At this time, maple and gingko trees border the entire length of the river on either side.
The effect is stunning, the entire area is a vast palette of different shades of red, green and gold.
The roads turn into scarlet corridors. The beauty lasts until the night thanks to lights installed every season. Visitors can then enjoy the Yatai (food stalls) installed nearby, concerts and performances organized in this idyllic setting.
Ecomuseum
At the heart of the valley, one will also find a small museum, the Sanshu Asuke Yashiki. The place offers visitors the image of a village in the deep countryside of the Edo period with its thatched houses.
You can attend, or even participate, in the work of craftsmen who perpetuate the artisanal production of Japanese paper or bamboo baskets.
All the themes of the city