Shiodome Shiosite
Tokyo Area Guide: Shiodome Shiosite 汐留シオサイト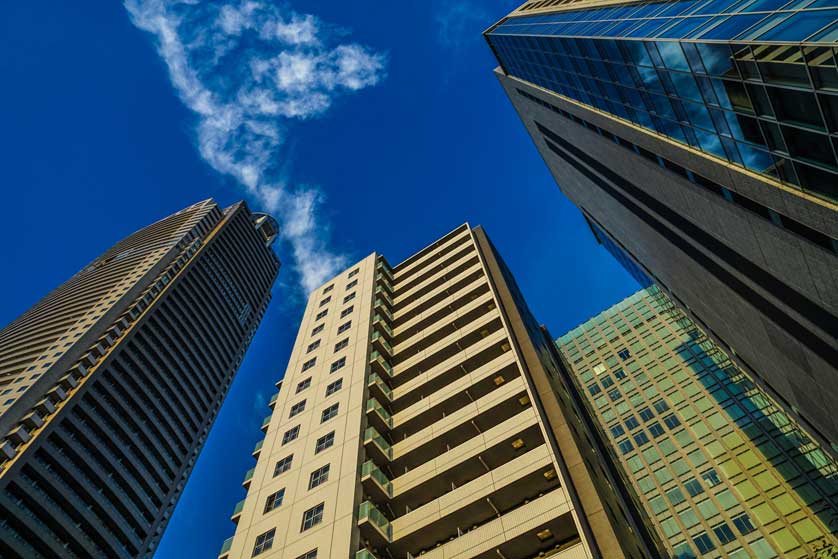 Shiodome in the Shimbashi district, was the site of the first Tokyo railway station, of which there is a famous replica. Shiodome Shiosite is a visually striking shopping, dining and entertainment complex comprising numerous beautifully designed skyscrapers.
Situated between Shinbashi Station and Hama Rikyu Garden, Shiodome Shiosite attracts millions of visitors every year with its numerous stores, cafes, restaurants and landscaped grounds.
History of Shiodome
Shiodome was an area of marshland in Tokyo Bay during the Edo Period of Japanese history and means "place where the tide stops". Over time the marsh was drained and some feudal lords built their Edo residences on the reclaimed land, including the Date clan from Sendai and the Matsudaira clan from Kofu - the latter is now Hamarikyu Garden. It was from here in Shiodome that water was drawn to feed the moat at Edo Castle.
In the Meiji Period in 1870 it was from this area that Japan's first railway was built from Shimbashi to Yokohama. Shimbashi Station became a symbol of Japan's modernization when the railway was completed in 1872. After the opening of Tokyo Station in 1914, Shimbashi Station changed its name to Shiodome Station and concentrated on freight traffic. The original Shimbashi Station was destroyed in the fires that swept the city after the Great Kanto Earthquake of 1923. Shiodome Station closed in 1986 and the freight yards were redeveloped as Shiodome Shiosite, which opened in 2002.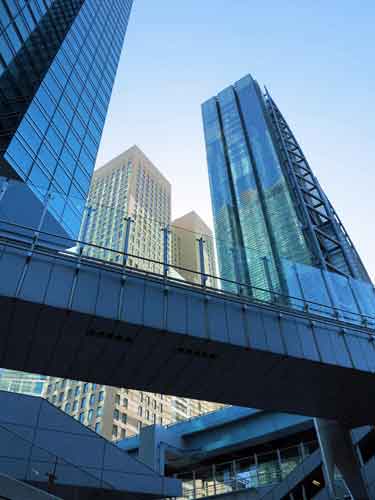 Shiodome skyscrapers, Tokyo, Japan
Shiodome Shiosite Architecture
Shiodome now consists of various towers linked by elevated walkways and underground passageways. Skyscrapers in Shiodome house the offices of such giants of Japanese business and commerce as ANA, Fujitsu, Mitsui Chemicals, Nippon Express, Nippon Television (NTV) and Softbank.
The main towers in Shiodome are Shiodome City Center, Caretta Shiodome, Nippon Television Tower, the Panasonic Shiodome Building, the high rises of the Park Hotel Tokyo in Shiodome Media Tower, the Royal Park Hotel Shiodome in the Shiodome Tower and the Conrad Hotel. Further on adjacent to Hammamatsucho Station past Italia-gai (Italian Town) are the Shiodome Shibarikyu Building, which houses a Pokemon Center, and the Shiodome Building.
Caretta Shiodome is an office complex/mall that was the second of five projects in Japan by the American architect, Jon Jerde (1940-2015). Jerde's other projects include Canal City in Fukuoka, Roppongi Hills in Tokyo, and Namba Parks in the Namba district of Osaka.
The 51-story Caretta Shiodome's office space is mainly taken up by the advertising giant Dentsu, and houses the free Advertising Museum Tokyo (ADMT) displaying over 135,000 Dentsu advertisements going back over 100 years to the Meiji period, with an advertising-related library (with plenty of English and other foreign language books, too), and regular featured exhibitions.
The 42-story Shiodome City Center is a mix of office space, restaurants and shops including eateries with great views of Tokyo on the upper floors.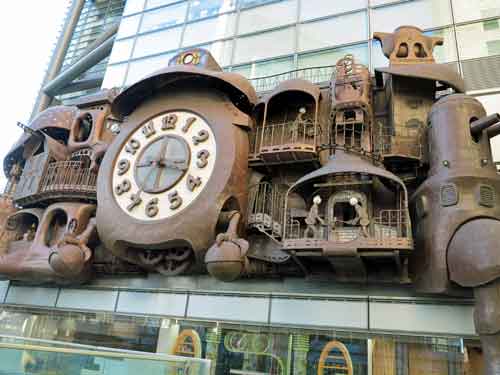 Nippon Television Tower, Shiodome, Tokyo, Japan
Nippon Television Tower has 32 floors and was designed by British architect Richard Rogers. The building has a funky clock motif on its exterior, designed by anime movie director Hayao Miyazaki. There's an Anpanman shop in the building and a glass-fronted studio where visitors can watch NTV live broadcasts.
The Panasonic Shiodome Building showcases Panasonic's domestic products for interiors including furniture and kitchen appliances. The 4th floor holds the Shiodome Museum Rouault Gallery with a permanent collection of the work of French painter Georges Rouault (1871-1958). The museum also holds temporary exhibitions relating to interior design and product design.
Old Shimbashi Station is a modern reconstruction of Japan's first railway station built over the foundations of the original 19th century Shimbashi Station and contains a museum dedicated to the history of the station and the Shiodome area.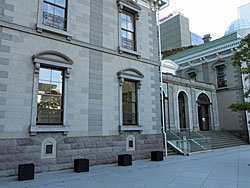 Old Shimbashi Station, Shiodome, Tokyo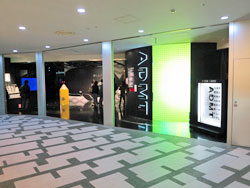 Advertising Museum, Shiodome, Tokyo
Walking north from Shimbashi Station is Italia-gai (Italian Town), a pleasant neighborhood of buildings designed in Italian style. There are a number of Italian restaurants and cafes here, a large piazza, cobbled streets and the large JRA Wins Shiodome, an off-track betting facility for Japanese horse racing.
Continue on to Hamamatsucho Station and the twin high rise buildings of Shiodome Shibarikyu Building, which houses a Pokemon Center and the Shiodome Building on either side of an urban garden space.
How to get to Shiodome Shiosite Tokyo
A short walk from Shiodome Station on the Toei Oedo subway and Yurikamome Lines, or easy access from nearby Shimbashi Station on the Tokaido Line, Yamanote Line, Keihin-Tohoku Line, Yokosuka Line, Asakusa Line and Ginza Line.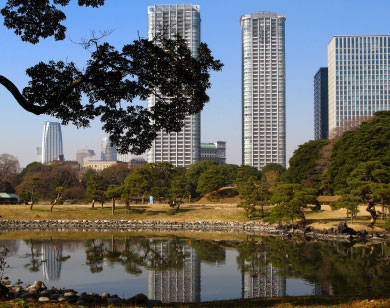 Shiodome seen from Hama Detached Palace Garden, Tokyo, Japan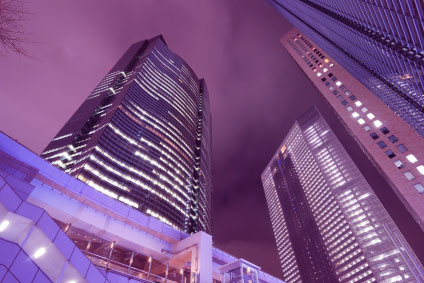 Shiodome skyscrapers at night, Tokyo, Japan
Hotels in Shiodome/Shimbashi
The Royal Park Hotel The Shiodome is a top quality hotel in the area occupying floors 24-38 of its tower building with amazing views out over Tokyo spread out below. The basement floors have a branch of Kinko's, a convenience store and the Mandara Spa.
Just opposite the main entrance to the Royal Park Hotel is a British-style pub, the Rose & Crown. Other recommended hotels in the Shiodome/Shimbashi area are the Park Hotel, the Conrad Tokyo, the Mitsui Garden Hotel Shiodome Italia-gai, the Hotel Villa Fontaine Shiodome and the APA Shinbashi Onarimon.
Shiodome is an excellent place to stay if you wish to visit nearby Hamarikyu Gardens, Tsukiji Fish Market or the up-market shopping district of Ginza.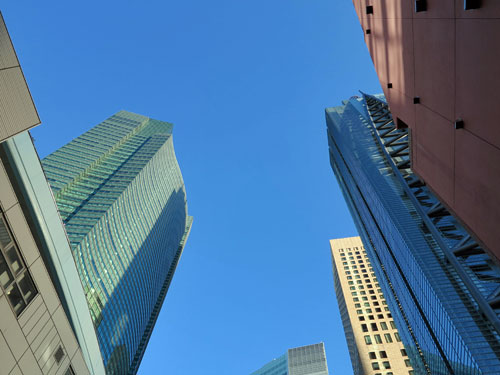 Shiodome skyscrapers, Tokyo, Japan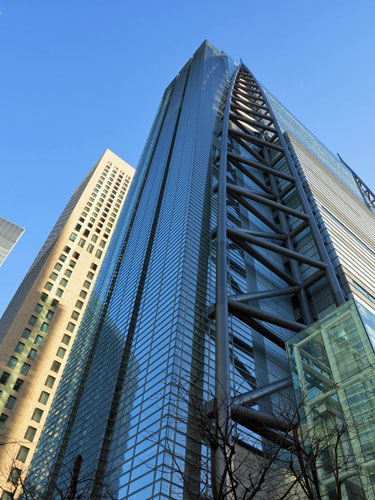 Shiodome skyscrapers, Tokyo, Japan
For a full listing of Tokyo Museums & Art Galleries click here
Shiodome Shiosite, Tokyo: read about Shiodome Shiosite, a modern waterfront development featuring the Dentsu HQ & a huge assortment of shops & Japanese restaurants.
All the themes of the city