Ritsumeikan University
Ritsumeikan University in Kyoto was founded during the Meiji Period and has a long history of liberalism and internationalism.
What's on right now in Tokyo & Kyoto
Kyoto Area Guide: Ritsumeikan University 立命館大学
Ritsumeikan University along with Kyoto University and Doshisha University is one of the big three universities in Kyoto.
Ritsumeikan is one of the oldest private universities in Japan with a large student body of over 30,000 students studying on four campuses including Ritsumeikan Women's College of Liberal Arts.
History of Ritsumeikan University
Founded in 1869 in the very early Meiji Period as an academy in the grounds of the Imperial Palace (Gosho) in Kyoto by a future Prime Minister of Japan Saionji Kinmochi (1849-1940), the school became Kyoto Hosei School, an evening law school, in 1900 and achieved university status in 1922. The Kyoto Hosei School took the name "Ritsumeikan" in 1913. Saionji is also credited as the founder of Meiji University in Tokyo.
The name "Ritsumei" comes from a quote by Mencius and means "establishing one's destiny."
Ritsumeikan now has over 30,000 undergraduates on two main campuses: Kinugasa Campus in the west of Kyoto near Kinkakuji, Toji-in and Ryoanji temples and Biwako-Kusatsu Campus in Shiga Prefecture. The smaller Suzaku Campus in downtown Kyoto houses the School of Law.
Ritsumeikan Asia Pacific University is located just outside the hot-spring resort of Beppu in the hills of Oita Prefecture and has around 6,000 students and faculty, around half of whom are from overseas.
Ritsumeikan Keisho Senior High School dates from the 1990's and is a well regarded high school with an international curriculum.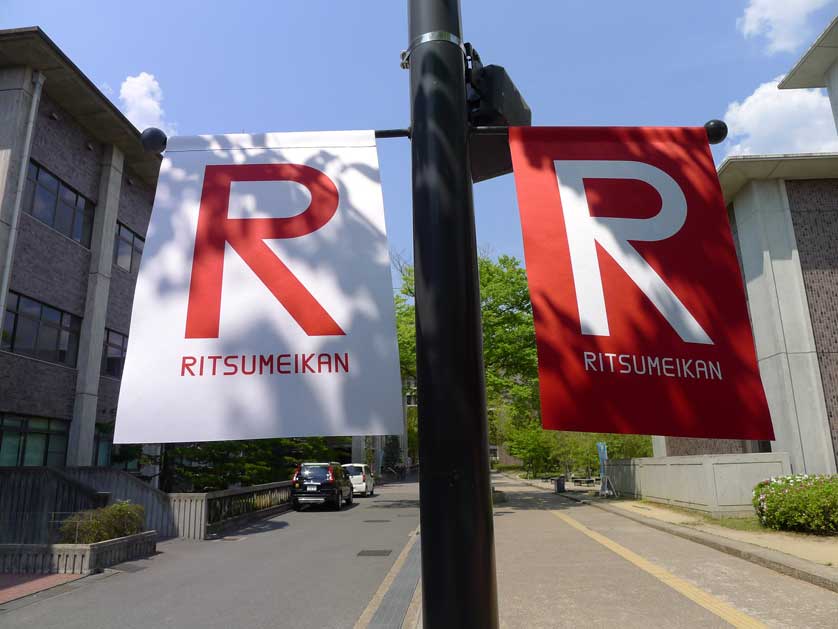 Ritsumeikan University, Kinugasa Campus, Kyoto, Japan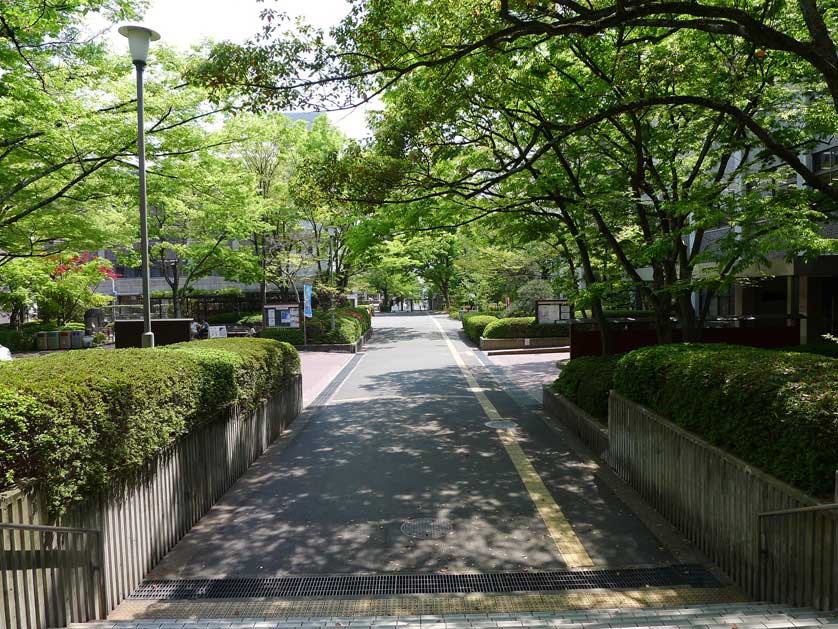 Ritsumeikan University, Kinugasa Campus, Kyoto, Japan
Ritsumeikan was founded with the ideals of liberalism, academic freedom and internationalism. In the 1930's Ritsumeikan took on faculty who had been forced to resign from Tokyo University due to their pacifism.
Post-war Ritsumeikan strengthened its democratic and international credentials and now has a large body of overseas students as well as encouraging exchange programs for its own students to study abroad.
Close to the Kinugasa Campus are the Ritsumeikan Kyoto Museum For World Peace and the Insho Domoto Museum of Fine Art.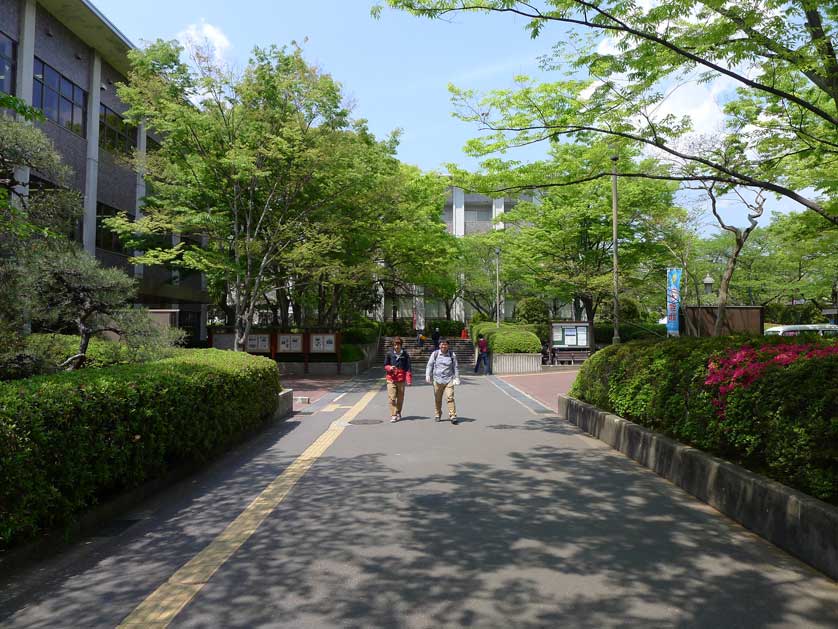 Ritsumeikan University, Kinugasa Campus, Kyoto, Japan
Ritsumeikan University, Kinugasa Campus, Kyoto, Japan
Ritsumeikan University (ritsumei.ac.jp)56-1 Toji-in KitamachiKita-kuKyoto 603-8577Tel: 075 465 8114
Suzaku Campus1 Nishinokyo-Suzaku-choNakagyo-kuKyoto 604-8520Tel: 075 813 8137 (General inquiries)
Biwako-Kusatsu Campus1-1-1 Noji-higashiKusatsuShiga 525-8577Tel: 077 561 3946 (International Center)
Ritsumeikan University Campus Access
From Kyoto Station, take the #50 city bus bound for Kinugasa Campus. The #12 bus goes to Ritsumeikan Kinugasa from Sanjo Keihan Station.
From Karasuma Imadegawa Station on the Kyoto subway take the #59 bus. Buses #102, #204, #205 and #101 stop at the nearby Waratenjin Shrine on Nishioji Street.
To reach the Biwako-Kusatsu campus from downtown Kyoto ride the JR Biwako Line from Kyoto Station to Minami Kusatsu and then take a school shuttle bus.
The Suzaku Campus is close to Nijo Castle and a short walk from Nijo Station. Take a JR Sagano Line train from Kyoto Station to Nijo Station or the Tozai subway line from Karasuma-Oike Station. Buses #90 #12, #50 and #101 stop at Nijo Station.
For a full listing of Kyoto Museums & Art Galleries click here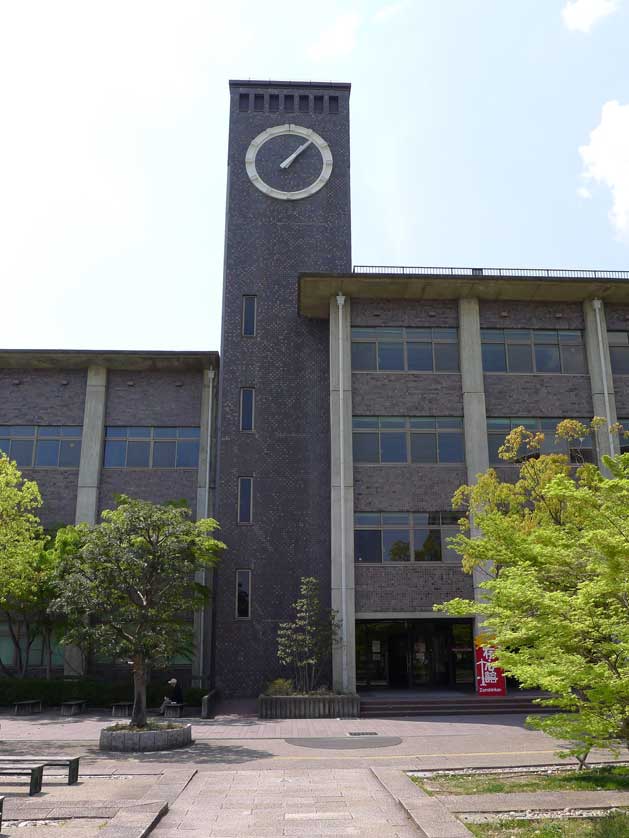 Zonshinkan, Ritsumeikan University, Kinugasa Campus, Kyoto, Japan

Book Hotel Accommodation in Kyoto Japan
All the themes of the city