Pure Land Gardens at Shitennoji Temple
The Pure Land Gardens at Shitennoji Temple in Osaka are a representation of a landscape called a Pure Land, a mythical landscape common to Mahayana Buddhism in East Asia.
Pure Land Gardens at Shitennoji Temple 四天王寺
Jake Davies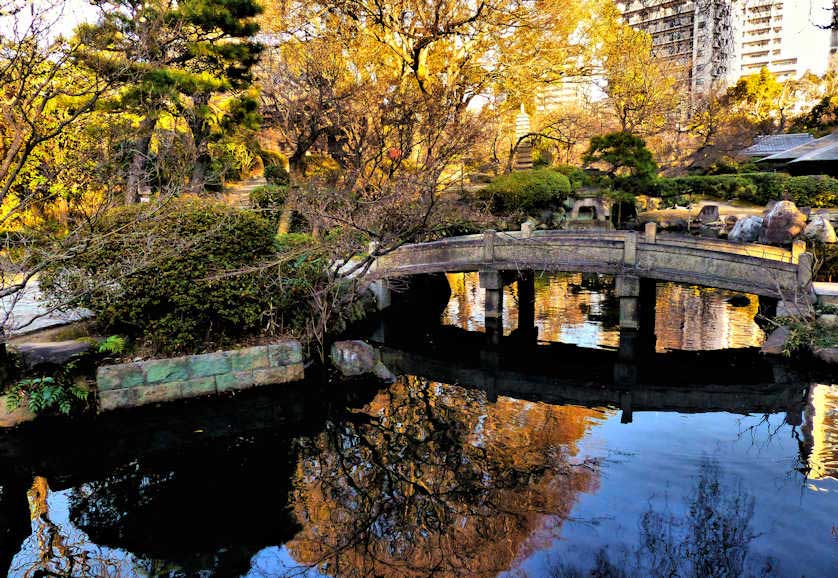 Western Paradise of Amida Nyorai represented as a garden
Shitennoji Temple in the heart of Osaka is one of the oldest Buddhist temples in all of Japan and hidden away in its grounds is a delightful Japanese garden that is missed by most visitors.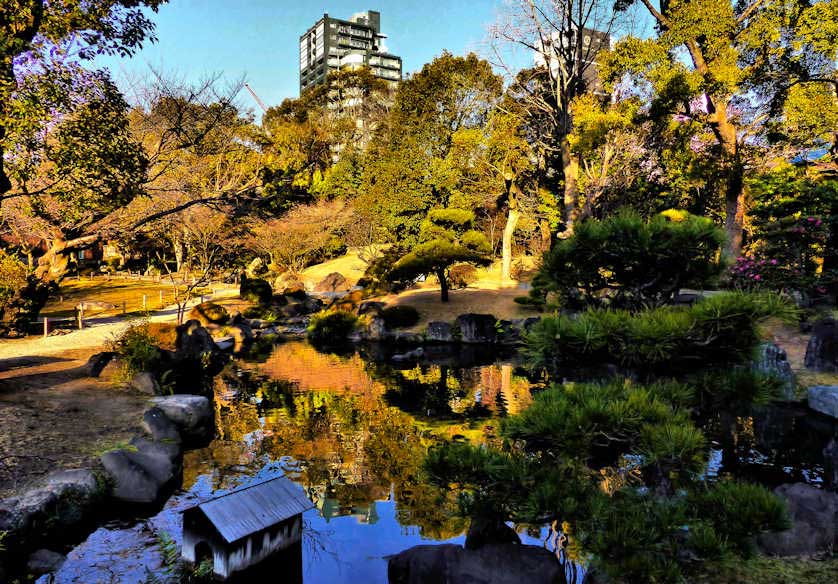 One of two ponds at the Gokuraku Jodo garden at Shitennoji Temple in Osaka
History
Osaka, Japan's "second city" is not known for it's history, but in actual fact has a longer history than Kyoto and is home to some major ancient sites including what is often credited with being the biggest tomb in the world.
Daisen Kofun is a keyhole-shaped burial mound surrounded by a moat and is the biggest of many that are located in the Osaka region.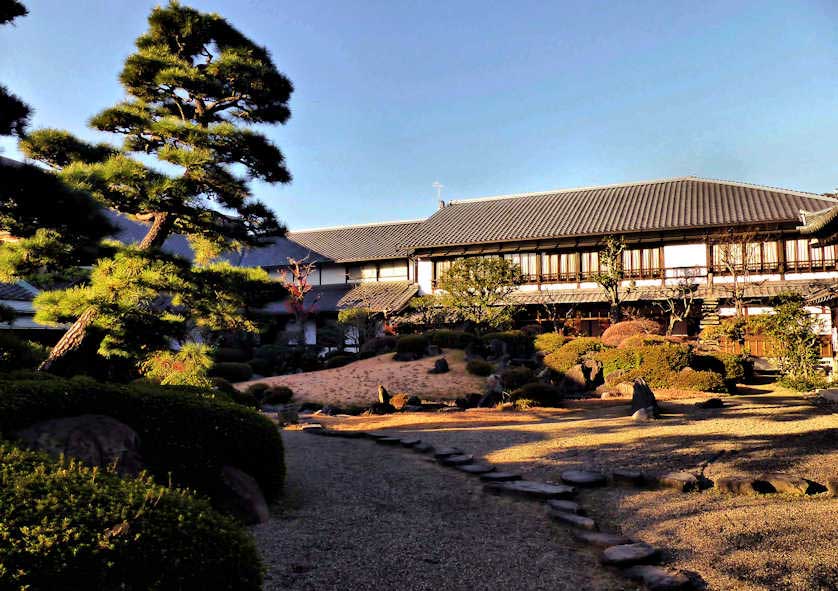 The Fudaraku rock garden representing the Pure land of the Goddess Kannon
Prince Shotoku
Shitennoji Temple which gives its name to the Tennoji district was established in 593 by Prince Shotoku, the man now generally credited with establishing Buddhism in Japan.
A few temples had been built earlier, but these were private temples built by and for a few influential families. Shitennoji is therefore considered to be the first Buddhist temple established by the state.
Nothing of the original temple remains, and the temple has been rebuilt numerous times after being destroyed by natural or man-made causes.
The current buildings were constructed post World War II following Osaka's repeated bombings. However the original layout and architectural design has been used each time in its reconstruction so it still looks pretty much how it did 1400 years ago.
There have been additional structures built over the centuries, and in the northeast corner of the extensive grounds, hidden from sight behind a group of buildings, is a rather unusual temple garden. Built in the early Edo Period, the garden is unusual because of the type of landscape that inspired its design.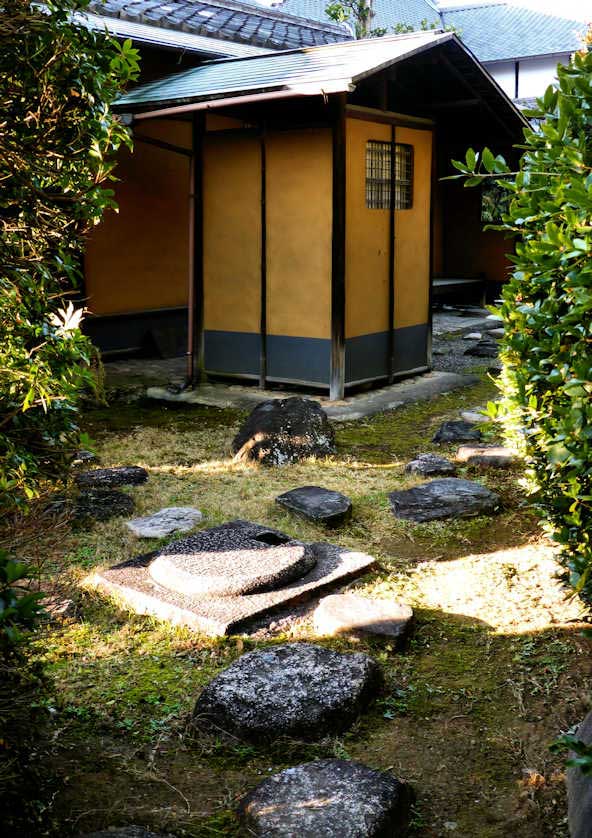 A path leads to one of the tea houses in the gardens of Shitennoji Temple

Japanese Garden Designs
Japanese gardens represent type of idealized landscapes. The inspiration for the first Japanese gardens came, like so much culture of the time, from China.
Though Taoism was never established as an organized religion in Japan, many symbols that are now considered part of Japanese culture originated in Taoism.
Mythical mountains represented in gardens by a single rock, or the well known symbols of crane and turtle appearing in paintings, poems, and, of course, in Japanese gardens, all originated in Taoism.
Much of this Taoist symbology was actually introduced by Buddhist priests, and over time many of the symbols and elements in gardens built in temples started  incorporating Buddhist themes.
In time some gardens were designed to represent real rather than mythical landscapes. Often these were also Chinese landscapes made famous in poem or painting, but also famous landscapes in Japan came to be incorporated. The representation of Mount Fuji at Suizenji Gardens in Kumamoto is a well known example.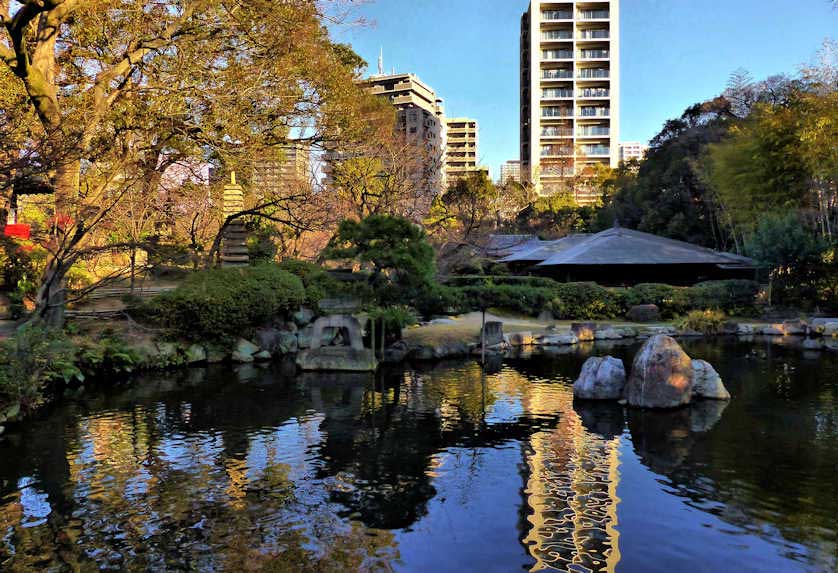 Sanzon Seki, a group of three rocks representing Amida and his attendants
The gardens here at Shitennoji was built as a representation of a landscape called a Pure Land. This is a mythical landscape common to Mahayana Buddhism in East Asia. Pure Land gardens began to be created in the late Heian Period, but none of these historical gardens still exist in their complete form.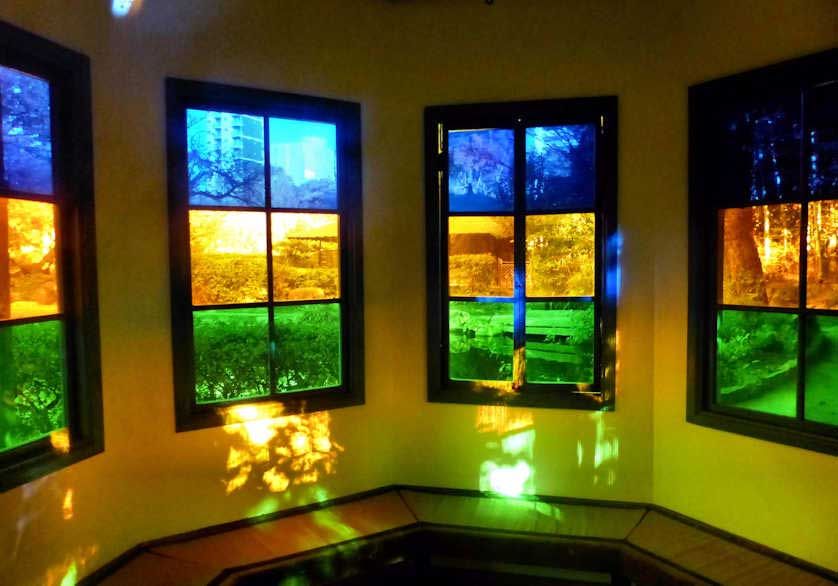 Hakkaku-tei, an unusual eight-sided gazebo with stained glass overlooks one of the ponds at Gokuraku Jodo Garden
Pure Land
So, what is a Pure land? In simplistic terms it is often translated as a Buddhist paradise or heaven. They are celestial realms inhabited by Buddhas and Bodhisattvas.
A famous one is known in Japanese as Fudaraku and is where Kannon is said to reside, but the most famous one is the Western Paradise of Amida and is where believers strive to be reborn. Pure Land Buddhism in Japan are the sects with the most members.
The gardens at Shitennoji are primarily representations of Amida's Pure Land known as Gokuraku Jodo, and Kannon's Fudaraku.
The gardens are built around two large ponds connected by a meandering stream. The water come from two small artificial waterfalls. The Waterfall of Shaka is a ryumin-baku style feature, translated as Dragon Gate Waterfall, and the water feeds into Ruriko Pond by way of a stream called the River of Hi.
The other small waterfall is called Yakushi Waterfall after Yakushi Nyorai commonly known as the Buddha of Medicine and Healing.
Other notable features are the Sanzon Seki, three rocks protruding out of the water in the largest pond. The largest rock represents Amida and the two smaller ones his attendants. The path that you follow through the gardens represents the way to paradise.
The Fudaraku garden has a large expanse of gravel representing the ocean. Unusually there are paths and stepping stones to walk across it. It is a karesansui or "dry" garden often mistakenly called a Zen garden with stone lanterns here and there.
There are several tea houses located within the grounds of the garden, and the largest is open to the public. Here you can get a matcha green tea with a traditional sweet for 400 yen. It is open from 9 am to 4 pm.
The gardens can of course be enjoyed throughout the year, but there are a lot of cherry trees blooming in late April, and plenty of colors in the autumn.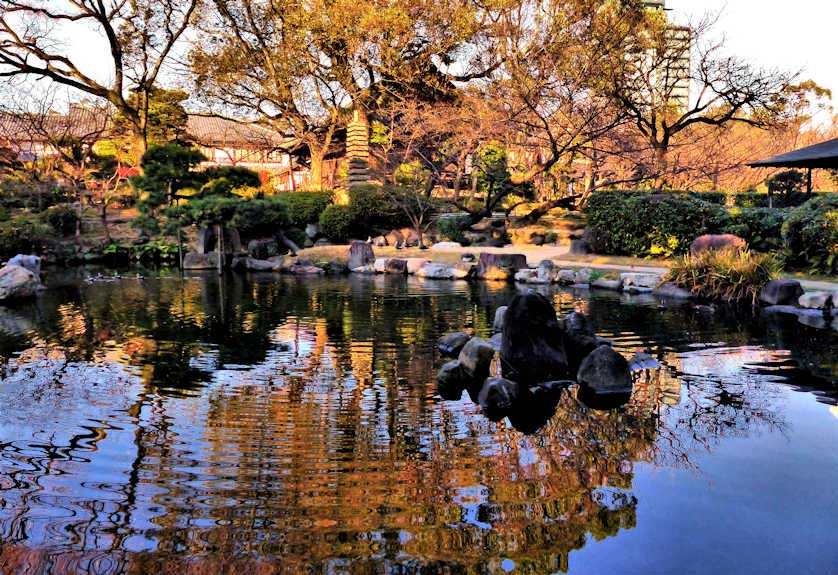 The delightful gardens at Shitennoji Temple in Osaka
Access - Getting to Shitennoji Temple
Shitennoji Temple (shitennoji.or.jp in Japanese)1-11-18 Shitennoji Tennoji-kuOsaka543-0051Tel: 06 06771 0066
Admission to the grounds is free but there is an admission charge for the Gokuraku-jodo Garden (300 yen) and the Treasure House.
Shitennoji Temple can be reached in about 10-15 minutes from Tennoji Station on the Midosuji Line, Tanimachi Line and JR Osaka Loop Line or in less time from the less busy Shitennoji-mae-Yuhigaoka Station on the Tanimachi Line of the Osaka subway network.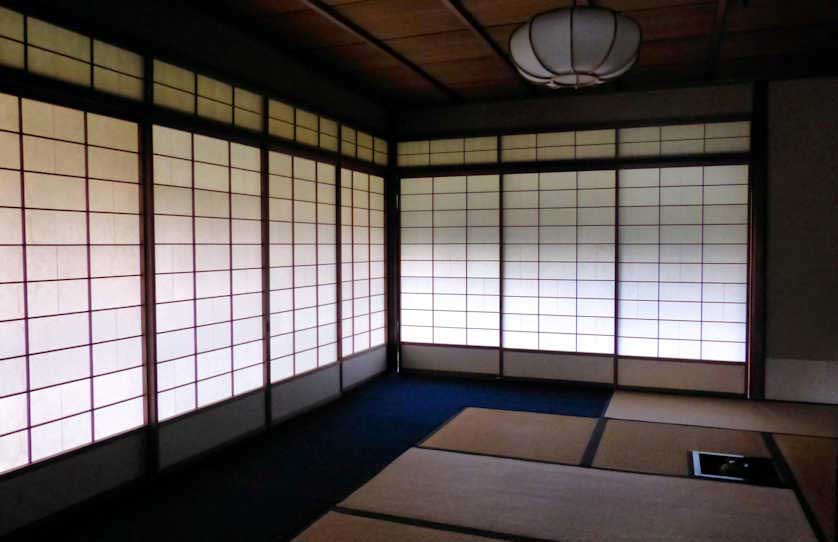 The tea house with its shoji shutters closed. When open you can buy Matcha green tea and enjoy the view of the garden
All the themes of the city