Hiking in Japan
Walking & Hiking in Japan ハイキング
Japan is a paradise for hikers in all seasons. The many mountains (around 70% of Japan's land area), and the historic paths and pilgrimage trails that criss-cross them, such as the Nakasendo from Kyoto to Tokyo and the Kumano Kodo in Wakayama Prefecture, make for superb walking routes in unspoiled countryside.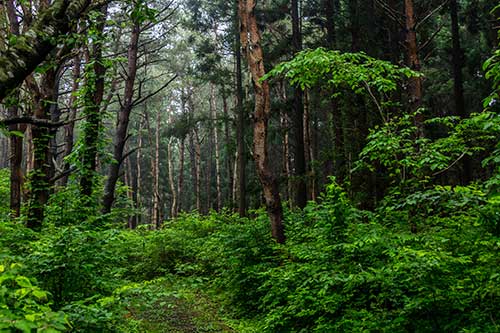 Hiking in the forests of Japan
Hiking in the Japanese countryside is a fun way for visitors and residents to observe the blooming of cherry blossoms during hanami season in March and April, as well as the spectacular autumn colors or kouyou (紅葉) in the fall months.
Added bonuses are the many onsen hot springs that can be accessed along the hiking trails and the chance to lodge in one of Japan's thousands of traditional inns or ryokan, some of which have been providing accommodation and hospitality for travelers since the Edo Period.
Japan's varied geography, geology, flora and fauna make for a superb experience for travelers who wish to experience a vigorous and healthy side of Japan away from, yet easily accessible from, its large cities.
Below is a listing by region of some of the many hiking experiences available in Japan from Hokkaido to Okinawa, ranging from easy day or half-day walks to longer, more difficult treks that could last several days or even weeks.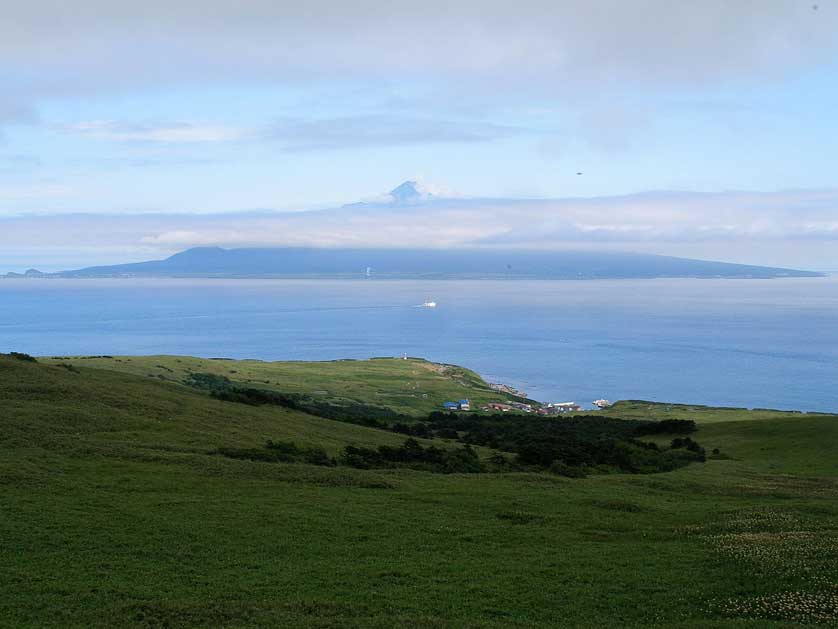 View of Mt Rishiri and Rishiri Island from Rebun-to, Hokkaido, Japan.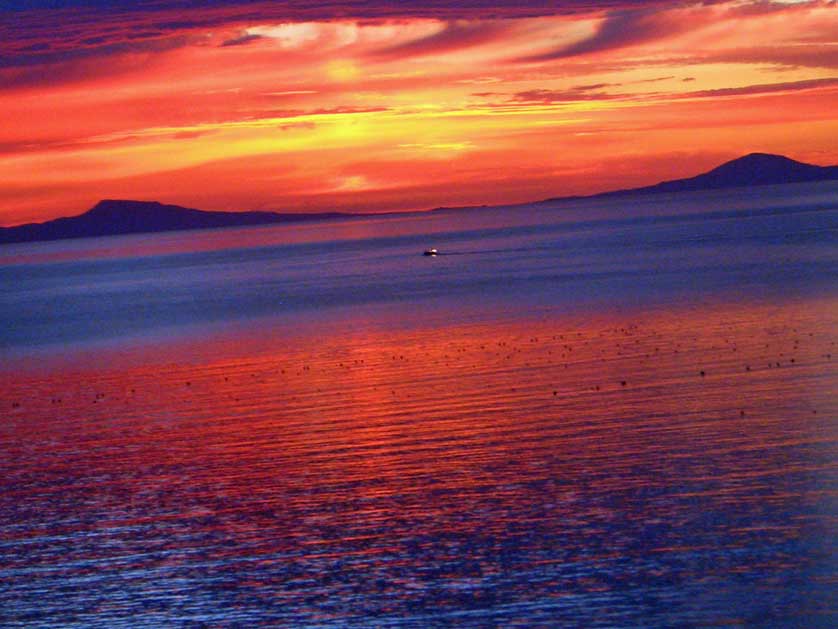 Sunrises on the Shiretoko Peninsula with Kunashiri Island in the background are often superb
Hokkaido
Hokkaido, the rough-cut diamond of northern Japan, has, despite a population of about six million, the important reputation as Japan's wild frontier. Hokkaido has Japan's earliest kouyou (fall colors) and some of the country's most dramatic, mountain scenery, which can be hiked in boots during the summer or snow shoes in winter. Read more about hiking in Rebun & Rishiri
Otaki Ice Cave
Winter in Hokkaido offers snowshoe tours of the Otaki Ice Cave to see its amazing Nyoro Nyoro Ice Creatures - smooth rounded ice crystal stalagmites - in a cave south west of Sapporo between Lake Shikotsu and Lake Toya.
Rebun and Reshiri
Rebun and Rishiri are two islands in the Rishiri-Rebun-Sarobetsu National Park reached by boat from Wakkanai on the far northern coast of Hokkaido. Both Rebun and Rishiri are known for their rare alpine flowers in summer. The dormant volcano that occupies the center of Rishiri can be hiked, and hiking and cycling trails circle the flatter island of Rebun.
Shiretoko Peninsula
The Shiretoko National Park in northeast Hokkaido is one of the most remote areas of Japan as well as one of the earliest places to see the autumn colors in Japan, usually beginning in mid-October. Shiretoko can be explored on long hiking tours or by sightseeing boats. The coastline is rugged and lined with tall rocks, the mountains in the interior rise steeply up with Rausu-dake being the tallest at 1660m, and the forests are home to Japan's largest population of Ezo brown bears and Blakiston's Fish Owl. Beyond the coastal settlements, almost all of the peninsula is classified as UNESCO World Natural Heritage.
Tokachidake
Tokachidake is part of Daisetsuzan National Park, Hokkaido's and Japan's largest National Park. There is hiking in summer to the tops of the various peaks in the park and snow-shoeing in the winter.
Tohoku
The prefectures of Akita and Aomori are both well-known for some excellent hiking and walking country.
Mount Hakkoda
Mount Hakkoda, south of Aomori city, can be reached by ropeway. From the top of the ropeway there are numerous hiking trails to other peaks in the area and down to the bottom of the mountain.
Oirase Gorge and Lake Towada
The picturesque Oirase Gorge is one of the best places to see the fall colors in Japan, either by car or tour bus or by following the river along a well-marked, easy hiking path which stretches 14km from Nenokuchi on the shore of Lake Towada to Yakeyama at the foot of Hakkoda-san.
Shirakami Sanchi
Shirakami-sanchi is a montane site in northern Honshu, supporting the last remaining virgin stand of Japan's climax temperate forest consisting of Siebold's Beech. The Shirakami Mountains, with their deep valleys, steep, forested mountain flanks, ridges and summits, rise to over 1,200 meters and form an important water catchment area in northernmost Honshu. The area is significant because of the pristine state of its forests that represent the (mostly lost) natural climax vegetation of the northern third of Honshu. The area offers a number of hikes including to the spectacular Anmon Falls.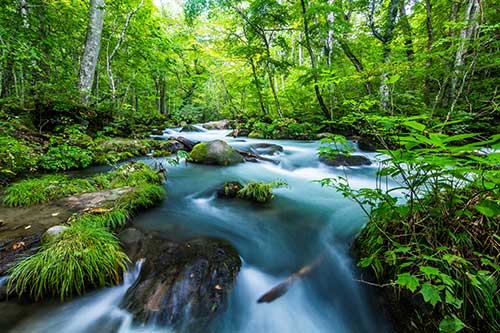 Oirase Gorge, Oirase River, Aomori, Tohoku
Kanto
Kanto, the area of northern Japan surrounding and including Tokyo has many places to enjoy both short and long hikes.
Mount Buko & Mount Dodaira, Chichibu
Mount Buko rises to 1304m in the Chichibu area of Saitama Prefecture. Hiking to the summit provides views as far away as Tokyo on a clear day as does nearby Mount Dodaira, which is famous for its night views of Tokyo.
Chichibu-Tama-Kai National Park
The area around the Mitsumine Shrine in Saitama Prefecture has hiking paths from the Mitsumine all the way to Mount Kumotori and is beautiful in autumn. The area is all part of the impressive Chichibu-Tama-Kai National Park.
Hakone
Hakone, west of Tokyo, is an easily-reached nature area from Tokyo, and its fall colors can be enjoyed throughout the month of November. Hakone has hiking trails up Mt. Komagatake and around Lake Ashi. There is also a popular hiking trail along the Hakone Kyukaido (Old Tokaido Highway).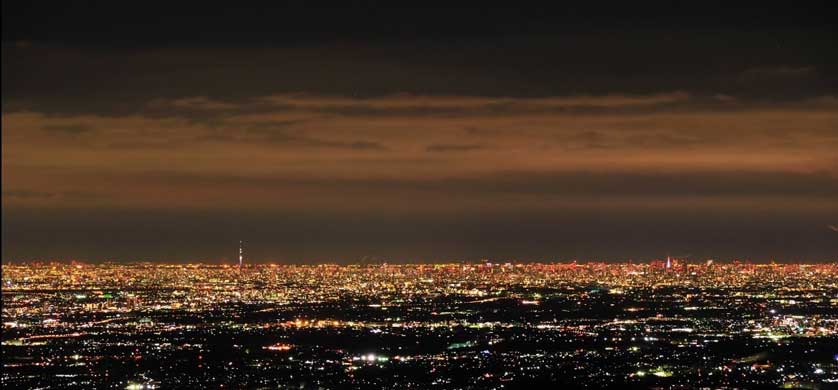 Tokyo from Mount Dodaira on a clear night
Mount Hiwada
Mount Hiwada in Saitama Prefecture offers a great view of the whole of the Tokyo skyline with the Sky Tree, the high rises of Ikebukuro and Shinjuku and beyond, even on slightly hazy days. Mount Fuji can also easily be spotted from the summit.
Kamakura
Kamakura, an easy day trip from Tokyo, offers refined autumn colors in its many historic Kamakura Period and Muromachi Period temples and shrines as well as numerous hiking paths in the wooded hills above the city.
Karuizawa
The well-to-do hill station of Karuizawa is just over an hour by shinkansen from Tokyo Station. Climb the Usui Pass (Usui Tohge) straddling Nagano and Gunma prefectures, for a spectacular overview of the craggy Southern Yatsugatake Volcanic Group, the Akaishi Mountains (or "Southern Alps"), and towering Mt. Asama.
Mount Myogi
Mount Myogi in Gunma Prefecture offers a steep climb to visit Myogi Shrine - an extraordinary mountain shrine right at the edge of the land of the tengu - mythical demons of the Japanese forest.
Mount Oyama
Mount Oyama, part of the Tanzawa-Oyama Quasi-National Park, is one of the easiest to access hiking spots from central Tokyo. It is known as a holy mountain to the Japanese, and many people visit for religious reasons, rather than to exercise or to see the views.
Nikko
The highland areas close to Nikko are justly famous for their autumn leaves. These include Lake Chuzenji and the Kegon Falls as well as Kirifuri Highland, Kawaji Onsen and Yumoto Onsen. Hiking trails connect the Ryuzu Falls, Senjogahara Marsh and Yumoto Onsen.
Oze National Park
Oze National Park is a popular hiking spot about 100km north of Tokyo. In autumn the high marshland grasses turn lovely shades of red and yellow. In early autumn the nikko-kisuge (yellow alpine lily) can also be seen in profusion.
Mount Shirane
Mount Shirane is the source of all the hot spring water in Kusatsu Onsen in Gunma Prefecture. During the summer and autumn it is possible to walk up to the top for a spectacular view over the mountains. At the summit you can see the volcanic water in the crater of Mount Shirane.
Shosenkyo Gorge
Shosenkyo Gorge, near the city of Kofu in Yamanashi Prefecture, can be enjoyed in the fall by walking along the paths following the scenic Arakawa River. Shosenkyo is scenically sublime, and in national polls of Japan's favorite beauty spots is usually among the top five. The picturesque Arakawa River (a tributary of the Fuji River) flows from Mt Kimpu (2595m) and Mt Kokushi (2592m) before it enters the Kofu Basin.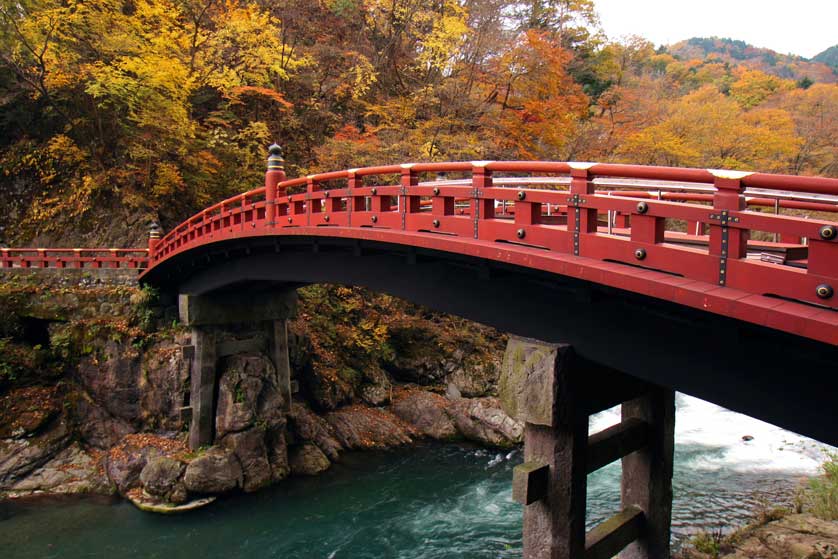 Shinkyo Bridge, Nikko, Tochigi Prefecture, Japan
Distant view of Mt. Fuji from Mt. Takao
Tokyo
Mount Fuji
Mount Fuji is a hike that many residents of and visitors to Japan want to accomplish at least once in their lives, most during the main hiking season in July and August. Be warned, however, ascending Japan's highest mountain is a strenuous activity and the rapid ascent to over 3,000 meters can lead to health problems due to altitude sickness for even the fittest individuals.
Mount Mitake
Mount Mitake is located in the mountains of western Tokyo and part of the Chichibu-Tama-Kai National Park. Mount Mitake is one of Tokyo's most favorite day trip destinations and a popular destination for believers in the healing art of shinrin-yoku.
Mount Takao
Mt. Takao (Takaosan) is a popular hiking area west of Tokyo and is known for cherry blossoms in spring and its leaves in the fall. Mount Takao can be reached in less than an hour from central Tokyo and makes for an enjoyable day away from the city.
Chubu (Central Japan)
The Chubu area of central Honshu includes the Japanese Alps in Nagano and Gifu prefectures and also parts of the Nakasendo Highway, a very popular hiking route. These mountain areas are perfect places to escape the hassles and crowds of the cities.
Ena Gorge
The Ena Gorge near Ena, a former post town on the Nakasendo Highway, can be enjoyed on 30-minute cruise boat tours or by hiking in the surrounding hills.
Hirugami Onsen and Tenryu River
Hirugami Onsen and Tenryukyo Gorge, not far from Iida in Nagano Prefecture, are both known for their autumn tapestries of colors and there are hiking trails along the sides of the Tenryukyo Gorge.
Kiso Valley
The Kiso Valley includes some of the most scenic parts of the historical Edo Period Nakasendo Highway. Follow the Nakasendo for various day hikes or for a longer 5-10 day trek. High peaks in the Kiso Valley include Mt. Ontake (3,063m) and Mt. Komagatake (2,956m). The Kisoji Nakasendo can be walked from Ena, to Nakatsugawa, Ochiai, Magome & Tsumago on to Kiso-Fukushima, Karasawa Waterfall, Miyanokoshi, Yabuhara, Narai, Kiso-Hirosawa and up to Matsumoto. The short stretch between Magome and Tsumago is the most popular day hike as it is easily accessed from Nagoya.
Korankei
Korankei draws visitors by car and bus from the nearby cities of Toyota and Nagoya. Korankei is particularly popular in autumn for the splendor of its fall colors.
Kyoto
Kyoto has a number of short hikes up the mountains that surround the city on three sides. These include Mt. Hiei, Daimonji and Kibune-Kurama. Two great books to guide you on walks around Kyoto are Diane Durston's Kyoto: Seven Paths to the Heart of the City and Deep Kyoto: Walks.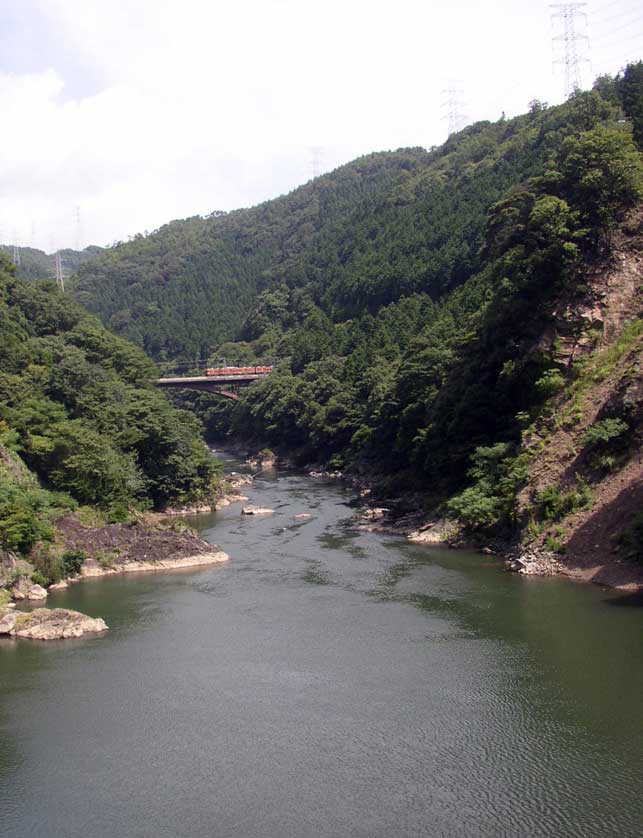 A view of the Sagano Romantic Train crossing one of the many bridges on the 7km, narrow-gauge line
Arashiyama
Walkers can stroll along the Hozu River west from Togetsukyo Bridge in Arashiyama and return on the romantic Sagano Scenic Railway from Saga-Kameoka. Alternatively shoot the rapids on a traditional boat trip back on the Hozu River Cruise.
Mount Atago
Mount Atago to the north west of Kyoto is a popular hike both during the day and even at night on 31st July, when the mountain is the scene of the "Sennichi Tsuyasai," a festival that focuses on fire, both positively and negatively. There are also hiking routes in the foothills of Mt. Atago to Kiyotaki.
Daigoji Temple
Daigoji Temple in the east of Kyoto has its main temple buildings at the foot of Mount Kami-Daigoji. The original buildings are at the summit of the mountain reached via a steep, wooded trail.
Mount Daimonji
Hiking up Daimonji on the eastern edge of Kyoto is an easy half-day hike and affords great views over the city below and is an excellent place to see the sun set.
Mount Hiei
Hiking to the summit of Mount Hiei from the entrance of Sekizanzenin Temple is a day hike, though you can ascend by cable car and ropeway. At the top is the sprawling temple complex of Enryakuji, a UNESCO World Heritage Site.
Kibune & Kurama
The stretch between the villages of Kibune and Kurama to the north of Kyoto is a popular half-day hike through a cedar forest before you come out at Kurama-dera Temple and a small onsen a little farther uphill.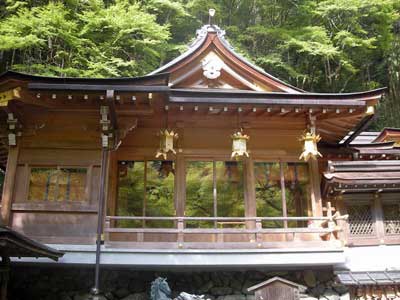 Kibune Shrine, Kibune to Kurama hike, Kyoto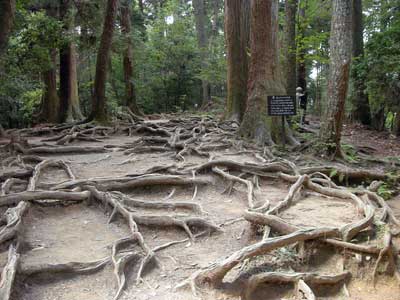 Cedar tree roots, Kibune to Kurama hike, Kyoto
Western Japan (Kansai) & Chugoku
West and south of Kyoto in the Kansai and Chugoku areas are a number of places to hike and enjoy some grandiose scenery.
Akiyoshidai
Akiyoshidai is a large limestone plateau in the middle of Yamaguchi Prefecture. Akiyoshidai is the largest karst in Japan, encompassing about 130 square kilometers. The plateau includes Akiyoshido, which is Japan's largest cave.
Lake Biwa
Uminobe no Michi ('Lakeside Path') is a little-known historical path that stretches along a small mountain range north of Lake Biwa in Shiga Prefecture, central Japan. Uminobe no Michi makes a great day hike from either Kyoto or Osaka, and can be approached in three different ways depending on your transport preferences and level of physical fitness.
Chomonkyo Gorge
Chomonkyo in Yamaguchi Prefecture in the deep south of Honshu, is a picturesque gorge through which the Chugoku Nature Trail runs.
Mount Daisen
Mt. Daisen in Tottori Prefecture near Yonago is part of the Daisen-Oki National Park and is known for its hiking and some interesting shrines. Mount Daisen is one of Japan's top 100 mountains.
Futabanosato Historical Walking Trail
The Futabanosato Historical Walking Trail is an approximately 10 kilometer long route that connects with 16 historic shrines and temples. It takes a good half day to cover the whole route, but the central section which passes near Hiroshima Station is only a few kilometers long and has almost half the sites, so is suitable if you have just a couple of hours to spare.
Mount Gosaisho
Mount Gosaisho is a fairly strenuous ascent that can be done in a day trip from nearby Nagoya. Hot spring baths dot the approach roads to the mountain.
Iwami Ginzan Kaido
The Iwami Ginzan Kaido walking trail in Shimane Prefecture connects Omori and Iwami Ginzan with the port and onsen town of Yunotsu.
Koyasan
Mt. Koyasan in the hills of Wakayama Prefecture south of Osaka has a number of hiking trails along the original 23km-long Koyasan Choishi Michi pilgrimage path, which if done in its entirety is a full-day seven-hour hike. However, it is possible to walk shorter legs of the complete trail on a half-day hike.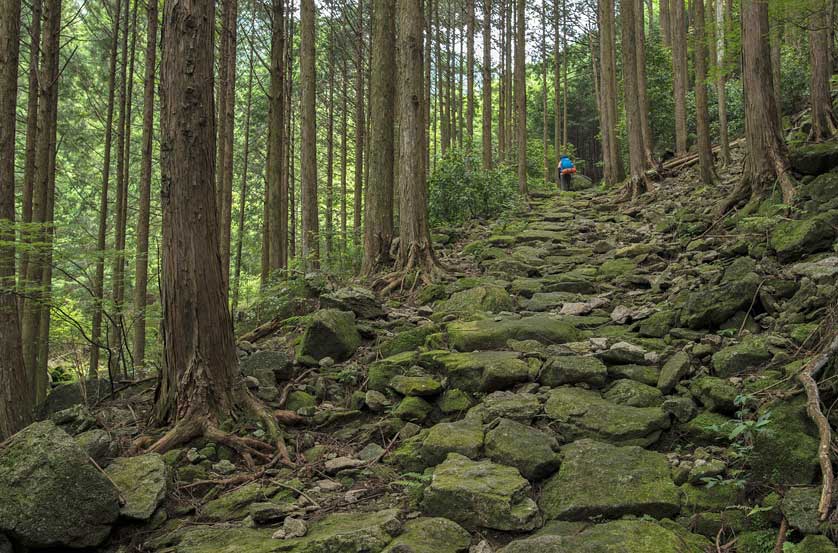 Hiking the Kumano Kodo on the Iseji Route
Kumano Kodo
Kumano Kodo, located in the south of the Kii Peninsula in Wakayama Prefecture, is an increasingly popular hiking destination. The walks follow ancient pilgrimage trails through the spectacular scenery dotted with historic shrines and hot springs.
Mount Misen
Mount Misen at 535m is the highest point on the sacred island of Miyajima, just outside Hiroshima city. The island has been particularly sacred since ancient times, and for a long time no one was permitted to live on it. One of the side-effects of this has been that the forests of Miyajima have never been logged; it is virgin forest, something quite rare in Japan. The forest and Mt. Misen are included within the World Heritage Site along with the more famous Itsukushima Jinja.
Mount Shakagatake
The best hiking in Kansai is found in the mountains in southern Nara Prefecture. History, culture, and tremendous vistas draw hikers from around Japan. The highest peak is Mt. Hyakkogatake, which is 1,915 meters (6,215 feet) above sea level. Nearby Mt. Shaka is just shy of that, its peak exactly 1,800 meters (5905 feet). These peaks, and Misen (second highest in Kansai), are all linked by ancient mountain paths. Many of these routes were used for commerce and transport, most long since rendered obsolete by car and rail; many others however remain pilgrimage routes.
Taishakukyo Gorge
Taishakukyo is a lovely gorge and lake in the mountains of Hiroshima Prefecture with a number of pleasant hiking trails. Sightseeing boat rides are also available on the river that runs through it.
Yamanobe no Michi
Yamanobe no Michi in Nara Prefecture runs roughly from Tenri to the ancient capital of Asuka. The walk is 16 kilometers (10 miles) of gentle hills and long stretches through persimmon and mikan groves that are still tended by the locals as they have been for generations.
Mount Yoshino & Mount Omine
Mount Yoshino is Nara Prefecture's most famous cherry blossom destination and is also popular for its autumn leaves. Mount Omine is a more serious hike along an ancient pilgrimage route and is a UNESCO World Heritage Listed Site.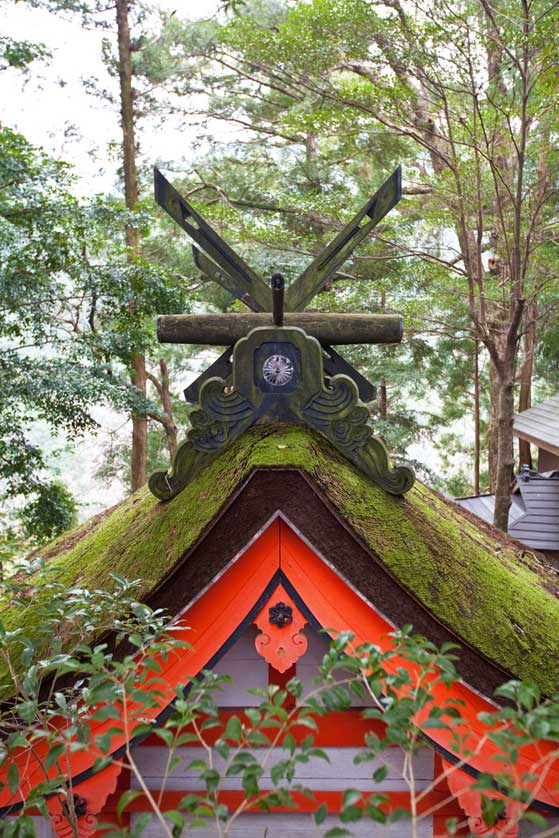 A moss-covered forest shrine in Kumano Kodo
Shikoku
Shikoku is most famous for its 88 Temple Pilgrimage (Shikoku Hachijuhakkasho) on a 1,200 km (745 mile) route throughout the island of Shikoku visiting temples associated with the priest Kukai (AKA Kobo Daishi).
Kankakei Gorge
The Kankakei Gorge on Shodoshima Island is a spectacular ravine considered one of the most beautiful in Japan. The whole length of the gorge can be hiked along picturesque trails.
Oboke Gorge
Oboke Gorge is a beautiful mountainous area where the Yoshino River in a deep ravine is surrounded by spectacular scenery.
Kyushu
The mountains of Kyushu have some fabulous places to hike and enjoy the changes in the seasons as well as some outstanding onsen hot spring baths for resting weary limbs.
Mount Aso
Mount Aso is the largest active caldera in Japan with numerous hiking trails reaching up to the various craters, lakes and peaks of this spectacular natural feature.
Gokanosho
Gokanosho is located in a remote area of Kumamoto Prefecture in central Kyushu. The area draws large numbers of weekend visitors from the bigger cities of Kyushu, namely Kumamoto and Fukuoka to this otherwise hardly traveled area. The mountains reach up to 1,700 meters (5,600 feet) and the roads lead over passes as high as 1,100 meters (3,600 feet).
Sogi-no-taki, Kagoshima, Kyushu.
Kirishima
The Kirishima volcanic chain is a scenic hiking area where it is possible to view crater lakes and a wide array of flora. There are a variety of hikes that you can do, but one of the best places to hike in Kirishima is Mt. Takachiho, 1,574m (5,164 feet), because of its magnificent scenery and views - Sakurajima is visible on a clear day. To reach the top of Takachiho, you must first climb to the top of Mt. Ochahi and hike around the crater lake, which is 2-3 meters deep and has a stunning color. It is not advised to make this hike on windy days, as it can be quite dangerous. Kirishima has ten crater lakes, but this is the only one that you are able to get close to and it is definitely worthwhile. The summit is a 3-hour hike from Kirishima-Yasu or half that from Takachiho-gawara, 7km (4 miles) up the road.
Sandankyo Gorge
Sandankyo in Hiroshima consists of a series of gorges running 12km (7 miles) to Hijiri Lake in the mountains near the border with Shimane Prefecture. There is one bus a day to Sandankyo from Hiroshima Station (1 hour).
Sogi no Taki
Sogi no Taki (Sogi Waterfall) is a spectacular waterfall in the countryside of Kagoshima Prefecture. The park is a favorite spot for walking and enjoying the fall foliage.
Takachiho Gorge
Takachiho Gorge is another of Kyushu's top autumn leaves viewing and walking spots. Visitors can hire a row boat to look up at the foliage and there are hiking trails along the banks of the river. The Kyushu Olle Trail based on the original Cheju Olle paths on Jeju Island in South Korea is a 12.3km (7.6 mile) walk taking in Takachiho Shrine, Takachiho Gorge and Mukoyama Shrine.
Mount Unzen
Mount Unzen in Nagasaki Prefecture is an active volcano in the Unzen-Amakusa National Park, established way back in 1934. A ropeway ascends part of the way up the mountain from where a number of hiking trails radiate over the slopes to the top.
Yakabei Gorge
The Yabakei Gorge is an area of outstanding natural scenery and beauty located on Kyushu in the north of Oita Prefecture, south of the town of Nakatsu. Yabakei Gorge is part of Yaba-Hita-Hikosan Quasi National Park. There are hiking trails, walking paths, cycle routes, and hot springs in the area as well as cultural and historic sites.
Yakushima
Yakushima is one of Japan's last great wildernesses. With a backdrop of lush green mountains, sparkling blue water, and rare flowers and animals, Yakushima Island in Kagoshima Prefecture is an incredible place to spend a few days. Various hiking trails go among the ancient cedar forests. Choose from short easy strolls to much longer, more strenuous treks.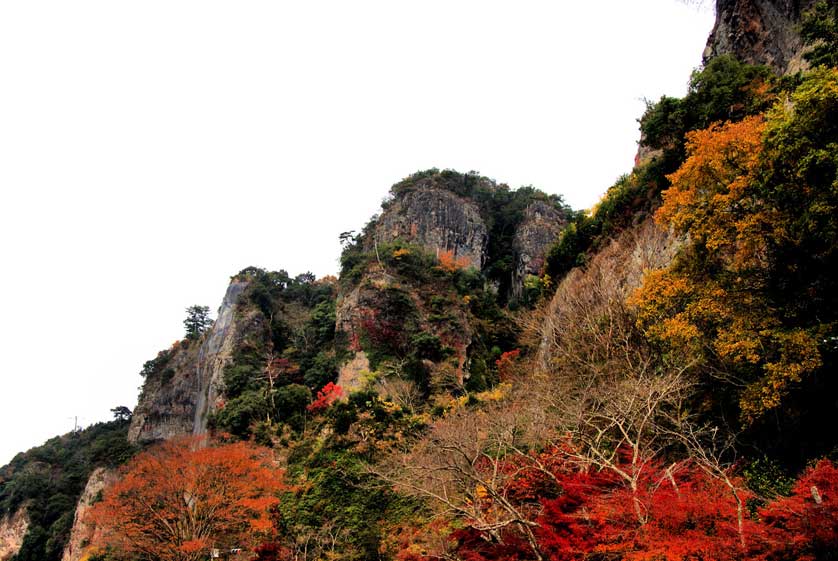 Yabakei Gorge with fall colors
Okinawa
Okinawa is better known for its pristine beaches and marine sports than its hiking trails, but the northern Yambaru part of Okinawa Honto (Main Island) is the best place to get off the beaten track. Hiji Falls is a noted beauty spot and the forest here is a good place for bird-watching and for spotting the rare Ryukyu Black-Breasted Leaf Turtle, plus semi-tropical lizards and snakes.
Iriomote
Iriomote Island is the largest island of the Yaeyama Islands (Yaeyama-shoto) and offers jungle hikes and kayak or boat trips on the Urauchi River. Iriomote is home to a number of exotic species of flora and fauna including the rare Iriomote cat or yamaneko (found only on Iriomote) and the dangerous habu snake, a species of pit viper. Iriomote National Park in the interior preserves over 34% of the island's 289 square kilometer area. Mt. Komi at 469m is Iriomote's highest peak.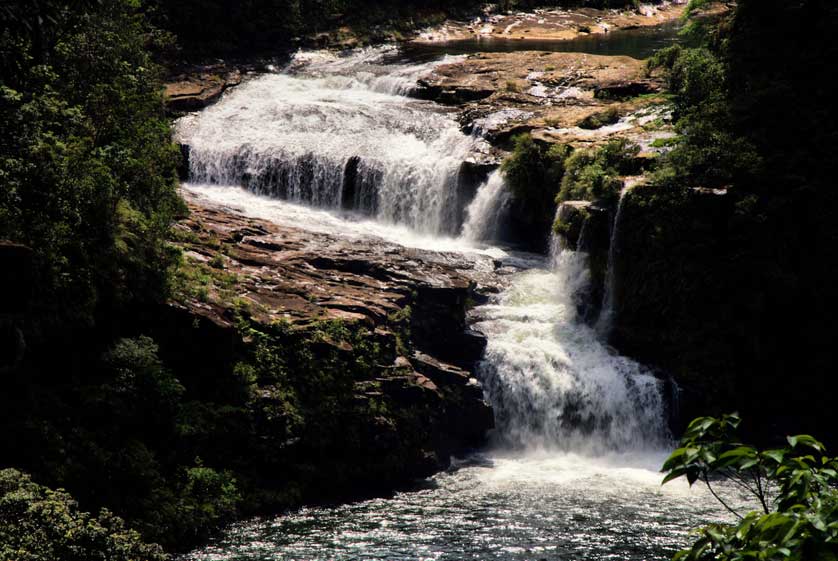 Mariyudu Falls, Iriomote, Okinawa
Japan Hiking Books & Other Resources
Alan Booth's classic Roads to Sata details the author's epic journey on foot from Hokkaido to Kyushu and remains one of the best pieces of travel writing on contemporary Japan. Published posthumously, his Looking For The Lost: Journeys Through A Vanishing Japan is another great book about walking in Japan.
New Zealand adventurer Craig McLachlan has written extensively on his walking adventures in Japan. He has traveled two pilgrimage routes, the Shikoku Henro (Tales of a Summer Henro), and the Shikoku Kannon Pilgrimage (Wandering with Basho), as well as climbing many mountains, including the 100 Famous Mountains (Hyakumeizan - the 100 Mountain Challenge) and all of Japan's mountains with peaks higher than 3,000 meters (Japan: Coast to Coast), so it's hardly surprising that he co-authored Lonely Planet's Hiking in Japan.
JapanVisitor's Jake Davies has walked both the 1,200 kilometer Shikoku Pilgrimage and 2,000 kilometers around Kyushu. You can follow his travels and superb photography on his Kyushu 108 Sacred Sites Pilgrimage.
Related Japan Nature Links
Tokyo Hikes
Kyoto Hikes
List of Parks and Gardens in Japan
Tokyo Cherry Blossom Spots
Tokyo Best Fall Colors Spots
Kyoto Cherry Blossom Spots
Kyoto Fall Colors
Hiking in Japan: read a guide to hiking in Japan from the snowy mountains of Hokkaido to the sub-tropical forests of Okinawa.
All the themes of the city