Kyoto Hikes
Kyoto Hiking ハイキング
Kyoto, surrounded as it is by mountains on three sides, has a number of short half-day and full-day hikes within easy reach of the city center.
These include Mt. Hiei, Daimonji and Kibune-Kurama.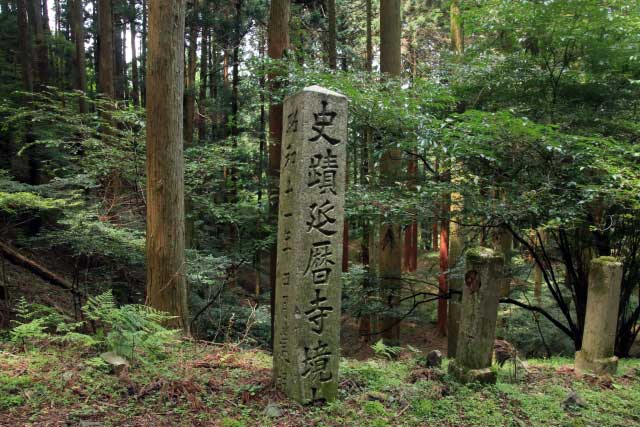 Enryakuji Temple is located in the forests on Mt. Hiei, north east of Kyoto and is a popular day hike
Hiking in and around Kyoto is a great way to keep fit and get off the beaten track to avoid the tourist hordes at the city's major temples.
Head for the hills to observe the blooming of cherry blossoms during hanami season in March and April and Kyoto's spectacular autumn colors or kouyou (紅葉) in the fall months.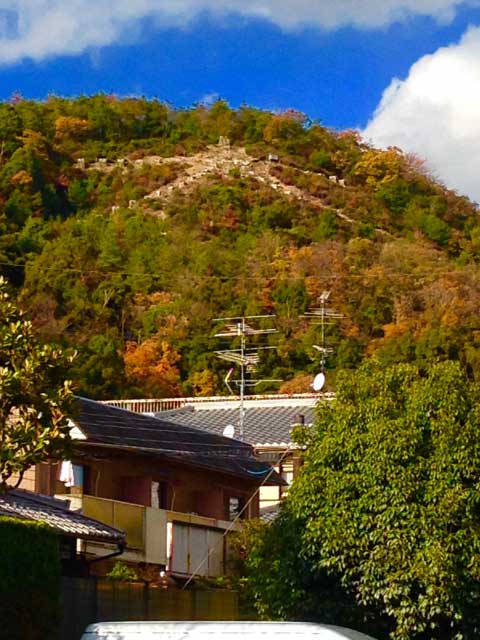 Hiking Daimonjiyama in Kyoto
Kyoto Hikes
Arashiyama
Walkers can stroll along the Hozu River west from Togetsukyo Bridge in Arashiyama and return on the romantic Sagano Scenic Railway from Saga-Kameoka. Alternatively shoot the rapids on a traditional boat trip back on the Hozu River Cruise.
Mount Atago
Mount Atago to the north west of Kyoto is a popular hike both during the day and even at night on 31st July, when the mountain is the scene of the "Sennichi Tsuyasai," a festival that focuses on fire, both positively and negatively. There are also hiking routes in the foothills of Mt. Atago to Kiyotaki.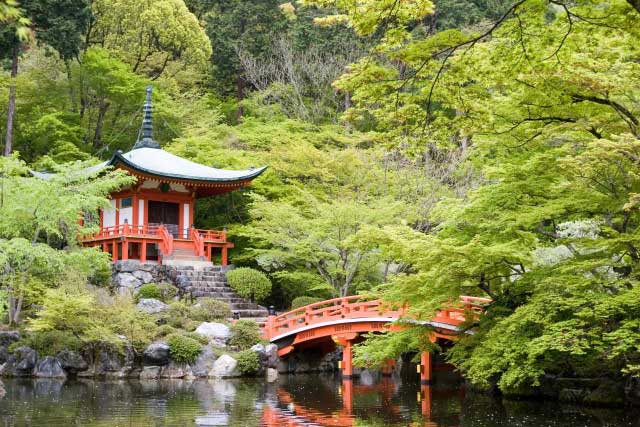 Daigoji Temple, Kyoto
Daigoji Temple
Daigoji Temple in the east of Kyoto has its main temple buildings at the foot of Mount Kami-Daigoji. The original buildings are at the summit of the mountain, Kami Daigo (Upper Daigo) reached via a steep, densely wooded trail past sacred springs and a man-made waterfall from Shimo-Daigo (Lower Daigo) in about an hour. The summit and its several shrines and temple buildings is approached through a bamboo grove. A visit here can also include Zuishin'in Temple, associated with the beautiful (and later mad) Heian Period poetess Ono no Komachi. Both Daigoji Temple and Zuishin'in Temple can be reached by the Tozai Line of the Kyoto subway - Ono Station for Zuishin'in and Daigo Station for Daigoji. There are also Keihan buses (#22 & #24) to the temples from Yamashina Station. Daigoji is also a stop on the longer 33 Kannon Pilgrimage dedicated to the Goddess of Mercy in western Japan and the Fudo Myo-o pilgrimage through the Kinki region.
Mount Daimonji
Hiking up Daimonji on the eastern edge of Kyoto is an easy half-day hike and affords great views over the city below and is also an excellent place to see the sun set. The easiest way to reach the foot of the trail to Daimonji is to take the Raku 100 bus from Kyoto Station to Ginkakuji Temple - the bus stop is to your right from the main exit of Kyoto Station. The last stop is Ginkakuji Temple, get off the bus and walk back towards the entrance to the temple and turn left. At the concrete torii gate at the end of the lane turn right and you will see the trail signposted. The path leads through pleasant woodland and flowing streams and a set of steep stairs will bring you to the summit and its wonderful views.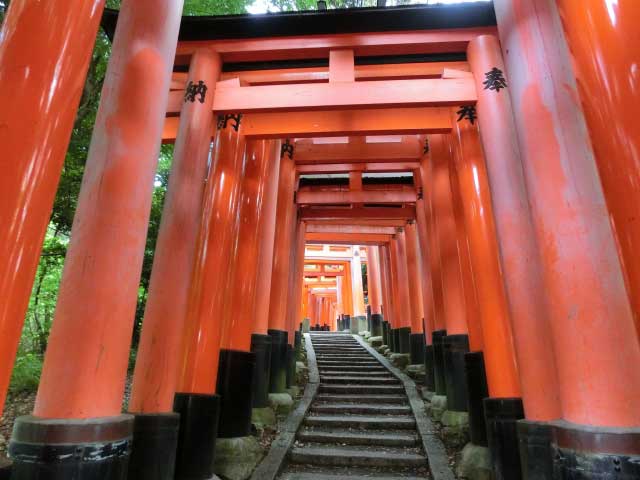 Fushimi Inari torii gates, Kyoto
Fushimi Inari
Walking through the winding tunnels of vermilion torii gates at Fushimi Inari is one of the great experiences of visiting the old imperial city. The torii gates stretch to the top of the 233m-high Mt. Inari and it can take about an hour to 90 minutes to reach the top in a leisurely stroll, maybe even stopping for tea or some of Fushimi's famous sake. Inari Station is five minutes from Kyoto Station on the JR Nara Line or take a local Keihan Line train from Sanjo Keihan Station to Fushimi Inari Station (10 minutes).
Mount Hiei
Hiking to the summit of Mount Hiei from the entrance of Sekizanzenin Temple is a day hike, though you can ascend by cable car and ropeway or walk up and ride down. At the top is the sprawling temple complex of Enryakuji, a UNESCO World Heritage Site. There are views of Kyoto city below as you ascend the mountain and of Lake Biwa in Shiga Prefecture at the summit. To get to the start of the trail either take an Eiden train from Demachiyanagi Station to Shugakuin Station or a Kyoto city bus #5 to the Shugakuin Rikyu bus stop on Shirakawa Dori, just outside the Kyoto University Foreign Students' Residence.
Higashiyama
Though not really a hike, more a temple stroll, the walk from Shugakuin Rikyu south to Kiyomizu-dera through the hills of Higashiyama can take the best part of a day or be broken up into two sections: north Higashiyama and south Higashiyama. The walk takes in many of Kyoto's most famous temples, shrines and gardens and includes Manshuin Temple, Enkoji Temple, Ginkakuji, Philosopher's Walk, Honen-in and Nanzenji Temple.
Kibune & Kurama
The stretch between the villages of Kibune and Kurama to the north of Kyoto is a popular half-day hike through a cedar forest before you come out at Kurama-dera Temple and a small onsen a little farther uphill. You can take an Eiden Line train from Demachiyanagi Station (which connects with the Keihan Line to Osaka) to either Kibune (to walk up) or Kurama (to walk down).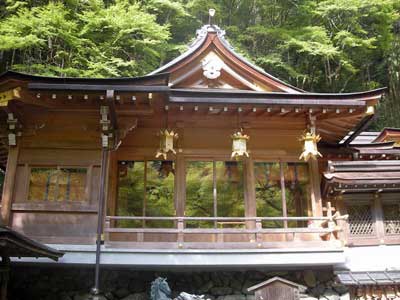 Kibune Shrine, Kibune to Kurama hike, Kyoto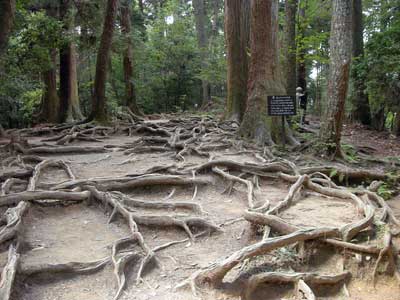 Cedar tree roots, Kibune to Kurama hike, Kyoto
Kyoto Isshu Trail
For hiking enthusiasts in the Kyoto area, there is a wonderful 70 km course that encircles the city. It begins in the south at Fushimi Inari Shrine and follows that mountains that surround the city on three sides, ending up at the world-famous Moss Temple.
From Fushimi, the Kyoto Trail passes through Higashiyama, Kitayama, Mt. Hiei, Ohara, Kurama, Nishigamo, Takao, Arashiyama, and finally ending at Koke-dera Temple. (For those interested in a bit of adventure, it is possible to continue on to Ponpon-san, a small popular mountain near Takatsuki, about 30 km farther south.)
In addition to natural vistas and wildlife - boar, bear, tanuki, deer, fox and other animals live in these hills, as do monkeys, especially near Arashiyama - the Kyoto Trail features many temples and shrines.
The Kyoto Isshu Trail is marked fairly well with bollards that state (1) where you are and (2) how many kilometers you have walked from the starting point at Fushimi.
The trail can be broken up into one-day trips - say, about 10 km - that are mostly accessible by public transportation.
One word of warning: in addition to the Kyoto Isshu Trail, there are many other ancient trails that vein the mountains. Some of them are marked in Japanese, some not at all. Be careful that you stay on the Kyoto Trail.
Lake Biwa
Uminobe no Michi ('Lakeside Path') is a little-known historical path that stretches along a small mountain range north of Lake Biwa in Shiga Prefecture, central Japan. Uminobe no Michi makes a great day hike from either Kyoto or Osaka, and can be approached in three different ways depending on your transport preferences and level of physical fitness.
Shogunzuka
This approximately two hour walk begins at Chion-in Temple and leads up to the Seiryuden Viewpoint in Shoren-in Temple for excellent vistas down over the city on clear days as far as Arashiyama. You can also see Mt. Hiei and Daimonji from up here. This new viewpoint (admission 500 yen) was opened in 2015. If you are not up for the walk or are short of time, take a taxi from Keage Station on the Tozai Line of the Kyoto subway.
Yoshidayama
Yoshidayama, located near the main campus of Kyoto University, affords a pleasant walk on its quiet, wooded slopes with numerous atmospheric small shrines. After walking through the woods come down to see the less-visited temples of Kurodani and Shinnyodo.
Books on Hiking in Kyoto & Japan
Some great books to guide you on walks in and around Kyoto are Diane Durston's Kyoto: Seven Paths to the Heart of the City, Judith Clancy's Exploring Kyoto: On Foot in the Ancient Capital and Deep Kyoto: Walks.
Alan Booth's classic Roads to Sata details the author's epic journey on foot from Hokkaido to Kyushu and remains one of the best pieces of travel writing on contemporary Japan. Published posthumously, his Looking For The Lost: Journeys Through A Vanishing Japan is another great book about walking in Japan.
New Zealand adventurer Craig McLachlan has written extensively on his walking adventures in Japan. He has traveled two pilgrimage routes, the Shikoku Henro (Tales of a Summer Henro), and the Shikoku Kannon Pilgrimage (Wandering with Basho), as well as climbing many mountains, including the 100 Famous Mountains (Hyakumeizan - the 100 Mountain Challenge) and all of Japan's mountains with peaks higher than 3,000 meters (Japan: Coast to Coast), so it's hardly surprising that he co-authored Lonely Planet's Hiking in Japan.
JapanVisitor's Jake Davies has walked both the 1,200 kilometer Shikoku Pilgrimage and 2,000 kilometers around Kyushu. You can follow his travels and superb photography on his Kyushu 108 Sacred Sites Pilgrimage.
Related Japan Nature Links
Hiking in Japan
Tokyo Hikes
List of Parks and Gardens in Japan
Tokyo Cherry Blossom Spots
Tokyo Best Fall Colors Spots
Kyoto Cherry Blossom Spots
Kyoto Fall Colors
Kyoto, surrounded by mountains on three sides, offers a number of rewarding hikes. Find half-day and day hikes in and around Kyoto.
All the themes of the city