Naha Guide
Naha guide: read a travel guide to Naha in Okinawa, things to see in Naha and Naha hotel accommodation.
Naha 那覇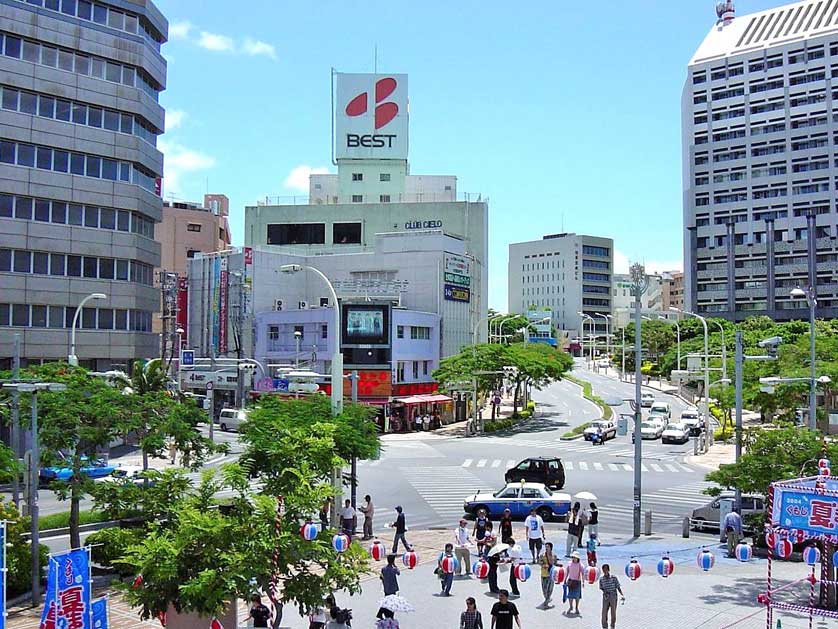 Downtown Naha, Okinawa
Naha is the capital city of Okinawa Prefecture and the political, economic, educational, culinary and transport hub of the Ryukyu Islands.
Naha, located on the main island of Okinawa (Okinawa honto), has a population of over 320,000 inhabitants and has a more cosmopolitan feel to it compared to many other Japanese cities with the exception of Tokyo, Kyoto and Yokohama.
Lying at roughly the same latitude as Hawaii, Florida, and the Bahamas, Naha and Okinawa enjoys similar mild sub-tropical weather.
The yearly average temperature is about 24°C (75°F). The highest temperature in the summer in Naha is 35°C (August) and in winter temperatures rarely if ever dip below 10°C (50°F) (January).
The comparison with Hawaii, Florida, and the Bahamas is particularly apt as Naha, and Okinawa as a whole, are major vacation destinations for Japanese and overseas visitors from China, Korea, Taiwan and countries further afield.
If you are visiting one of the other islands in the Ryukyu chain, most visitors must first arrive in Naha by air or sea and then continue their onward journey.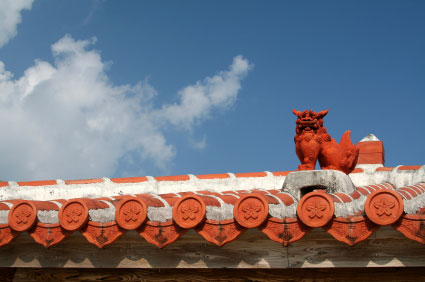 Shisa and traditional roof Naha, Okinawa
Naha Sights
There is much to see and do in and around Naha, which is the main base for exploring the rest of Okinawa Island. There are no trains on Okinawa, except for the Yui Line monorail in Naha city, so a hire car, joining an organized tour or making use of the island's buses are the best ways to get around.
Naha's main shopping and entertainment street is Kokusai Dori (International Street), a roughly 2 km strip, which runs from near the Palette Kumoji department store at Kencho-mae Station on the Yui Line to Makishi Station and a little bit beyond.
Kokusai Dori is bustling with souvenir stores, bars, cafes, clothing stores, hotels, surf shops and restaurants.
Kokusai Dori is a good place to try Okinawan food (taco rice, champuru and soki soba etc) and listen to Okinawan music: some of the restaurants on Kokusai Dori offer an Okinawan dinner with musical accompaniment.
Midway along Kokusai Dori at the intersection of Okiei and Ichiba Chuo streets are the covered market alleyways (shotengai) of the Makishi public market, including Heiwa Dori and Mutsumi Dori. Close to here is the Tsuboya Pottery Museum with displays of historical Okinawan ceramics.
Naminoue Shrine is Naha's most important shrine dedicated to nirai kanai, the source of all life in Okinawan mythology and to the sea.
Nearby Shiseibyo Confucian Temple was first built in the 17th century and reconstructed in 1975.
Gokokuji Temple involves an interesting back story concerning the irascible and crazed Christian missionary Dr. Bernard Jean Bettelheim (1811-1870).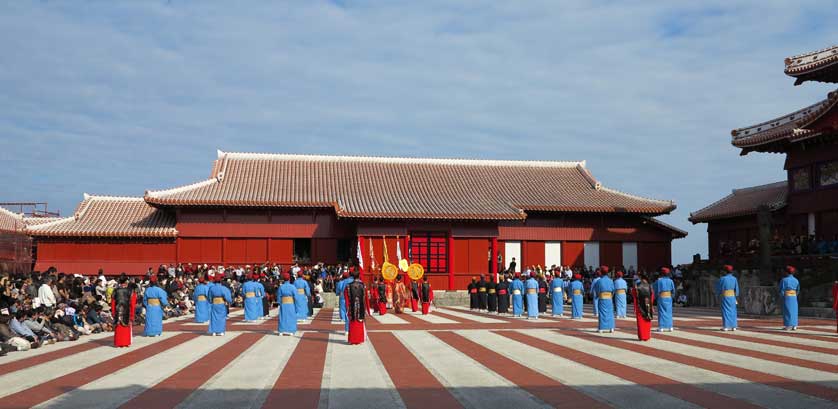 New Year Ceremony at Shuri Castle, Naha, Okinawa

Shuri Castle, Naha, Okinawa
After souvenir shopping and wining and dining on Kokusai Dori, Naha's main attraction is the renovated Shuri Castle - a colorful and ornate symbol of Okinawa's culture and history. Shuri Castle was reconstructed by 1992 after its destruction in World War II and is an impressive and realistic representation of Gusuku (Ryukyu Island castle) architecture. The walls and gardens of Shuri Castle Park are a pleasant place to stroll.
Just outside the main walls of Shuri Castle are Bezaitendo Shrine and Enganchi Pond, and Enkakuji Temple approached over Hojo-bashi Bridge, the temple of the Royal Family.
Near the Suimuikan shops, restaurant and information area is the Tamaudun mausoleum which holds the tombs of the Second Sho Dynasty of Okinawan kings. a World Heritage site, was built into the rocky hillside in 1501 for an Okinawan king. Nearby is the Okinawa Prefectural Museum and Shikinaen Gardens (a second palace and residence for the Okinawan kings). The Kinjocho Stone-Paved Road, has miraculously survived from the 15th century and runs through an area of traditional Okinawan coral-walled homes.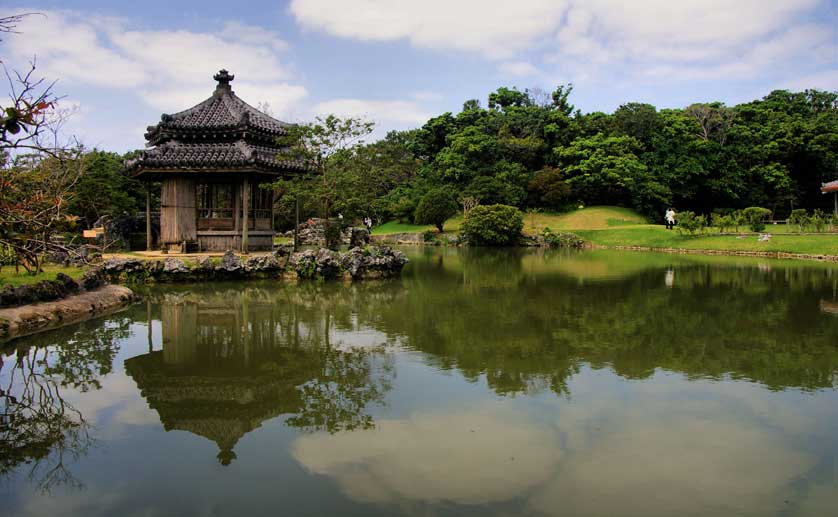 Shikina-en Garden, Naha, Okinawa
Shuri Castle is registered as a UNESCO World Heritage Listed site under the title Gusuku Sites and Related Properties of the Kingdom of Ryukyu.
Other Gusuku castles on Okinawa Island include Nakagusuku Castle, Nakijin Castle and Zakimi Castle - all now ruined but with impressive limestone walls and arches still intact.
Fukushu-en Garden is a huge walled garden in Chinese style incorporating architecture of different Chinese ages and traditions. Fukushu-en is located near Kenchomae monorail station. Nearby is Naminoue Shrine - the most important shrine on Okinawa. Not far from Fukushu-en Garden at Tomari Port is the Tomari International Cemetery with a monument commemorating the visit of Commodore Perry in 1853.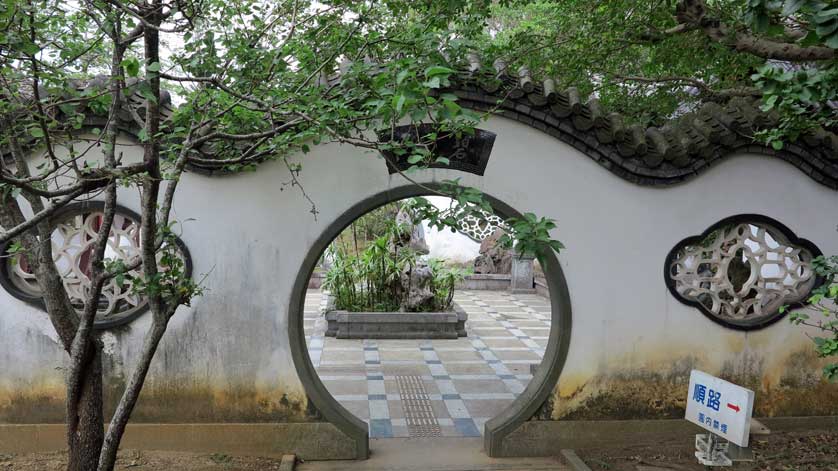 Fukushuen Chinese Garden, Naha, Okinawa
Okinawa Battle Sites
Southern Okinawa was the site of the biggest battles during World War II, and there are many sites commemorating the conflict including the The Former Japanese Navy Underground Headquarters (Kyukaigun Shireibugo) in a suburb of Naha, the Himeyuri Monument and Himeyuri Peace Museum near Itoman, Cape Kyan, Konpaku no To, and the Peace Memorial Park and Peace Memorial Museum on Mabuni Hill, where the Battle of Okinawa drew to a close and the most slaughter took place.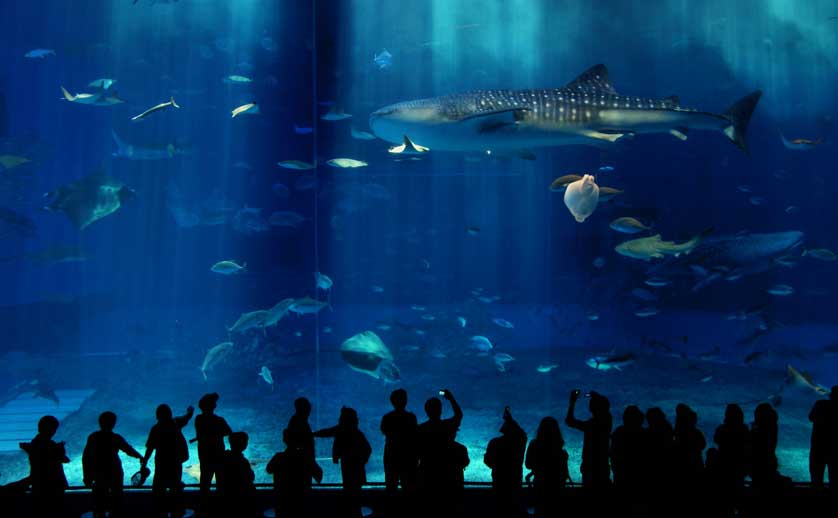 Okinawa Churaumi Aquarium
Nearby to Peace Memorial Museum is Okinawa World, a recreation of a traditional Okinawan village with demonstrations of traditional Ryukyu crafts and culture. Okinawa World also includes Gyokusendo, the longest limestone cave in East Asia, the first 890 meters being open to the public.
Cape Chinen forms the southern tip of Okinawa and is renowned for its reefs and marine environment. The Chinen Marine Leisure Center runs glass-bottomed boat tours as well as trips to a secluded island off the coast for diving, fishing, and swimming.
Sefa Utaki, now a World Heritage Site, is also located on Cape Chinen at the southern end of the main island of Okinawa, not far from Okinawa World and the Peace Memorial Park, and it was here that the Okinawan myths say that people first arrived on the main island. Sefa Utaki is the most sacred site of the Okinawan religion and a must visit place for people seeking international power spots for meditation and renewal.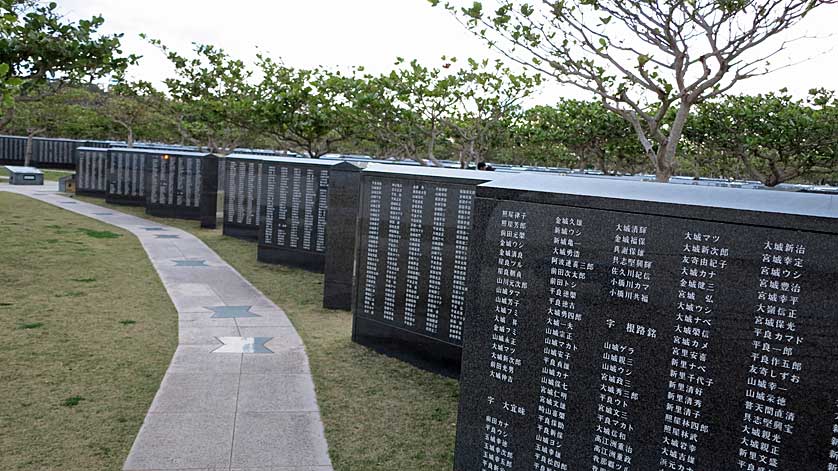 Peace Memorial Park, Okinawa

Okinawa Island Attractions
Northern and Central Okinawa
Southeast Botanical Gardens has thousands of tropical flowers, hundreds of tropical fruit trees and many other exotic plants occupying its 400,000 square meter expanse.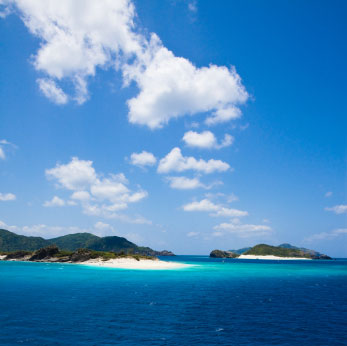 Okinawa beaches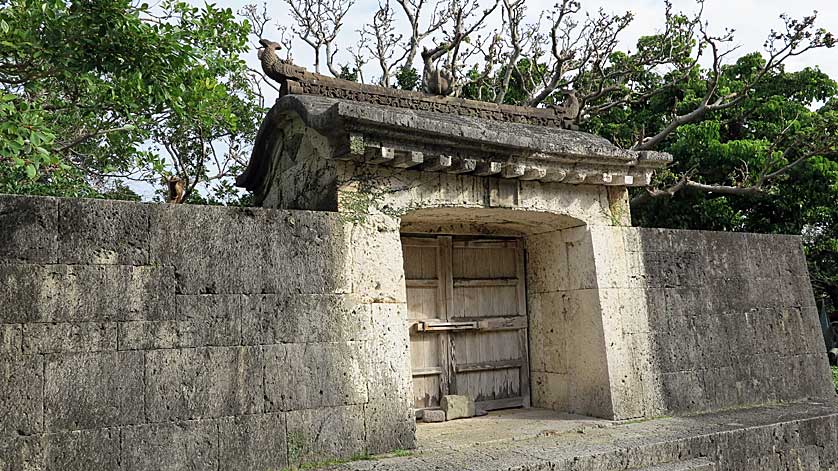 Traditional Okinawan stone wall at Shuri Castle
Ryukyumura Village has examples of seven different styles of traditional Okinawan houses, as well as displays of traditional crafts.
Ocean EXPO Park is the largest theme park in Okinawa and was built for Ocean EXPO in 1975.
Okinawa Churaumi Aquarium boasts the largest acrylic panels in the world and is known for raising mantas and whale sharks in captivity.
Nakamura House, near Nakagusuku Castle, is a completely originally 18th century Okinawan walled farmhouse set in lovely grounds.
Okinawa City and Chatan have an American feel due to their proximity to the Kadena Air Base. Mihama American Village in Chatan is an American-style mall close to Sunset Beach.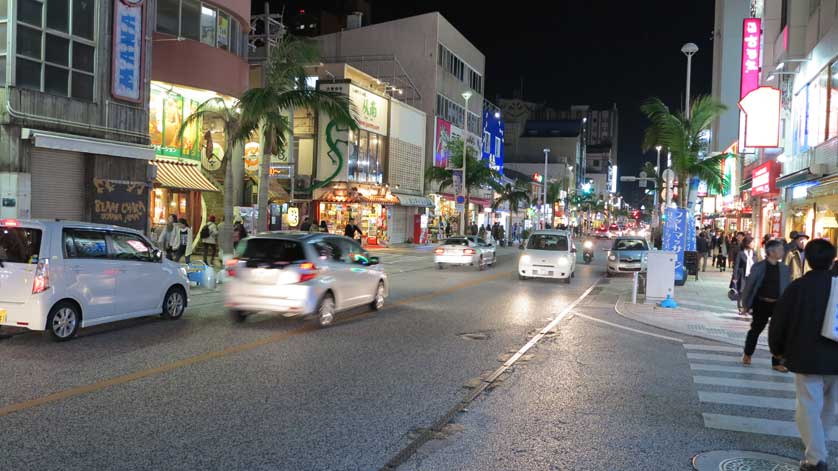 Kokusai Dori by night, Naha, Okinawa
The north of Okinawa Island is more sparsely population than the south and central areas and has some of the best beaches and natural areas on the island. Of note are Cape Manzamo and the Underwater Observatory at Cape Busena. The Yanbaru area in the far north is known for its wildlife and dramatic scenery.
Nago is a pleasant resort town on the west coast known for an ancient banyan tree and nearby beaches. Things to see and do near Nago include Pineapple Park, the Orion Beer Museum and the Nago Museum.
Sefa Utaki sacred space, Cape Chinen, Okinawa
Access - Getting to Okinawa
Naha is the transportation hub for the Ryukyu Islands with short-hop flights to the other islands: Amami Oshima, Ishigaki, Miyako, Kumejima, Yoron, Yonaguni, Minamidaito and Kitadaito. To get to Iriomote, take an express ferry boat from Ishigaki (40 minutes).
Air
Frequent direct flights to Naha leave from Tokyo (both Haneda and Narita airports), Osaka, Fukuoka, and Nagoya.
Less frequent direct flights leave from many other Japanese cities including Kobe, Sendai, Niigata, Shizuoka, Takamatsu, Hiroshima, Kagoshima, Kumamoto and Nagasaki.
There are also flights from Taiwan and other mainland Asian cities including Seoul. There are direct flights to Miyako Island from Tokyo and Osaka. Flights to Ishigaki Island from Nagoya and Fukuoka go via Naha.
From Naha Airport
From Naha Airport to central Naha there is the choice of bus (20 minutes), taxi or Monorail. Buses #23, #25, #99, #111, #113, #120 & #123.
The Okinawa Monorail (Yui Rail) runs approximately 13 km and has 15 stops between Naha Airport and Shuri out to the east. (The line will expand another 4 km to Uranishi in the future). The complete journey takes 27 minutes and costs 330 yen (170 yen for children). To Kencho-mae (Prefectural Office) the travel time is 12 minutes from the airport.
Stations on the Yui rail route are: Naha-kuko, Akamine, Oroku, Onoyama-koen, Tsubogawa, Asahibashi, Kencho-mae, Miebashi, Makishi, Asato Omoromachi, Furujima, Shiritsu-byoin-mae, Gibo and Shuri.
YouTube Video of Yui Line Monorail, Naha Airport Station
Watch a short introductory video to the Yui Line monorail Naha Airport Station and the monorail itself.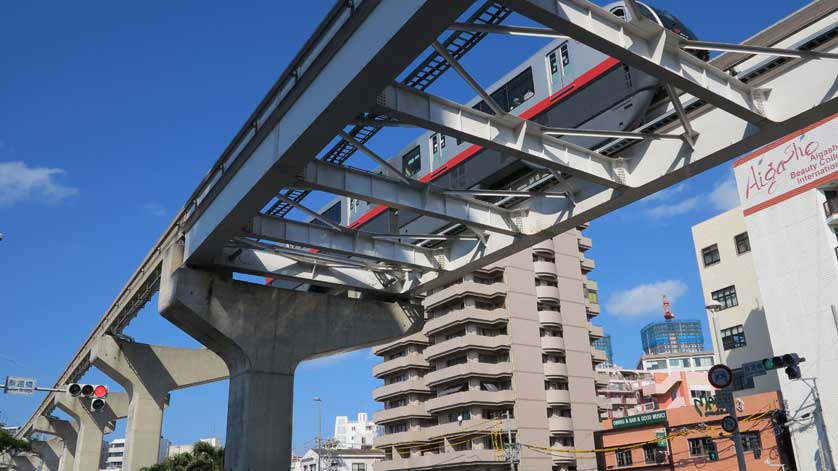 Yui Rail, Naha, Okinawa
Ferries
Ferries for Naha leave from Kobe and Osaka with A-Line and Kagoshima. Ferries from Tokyo, Hakata, Miyazaki and Nagoya are now discontinued. Journey time from Kagoshima is 19 hours, and was 44 hours from Tokyo. See the Japan ferries section for further details.
Transportation within Okinawa
Regular flights and ferry services connect Naha with the other islands in the prefecture. Other than the Yui Line monorail that connects Naha with the airport, there are no trains on Okinawa, so transportation is limited to bus, sight-seeing taxi (English-speaking), and rental car. Be warned that Naha can get very congested with cars especially at rush hour.
Naha Map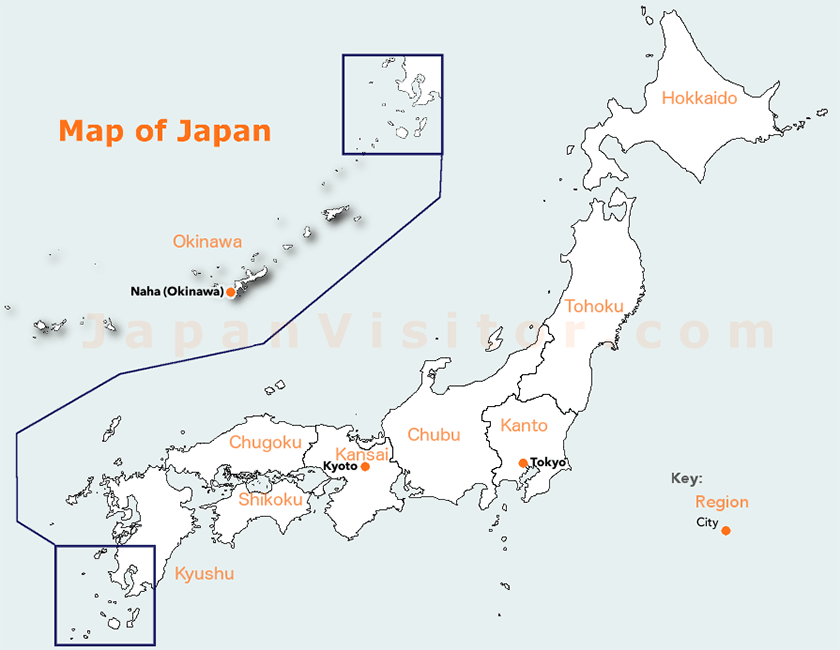 Naha (Okinawa) Map
View Okinawa Map in a larger map
Book Hotel Accommodation in Okinawa Japan
All the themes of the city