Tennoji Guide
Tennoji Area Guide 天王寺
Alan Wiren
Although its name reflects an origin of religious devotion, for much of its existence Osaka's Tennoji ward has had a less than divine reputation. Being the home - paradoxically - of many homeless persons, and a haven for day laborers, along with an undercurrent of prostitution, which competed with highlights of a park, zoo, and art museum.
Recently, however, the area around Tennoji Station has been renovated into one of the most attractive destinations in Osaka city. So, what is the real Tennoji? Let us start from the beginning.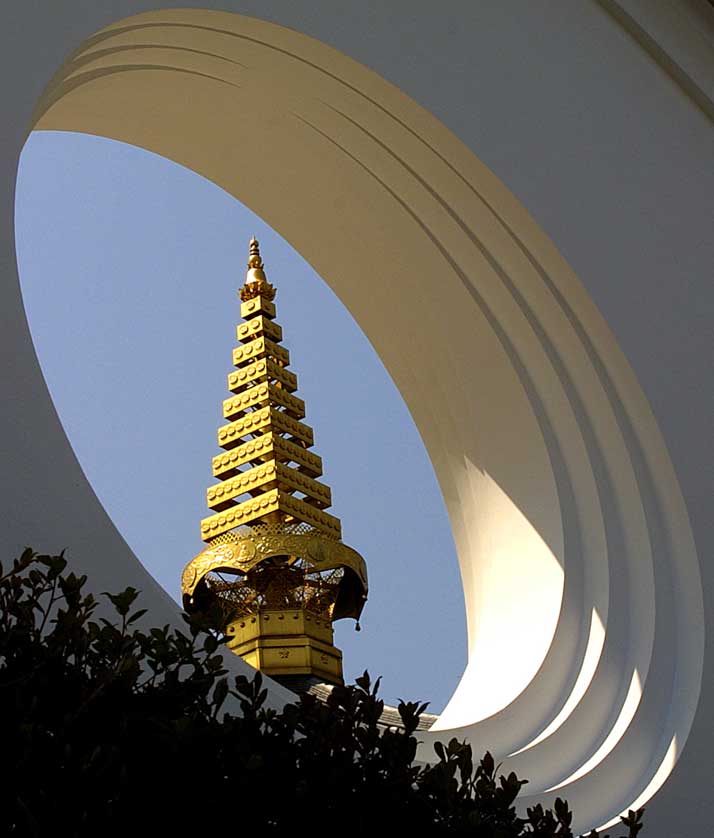 Shi-Tennoji Temple, Tennoji-ku, Osaka
History of Tennoji
Construction of the temple, Shi-Tennoji, in 593 AD, is attributed to the regent emperor, Shotoku Taishi, a legendary figure in Japanese history. In Japanese the word shi means "four," tenno means "heavenly king," and ji means "temple".
Thus, Shi-tennoji is the temple dedicated the four heavenly kings. They are minor deities in the Buddhist pantheon (achieving a mere 750 feet in height and a piddling nine million year life span) who protect the four cardinal directions of the physical world.
It was to these gods that Shotoku Taishi prayed for success in his campaign to make Buddhism the state religion. In the sixth century that meant revolutionizing the principles of government and the moral basis of society. And that, of course, meant all out war. After Shotoku's victory Shi-Tennoji began its service as the country's first Buddhist temple.
Not long afterward a free clinic for the poor and housing for the elderly with no living relations were established there. Later the heavenly kings would watch over four similar institutions within the temple walls: the Institution of Religion and Education, the Welfare Institution, a hospital, and a pharmacy.
These were the roots of the Japan's national welfare system. Although it has been subject to fire and other disasters, and has been rebuilt many times (the last in 1963), Shi-Tennoji remains in its original location. It is the oldest temple in Japan to have done so.
The temple has a garden, the Gokuraku-jodo Garden and a collection of ancient Buddhist art which can be viewed for modest admission fees. Shi-Tennoji holds several events throughout the year and a big flea market on the 21st and 22nd of every month.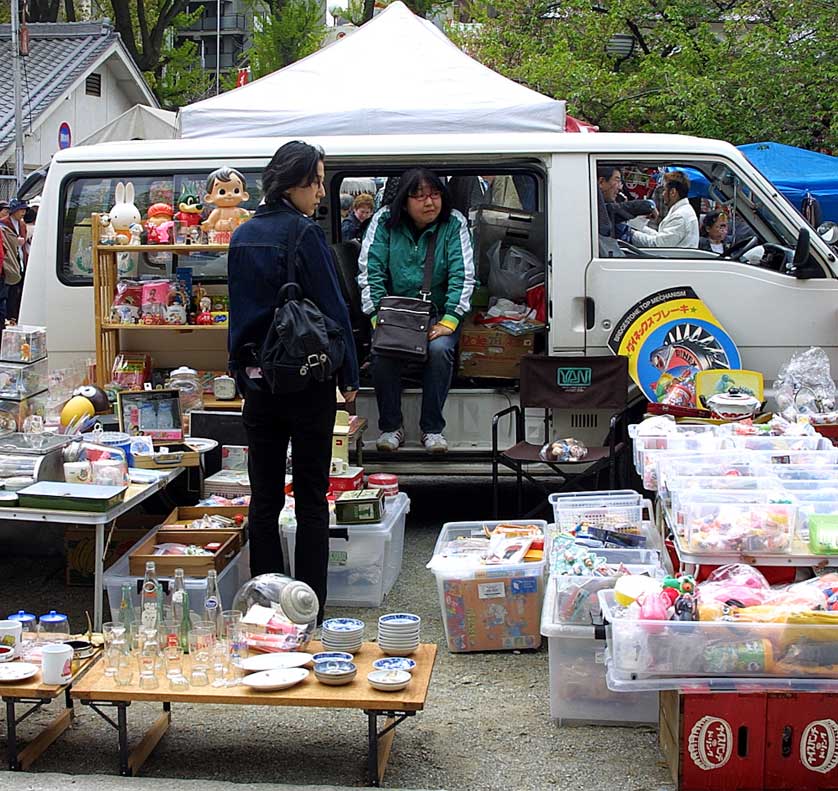 Shi-Tennoji Temple Flea market
A short distance to the west, Honen, founder of the Pure Land School of Buddhism, built himself a hermitage in 1185. This is now the site of the temple Isshinji, well known for its collection of Buddha figures made from human bones, open to public view.
Approach them in reverence for they are bones of ancestors, brought here by families who have no grave site of their own, but are no less beloved.
There are about 200 temples and shrines within Tennoji ward. Most of them are small and many have an esoteric charm. One could spend days wandering the hills and side streets discovering them.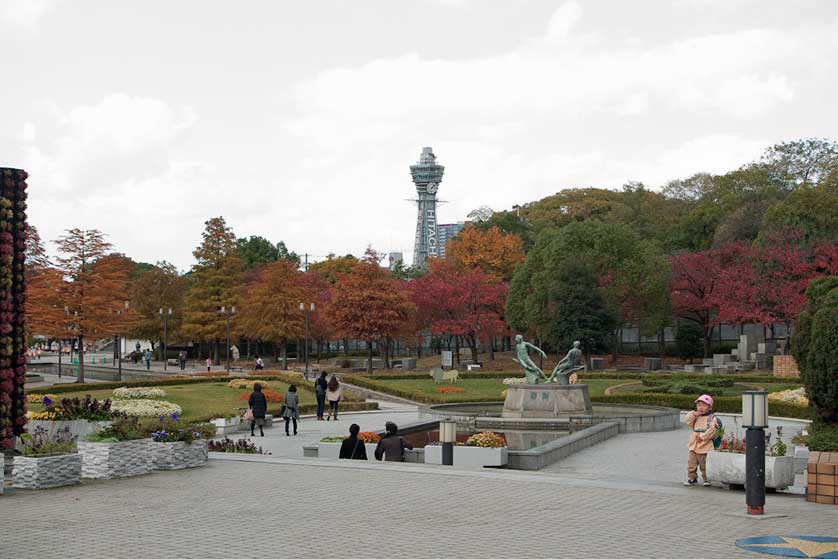 Tennoji Park with Tsutenkaku Tower in the background, Tennoji-ku, Osaka
Tennoji Park
The railway came in 1889. JR Tennoji Station now serves as a hub on the Osaka Loop Line providing access to many popular areas of the city including Osaka Station (another major transportation hub) the Hanwa Line to Kansai Airport and Wakayama Prefecture, the Yamatoji Line to Nara Prefecture, the Midosuji and Tanimachi subway lines.
A short walk to the south is Kintetsu Abenobashi Station providing access to destinations in Nara, Mie, and Kyoto prefectures. These make Tennoji a good base for exploring the Kansai region, but it has its own modern attractions as well.
Tennoji Park, across from the station, is extensive and offers historical, cultural, and scientific experiences. The entry fee for the park itself is only 150 yen, but for 500 yen your ticket will include Tennoji Zoo which is adjacent to the park and covers about the same amount of land.
Tennoji Zoo gets mixed reviews. Many of the enclosures are small, you could even say cramped, and the physical and psychological condition of the animals in them are poor, but there is an area in the style of a safari park as well where the animals have wide enough spaces to roam freely.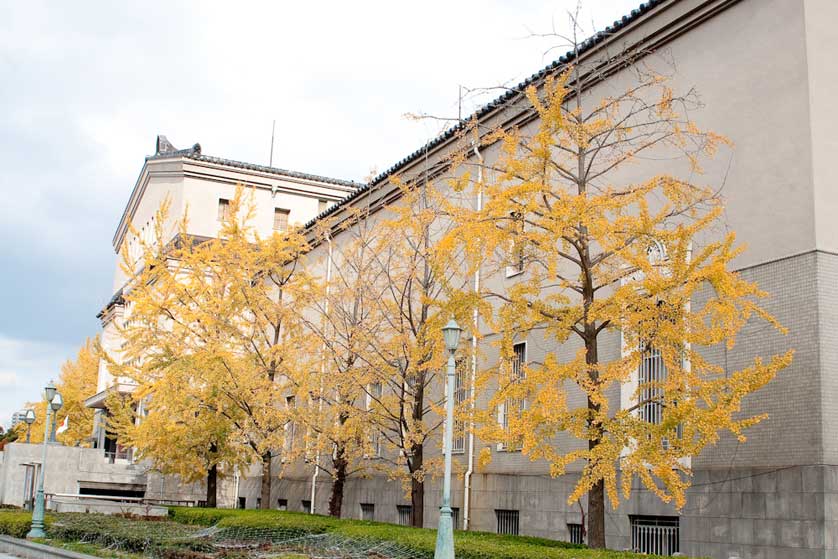 Osaka City Museum Of Fine Arts, Tennoji Park, Tennoji-ku, Osaka
Tennoji Park is also home to the Osaka City Museum Of Fine Arts. On the site or the former residence of the Sumitomo family, it preserves many valuable Japanese artworks, including important cultural properties, and hosts exhibitions of noteworthy collections from around the world. Behind the museum the Sumitomo's traditional woods-and-fountain style Keitakuen Garden still remains and has been reopened to the public, after renovations, in 2016.
A path leading away from the Osaka City Museum Of Fine Arts (Osaka Municipal Museum Of Art) runs down to Kawazokoike Pond spanned by a bridge that will take you to the Chausuyama Mound, the site of one of the most heroic battles in Ieyasu Tokugawa's 17th century campaign to unify eastern and western Japan.
The park features a few other ancient landmarks set among wide lawns that are shaded by trees where you can stretch out or even enjoy a picnic, interspersed with long flower beds. There is a greenhouse for more delicate species and a 100 meter-long arched trellis that becomes a tunnel of rose blossoms in the warmer months.
Just west of Tennoji Park are the Tsutenkaku Tower, Shin-Sekai, Jan-Jan Yokocho Street and Spa World.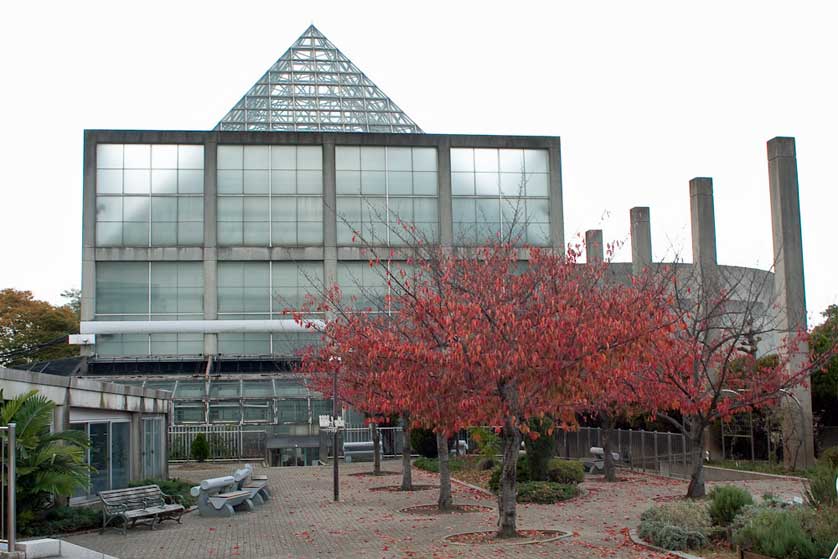 Tennoji Park Pyramid, Tennoji-ku, Osaka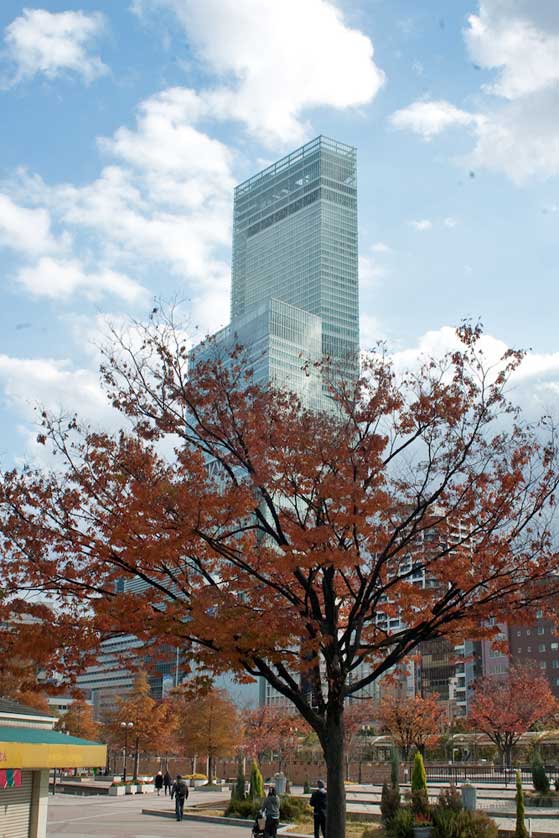 The giant Harukas Building at Kintetsu Abeno Station, Osaka
Tennoji Station Area
The area around Tennoji Station runs a historical and cultural gamut as well. The station building is packed with restaurants and shops, and there are a couple of foreign food stores and discount ticket shops in the basement.
It is flanked by Mio Department Store to the east, and the Lucias Building and the recently constructed Que's Mall to the west. The leviathan Harukas Building rises to the south. Together they would seem to provide every imaginable manner of shopping and dining experience, but you still might want to take a walk on the main street running straight away from the north exit.
There is a covered walkway, across from the park, bordered by a lengthy hodgepodge of shops, some generations old, selling everything from traditional sweets to garden supplies to religious paraphernalia.
Take a turn to the right, down any of the alleys branching off from the first block, and you will find yourself in a warren of izakaya and little mom-and-pop shops that has not changed in decades.
The real Tennoji? It's a place of such varied character and opportunity that it can be nearly anything you want it to be.
Hotels in Tennoji
There are a number of hotels serving visitors to Osaka in Tennoji. First and foremost is the Tennoji Miyako Hotel, followed by the Marriott International Miyako Hotel on the 38-55 floors of the giant Abeno Harukas Kintetsu department store.
Other hotels in Tennoji include the APA Hotel Tennoji Ekimae, Hotel La Aroma Tennoji, and for cheap and basic on a budget in Nishinari-ku with Japanese-style rooms try the Business Hotel Taiyo.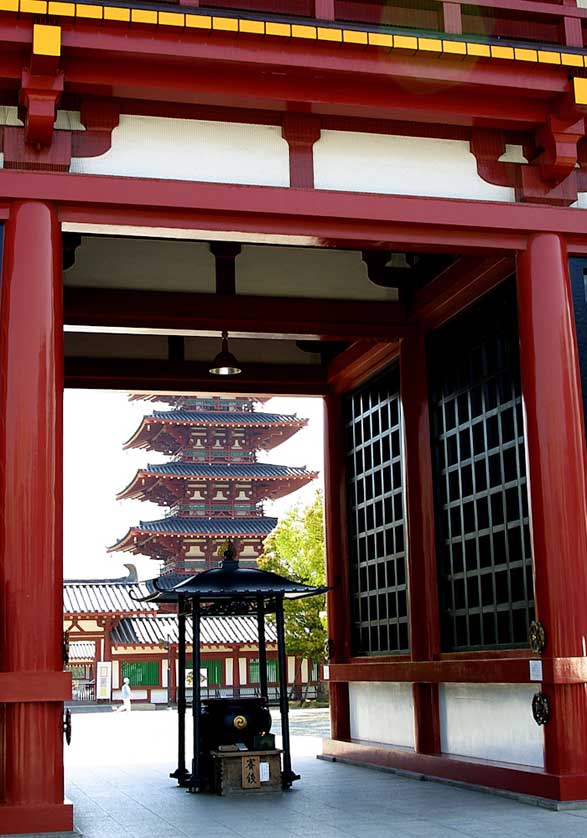 Shi-Tennoji Temple, Tennoji-ku, Osaka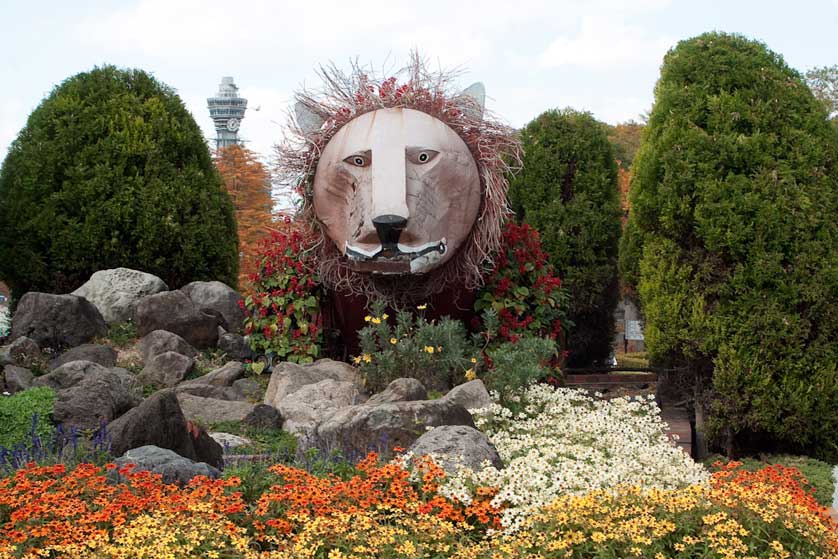 Tennoji Park, Tennoji-ku, Osaka
Access - how to get to Tennoji
Tennoji Station is the main point of access on the JR Osaka Loop Line and the Midosuji and Tanimachi subway lines.
The Hankai Uemachi Line, from Tennojieki-mae to Sumiyoshikoen Station, is convenient for Sumiyoshi Taisha Grand Shrine.
Tennoji Station is also major hub for both local buses and long-distance highway buses.
There are also limousine bus services to Osaka's two airports: Kansai International Airport aka KIX to the south and Itami Airport to the north.
From the west side of Tennoji JR Station local buses 62 and 67 go to Sumiyoshi Shako-mae, bus 63 for Asaka and bus 64 for Orionobashi. From the east side of Tennoji JR Station bus 62 goes to Osaka Station City.
Other local buses go to Namba (#52), Suminokoen Subway Station (#47, #48), Deto (#1), Imazato Subway Station (#13), Kita-Tatsumi Bus Terminal (#30, #32) and Sunjiyata (#6, #26).
A number of different limousine highway bus companies run bus services to Nagoya, Tsukuba, Tsuchiura, Mito, Fukushima, Hitachi, Yamagata, Sendai, Kawagoe, Yokohama, Tokyo Station, Akihabara Station, Tokyo Disneyland, Kofu, Karuizawa (all in northern Japan), Kochi and Takamatsu (both on Shikoku), Hagi, Kumamoto, Kagoshima, Nagasaki, Hiroshima and Yamaguchi.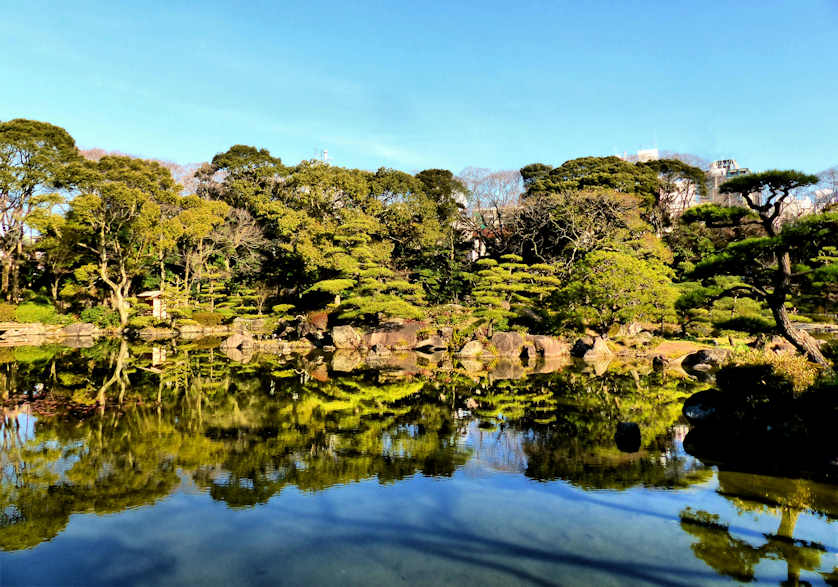 The large pond at Keitakuen Garden in Tennoji Park, Osaka
Tennoji Map
Book Hotel Accommodation in Japan in Tennoji
Tennoji: read a travel guide to Tennoji in southern Osaka known for Tennoji Park, the zoo and now gleaming shopping malls and towers.
All the themes of the city